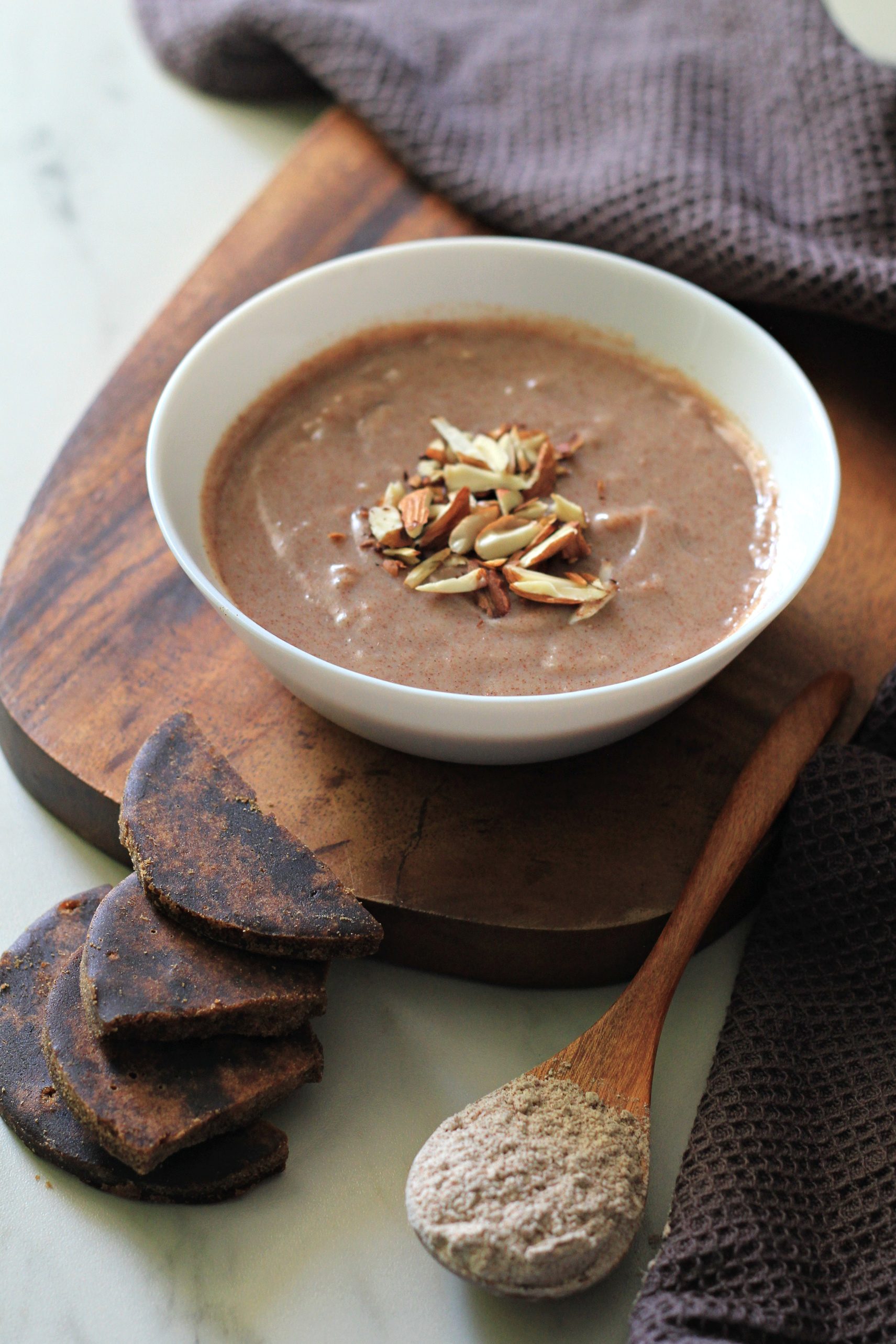 Pin
Ragi Porridge – a miracle food for people of all ages. My childhood thrived on it, at least as an infant and in the recent years my kids have been fed this porridge as part of their weaning meals. Ragi porridge is also a quick breakfast option for people of all ages and considering that it is rich in calcium, iron, soluble fibre & vitamin D, it is one of the healthiest foods to include in your regular diet. I say regular and not daily because not everyone has digestive systems that are able to handle ragi on a daily basis. Ragi is also called as finger millet and is one of the several millets that are gaining popularity in the recent times. While I have experimented with just a few millets on & off, finger millet & foxtail millet have stuck around as my favourites. I will share my favourite recipes at the end of this post, so do scroll down to check them.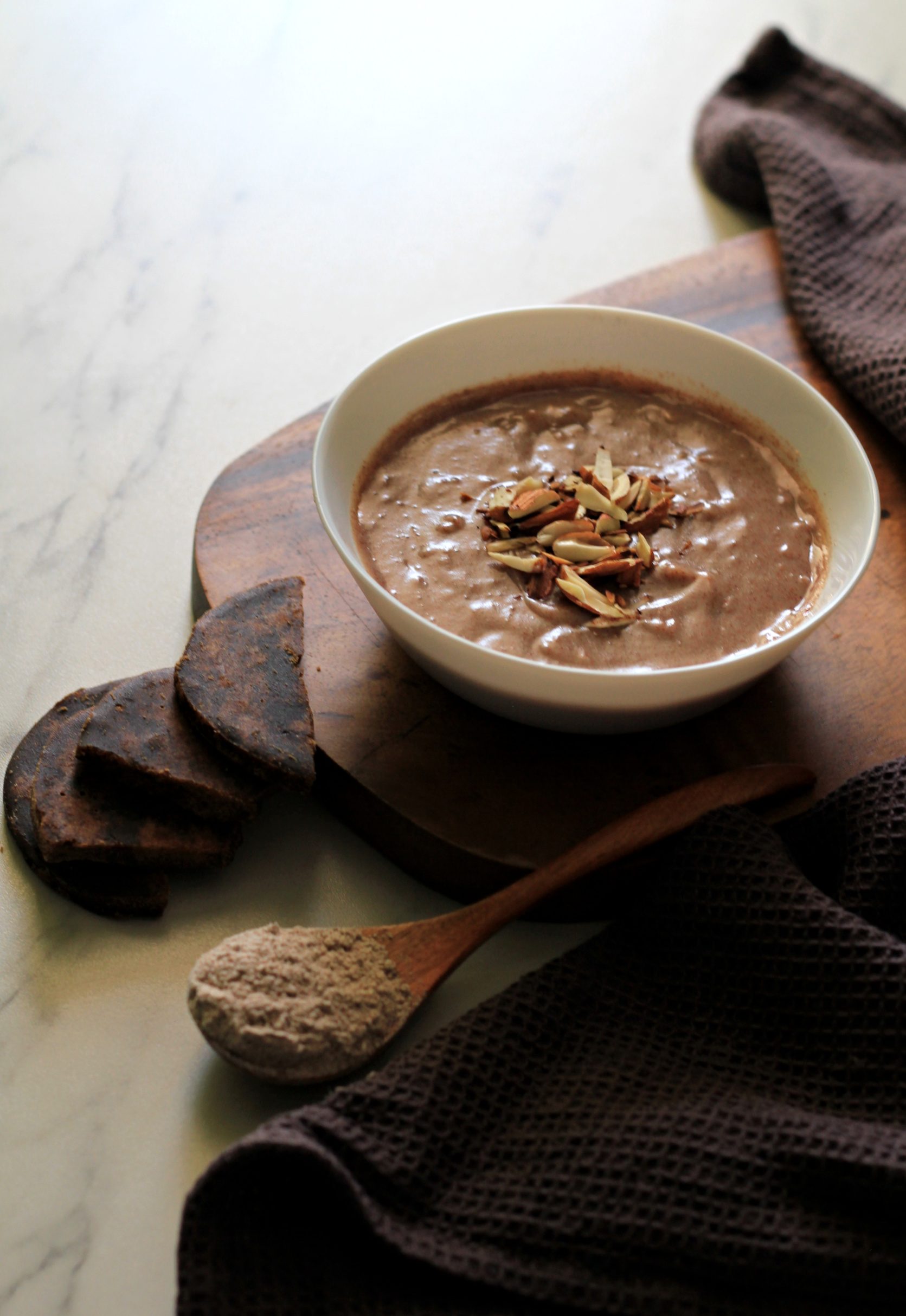 Pin
Now, coming back to today's post, my fondest memory of eating ragi porridge was when my mom used to make it daily, especially for my paternal grandfather's breakfast. We lived in a joint family and it was my duty to announce that breakfast was ready. A piping hot bowl of mildly sweet ragi porridge would be kept ready on the dining table and since my grandpa had lost his eyesight, I was given the task of escorting him to the dining room sometimes. On other days the breakfast would be served to him in his room. My mom would set aside a bowl for me to enjoy too and for some  reason I would have it with broken pieces of red chilli papad (poppadoms) – weird reason I know but that's how I loved eating it!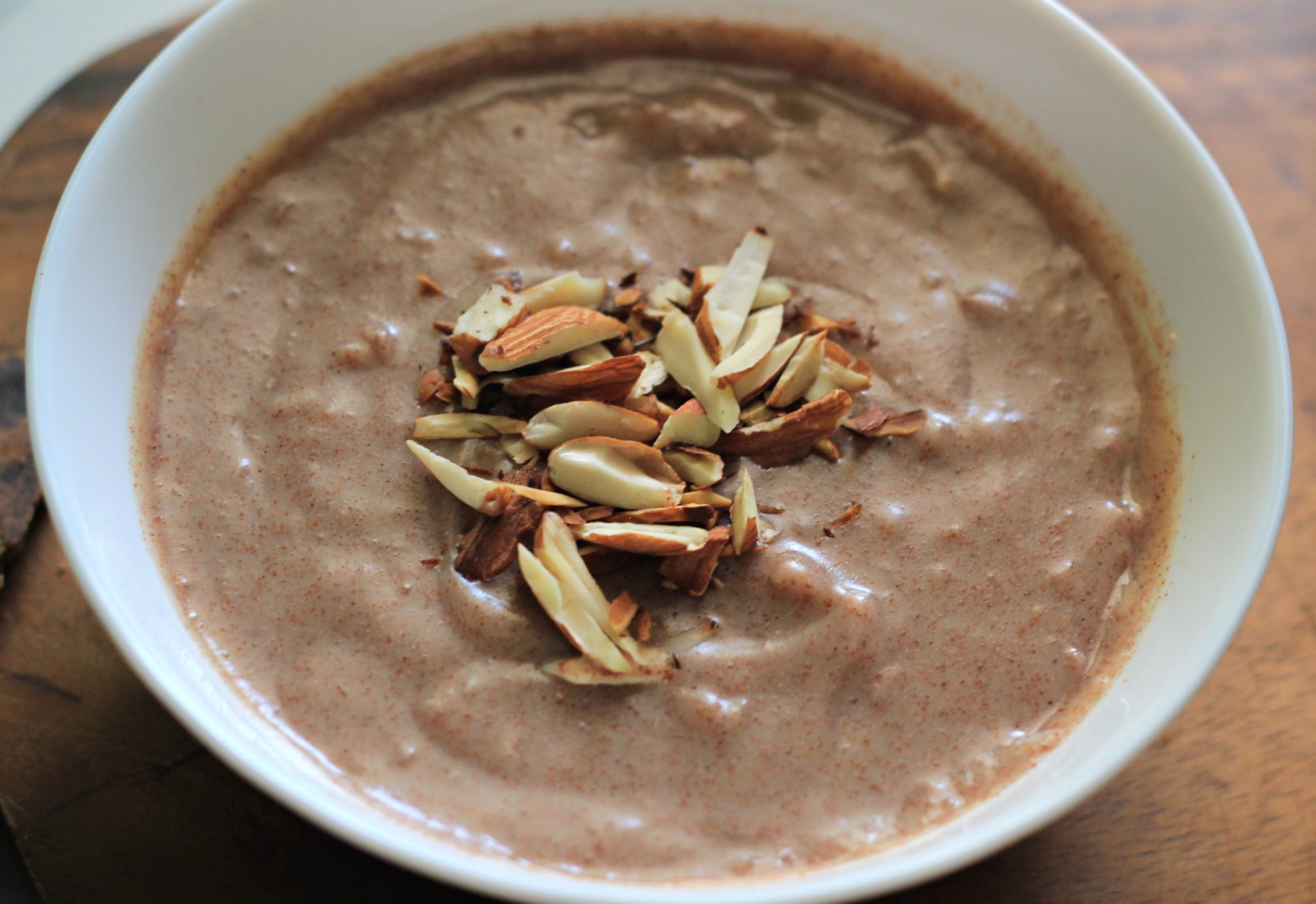 Pin
Now, I have ragi porridge at least once a week and my son likes it diluted with yogurt. It is a little hard to eat for them due to its earthy flavour. However, I want to make sure that they get used to it soon because it is one of the best things to put into our bodies. It is also essential for women, especially pregnant & lactating women.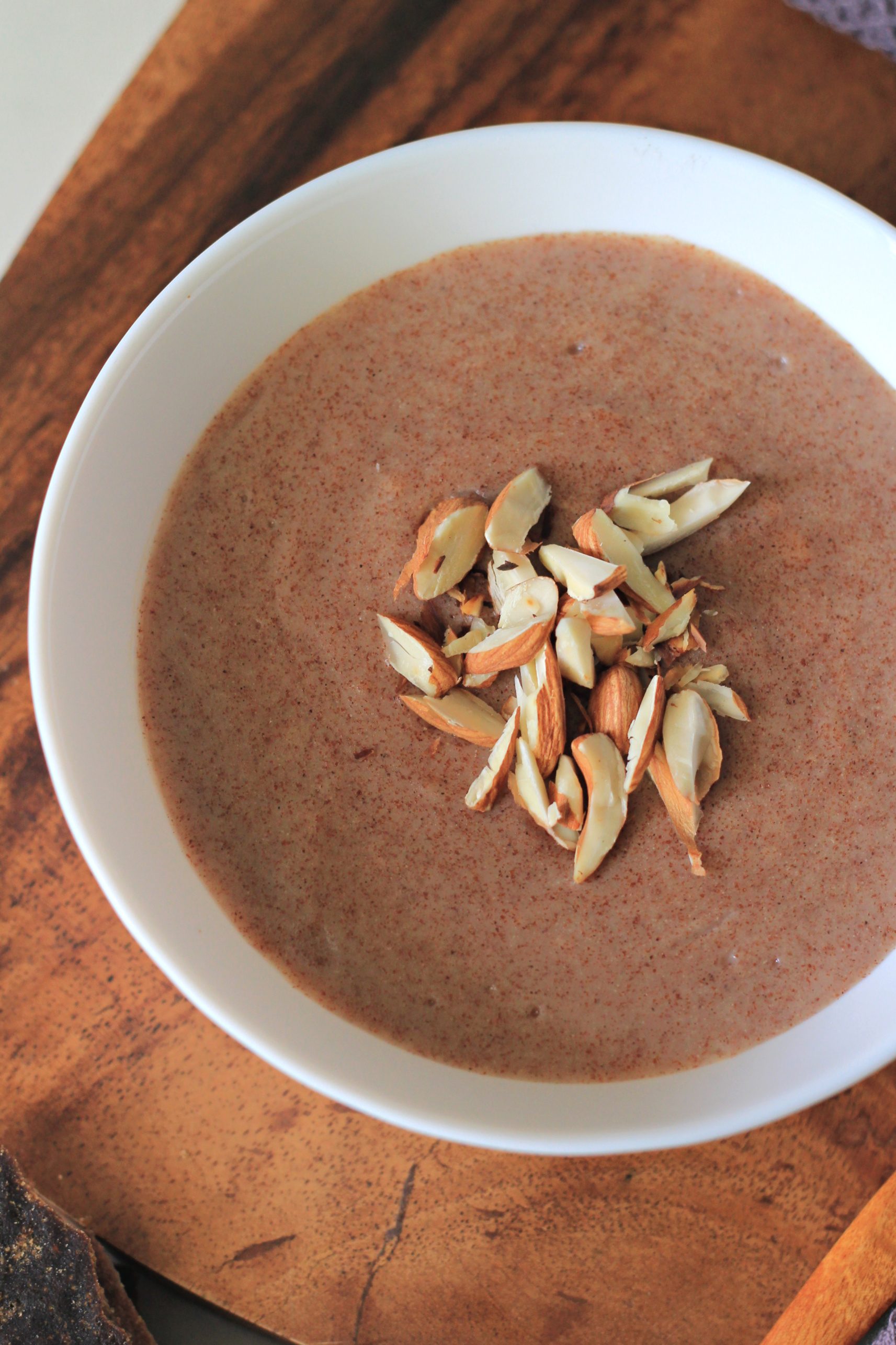 Pin
Pin
I often like to spruce up my boring bowl of porridge with some nuts or seeds. I like to add toasted flakes of walnuts or almonds and if you see these pictures, I have stirred in some nuts at the time of cooking so the porridge looks lumpy. However, do note that constant whisking of the mixture while it is cooking is essential to prevent lumps. The resultant porridge would be silky smooth in that case and it will begin to form a layer of film when it begins to cool. So to prevent that you can immediately cover the bowl of your porridge with some cling wrap. Upon refrigeration you can enjoy some ragi porridge with a pudding like consistency. So it is really upto you how you want to enjoy your porridge! Hot, warm or cold! So how do you like it?
CLICK THE IMAGE BELOW TO SAVE THIS RECIPE ON PINTEREST!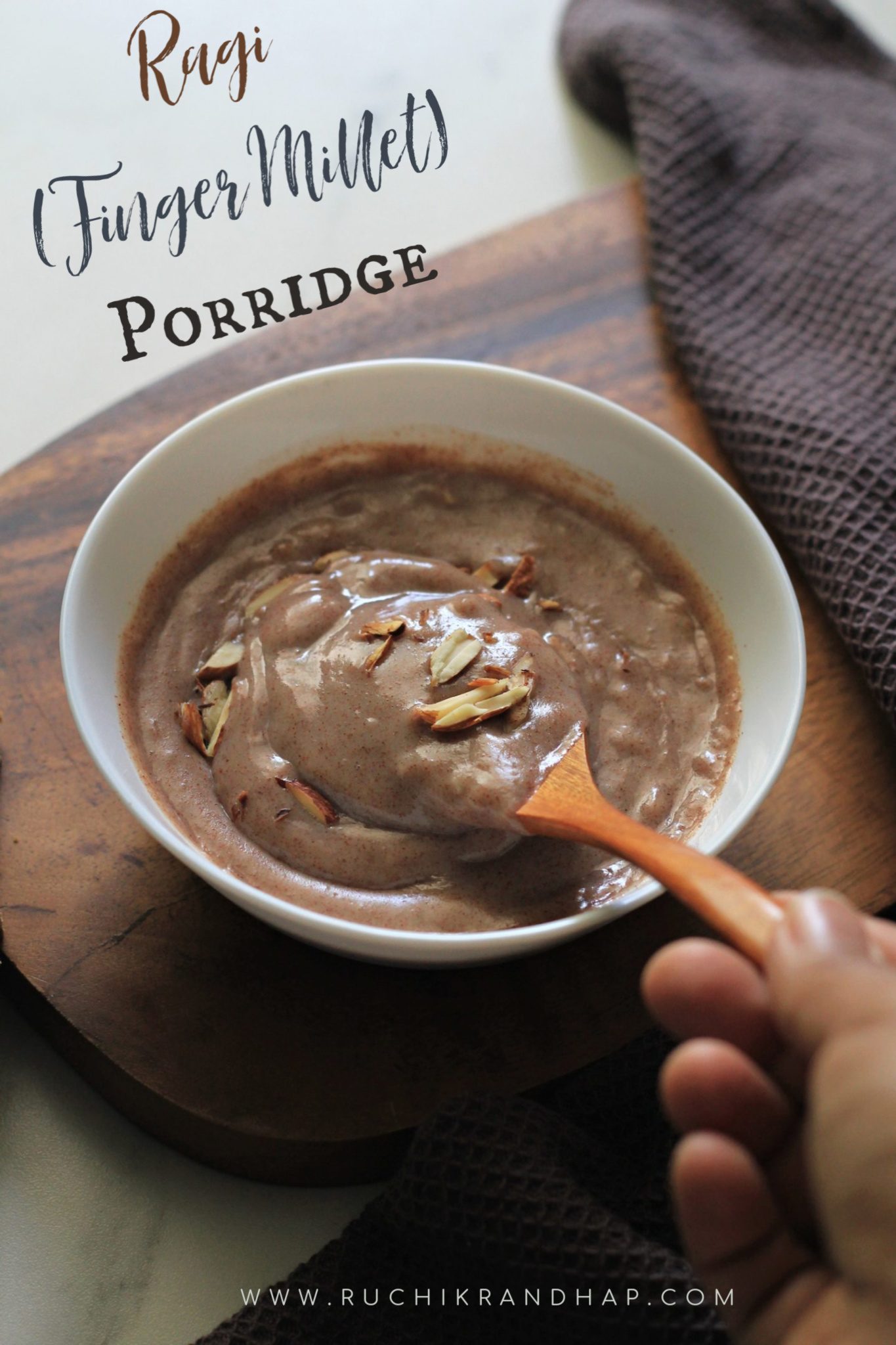 Pin
More recipes for the millet lover's soul!
Ragi Manni (Finger Millet Pudding)
Ragi Dosa (Finger Millet Crepes)
Ragi Muddhe (Finger Millet Balls)
Ragi Idli (Steamed Finger Millet Cakes)
Ragi Shevai Usli (Seasoned Finger Millet String Hoppers)
Foxtail Millet, Chocolate & Orange Mousse Cake
Ragi Porridge | Finger Millet Porridge
Ragi - a miracle food for people of all ages. There are several ways to consume it but perhaps the simplest of them all is in the form of this porridge. Besides being given as a weaning food to babies, the porridge is a quick breakfast option. Dilute it a bit and you have a health drink to be enjoyed anytime of the day!
Keyword:
Finger Millet, Ragi
Ingredients
3/4

th cup water

at room temperature

2

tablespoons

ragi

fingermillet flour * see notes

2-3

teaspoons

palm jaggery

or sugar adjust to taste * see notes

a pinch of salt

1/4

cup

milk

or coconut milk

To garnish

optional

1

tablespoon

toasted almond slivers
Instructions
Place the water in a saucepan and add the ragi flour and jaggery (or sugar) and whisk it together till it dissolves.

Bring the mixture to a gentle boil on a low heat and whisk it continuously till it thickens. Take care to ensure that the heat is at a minimum to avoid scorching

Whisk until the mixture is thick and leaves a trail. Add the milk and a pinch of salt and continue to whisk till you get a smooth, lump free mixture.

Take the mixture off the heat and serve hot garnished with the toasted almonds
Recipe Notes
You can adjust the quantity of ragi flour used depending on how thick you want the porridge to be. For a thinner gruel like consistency you can use 2-3 teaspoons of ragi flour instead of 2 tablespoons. 
The porridge tastes best with palm jaggery but you can use any healthy sweetner of your choice such as cane jaggery, coconut or palm sugar or date syrup. Alternatively you can use regular white or brown sugar. Kids will even enjoy it with melted chocolate. Please note that the quantity of the sweetner will need to be adjusted depending on its type. For example, cane jaggery has a more intense flavour than coconut jaggery. Palm jaggery has a deeper, earthy flavour than brown sugar.