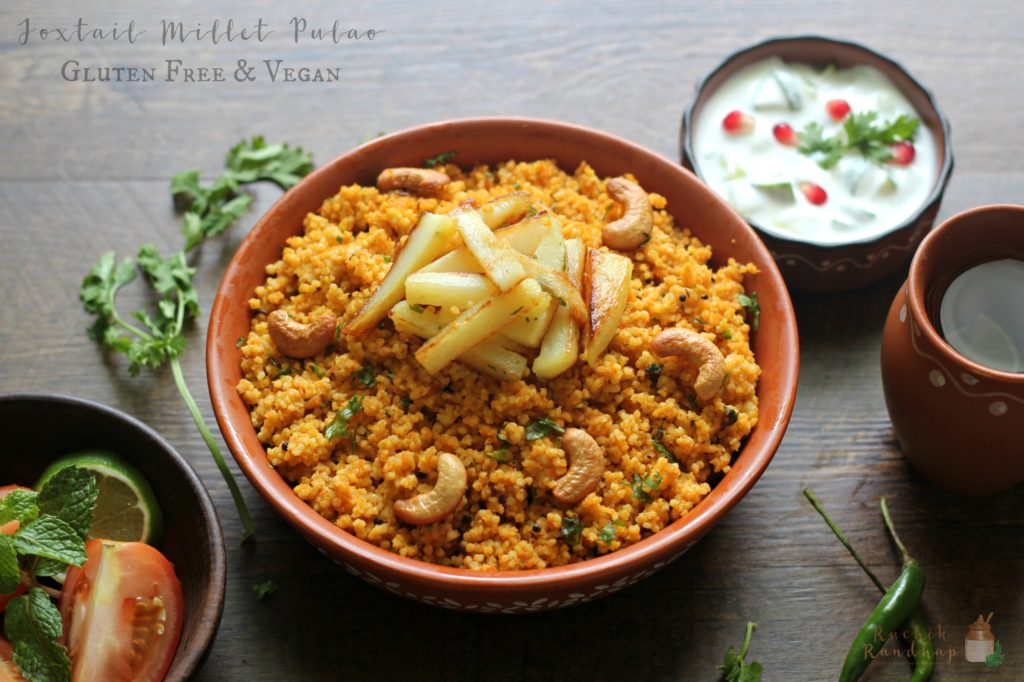 Of late I have been experimenting a lot with millets. This is because the millets that I had bought in an organic store in Mangalore had been languishing in my refrigerator for way too long. Late last year I decided that I would earmark 2017 as the 'Year of Millets', purely for the purpose of enjoying millets, an ancient grain which has suddenly come under the limelight. Perhaps the only millet that I knew about for the longest time was 'ragi' or 'finger millet'. I later discovered that 'bajra' (pearl millet) & jowar/bili jola (sorghum) that I had heard about growing up were also part of the millet family. I am yet to try my hand at proso millet, kodo millet, barnyard millet & little millet and hope to share the recipes with you soon.  At the end of this post I will share details of where you can buy them in India & UAE.
A lot is being discovered and written about their tremendous health benefits and they are deemed to be the superfood of today. Since I am not a qualified nutritionist I will refrain from talking too much about their health benefits but will urge you to add them to your diet, especially if you are gluten free and vegan. I won't say that millets fare better over rice or recommend them to diabetics, but you could definitely do your research and opt for them as it is always good to have a balanced diet – no matter what your age and health condition are.  Millets are also very versatile, especially foxtail millets as you can replace them in recipes that call for rice. Make a millet pulao or kheer or grind them to flour and add them to your other grain flours to fortify them. I have a couple of recipes coming up soon.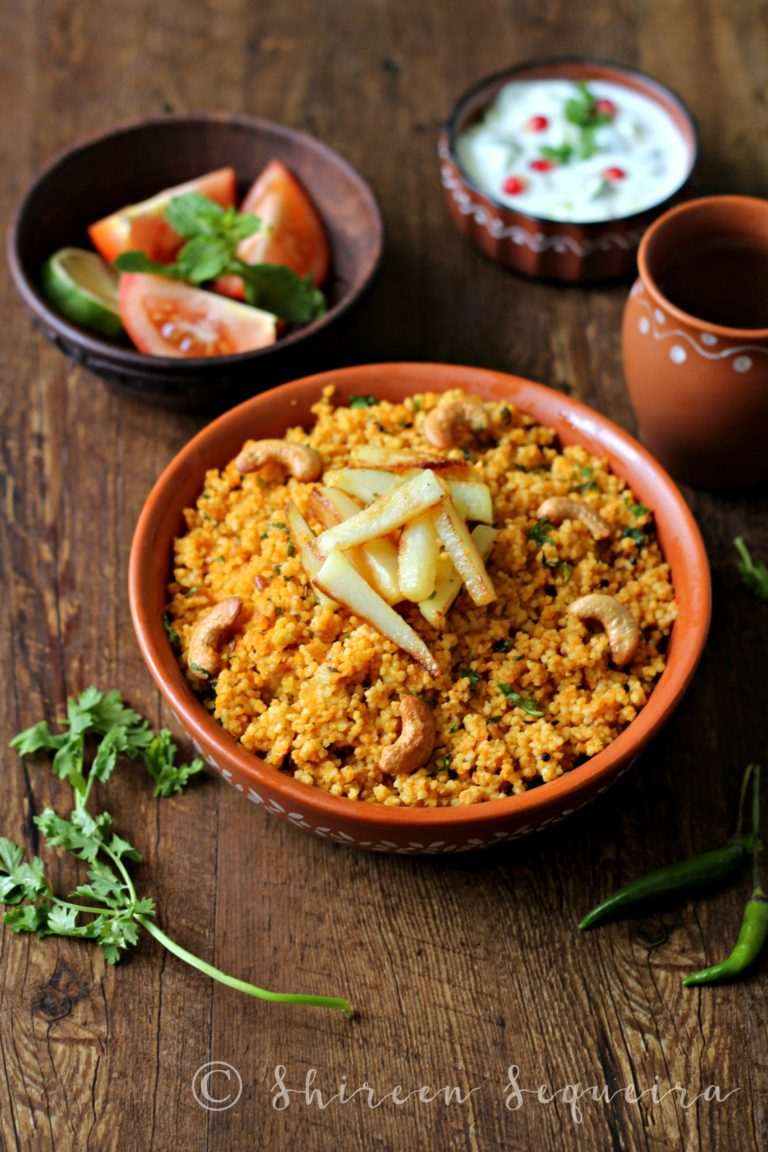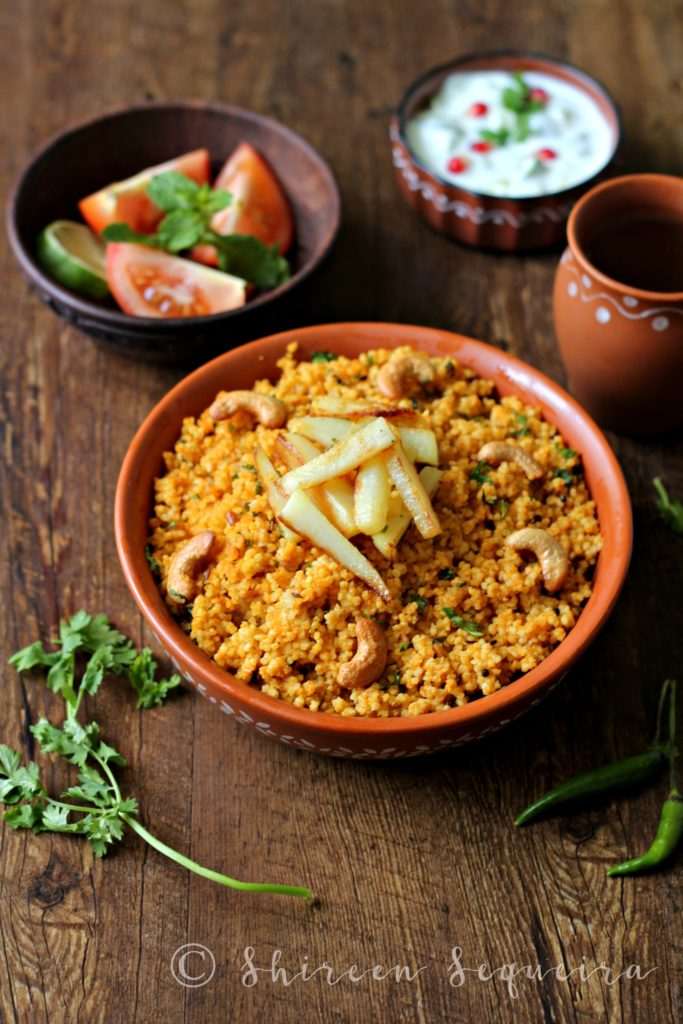 So when I set out to making something out of this huge stock of foxtail millets at home I didn't know what kind of recipe would work best. Should I try making a non-veg pulao or a vegetarian one? Should I add the millets to clear stock and make a hearty soup? After some random browsing on the net, I settled for a pure vegetarian pulao. As potatoes are a favourite at home I decided to add some fried strips as I had seen a similar recipe in Mallika Badrinath's book on rice varieties. Needless to say, this pulao was a hit at home. The son said 'yum', the husband suggested that I make it again with chicken, the daughter who is not into trying out new dishes liked it too. Next time, I will take the husband's advice and try a non veg pulao. For now, I hope you enjoy this recipe! If you do, drop a line at ruchikrandhap@gmail.com! I'll be waiting to hear from you!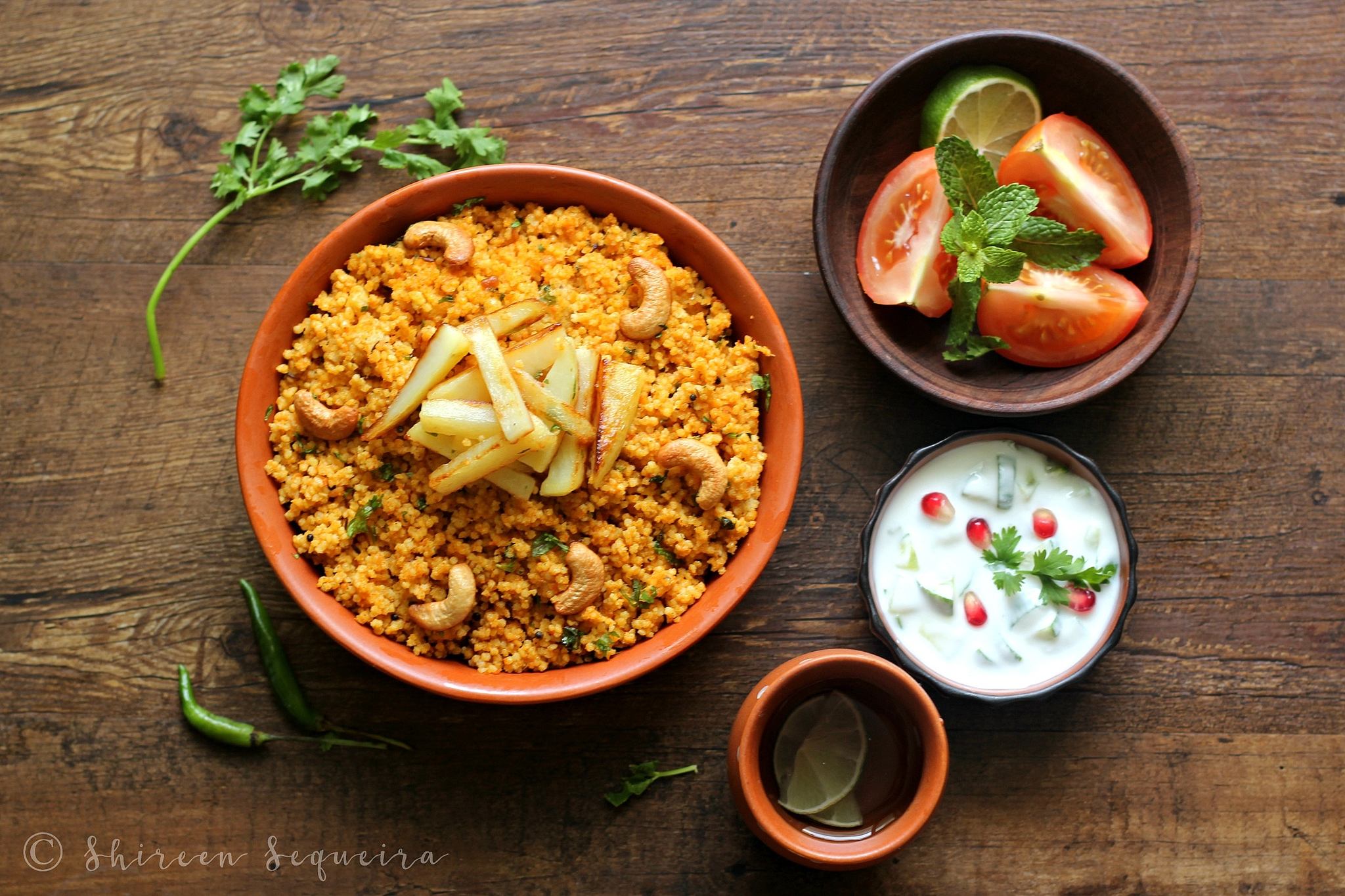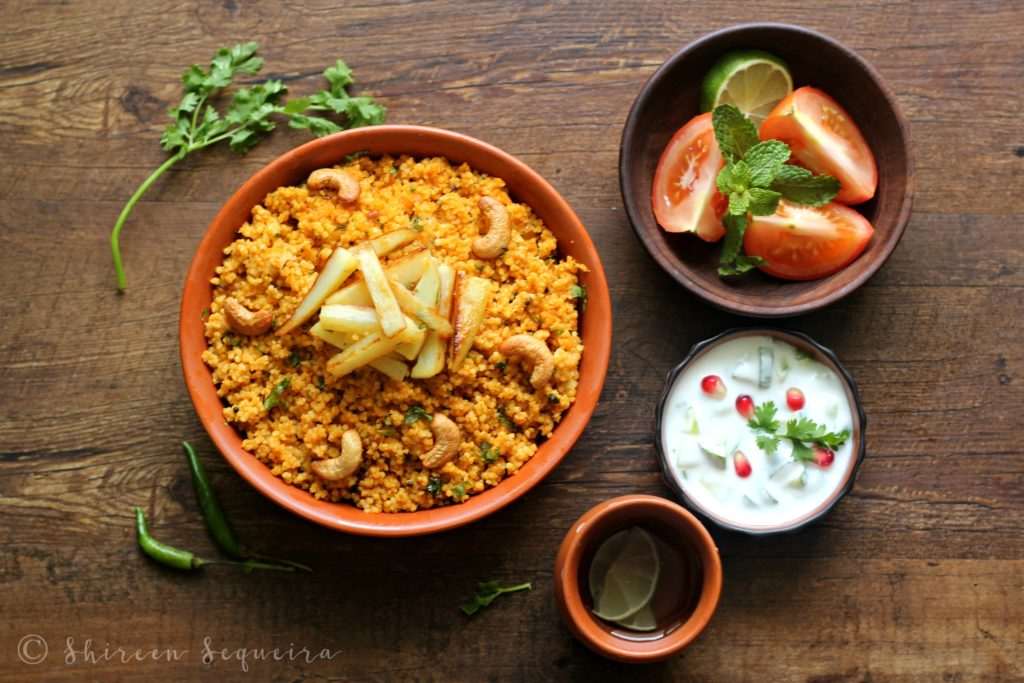 Where To Buy Millets:
Mangalore ~ Desi Utthana, ICICI Bank building above Madhu Bazaar (near the Post office), Hampankatta. They also have stores in Bangalore & Hubli. All details can be found on their website 
Other cities in India ~ Please check Godrej Nature's Basket & similar high end stores.
Dubai ~ Lulu hypermarket, Karama, Dubai in the section where semolina is available. You can also check the Al Adil chain of stores & The Organic Foods & Cafe, Sheikh Zayed Road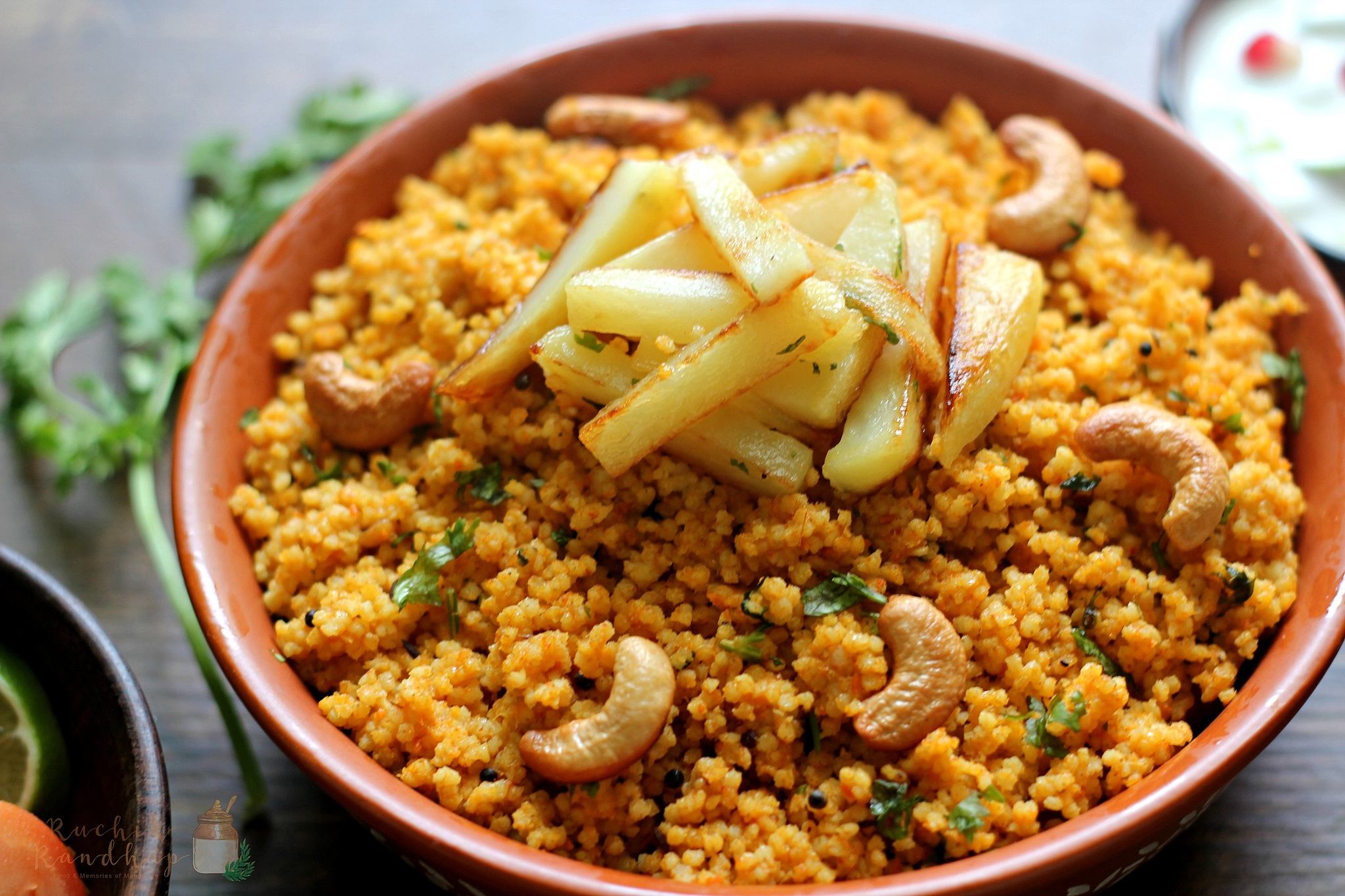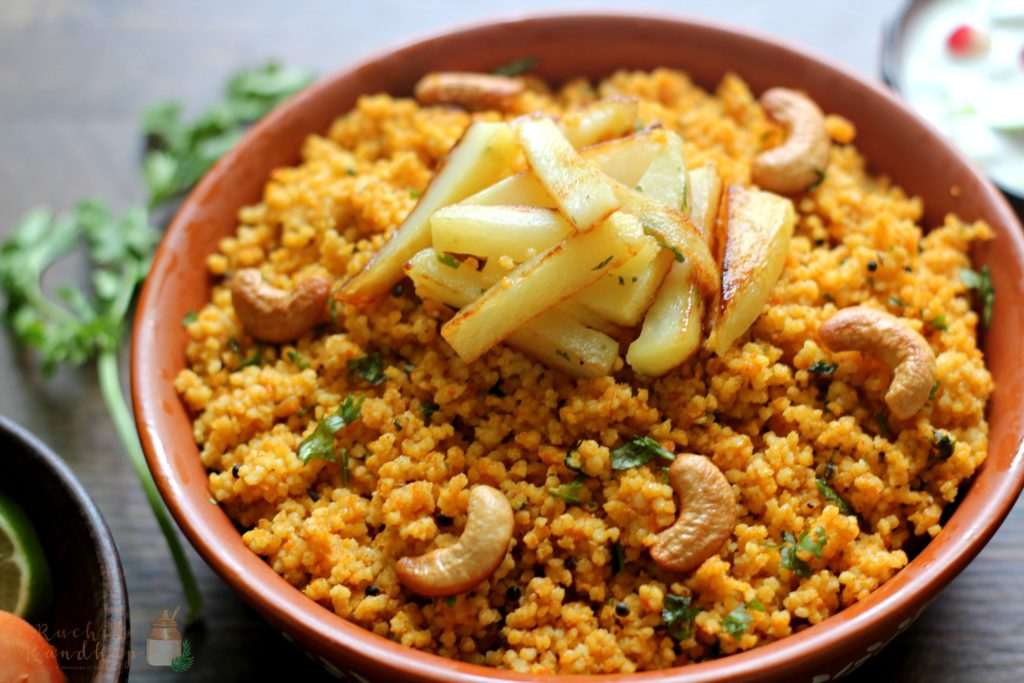 Have you tried these millet recipes?
Foxtail Millet, Chocolate & Orange Mousse Cake (Gluten Free Recipe)
Millet Semiya & Mango Kheer (Using Condensed Milk)
Ragi Dosa ~ Gluten Free & Vegan
Ragi Idli (Steamed Finger Millet Cakes) ~ Gluten Free & Vegan
Ragi Shevai Usli (Seasoned Finger Millet String Hoppers)
Ragi Manni | Ragi Falooda (Finger Millet Pudding) ~ Gluten Free & Vegan
Ragi Mudde (Finger Millet Balls) ~ Gluten Free & Vegan
Foxtail Millet Pulao ~ Gluten Free & Vegan
Delicious foxtail millet pulao is a great option for those looking for alternatives to rice. Definitely a healthy option for people with gluten free, vegan & diabetic lifestyles. Makes for a great lunchbox option too
Cuisine:
Gluten Free, North Karnataka, Vegan
Ingredients
1

cup

foxtail millet

thinai in Tamil & navane in Kannada

2

cups

plain water or vegetable stock

* see notes

1

vegetable stock cube if water is used to cook the millets

optional

1

small

potato, peeled and cut into strips

1

tablespoon

cashew nuts

1/4

teaspoon

turmeric powder

1/2

teaspoon

cumin powder

1/2

teaspoon

coriander powder

1/2

teaspoon

garam masala powder

2

tablespoons

fresh coriander, finely chopped

to garnish

salt to taste

ghee or oil for frying
For the masala
1

medium-big

onion

2

medium

tomatoes

1

inch

ginger

1-2

small

green chillies (spicy variety)

* adjust to taste
For the seasoning
1

teaspoon

mustard seeds

1

teaspoon

cumin seeds

1

teaspoon

black gram dal

urad dal
Instructions
Place the millets in a sieve or fine slotted colander and wash carefully in 2-3 changes of water and drain. Do this carefully as the millets tend to stick to your hands and you will end up losing a lot of the grains when you discard the water.

In a heavy based pan or pot, bring the vegetable stock or plain water (in which the stock cube has been dissolved if using) to a rolling boil.




Add the washed millets and check seasoning. Once the mixture starts to boil, reduce the heat completely to a sim, cover the pan with a well fitting lid and keep a timer for 5 minutes. After 5 minutes, turn off the heat and leave the pan untouched for 15 minutes.

In the meanwhile marinate the potato strips lightly with salt. Keep aside for 5-7 minutes and then drain the water. Shallow fry them till light golden. Remove on a plate lined with absorbent kitchen tissue

Grind all the ingredients mentioned under 'For the masala'. Reserve the water from the mixer jar after the ground masala has been removed

After 15 minutes are up, gently fluff the cooked millets with a fork. Cover the pan again and keep aside.

In a heavy based pan or Kadai heat the ghee or oil and fry the cashew nuts till golden. Remove and keep aside.

To the same pan, add the mustard seeds, when they stop spluttering, add the cumin and black gram dal. Fry everything on a low heat. Add the ground masala and fry it for 7-8 minutes or till the moisture evaporates and the oil begins to leave the masala.

Reduce the heat and add the powders - turmeric, garam masala, coriander & cumin. After a couple of seconds add the pre-cooked millets and on a medium-high heat mix everything very well. Remove from heat.

Serve the millets topped with the fried potatoes and garnished with cashew nuts and chopped coriander leaves