A post too soon eh? Considering that I've been taking my sweet time to post recipes since we welcomed 2012? Well, I've decided to get rid of my laziness and at least post all the recipes that have accumulated in my drafts – most of which were tried several times in the last 3-4 months when I was too busy writing the detailed Kuswar posts and didn't have the energy to post these (plus I was super busy, lazy and sick). Nice and simple recipes that have been tried twice or thrice with positive results and it would be a pity if I don't share them at the earliest. Since Lent has started on Wednesday I have decided to give up cooking interesting and new dishes – one thing I am most passionate about and maybe I should use this time to clear my drafts.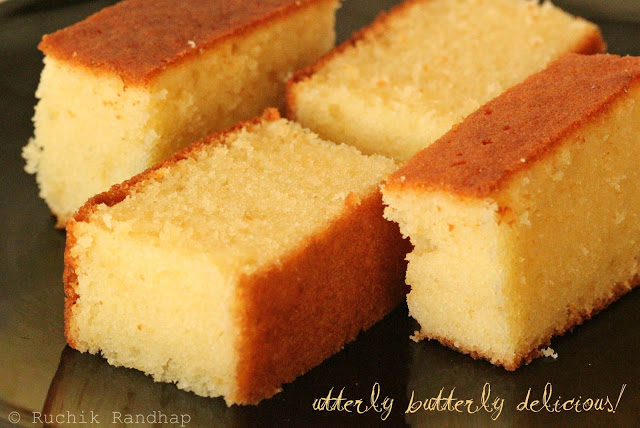 This particular cake which was highly recommended by my friend Rinku of Kitchen Treats became an instant hit and has been tried thrice already and will be baked many many more times I am sure as this recipe is a keeper. R loves simple cakes – the plain jane variety – no icing, no fuss, no frills and definitely no chocolate! Man! It's hard to survive with someone who doesn't like chocolate in anything. No chocolate cakes or brownies for him he says. Just to please me he takes a bite at the most. But I bake chocolate cakes anyways as the little fellow can't get enough of chocolate. Suits me fine! But thanks to the man and his choice of cakes, I have bookmarked a whole lot of cakes that don't make use of even a speck of cocoa. I am particularly keen to try out the sponge cakes that are so famous in Mangalorean bakeries. I hope I find a good one that is at least a close contender to the ones I've grown up eating if not the perfect one.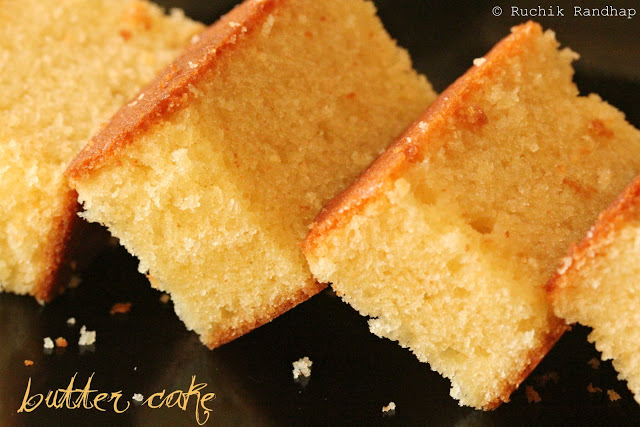 The reason why I have made this cake umpteen number of times is because the main ingredient – butter is found in abundance in my kitchen these days. Well, we have kind of switched over to fresh milk from the local dairy instead of the store bought tetra packed milk. I think its a better and wiser choice as it is fresh, wholesome and also leaves me with a whole lot of dairy byproducts. The amount of fresh /heavy cream that I get after pasteurizing the milk is enough to throw me into a tizzy – I not only have home made butter, but also home made buttermilk and ghee these days and the whole process of making each of these items from scratch is enjoyable and satisfying.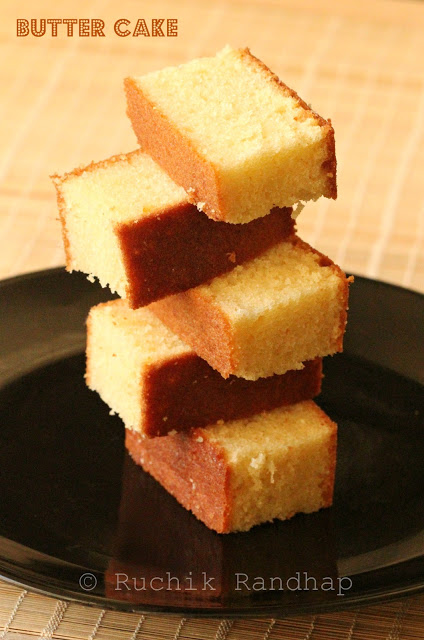 As I have mentioned before in some of my posts, its always a headache to find unsalted white butter when a recipe calls for it. Most grocers in my area stock up only salted 'Amul' butter and although its not a sin to replace unsalted butter with the salted one, not every recipe will be happy to accommodate my laziness. Unless I am prepared to walk miles to hunt for white butter I usually resort to the Parsi Dairy white butter that is available in Godrej Nature's basket, however, I am not happy with the quality as it usually tastes and smells slightly rancid which is blasphemous for a butter cake. You simply cannot afford to use poor quality butter in a butter cake can you?
Do make sure you use the best quality ingredients for this cake as there are no other flavours to morph the original buttery taste & texture here. This cake is best eaten warm and fresh out of the oven (wait until the cake is out of the pan though!). If you intend storing it for longer than a day, refrigerate it and pop it in the microwave for 15-20 seconds before serving – this warms up the butter and refreshes the cake immediately.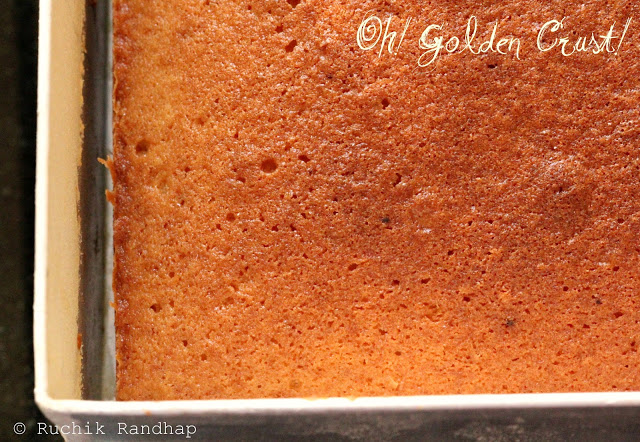 Anyway, all I can say about this cake is that it has a beeeeautiful texture and a plain, easy and melt-in-the-mouth flavour, almost like, well, butter! Hehe (it's not called 'butter' cake for nothing). The recipe obviously asks for a huge amount of butter (more than the quantity of flour) so its not something you would want to indulge in too often if you are health conscious (although I bet you'd like to!). It's the kind of cake that can be made for a simple tea party and you can safely assume that everybody will like it and reach out for some more. It's a perfect accompaniment to a nice hot cup of tea or coffee or plain milk and will appeal to the anti-chocolate league members, toddlers and those looking out for something simple to satiate their sweet tooth.
You can also get creative and take this cake to another level by serving it with some chocolate sauce. I used Hershey's and it was brilliant. The simplicity of the butter cake teamed with the rich smoothness of the chocolate was amazing (although I am not a huge fan of Hershey's syrup – next time I must try a different brand). The little boy had a lot of this combo and the big boy just liked it plain – slice after slice.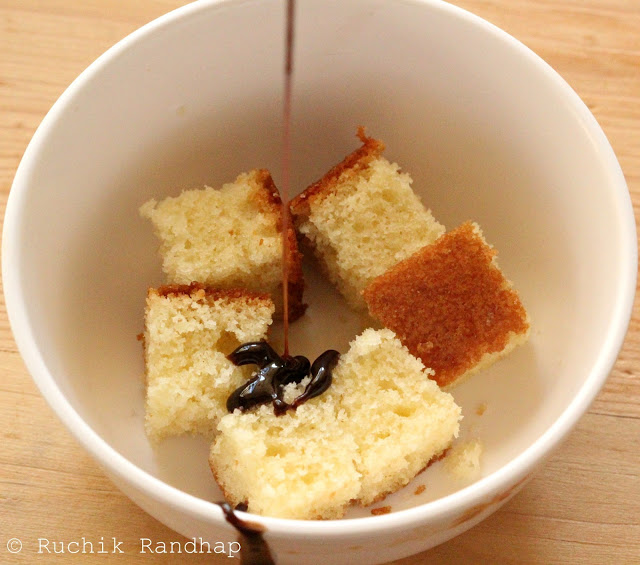 I have simply halved the ingredients in the recipe below. The measures are perfect if you intend to serve just 3-4 people, but I suggest you make the entire cake if possible as it simply melts in the mouth and you'll be reaching out for more!
Butter Cake
Preparation time: 15min | Baking time: 30-35min (for below quantity) | Yield : 8-10 medium sized slices


You Need:
100gm/3/4th cup all purpose flour
1 tsp baking powder * see notes
100gm sugar * see notes
1/4 tsp salt * see notes
125 gm unsalted butter * see notes
2 eggs at room temperature
2 tbsp milk
1/2 tsp vanilla extract
Method:
1. Preheat oven at 180 C for 15mins. Prepare a 8″x4″ loaf pan (* see notes) by either lining it with parchment/butter paper or greasing it well with butter and then dusting it with flour.
Sift the flour, baking powder & salt at least 2-3 times. This helps make the cake all the more fluffy.
2. In a large mixing bowl beat the butter & sugar until pale. Add one egg at a time and beat well.
3. Pour in the vanilla extract and mix till incorporated.
4. Add the flour in 2-3 parts alternating between flour and milk (ie add one part flour to the butter egg mixture and mix well with a spatula.
5. Pour the batter into the prepared tin and bake for 30-35 minutes or till the skewer inserted comes out clean. My cake was done in exactly 32 minutes.
6. Remove the tin from the oven and place it to cool on a wire rack for 10 minutes. Careful invert the cake on to the wire rack and tap the tin so that the cake slides out easily. Allow to cool completely before cutting it.
7. Serve with a hot cup of tea, coffee or milk or simply enjoy it plain. You can also cut up each slice into chunks and eat it with chocolate sauce poured over it
Notes:
1. The original recipe makes a note of 'double action baking powder' – you can use any brand of baking powder in India. Weikfield specially mentions 'double action' on the box. Other brands are Bluebird and Bakers which are also double action. Apparently there is a 'single action' baking powder that is often used for commercial baking.
2. The original recipe asks for 90gm sugar, however I increased it by another 10 grams as it results in a perfect moderately sweet cake. I used regular granulated sugar and powdered it using a dry mixer jar.
3. If you are using salted butter (like Amul), skip the addition of salt. Most cake recipes that ask for unsalted butter do not ask for salt, but it is always advisable to add a pinch or two as it helps bring out the flavours in the cake.
The original recipe is for the full quantity, I have halved it here. For the full quantity it is advisable to use a 7″x7″ square pan and not a 9″x9″.. A bigger square pan will result in a slightly flatter cake.