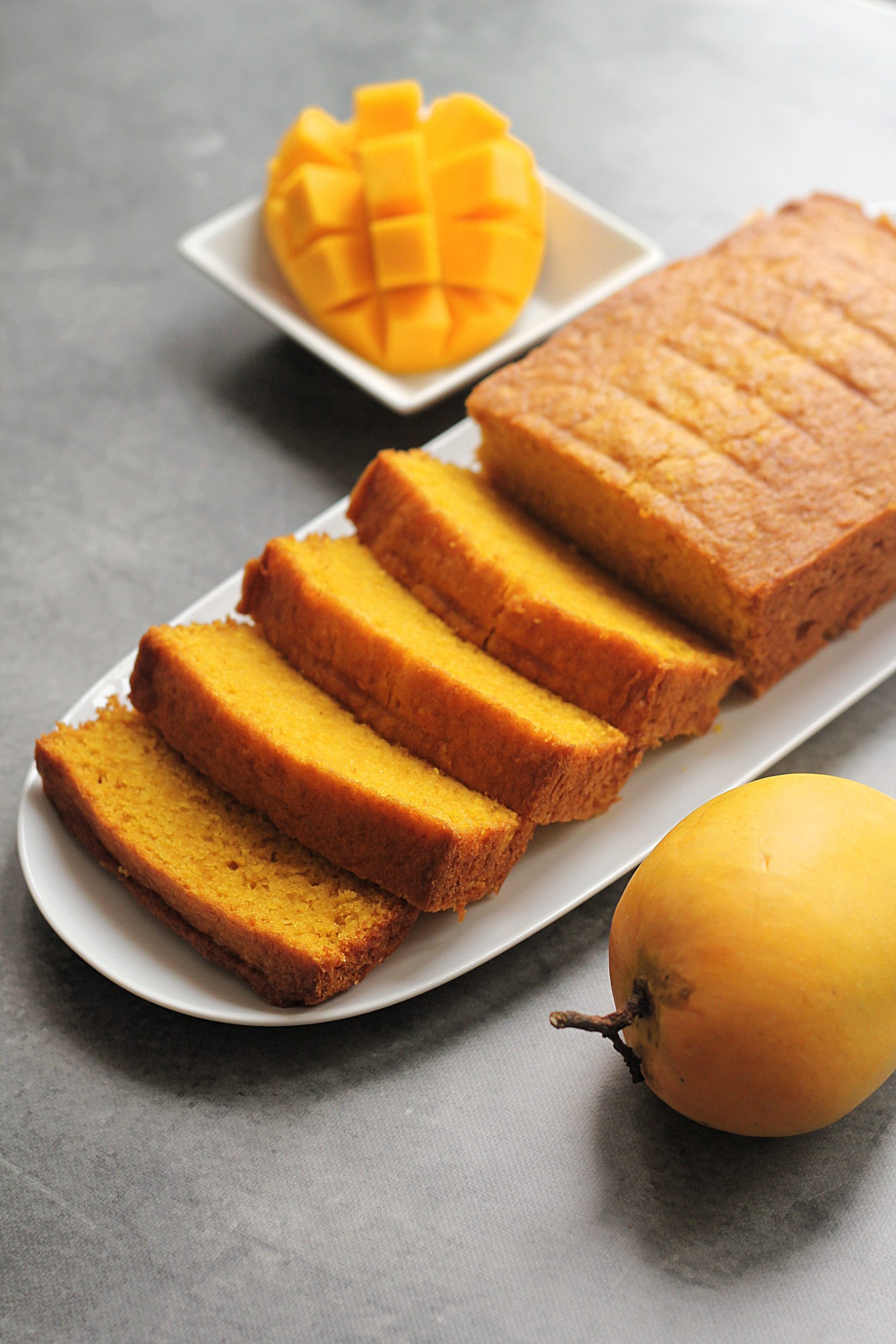 Pin
Mango Cake! Folks I am so thrilled to share the recipe and a video of how I made a simple yet delicious mango cake at home. Over the years I have tried so many different recipes but none satisfied me. Some recipes called for oil instead of butter, some others were without eggs but while they all turned out pretty okay, our tastebuds wanted some more – perhaps the taste of that classic pound cake with the goodness of mangoes.  This year I was not sure of even getting proper mangoes in order to experiment with them but just last week I managed to find some and have been going beserk with them. I have tried this recipe twice before sharing it with you, ofcourse, the first time was good too, it was made with oil and it was quite okay too.
What I liked about this cake was that it told me it was a mango cake without telling me it was a mango cake – I am not sure you have caught on to that trend (tell me you are  …. without telling me you are  …). So basically this cake had all the features of a classic sponge cake with the aroma and flavour of mangoes without them being too dominating either. It was buttery and the texture was just right. My family loved it, I hope you do too!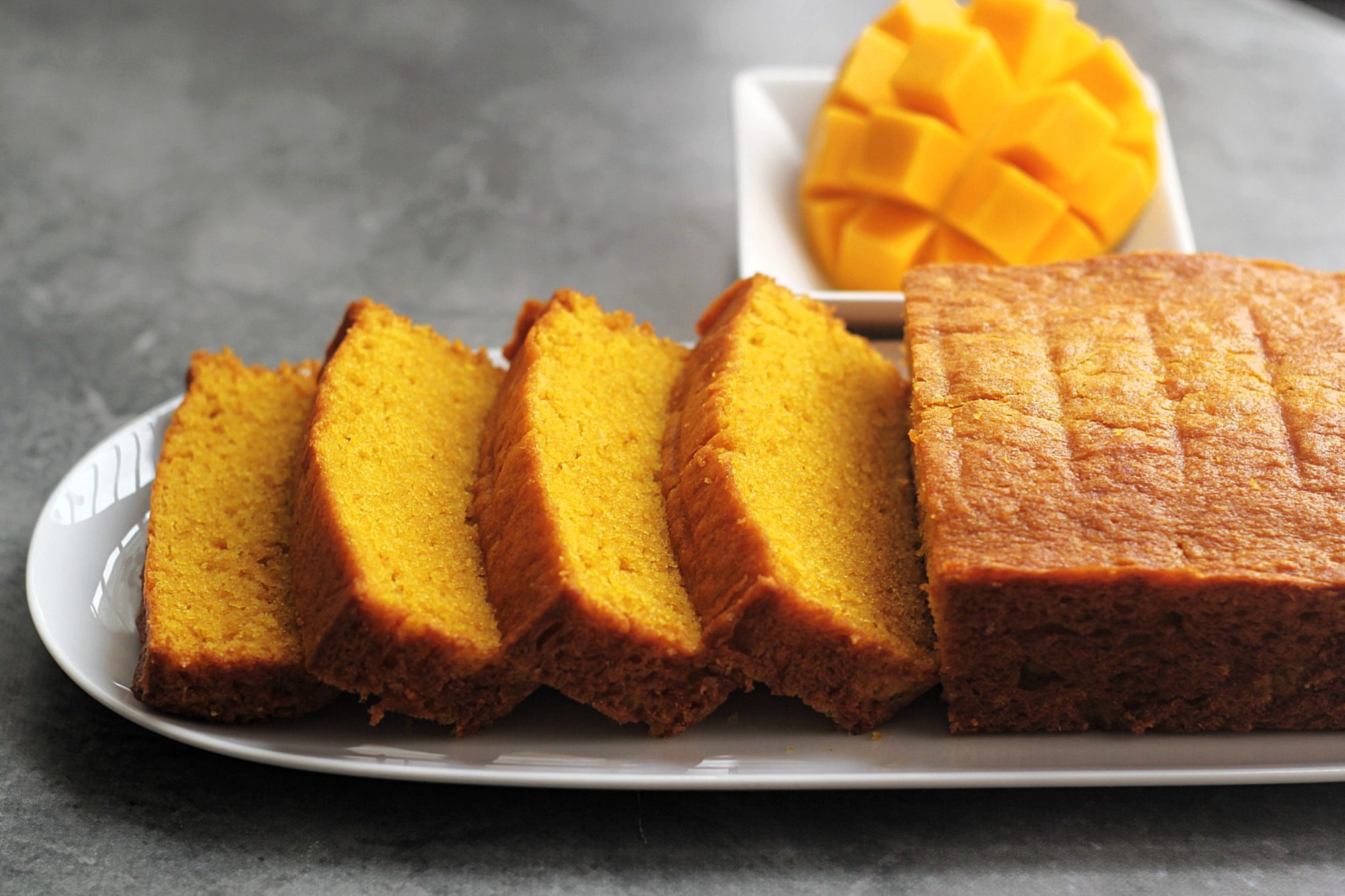 Pin
What kind of mangoes should I use?
For this recipe I have used Alphonso mangoes (also known as apus/hapus mangoes in India). This was only due to the availability. You can use any kind of full ripened mangoes such as kesari, badami or chaunsa (which we get in the UAE). The flavour and colour of your cake will greatly depend on the sweetness and colour of the mangoes. As you can see, my cake has a deep saffron colour as I used mango pulp that was deep orange-yellow in colour. The lighter the colour of the pulp, lighter the colour of your cake. Simple!
I don't have any fresh mangoes, can I use canned or frozen ones?
As long as the canned mangoes are sweetened in sugar syrup you can use them. Mangoes are naturally sweet when they are ripe, so canned ones may be a bit too sweet, in which case you can reduce the sugar slightly. However if you are using frozen mangoes, then it would be ideal to thaw them slightly before pureeing.
Do I really need to use mango essence?
While the addition of the essence definitely enhances the aroma of the cake at the time of eating it is totally optional. I would recommend using pure vanilla extract if you don't have the mango essence as it will help eliminate the eggy aroma that pound cakes tend to emit.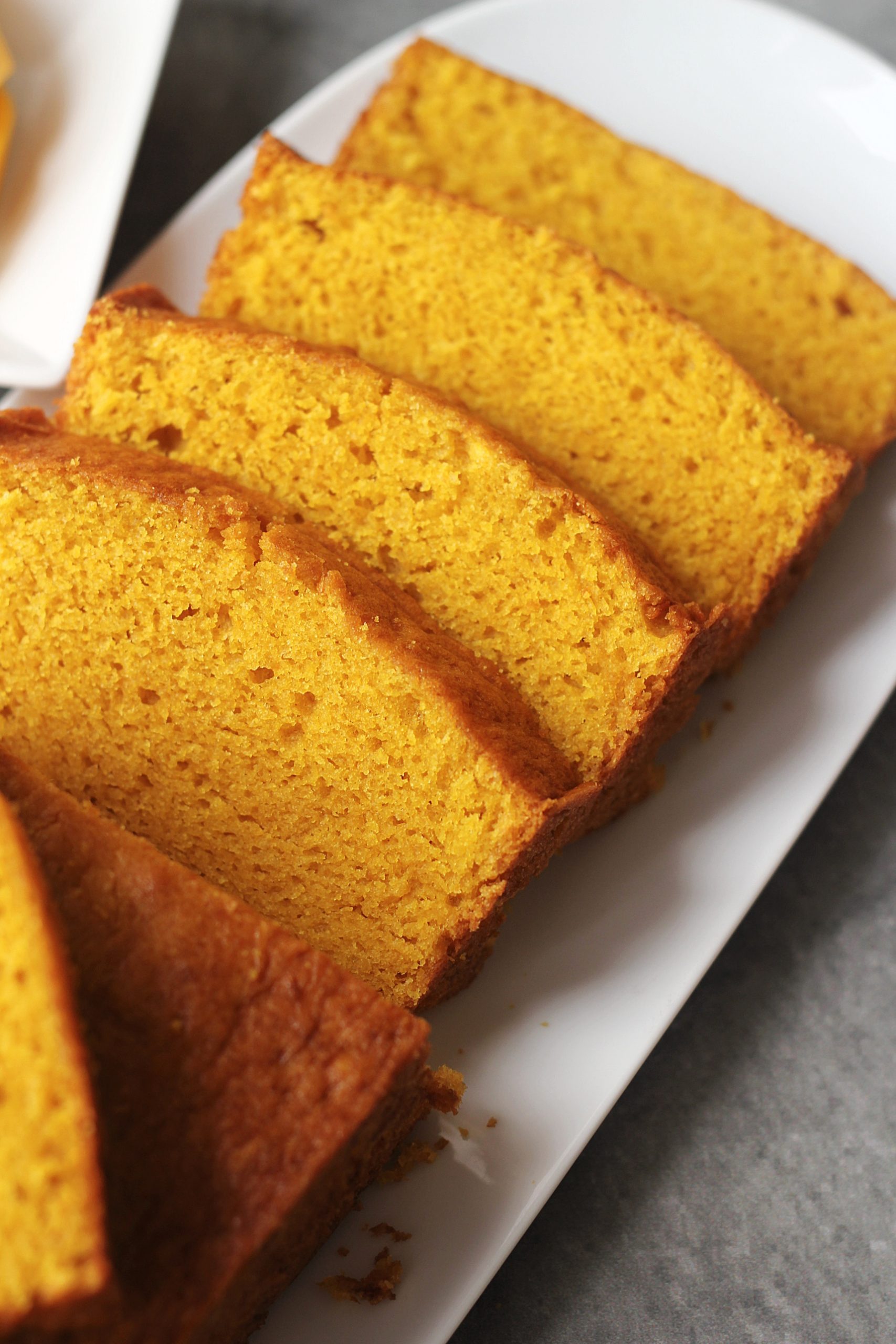 Pin
Can I make this cake with oil instead of butter?
Yes you can use oil instead of butter, just replace 1/2 cup (100 grams) butter with 1/2 cup (120ml) oil.  Do note that the consistency of the batter may vary, as in, it will be slightly more runny than it is now
What if my batter is a bit stiff?
Depending on the consistency of the butter at the time of using (too soft or just right) and the texture of the flour used, the batter may be slightly thick. In this case just add 2-3 teaspoons of warm milk at a time while folding the batter until you get the desired consistency.
Is there an eggless option for this cake?
I knew you'd ask this! While I always prefer baking with eggs I do understand that for many of you, your diets may restrict the consumption of eggs.  You could try using yogurt (plain thick curds) or agar agar mixed in water or even applesauce in the place of eggs. These I feel are egg replacers that won't change the taste of the cake.
Popular egg substitutes for 1 egg (exponentially increase the quantity as per your recipe)
1/4 cup mashed bananas
1/4 cup unsweetened applesauce
2 tablespoons water + 2 teaspoons baking powder + 1 teaspoon vegetable oil
1 tablespoon agar agar + 1 tablespoon water (mix & use immediately)
1 tablespoon flaxseed powder + 3 tablespoons water (whisk & use)
1 tablespoon chia seeds + 3 tablespoons water (mix and let it sit for 12-15 minutes)
1/4 cup yogurt or buttermilk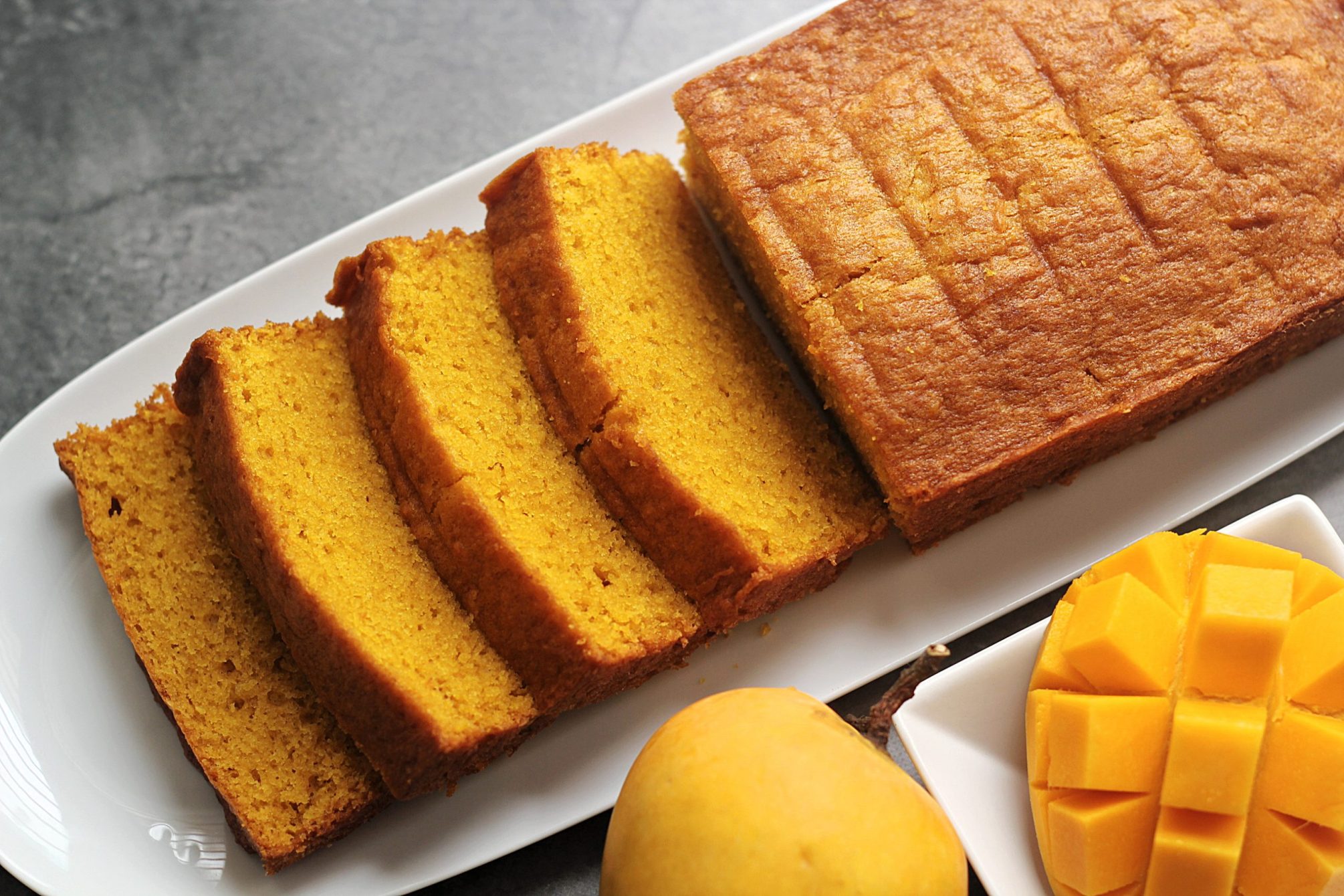 Pin
New here? Subscribe to my free newsletters with my latest recipes!
If you give this recipe a try do leave a comment on this post down below and don't forget to give it a star rating! It will really help more readers discover my recipes! Don't forget to check out my latest videos on my YouTube channel. If you like what you see, do give me a thumbs-up (like), share & comment and subscribe to my channel so that the gods of YouTube (a.k.a algorithms) recommend my channel to a wider audience with similar tastes and more & more people can discover my videos!
And while you're here, do follow me on Instagram, Pinterest,  Facebook and Twitter. If you'd like to say hello or have detailed queries do send an email at [email protected]. I'd love to hear from you!
Do check out the video of how to make this!! I hope you enjoy it!</p>
Mango Cake
A classic mango cake with the goodness of butter & eggs makes for a perfect tea time accompaniment!
Ingredients
1

cup

(120 grams) all purpose flour

1

teaspoon

baking powder

1/4

teaspoon

baking soda

1/8

teaspoon salt

1/2

cup

(113 grams) unsalted butter, at room temperature

1/2

cup

(100 grams) granulated white sugar

1/2

cup

(100 grams) mango puree

2

eggs, at room temperature

1

teaspoon

mango essence or vanilla extract
Instructions
Grease and line an 8"x4" loaf pan with baking paper. Preheat oven at 175 degrees C.

Sift the all purpose flour, baking powder, baking soda & salt into a bowl. Repeat this twice more. By doing this you are incorporating more air into the flour which then contributes to a light & airy cake

In another bowl, beat the butter for half a minute till it looks pale & fluffy. Add the sugar and continue to beat till it has been incorporated

Now add the eggs, one at a time and beat well for about half a minute between additions

Add the mango puree and beat in. Add the mango or vanilla extract and blend it in

Now add the sifted flour in three parts folding it in gently as you go. Take care not to over mix.

Transfer the batter into the prepared baking pan and bake for 32-35 minutes or till the skewer inserted comes out clean.

Place the pan over a cooling rack for about 12-15 minutes before unmoulding carefully. Let the cake cool completely before cutting.
Recipe Notes
If you don't have an 8"x4" loaf pan you can use an 8" round pan too