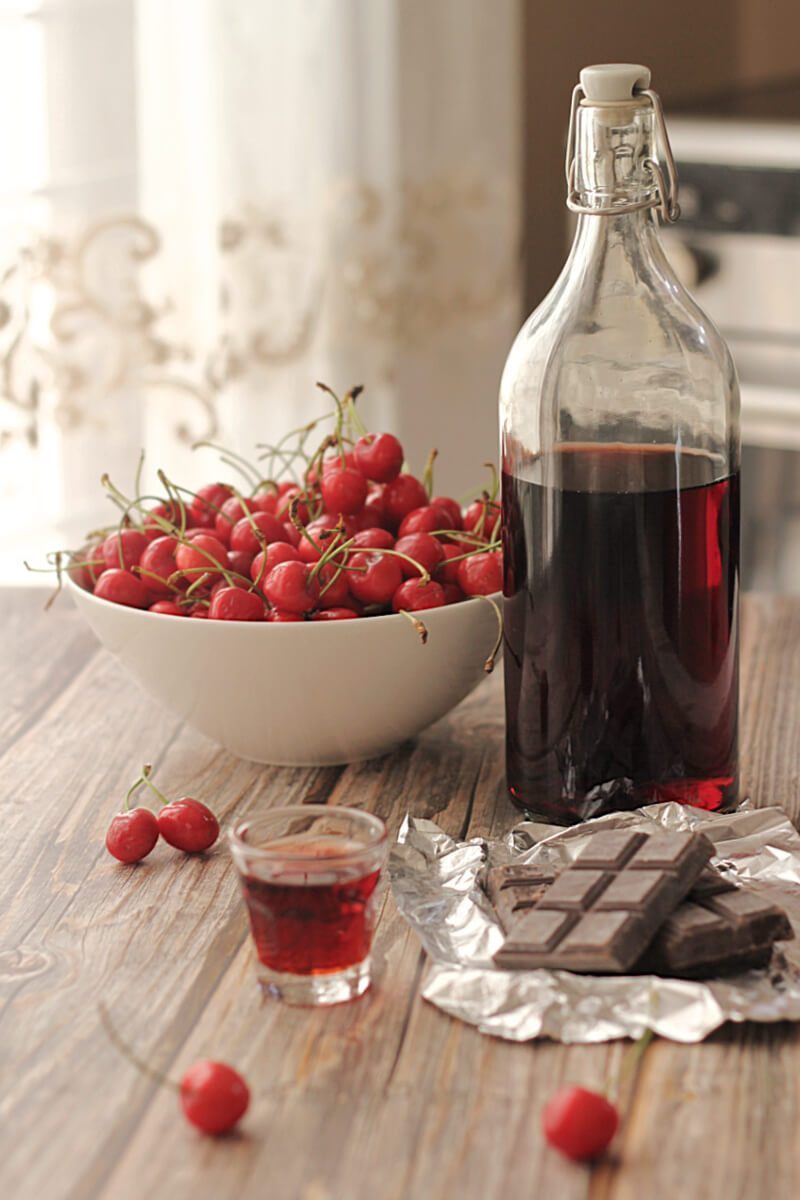 Pin
Ginjinha is a delicately flavoured cherry liqueur with notes of cinnamon, cloves & nutmegs is a speciality of Portugal. When served in chocolate cups makes for a delicious after dinner treat. I had the special privilege of tasting it during my visit to Portugal in Oct 2019. I have covered my trip in a 3 part series that you can read here
This beautiful cherry liqueur was served to us after dinner on our first day in Lisbon at a quaint little restaurant that primarily served seafood. After enjoying the food we were delighted to be served a small serving of Ginjinha (pronounced zhin-zhinya) simply called as Ginja as a digestif. This was a complimentary serving. We enjoyed it so very much that we promised to buy a bottle to take back home. During the rest of our holiday we got to taste it several times over, each time more delightful than the previous one as it was the different brands that we tasted with minor differences in aroma and flavour.
After I got back home I decided to try my hand at preparing it at home. I am so glad I did because the flavour and aroma was very close to what I had enjoyed in Portugal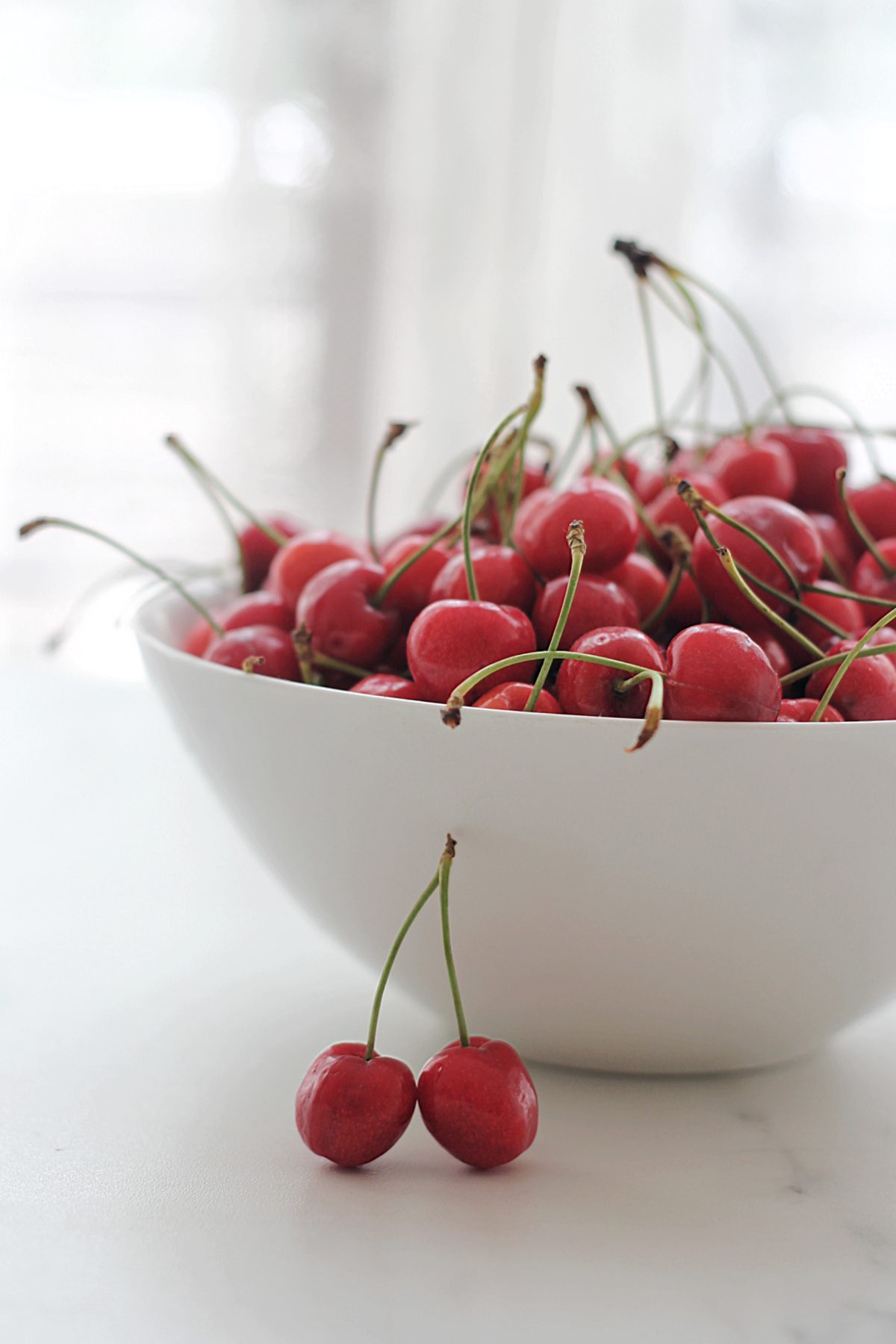 Pin
How Ginjinha is made
This beautiful liqueur is made with sour cherries called as ginja in Portuguese. In English they are called as Morello cherries. These are soaked in grappa which is fragrant grape based brandy made by distilling leftover pomace (residue after wine making) of wine making process. This concoction of cherries in brandy is made more aromatic & delicious with the addition of spices such as cinnamon & cloves. Some people like to add nutmeg as I have. The jar is then left in sunlight to soak up the sun which also helps to speed up the process of the sugar melting. After several weeks of sitting in the sun and then strained before bottling, the liqueur is a wonderful, smooth drink that is a perfect treat after a meal.
What can I use instead of grappa?
Since grappa may not be easily accessible to everyone, you can substitute it with vodka. The end result may not taste absolutely authentic but it will be delicious nevertheless.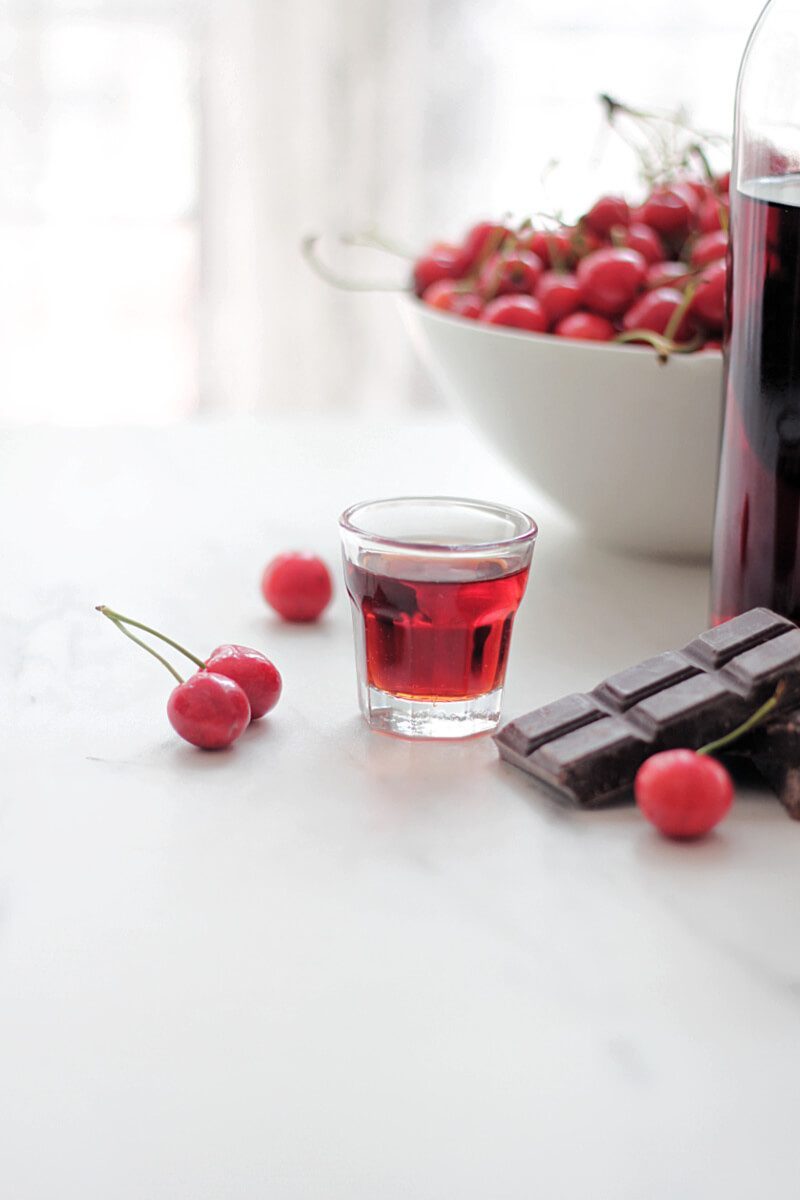 Pin
What kind of cherries can I use?
While the traditional Ginjinha uses sour ginja berries, also known as Morello cherries, I went ahead with whatever variety was easily available during the season last year. So while it is preferable to use whatever sour cherries you can find, sweeter ones are okay too. Just adjust the sugar accordingly as you wouldn't want the final result to be tooth tingling sweet (unless you like it that way)
Can I use brown sugar instead of white?
While white sugar is the easiest to procure you can use light brown sugar so as to not affect the final taste too much.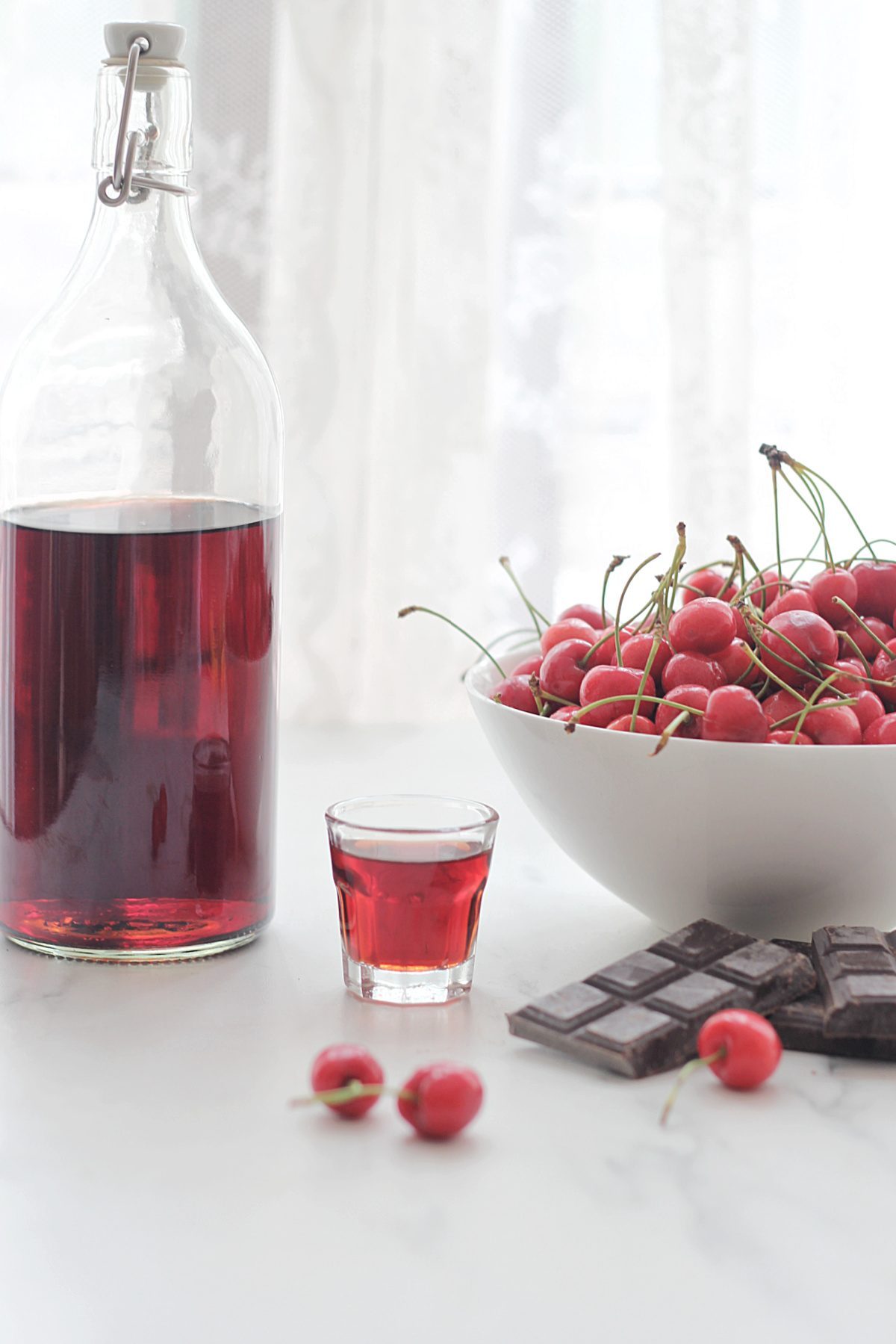 Pin
How long should I wait before bottling the liqueur?
The liqueur is usually ready to enjoy in 3-4 weeks but initially the concoction would be sweet and thick. It will take a while for the sediment to settle down and for the liqueur to clear up. The longer you keep it, the better it will taste.
How do I serve it?
It is enjoyed as a digestif ie a drink served after a meal intended to aid digestion. In most places in Portugal it is offered in mini chocolate cups which is an absolutely tasty way to consume this liqueur. If you can source these cups or make them at home, it is great. Otherwise, vodka/tequila shot glasses are good enough.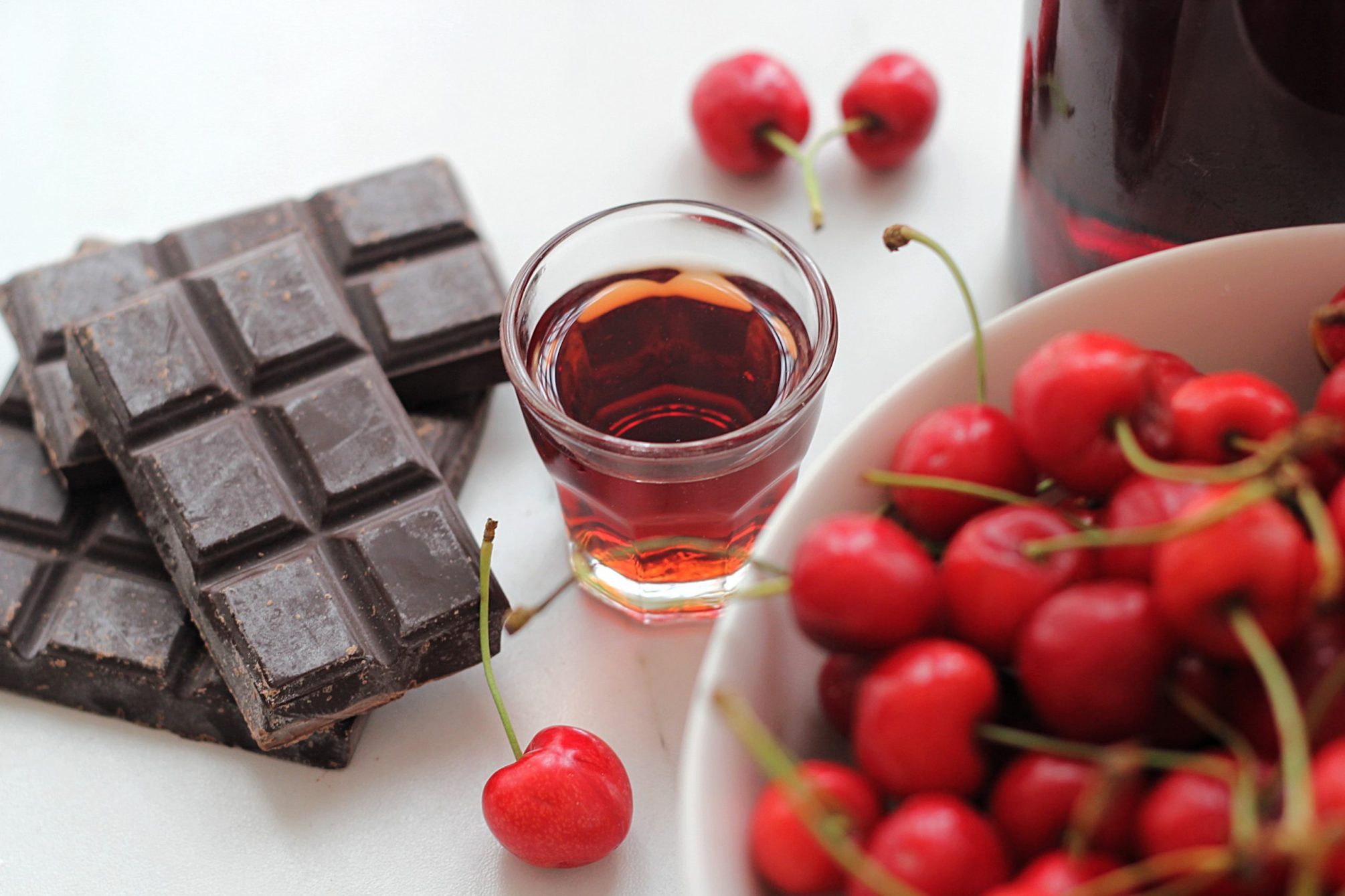 Pin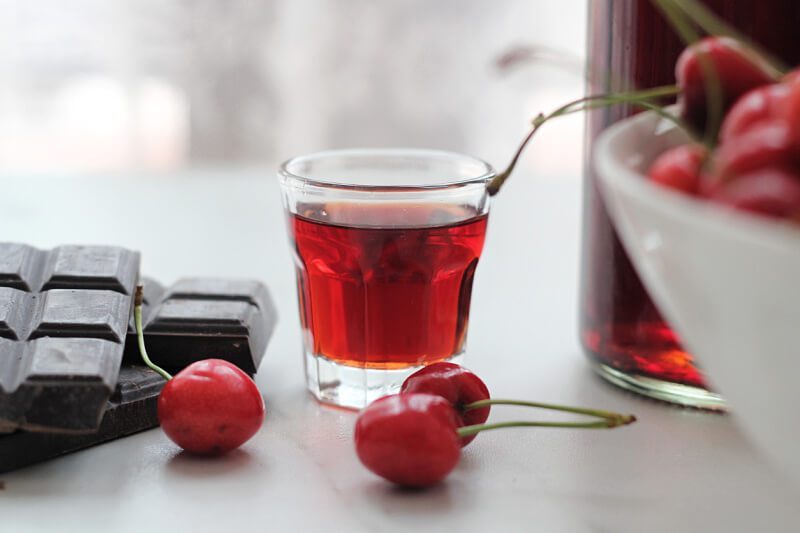 Pin
Don't forget to check out the video! I hope you enjoy making it as well while the season of cherries is still on.
Ginjinha | Portuguese Cherry Liqueur
Delicately flavoured cherry liqueur with notes of cinnamon, cloves & nutmegs is a speciality of Portugal. When served in chocolate cups makes for a delicious after dinner treat.
Print
Pin
Rate
Ingredients
1

kg

cherries (with stone)

1/2

kg

granulated white sugar

1

teaspoon

cinnamon powder

1/2

teaspoon

nutmeg powder

4

cloves

1

cup

grappa or aguardente or vodka

1/2

cup

red wine
Instructions
Wash the cherries well, remove the stems. Pat them dry to remove any traces of water and then transfer them into a clean, dry, sterile glass or ceramic jar.

Add the sugar and spices and give everything a good mix. Fasten the lid and shake the jar so that the sugar coats the cherries properly. Unfasten the lid but keep the jar covered.

Place the jar in the sun for 10 days. You can bring the jar indoors after sunset and place it outside again the next day.

After the 10th day add the vodka and red wine to it, fasten the lid and store in a cool, dry place of your kitchen for another 14-21 days.

Filter this mixture by passing it through a clean sieve or a muslin cloth placed over a clean, dry pan. Reserve some of the cherries to be placed back in the bottles of ginjinha. The rest of them can be mashed up & stewed to extract thick & saucy syrup to flavour your desserts.

Pour the filtered ginjinha into sterile bottles. Drop in 3-4 cherries into the bottles if you wish - this is just to enhance the aesthetics.

Serve Ginjinha in little small portions as an aperitif or a digestif. It tastes best when served in little chocolate cups if you can find them.
Disclaimer
The nutritional values are only indicative.
Tried this recipe?
Please leave a comment & rate the recipe below or share a photo on Instagram and tag me @ruchikrandhap