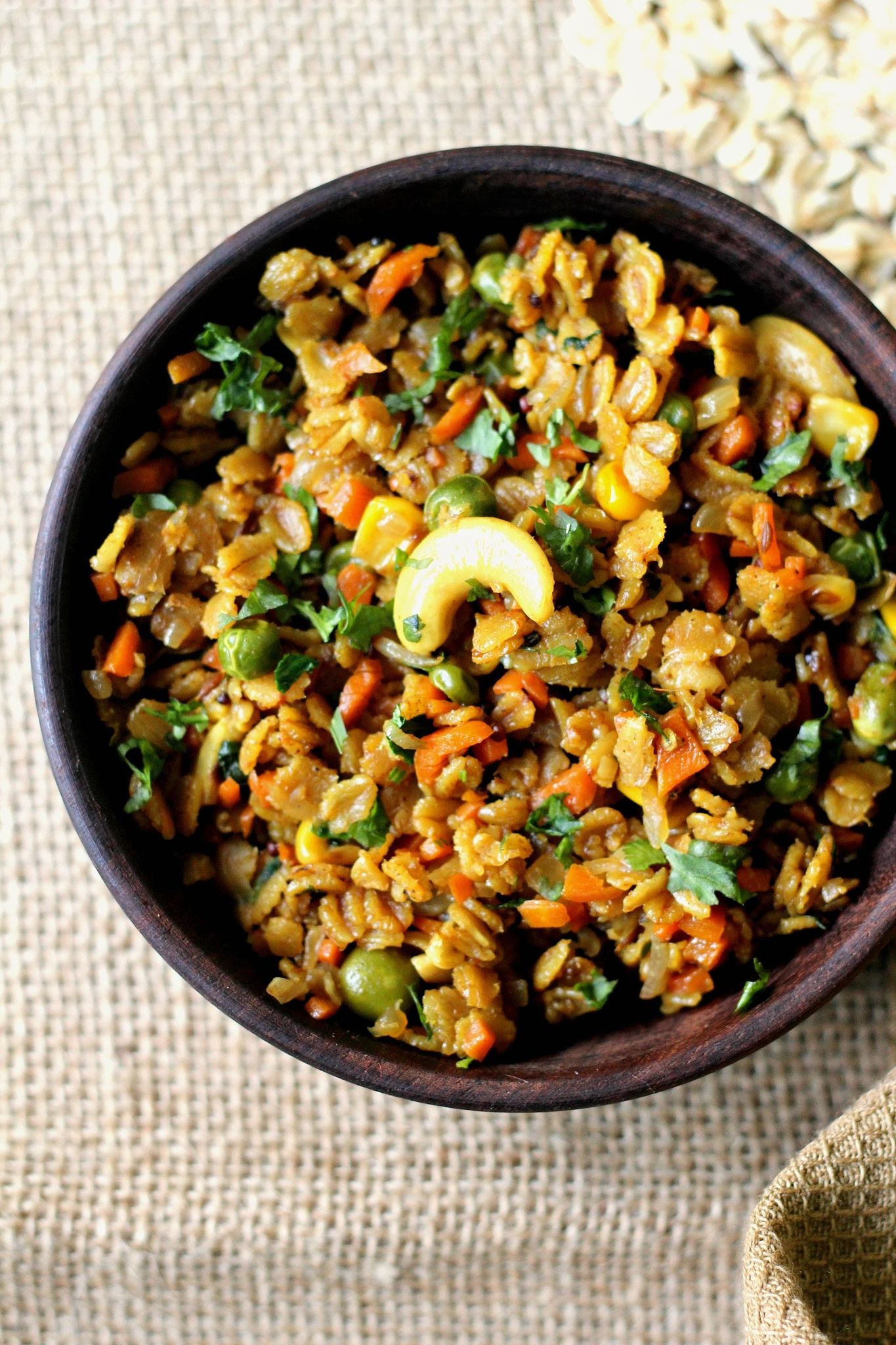 Oats – my latest love! I am amazed at how our tastebuds 'grow up' over a period of time. Foods that I once detested are back on my plate today. I never took to liking it too much because I believed that it was bland and tasteless. However, in the recent times, I have been experimenting a lot with savoury versions of oats and I am a convert! Oats was something that was fairly new to us during my growing up years and I probably purchased my first pack of quick cooking oats after I got married. Today, there are a zillion oat related products that have flooded the market, all claiming to be 'healthy'. However, if you notice, packaged oats that are supposed to cut down cooking time may not always be the best bet as they are loaded with preservatives and high levels of sodium and hidden sugars. I am not an expert in this field but from whatever I have read on this topic I am convinced that ready-to-eat or instant foods are more harmful than healthy. Having said that, instant noodles are perhaps the only exception to my rule as I buy them very very occasionally to satiate sudden pangs of homesickness. My mum used to make instant noodles with oodles of vegetables as an evening snack sometimes and I do get the urge to recreate that magic at home. Mummy ka magic, if you please 🙂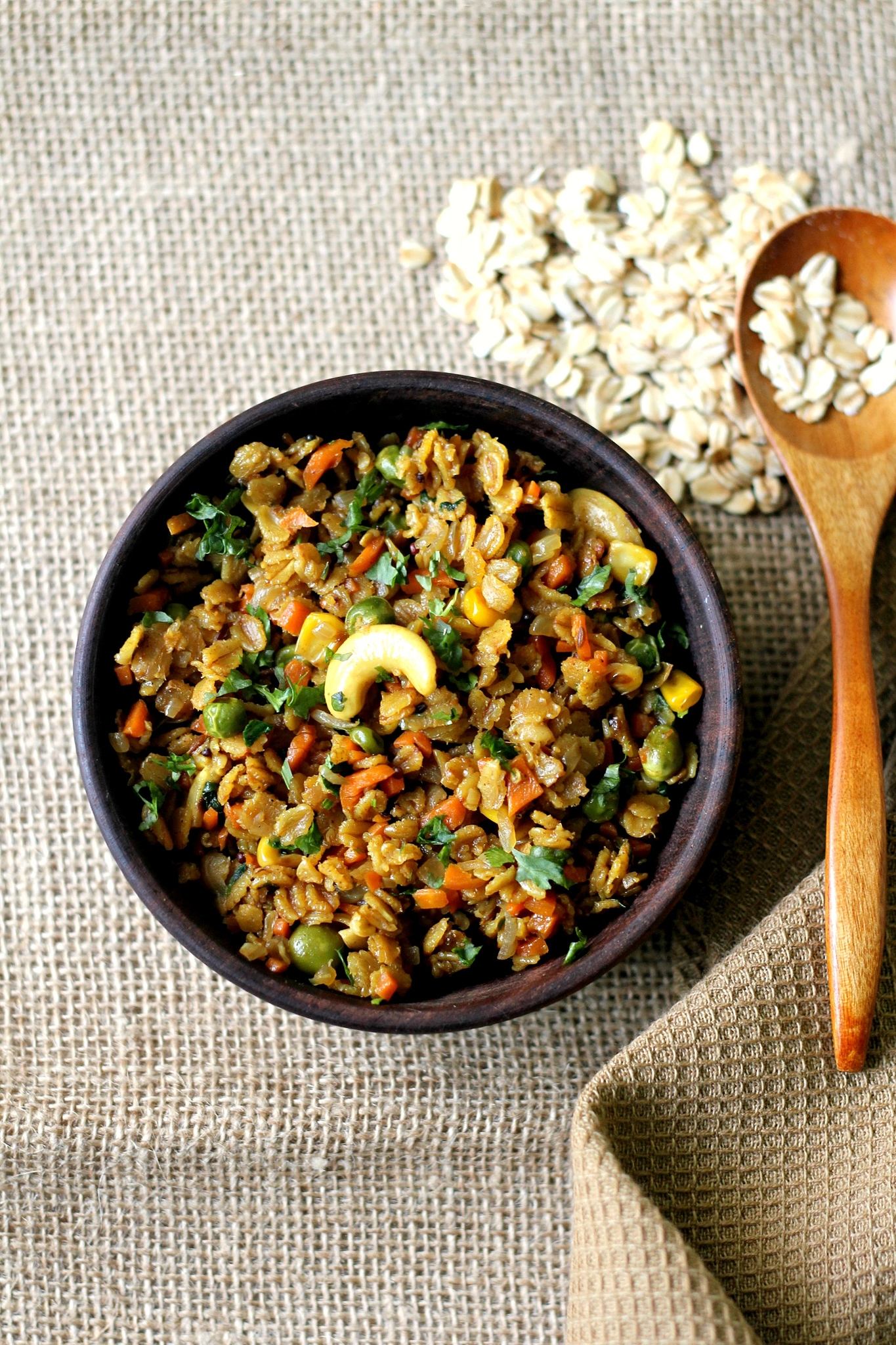 Anyway, back to oats and today's recipe. I bought some old-fashioned oats the other day because I wanted to try something new and this pack was on offer at the supermarket. Unlike the regular quick cooking variety, these oats have some texture and shape and are perfect for experimenting with savoury versions. And yes, this recipe is also perfect for those who like a nice savoury bowl of breakfast but are bored of the usual poha/upma kinds. So do give this one a try won't you?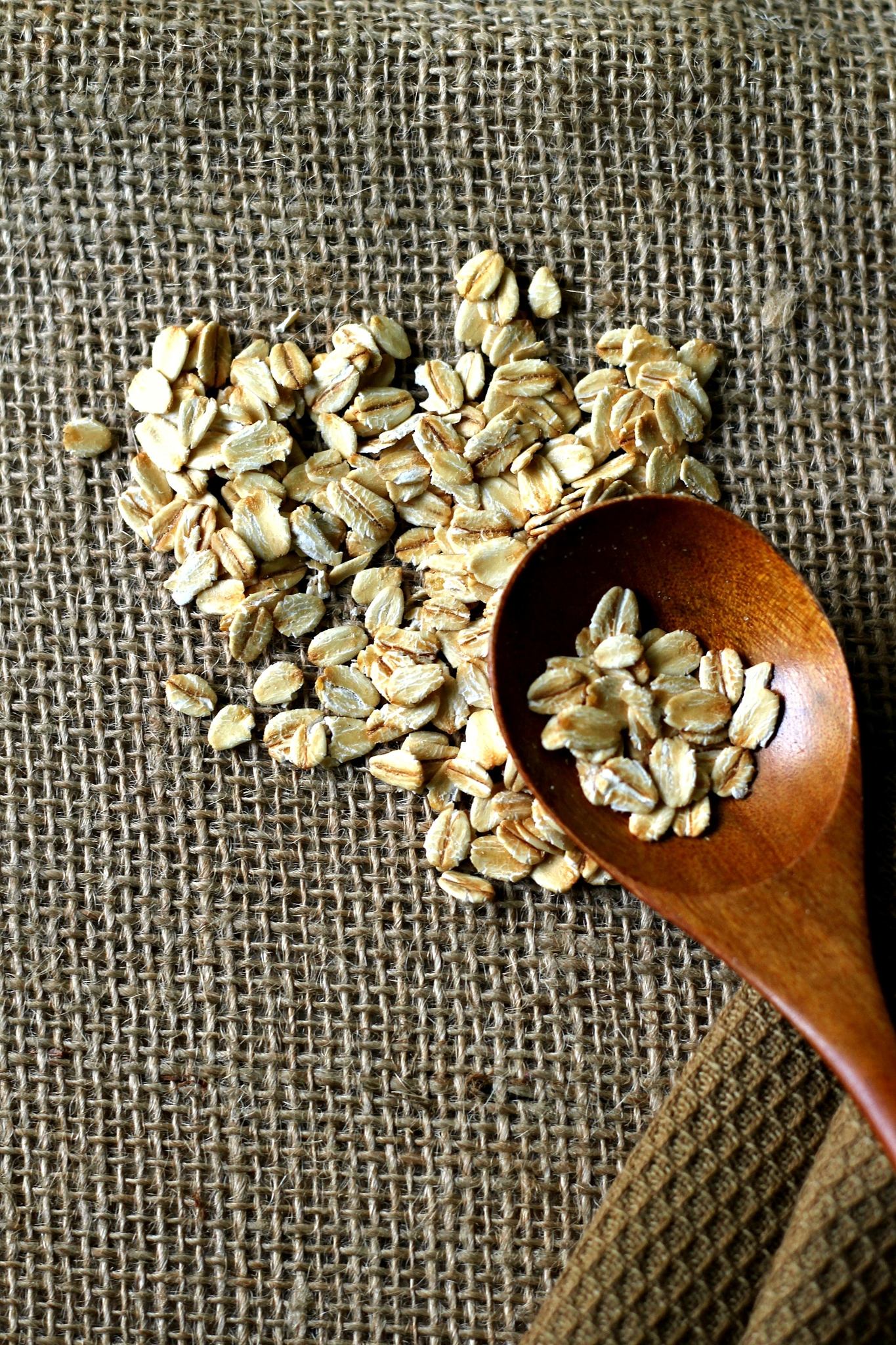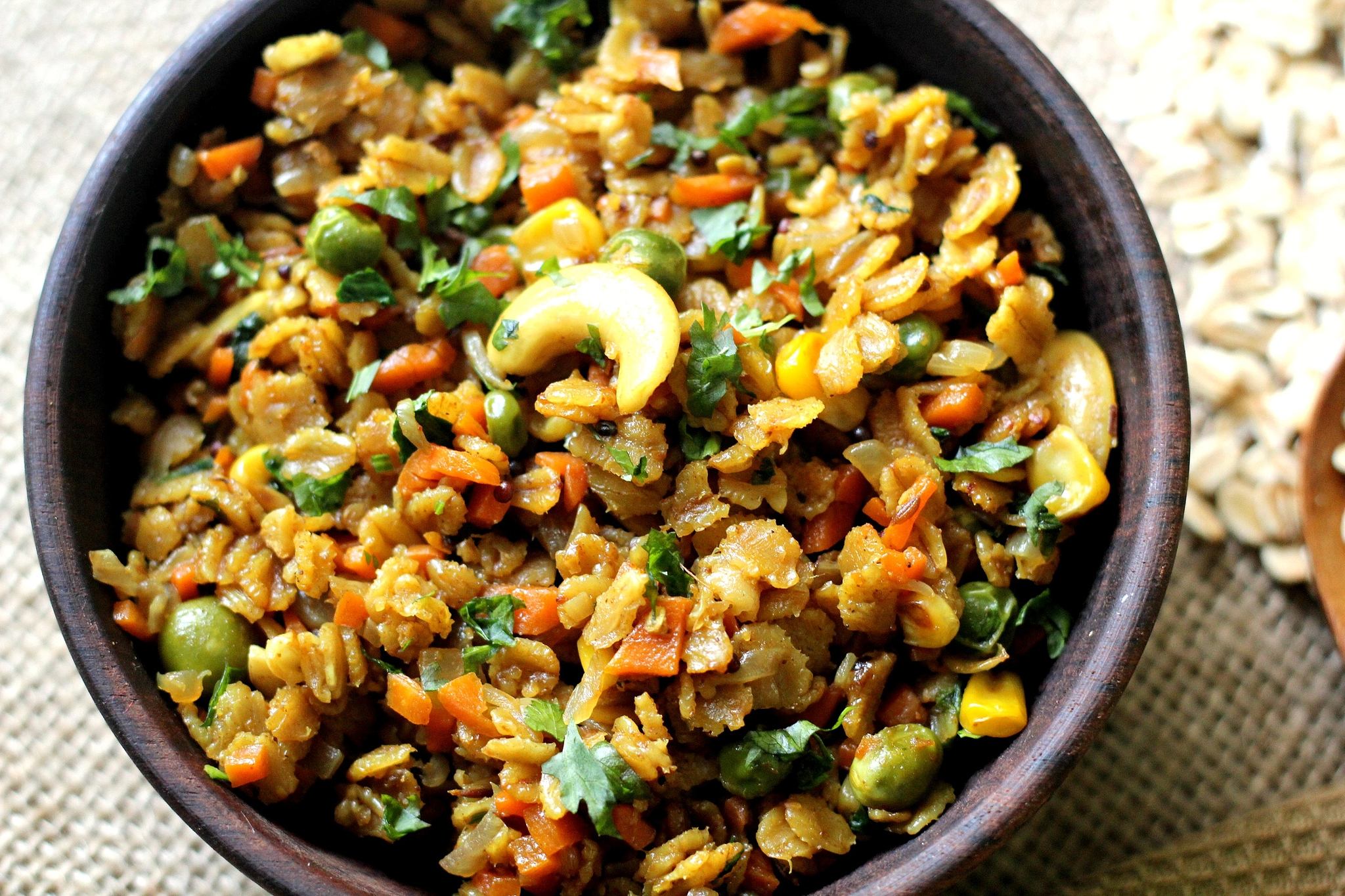 Love oats? Get the goodness of oats in these recipes!
Banana & Date Loaf with Whole Wheat & Oats
Coconut, Oats & Dry Fruit Cookies
Savoury Oats with Mushrooms & Spinach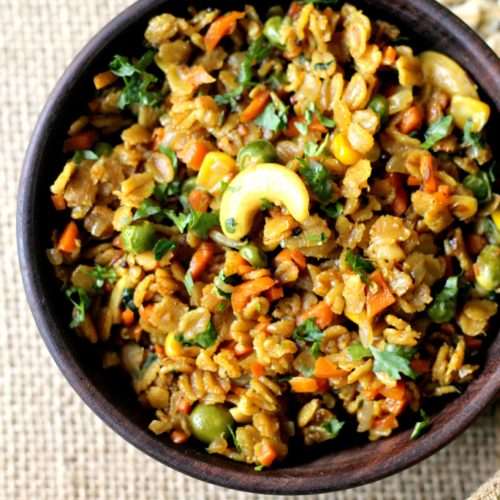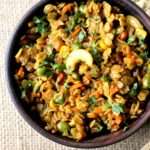 Old-Fashioned Masala Oats
This power packed bowl of savoury oats with the goodness of mixed vegetables is the perfect way to kick-start your mornings!
Ingredients
1/4

cup

old-fashioned oats * see note

1

cup

250 ml freshly boiled water * see notes

2-3

teaspoons

melted coconut oil or vegetable oil

1/2

teaspoon

mustard seeds

4-5

cashew nut halves

1/2

inch

ginger

finely minced

1/2

green chilli

minced

1/4

cup

finely chopped onions

1/4

cup

finely chopped carrots

1/8

th cup frozen peas

1/8

th cup frozen corn kernels

1

tablespoon

finely chopped fresh coriander

1/4

teaspoon

turmeric powder

1/4

teaspoon

red chilli powder

adjust to taste

1/4

teaspoon

cumin powder

1/8

th teaspoon dry mango powder

amchur or 1 teaspoon lime juice

a pinch of garam masala powder

optional

salt to taste
Instructions
Heat 1 teaspoon coconut oil in a wide based pan and roast the whole oats on a low heat for 3-4 minutes. Remove on a plate and let it cool

To the same pan add some more oil and let it heat. Then add the mustard seeds and let them splutter. Reduce the heat and toss in the cashew nut halves and let them fry gently till golden.

Add the ginger, green chilli, onions and fry on a medium-low heat till the onions turn translucent (pale pinkish) and then add the carrots, peas, corn kernels and fry for half a minute

Add the rest of the seasoning - the chopped coriander and the spice powders and fry for half a minute on a low heat. Now add the roasted oats and mix everything well

Add the freshly boiled water and salt to taste. Let the mixture come to a boil, then reduce the heat and cover the pan. Simmer and cook till done.

Mix everything well and serve hot.
Recipe Notes
Old-fashioned oats are also called as whole or rolled oats. These are essentially oat groats that have been dehusked and steamed before being rolled into flat flakes. Whole oats are different from the very popular and commonly available quick cooking oats made famous by Quaker Oats. Whole oats will take slightly longer to cook than the quick cooking variety but are considered to be more healthy than the latter. The ratio of 0.25: 1 (for every 1/4 cup of oats we need 1 cup of water) yields in oats that have been cooked just right. If you like it mushy, increase the water to another 1/8th to 1/4 cup of water (a total of 1-1/4 cups for every 1/4 cup of rolled oats)