Mutton Polov (pronounced as po-low) is a authentic Mangalorean dish which is prepared & served on the day of the Roce ceremony before one's wedding. This is eaten with buns/pav or with boiled rice. In the olden days when the poor could not afford to serve mutton to guests, this gravy would be made with dry shrimp. This beautiful blend of meat/shrimp with ash gourd is mildly spiced with a coconut milk base. If you are able to visit Mangalore you can buy the vegetable powder available at Don Stores/Konkan Traders near Milagres Church. I will try to post the recipe of the powder once I have tried it.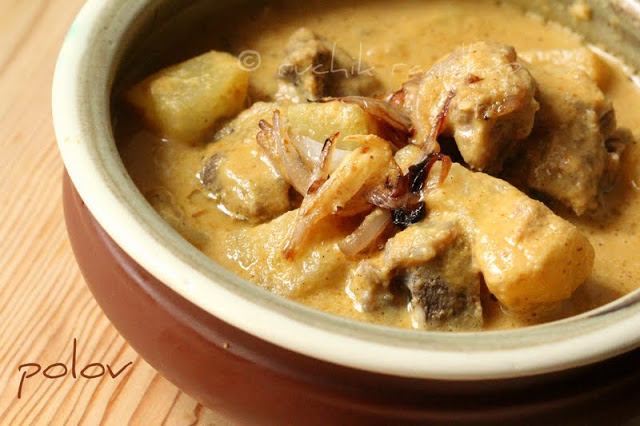 Mutton Polov
Serves 5-6
You Need:
Mutton – 1kg
Ash gourd – 1.5 kgs (Ash gourd is also known as Kumbalakai in Kannada & Petha in Hindi)
Onions – 2 ( 1 big – for the masala; 1 small sliced – for the seasoning)
Grated coconut – 1/2 a coconut
Garlic – 6 flakes
Tamarind – 1 marble size ball
Vegetable powder – 2 tbsp
Coconut milk of 1/2 coconut*
Cinnamon – 1 stick
Cloves – 4
Salt to taste
Ghee for frying
Method:
1. Cook mutton with salt, cinnamon & cloves till almost done (How I make it: I cut, wash & drain the mutton pieces well and then use about 1/2 cup of water in the pressure cooker & add the mutton pieces in it. Add salt, cloves & cinnamon, cover the lid & add the weight (whistle). Keep the pressure cooker on full flame till the first whistle goes off (this takes about 10mins), after that reduce flame & cook for about 15mins (this is because we get tender & good quality meat in Mumbai). Turn off flame and let it sit for 5-10mins before the whistle is loose enough to be removed, open carefully, stir once & close without whistle. Remove after 2-3 mins and use as required.
2. Remove the pith & skin of the ash gourd & cut into cubes. Add this to the mutton & let it cook in the same water
3. Heat oil in a tawa & broil the coconut till a nice aroma arises, add the onion & garlic & broil some more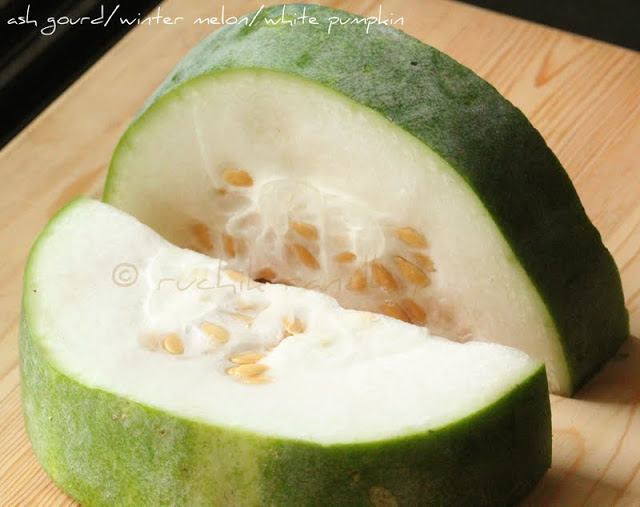 4. Grind the coconut, onion & garlic, tamarind, vegetable masala powder & a little water. Leave the masala a little coarse
5. Add the masala & salt to taste and water if required to the mutton & ash gourd and boil.
6. Add the coconut milk & boil
7. Season with 1 small onion fried in ghee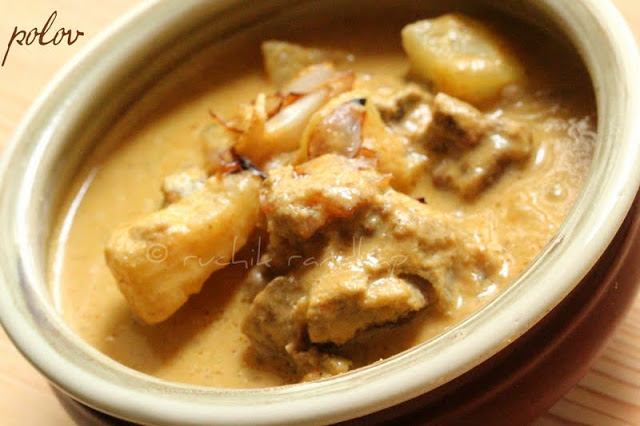 *Tip: The alternative to preparing fresh coconut milk is to use coconut milk powder which is available in the market. I use Maggi coconut milk powder. Just take a little warm water & add the coconut powder & stir so no lumps remain. For the above recipe you can take about 200ml of water & add 6-7 tsps of coconut milk powder to get thick milk.