I dedicate this post to my darling hubby Roshan who encouraged me to start this blog & to those two special people (Prema & May) who nudged me to revive an almost dying blog. Thank You – from the bottom of my heart!Pathrade (pronounced as Pathra-Day)
Making Pathrades and then its gravy is probably one of the most complex Mangy dishes. Maybe one reason why it is not prepared as frequently as our granmas used to make a gazillion years ago. Although I had tried my hand at making this gravy many times before – the work involved wasnt as much as I used to add ready made Pathrades made by my mom in law.
This time around I made everything from scratch and maybe I will bookmark this dish as an annual festival event! I didnt have any bad experience while making it, its just that the whole process is quite time consuming & while your kitchen smells heavenly and gives you a lot of 'maa-ki-yaad' (flashbacks of your childhood involving your mommy), you'll have a pile of utensils of every shape & size staring at you from the kitchen sink. Sigh! – This is when I thank my stars to be able to afford domestic help!
Did I scare you already? Nah! Trust me, it's worth every bite….when hubby & I ate this masterpiece, there was pin drop silence as we wolfed it down shamelessly!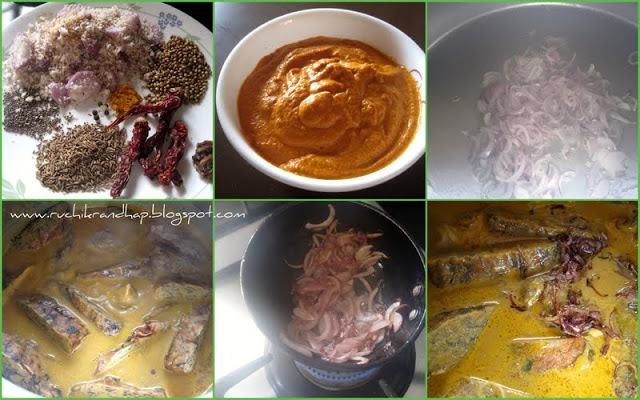 Pin
Pathrade Curry with Mutton (Pathradyanchi Kadi)
You Need:
1 kg mutton – cut into medium size pieces and cooked with a little salt till tender (takes about 20mins in a pressure cooker if you get tender mutton) OR Chicken 1 kg (can be cooked in the gravy – no need of precooking if the chicken is tender)
2 large pathrades (cut into about 18-20 pieces of 1 inch width). (Click here to see how it's made)
For the gravy :
Condiments to be roasted separately & then ground together:
5-6 long red chillies (I used Bedgi)
5 peppercorns
2 teaspoons cumin seeds (jeera)
3 teaspoons coriander seeds
1/2 teaspoon mustard
1 cup grated coconut
2 small onions roughly sliced (or 1 large)
Grind the above condiments and the below 2 ingredients with a little water or thin coconut milk
1 marble size ball of tamarind
1/4 tsp turmeric powder
You also need:
Thick & thin roce of 1 coconut OR coconut milk made out of 6 tbsps of coconut milk powder dissolved in 2 cups tepid water – abt 450ml  – This makes about 550-600ml of thick coconut milk.
1 medium size onion finely sliced (for frying)
1/2 onion for tempering (optional)
Oil for frying
Salt to taste
Tip:
If you are using a mixer grinder, use the dry grinding jar (the smallest among all jars meant for grinding powders) to grind all the dry items (jeera, dry chillies, coriander, peppercorns, turmeric, mustard) to a fine powder and then add the tamarind, coconut & onions – this ensures that your masala is ground to a nice & smooth paste
Method:
1. In a large vessel, heat some oil and then fry the sliced onion till it turns golden brown
2. Add the ground masala and fry a bit – no need to fry too much as all the ingredients have already been roasted – this process has already eliminated the raw taste/smell if any
3. Add the masala water from the mixie (not more than 1/2 -3/4th cup) and bring it to a boil.
4. Add the coconut milk & boil for 1 minute.
5. Add the mutton pieces and its stock (about 2 cups). By now your gravy is a thin pale yellow colour. Check salt & tamarind and add more if required – ensure you dont add too much salt as the mutton was cooked with salt
6. Bring it to a boil & add the pathrade pieces and simmer for 3-4 minutes. Turn off flame & in another small pan fry the 1/2 onion in some oil and when it turns golden brown add it to the gravy. This is optional
7. Serve hot!