Hello folks, I am back with another tantalizing Mangalorean dish – Kori Rotti – from one of Mangalore's sub cuisines – Bunt cuisine which is one of India's most desirable and delicious cuisines. Well, as you know 'Kori Rotti' is a combo dish. Its a spicy chicken curry eaten with flat, crispy and wafer thin rice crepes. Traditionally, these rice crepes used to be prepared by ladies in their own homes, however due to mechanization and modernization, they are manufactured and sold commercially. Since a pack of 'Rotti' is available at a nominal price in Mangalore, people resort to using store bought stuff these days.
You may be wondering why I have kept this particular recipe under wraps for so long. Although I have eaten and tried making the curry for Kori Rotti at home several times I never got around posting it on the blog. I think it happened for a reason. When
Sailaja of Sailu's Kitchen
contacted me and requested me to write a guest post on for her lovely blog, I was more than delighted and decided that it was time to bring out the Kori Rotti recipe out of the closet and put it on a pedestal along with other traditional Mangalorean recipes.
Sailaja is a very passionate food blogger with a blog that is par excellence, a blog that has been around since 2005. Besides Andhra recipes which are from her home turf, she records some of her classic tried & tested North Indian, kid friendly and international recipes which range from vegetarian to non-vegetarian dishes, beverages, salads and desserts. Simple and clear cut recipes accompanied with beautiful pictures makes for a delightful reading & visual experience. I have personally tried her recipes and loved them, so it was a huge honour for me when I was asked to showcase traditional Mangalorean cuisine as a part of her
Indian Food Trail
series where she explores the different cuisines of India and aims to showcase many traditional & forgotten recipes. It was a wonderful experience to share a similar interest – to bring traditional cuisines to the forefront.
So I thank Sailaja from the bottom of my heart for giving me the opportunity to showcase traditional & popular Mangalorean cuisine with a special focus on Catholic style food.
Dear Readers, I hope you enjoy my guest post as much as I enjoyed putting it together. Stay tuned for more on Mangalorean cuisine which I will bring to you in a 3 part series!
Join me on Facebook – Don't miss a single post!!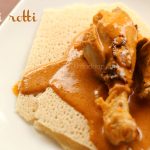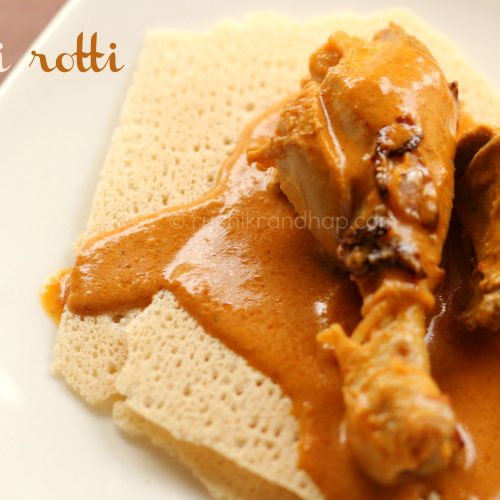 Kori Rotti Chicken Curry
Succulent pieces of chicken cooked to perfection in a delicious, spicy, creamy coconut curry base, ready to be mopped up with crispy rice flatbreads, a traditional Mangalorean dish that will have you licking your fingers
Keyword:
Chicken Curry, Kori Rotti
Ingredients
1

kg

chicken on the bone

1

medium sized onion finely sliced

1

coconut to extract 2 cups thin milk and 1 cup thick milk * see note#1 for substitute

1

inch

cinnamon stick

1

cardamom slightly bruised

2

cloves

salt to taste

For the masala

5

short red chillies * see note#2

10

long red chillies * see note#2

1-1/2

tbsp

coriander seeds

1/2

tsp

peppercorns * see note#2

1/4

tsp

fenugreek seeds / methi

1

tsp

cumin seeds/jeera

1/8

th tsp turmeric powder

8-9

flakes of (Indiagarlic with skin

1

medium sized onion sliced

1/2

lime sized ball of tamarind

1/2

a coconut

or 1 cup grated coconut

2

tbsp

ghee or oil

For the seasoning

1

medium sized onion finely sliced

1

tbsp

ghee
Instructions
Cut the chicken into medium sized pieces, wash and allow to drain on a colander.

In a heavy bottomed pan/kadhai heat 2 tbsp ghee or oil and roast the red chillies, coriander seeds, peppercorns, fenugreek seeds & cumin seeds one by one. Each of them should be roasted on a slow flame for a few seconds until you get a nice aroma * see note # 3

Next fry the onion and garlic and remove and add the coconut, turmeric powder and tamarind to the same pan, roast and remove.

Grind all the roasted ingredients to a fine paste using a little water. Reserve the masala water.

In the same pan add the ground masala and the sliced onion. Mix and add the thin coconut milk. Leave the pan uncovered & bring the curry to a boil, add the chicken pieces and salt to taste. Cover the pan now and cook the chicken till tender on a medium flame. When the chicken is cooked, simmer and add the thick coconut milk and bring it to boil for just a couple of seconds. Turn off the flame.

In a smaller pan, heat the ghee for seasoning and toss in the cinnamon, cloves, cardamom pod and the sliced onion, fry till golden brown and add this to the curry. Cover the pan immediately to trap the aroma of the seasoning.

Serve hot with crispy rice Rotti - let the curry soak up the rotti a bit before you eat it. Alternatively, you can serve the curry with rice, pan polay (neer dosa), appams, sanna, mutlim (rice dumplings), polay (dosor chapathi
Recipe Notes
1. A large coconut yields approximately 2 cups thin milk & 1 cup thick milk. Here's how to do it & the substitute for it. If you do not wish to use coconut milk in your curry just use 1-1/4 cups of grated coconut instead of 1/2 cup and skip the coconut milk altogether. But you may need to adjust the spice a bit here.
Extracting fresh coconut milk
Grate the flesh of one coconut and transfer it to a mixer grinder. Add about 1/2 cup of warm water and pulse the mixer grinder for a few seconds.
Line a bowl with cheese/muslin cloth and transfer the ground coconut into it. Cover the cloth into a bundle and squeeze to extract thick milk. Keep aside
Add a little water (depending on how much thin milk you desire) and repeat process. This is the thin milk.
Preparing coconut milk from coconut milk powder (I use Maggi)
To make approx 2 cups thin milk - Dissolve 6 tbsp coconut milk powder in 1-1/2 cups warm water
To make approx 1 cup thick milk - Dissolve 6 tbsp coconut milk powder in 3/4th cup warm water
2. Mangaloreans, especially Bunts use short red chillies which are also called as Harekala chillies - these are quite spicy. The long dry chillies that are used are called the Byadge/Bedgi chillies. Click to see pictures. You may use a combination of both or just use the Bedgi variety. To reduce the spice adjust the quantity of peppercorns and use the chillies partially deseeded. For a mildly spicy curry you can use Kashmiri chillies. The original recipe asked for 22 chillies & 1 tsp peppercorns. I reduced them to 15 chillies and 1/2 tsp peppercorns which yielded a medium spicy curry. A lot of the spice gets balanced out when the coconut milk is added, so please use your judgement here.
3.While roasting the spices take care to ensure that they don't burn or turn black - this will lend a bitter taste to the curry which is avoidable. Ensure that roasting is done in a good quality heavy pan