Who doesnt like a piping hot bowl of soup? I love having a bowl whether I am at a chinese restaurant or simply in a mood to eat light at home. When I was younger, the only soups I knew were the chicken sweet corn soup served at chinese restaurants & the tomato & chicken clear soup that my mum used to make out of maggi stock cubes procured from the gulf (which was just once a year – so our stock of stock (hehe) lasted not more than 4-5 months – the rest of the year was soupless…sigh!) Now with a book shelf well stocked with recipe books and even the local vegetable vendor stocking up on all kinds of 'phoren' sounding veggies, its not tough to dish out an exotic sounding (and tasting) soup at the drop of a hat. (Aint I using the words 'stock' way too many times today? Maybe I am being stalked by the stock! lol! PJ, ofcourse!)
Randomly flipping the internet for recipes is a very dangerous thing for me, cuz I just get into the mood to try out the recipe no matter what. Thankfully, this week, I had a vegetable basket full of odd veggies & I just googled for a soup recipe which could happily accomodate all of them & transform them into something nutritious so they didnt really land up in the trash bin.
Good ol' Sanju baba (Sanjeev Kapoor) had a recipe for the right occasion – fridge clearance day!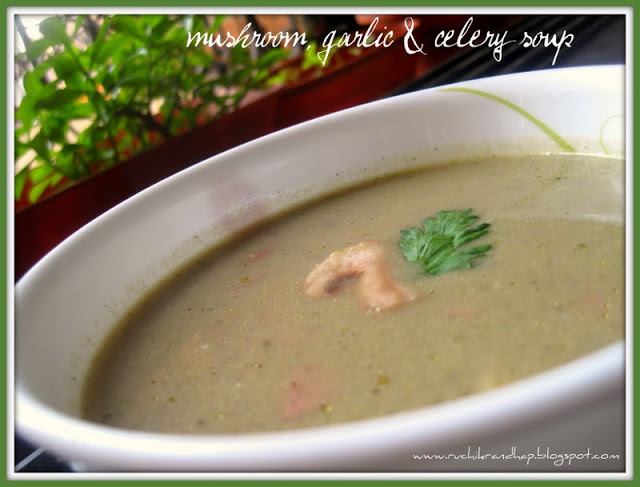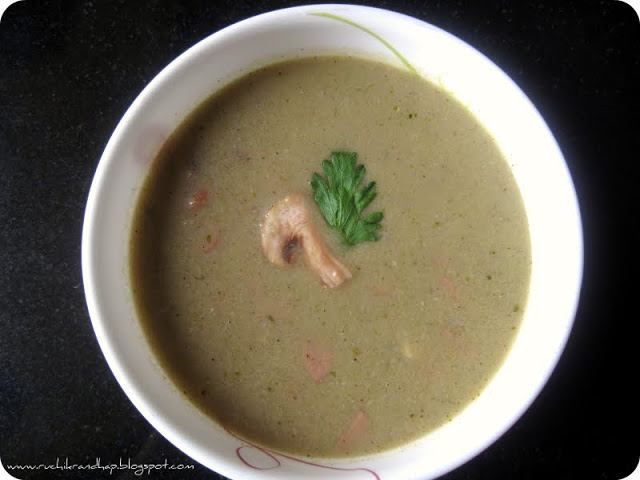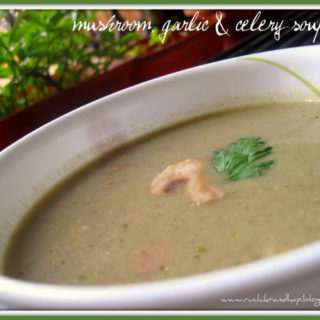 Ingredients
12-15

button mushrooms

you can use as many as 40 mushrooms as per the original recipe

1

medium

onion

4

celery stalks

roughly chopped

4

cloves

garlic

1

tsp

pepper powder

1/8

tsp

nutmeg powder

4

cups

vegetable stock or stock made out of 2 maggi veg stock cubes+4 cups of water

1/2

cup

cream

Optional

2

tbsps

worcestershire sauce – I skipped this
Instructions
Heat oil in a pan. Add mushrooms, celery and garlic and sauté for two to three minutes. Reserve 1-2 sauted mushroom for decorating.

Add half the stock and cook for two to three minutes. Switch off, blend the vegetables in a blender until smooth.

Put the blended mixture in the pan and add the remaining stock, Worcestershire sauce and grated nutmeg.

Bring to a boil and season the soup with salt and black pepper powder. Stir in cream and mix well.

Garnish with celery leaves and a slice of mushroom & serve hot
Nutrition
Nutrition Facts
Mushroom, Garlic & Celery Soup
Amount per Serving
% Daily Value*
* Percent Daily Values are based on a 2000 calorie diet.
Disclaimer
The nutritional values are only indicative.
Tried this recipe?
Please leave a comment & rate the recipe below or share a photo on Instagram and tag me @ruchikrandhap