My mother-in-law (Mamma) who is one of the very good cooks I am related to (besides my darling mom ofcourse) introduced me to some delicious Mangalorean fare during my several trips to Mangalore. One such dish which can be put together in a jiffy as a 'sakne' (accompaniment to alcoholic drinks) is the Pork Salad.
I have not tasted this dish anywhere else and I dont think I ever need to as I am sure that Mamma's version is undoubtedly the best. This recipe is one of the few that I collected during my recent trip to Mangalore – most of which were prepared for the Christmas day feast at home. Pork being one of the most favourite delicacies that appeal to most Mangalorean palates, this crunchy-munchy-sour-spicy baby is quite tantalizing – Try this along with some hard liquor!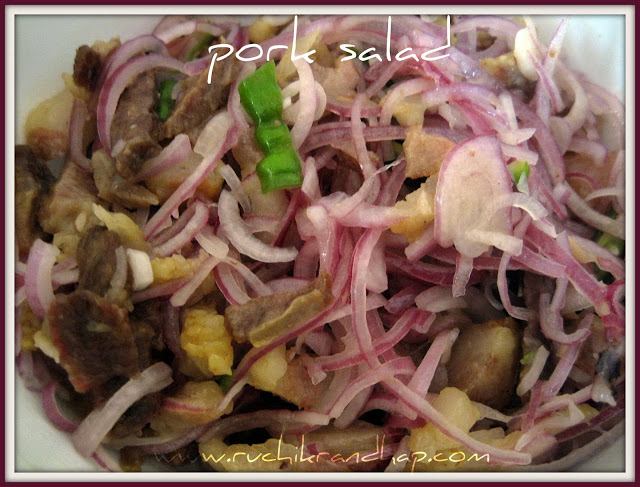 Dukramasaso Saladh
Recipe Source: My mum-in-law
You Need:
1 handful of Pork – well cooked in a little turmeric powder

1 tsp vinegar
1 inch ginger chopped finely
1 green chilli slit
2 small onions sliced horizontally (across the breadth of the onions)
Salt to taste
1 tsp oil for frying
Method:
1. Slice the pre-cooked pork into thin pieces (do not shred it too fine or else the fat will turn too chewy – but cut it thinner than the normal cubes that you cut for the regular Pork Bafat dish)
2. Heat the oil & fry the pork lightly
3. Remove from heat & when it has cooled down a bit mix all the chopped ingredients, salt & vinegar well
4. Serve & enjoy this crunchy dish!