It is rightly said that the poet and the pig are often appreciated only after their death. Howeve,r many a poet has risen to fame only when his/her poetry got published much later ~ sometimes several decades too late. Thankfully, the pig is appreciated almost immediately. Pork is a much celebrated meat in Mangalorean Catholic cuisine. We celebrate every good occasion with this meat – cooked in the famous
Bafat style
,
Indad
or
Salad
. Today, Mangalorean homes cook many different varieties of pork – this includes the much Indianised
pork chilli
too.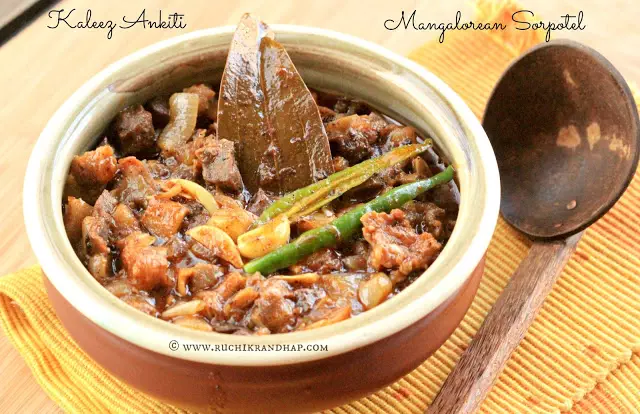 Pork Sorpotel is a fiery dish made of pork meat (with liver added to it sometimes) and a  medley of spices. A dish that originated in Goa soon found its way along the Konkan region and became very popular in Mangalore. It is primarily eaten by the Catholic community and is very common on the festive occasion or wedding menu. Kaleez Ankiti is a crude form of the Sorpotel and is also called as Sarpatel (pronounced as sarpa-thel) in Mangalore. Crude in the sense that this recipe travelled to Mangalore along with those Goan Catholics who migrated from Goa between 1560-1763 and now involves the addition of the offal – the 'spare parts' of the pig. While the mention of the offal is enough to put off those who have never tasted it, every Mangalorean Catholic who has eaten it swears by its taste and aroma that tickles one's senses.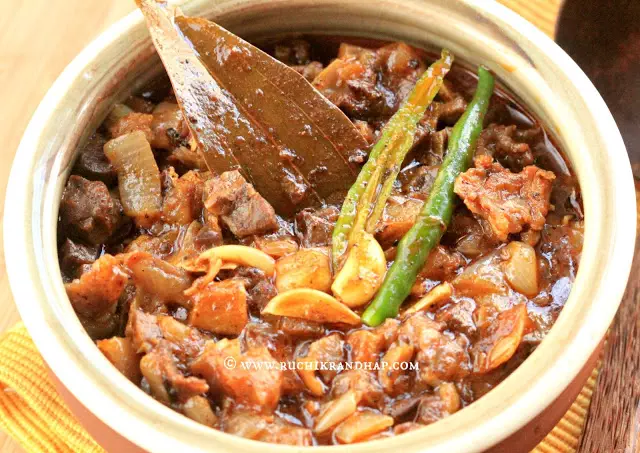 Pin


Kaleez (heart) Ankiti (intestines) are just among the few things that go into this dish. The rest of the flavour comes from the aromatic & fiery spices, vinegar and tamarind that are absorbed by the meat and offal, slowly cooked for over a couple of hours in an earthen pot called the kundlem over a crackling fire fueled by firewood. If you think this was not gruesome enough – listen to this! Sometimes the dried blood of the animal is added to it giving it a unique flavour and taking the taste to a different level. This is the most traditional way of doing it. Little wonder then that the current generation of Mangaloreans has almost abandoned this dish and don't as much as even look at it when offered on a party menu.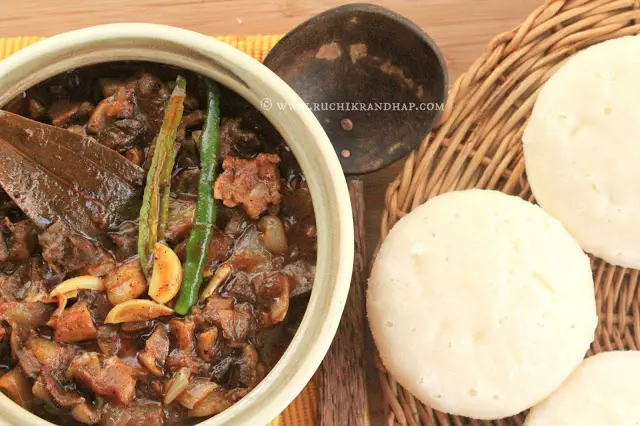 Today, modern gas stoves have replaced firewood and more than this dish being prepared at home, it is prepared by caterers or small restaurants that specialise only in Mangalorean food. A lot of die hard Sarpatel lovers who live outside Mangalore make sure they carry their annual quota by freezing it into packets and carrying it back home – usually overseas. Because of this demand, a lot of people sell good quality and well prepared Sarpatel in Mangalore. Should you wish to prepare it yourself, the butcher will know exactly what goes into a batch of Sarpatel and give it to you. However, since the offal cleaning process requires a bit of time & effort it has become a ritual that is only indulged in once or twice a year.
Sarpatel is often found on the menu of the pre-wedding function called the 'Roce' along with the mutton polov. It is also one of the best loved starters during a booze party (I bet many of you are smiling here!). A nice glass of whiskey and a plateful of sarpatel goes really well and keeps spirits high (literally!) I am told. (he he, I stick to wines, just in case you thought otherwise)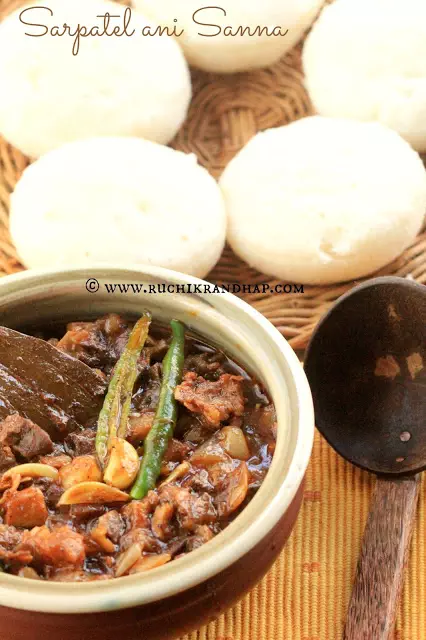 Since the husband is an expert at making the Kaleez Ankiti, having learnt the recipe from his mother who makes it fabulously well, we picked up a kilo on our recent trip to Mangalore. It was high time we posted a truly traditional Mangalorean pork recipe that is so close to everyone's heart, so here it is, just in time to be made before Lent officially begins on Wednesday, or enough to tempt you to try it for Easter 🙂
About this dish
Experience Nirvana – serve yourself a large portion of piping hot sarpatel and wipe it clean with freshly steamed sanna. Bliss! The dish speaks for itself!
Kaleez Ankiti / Sarpatel
Prep time: 30-40 mins | Cook time: 30 mins | Serves 4
You Need
1 kg pork with a mix of meat and offal * see note#1
2 tablespoons Bafat powder * see note#6
1 teaspoon garam masala powder
3 big onions cut into cubes
8-10 cloves garlic halved
1 inch ginger finely chopped
2-3 green chillies slit
juice of 1 lime size ball of tamarind (soak the tamarind in 1/4 cup of water to extract juice)*see note#4
8-10 bay leaves
1 teaspoon vinegar
1 spoon of blood (optional) *see note#2
Salt to taste
Method:
1. Wash the pork meat and dice the meat into small pieces. Keep aside.
2. Clean the offal with salt and bay leaves very well and boil it with 1 cup of water and 2-3 bay leaves for about 3-5 minutes. Drain and retain the water for later use. Cut the offal into small pieces. (If using the intestine boil it separately with 1/2 cup water and 2-3 bay leaves and discard the water and bay leaves).
3. In a large heavy bottomed vessel/pan (see note#5) add the meat & offal, bafat powder, garam masala powder, tamarind juice, stock from the pre-boiled offal and cook everything for about 5-10 minutes on a medium fire.
4. Add the onions, garlic, ginger, green chilies, bay leaves, vinegar, salt to taste and cook till the meat is done. Stir every now & then and ensure that there is enough water so avoid the meat from scorching the pan. Finally add the blood, mix well and simmer for another 5 minutes. Remove from the fire.
5. Serve piping hot with freshly steamed sanna or boiled rice and daliso saar.
Notes:
1. Instead of the entire offal (kidneys, intestines, knuckles etc) only pork meat & liver can be used
We used 750 grams pork offal (kidneys, liver, tongue, heart, ear, knuckles, pork fat, lungs, intestine & tail) and 250 grams pork meat. You may use a 50:50 meat to offal ratio.
2. Dried blood is available on request with the butcher/meat shop. While adding it is optional, it is recommended as it enhances the flavour of the dish and is very much part of the traditional Mangalorean cooking. Alternatively, you may dry roast 2 tablespoons of coriander seeds on a heavy skillet/tawa and remove when they turn deep brown (not black!) – coarsely grind them and sprinkle over the meat to finish – it gives the same look as of the dried blood.
3. Additional water can be added for a little extra gravy/sauce
4. Adjust the vinegar / tamarind juice according to the taste if you prefer tangy flavor
5. Use of a traditional earthen pot (kundlem) greatly enhances the taste of this dish especially when simmered over a slow fire for a long time. This dish tastes spectacular on the next day as it allows the meat to absorb all the spices and flavours making it one of those few dishes that taste better on reheating.
6. Bafat powder is usually prepared in bulk and stored the whole year round. You may substitute it with the . below recipe which helps you make a small batch for one time use. Do note that these measures are an approximation/fraction of the original recipe for bafat masala powder


To make approx 2 tablespoons of bafat powder the below 
8-9 Kashmiri chillies
20 peppercorns (adjust to taste)
4 tsp coriander seeds
1/2 tsp cumin seeds/jeera
1/2 tsp turmeric powder/haldi
2 cloves *see notes
1/2 inch piece cinnamon *see notes
To make 2 teaspoons of bafat powder blend the below:
1 teaspoon plain red chilli powder
3/4th teaspoon coriander powder
approx 2 pinches each of cumin powder, pepper powder & turmeric powder