Pin
Treacle, also known as molasses or dark caramel is technically a byproduct of refining sugar by boiling the raw juice. This uncrystallized syrup is thick and dark and has many uses in flavouring food. From being added to cakes and bakes, it finds its uses in sauces and marinades and other sweets too. Treacle is a bit pricey where I live. A bottle of which costs around AED 18 or maybe even more. I usually buy a bottle around Christmas time and like to add it to my bakes if a recipe called for some treacle. However, this time around I wanted to make it at home for a fraction of the cost. Making treacle at home is easy if you follow the correct steps. It keeps well too so you need not worry about it going bad as sugar is a natural preservative.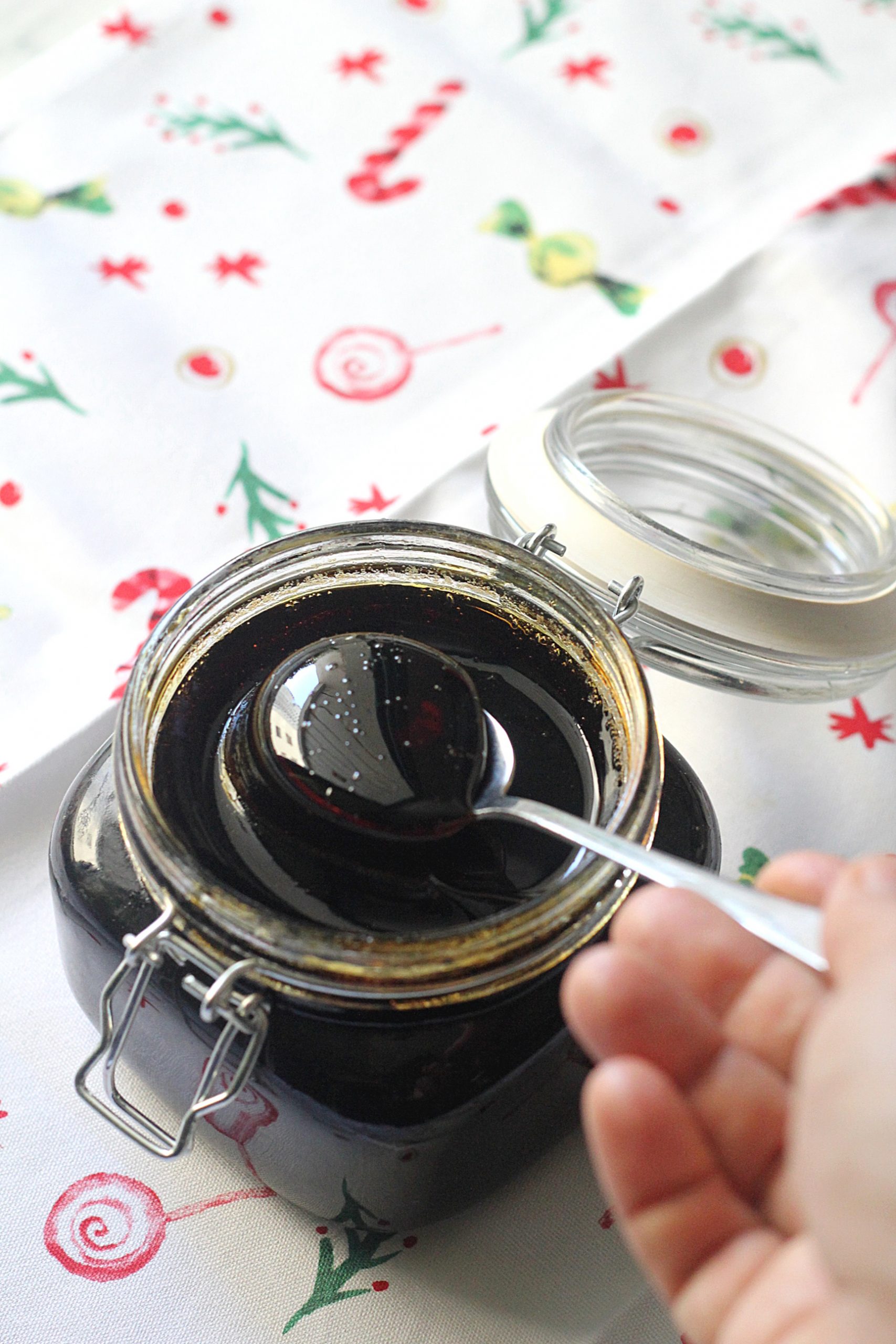 Pin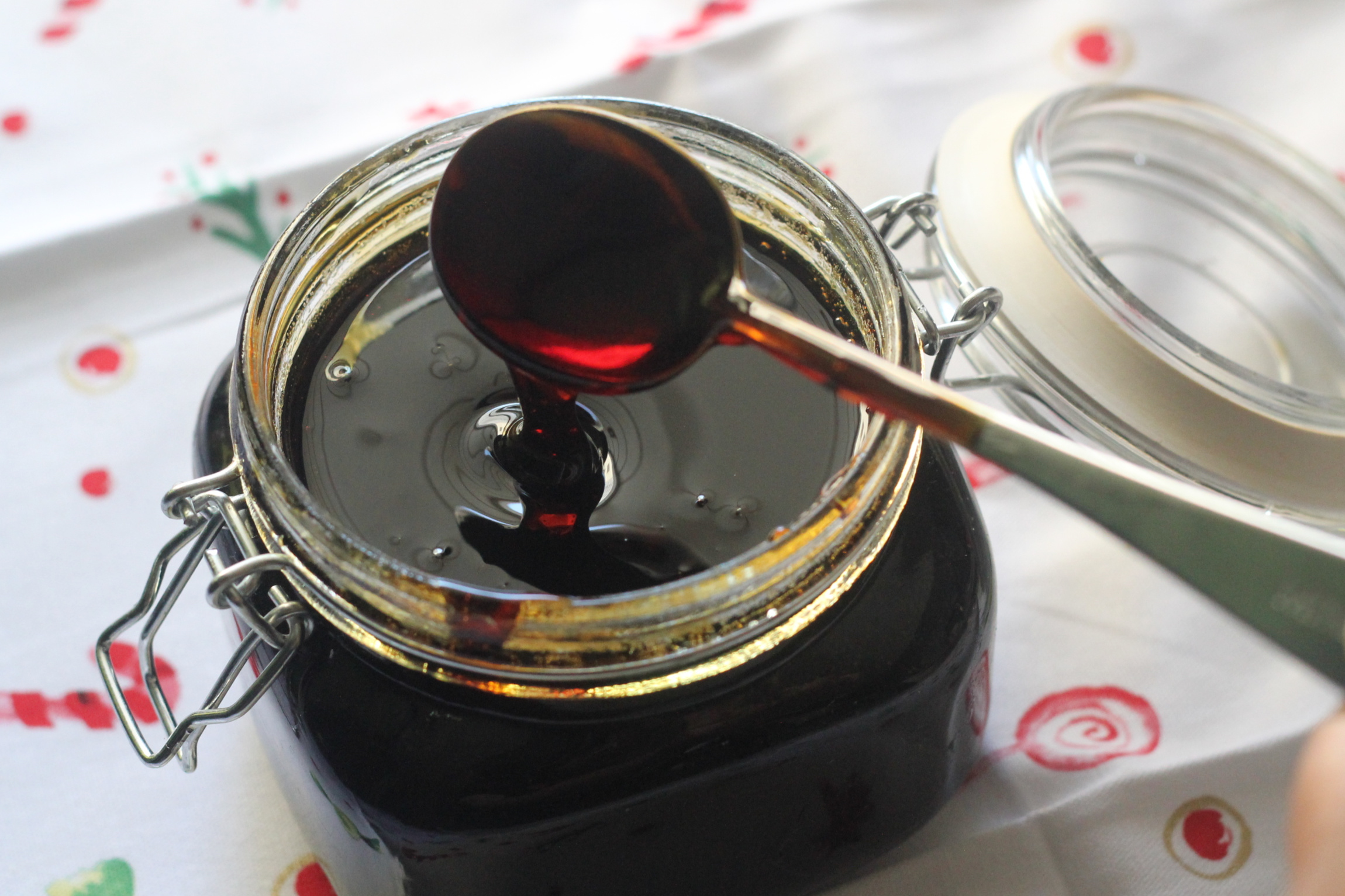 Pin
Black treacle, like golden syrup follows the same method of preparation but the latter is taken off the heat when the syrup is still amber coloured. Black treacle on the other hand is caramalized till the sugar changes colour to a deep brown. This occurs when the sugar starts burning and smoking.  You can actually smell the burning sugar.  This process yields in a rich, thick, black syrup that has a distinctively bitter-sweet taste.  Golden syrup is also used widely in baking and I will share the recipe for it soon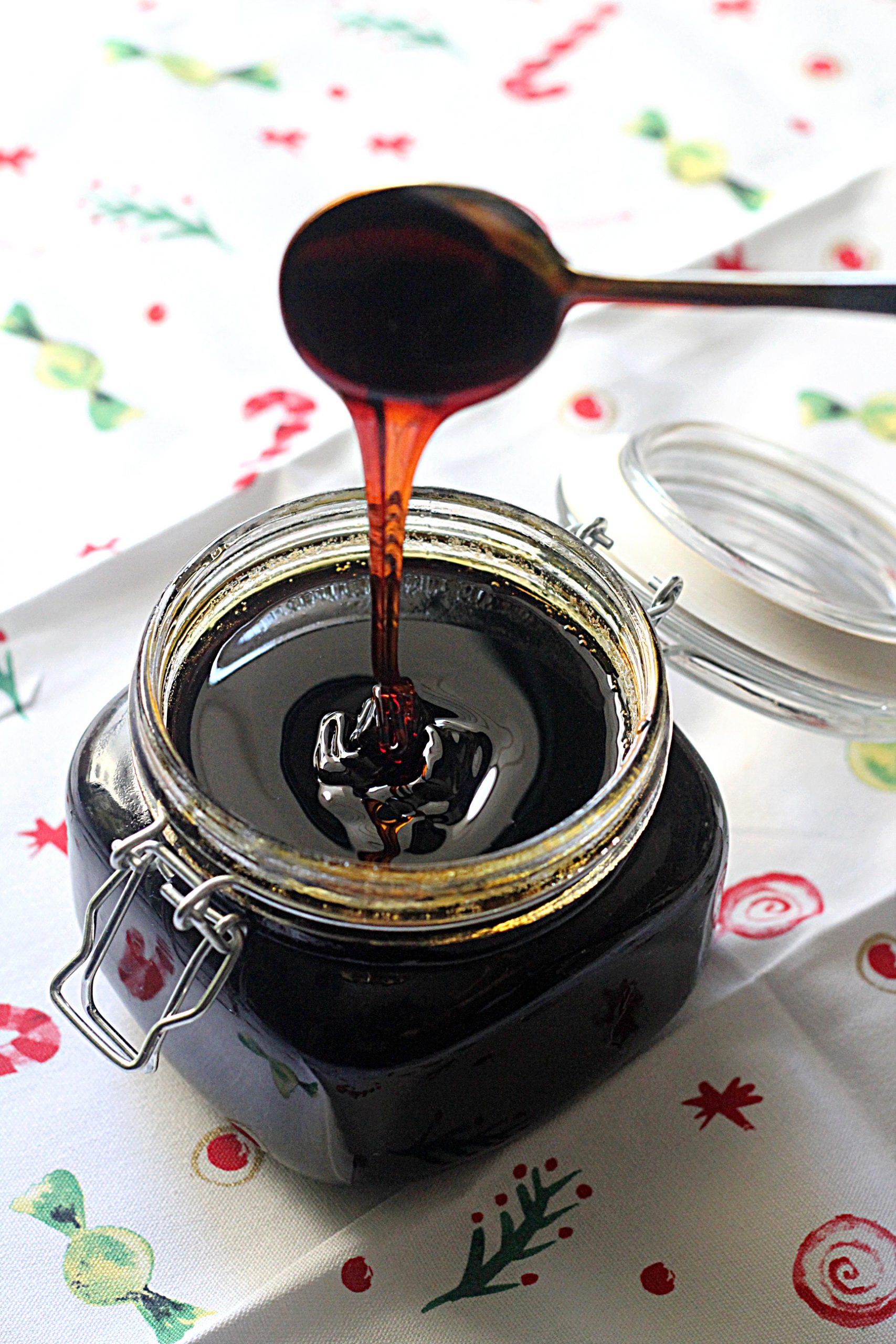 Pin
In the weeks to come I will share recipes on how you can use homemade treacle, so do stay tuned. With this recipe I have covered almost all the basic ingredients you need to make a good Christmas cake. Don't forget to checkout other basic recipes that I have shared so far:
Recipes you can try
How to Soak Fruits for Christmas Cake
Pin
New here? Subscribe to my free newsletter with my latest recipes!
Tried my recipe? Do leave a comment on this post down below and don't forget to give it a star rating! It will really help more readers discover my recipes! Do share a picture on Instagram and tag me @ruchikrandhap and I will feature your post in my Insta Stories!
Don't forget to check out my latest videos on my YouTube channel. If you like what you see, do give me a thumbs-up (like), share & comment and subscribe to my channel so that the gods of YouTube (a.k.a algorithms) recommend my channel to a wider audience with similar tastes and more & more people can discover my videos!
And while you're here, do follow me on Instagram, Pinterest,  Facebook and Twitter. If you'd like to say hello or have detailed queries do send an email at [email protected]. I'd love to hear from you!
Homemade Treacle | How to Make Treacle | Dark Caramel
Popularly called as molasses/dark caramel/burnt sugar, treacle is a byproduct of the process of making sugar. You can make a cheat's version by caramelising sugar to produce a deep black, bitter-sweet thick syrup that is widely used to flavour and colour cakes, fruitcakes, puddings, tarts, sauces and marinades
Print
Pin
Rate
Ingredients
1

cup

granulated white sugar

1/4

cup

water (at room temperature)

1/2

cup

water (freshly boiled)

2

cups

granulated white sugar

1

tablespoon

lime/lemon juice
Instructions
In a heavy based saucepan, add 1 cup sugar and 1/4 cup water. Bring it to a gentle boil and let the sugar melt and dissolve. Do not stir with a spoon/ladle at this stage or else the sugar will crystallise. When you see bubbles appearing just swirl the pan

Cook the mixture on a low heat till the colour changes from white to pale brown to amber. Swirl the pan every few seconds. The mixture will froth and then give way to large bubbles. The colour will deepen to a dark brown.

Keeping yourself at a safe distance, add the boiling water in parts. Be very cautious as the mixture is very volatile at this stage and can splatter causing serious burns.

Once the boiling water has been added, stir the mixture and then add the 2 cups of sugar and mix it with a ladle till it is dissolved and turns into liquid. Cook on a low heat till the syrup thickens a little.

Add the lime/lemon juice to prevent crystallization. Reduce the heat and cook for another 8-10 minutes or slightly more.

To test the readiness of the syrup, add a few drops into a steel (or any heat proof) bowl and cool it completely. If it is no longer runny but turns into a honey like consistency allowing you to form a single thread between the index finger & thumb, the treacle is ready.

Turn off the heat and allow the mixture to cool for a few minutes. While it is still hot and in pouring consistency, transfer into a clean, dry glass or ceramic container and leave it open till the treacle cools completely. Then fasten the lid and store in a cool place.

Use the treacle as required in fruit cakes, puddings, tarts, marinades, sauces and other sweets
Notes
Do not be tempted to overcook the syrup as it can quickly turn into a hardball consistency (required to make candy/hard boiled sweets) and if you pour it into a jar, once it cools you won't be able to get it out. You will then need to add water to the jar to even soften it. 
If the syrup has thickened a bit too much it will start turning into a string like consistency and when cooled, can be modelled. This is a soft ball stage. In such a case, just add a little water and bring it back to a simmer until it passes the consistency test as mentioned in the points above. 
Disclaimer
The nutritional values are only indicative.
Tried this recipe?
Please leave a comment & rate the recipe below or share a photo on Instagram and tag me @ruchikrandhap