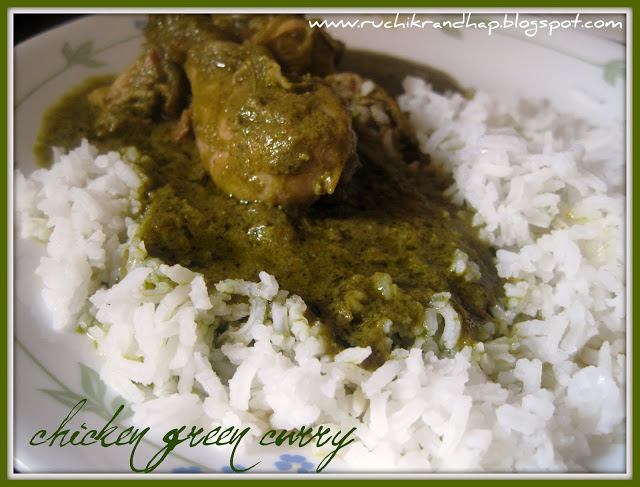 Chicken Green Curry
Prep time: 15mins| Cook time: 20mins | Serves : 3-4


You Need:
750-800gms Chicken on the bone
1 medium sized tomato pureed
1/4 cup well beaten curds *see notes
juice of 1/2 a lime (optional)
3-4 medium sized potatoes quartered (optional)
oil or ghee for frying
salt to taste
For the masala
1 fistful (about 3/4th cup) coriander Leaves
1 fistful (about 3/4th cup) mint leaves
1 medium sized onion roughly chopped
7-8 cloves of garlic with skin
2 inches ginger
1 tbsp khus khus (Poppy seeds) * see notes
1/2 tsp turmeric/haldi
2 green chillies (adjust to taste)
1 inch cinnamon
3 cloves
For the seasoning
1 small onion finely sliced
1 green chilli
Method:
1. Grind to paste the following: Coriander & mint leaves, cloves, cinnamon, onion, haldi, khus khus, ginger, garlic & chillies. Reserve masala water
2. Heat oil or ghee & fry 1 chilli till transparent, add the sliced onion and fry till golden brown. Add the masala and fry for 2-3 minutes or till it leaves the sides of the pan.
3. Add the curds & fry for a minute. Add the tomato puree & fry till the masala colour changes to greenish brown.
4. Add the chicken, salt to taste & cook on slow fire. Add the masala water to adjust consistency of the gravy.
5. When the chicken is half cooked you can add the potatoes if you desire. Check taste & add the lime juice if required. Turn off the flame when the potatoes are cooked or when the chicken is tender (when potatoes are not used).
6. Serve hot with chapathis, rice, dosas, appams, sannas or panpole (neer dosa)
Notes:
1. Ensure that the curds are without any lumps. Do not use very sour curds.
2. If you do not have poppy seeds you substitute it with 2-3 cashewnuts or skip it altogether.
3. If you want a more fragrant curry, you can fry the onions, a few sprigs of mint and coriander and the garlic lightly in a few drops of oil and then grind it to a paste with the rest of the ingredients for the masala. But this technique will use additional oil/ghee that is not recommended from a health point of view.
Recipe updated on 31st July 2012 with revised explanation