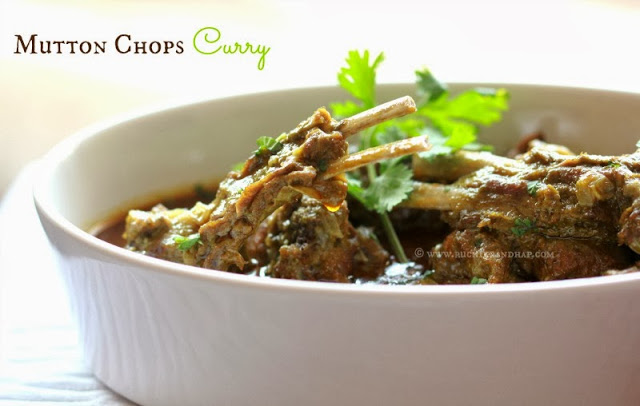 My love affair with mutton started after I had moved to Mumbai. We used to get the best quality meat there. Well, to get the facts right, what we popularly get in most parts of India is goat meat and not lamb. ('bokdi' & 'bokro' will probably put the whole confusion to rest). Personally Roshan & I prefer goat meat to lamb as the latter has a stronger aftertaste of grass fed meat. Goat meat on the other hand has more rustic flavours and an aroma that makes you want to dive into the pot of simmering curry and wallop it down.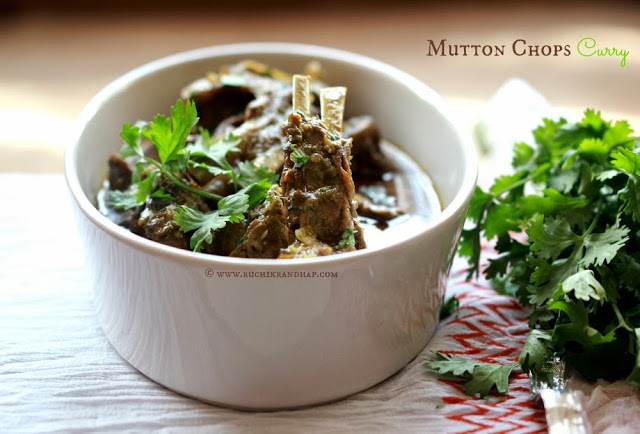 During my growing up years, mutton was rarely prepared in my house. Maybe during Easter or Eid when we got fairly decent meat from the butcher. Other times it was just a pile of bones with barely any meat on it and so we kind of favoured pork or beef for feasts or special occasions.
The best mutton preparation in my opinion would be by someone who actually prefers beef or pork over mutton. Roshan ofcourse, the star of today's post. He makes the most amazing mutton curries, especially chops. Most times they are experiments which he somehow forgets to note down during the first attempt & later tries to improvise over several attempts, not completely doing justice to his original attempt.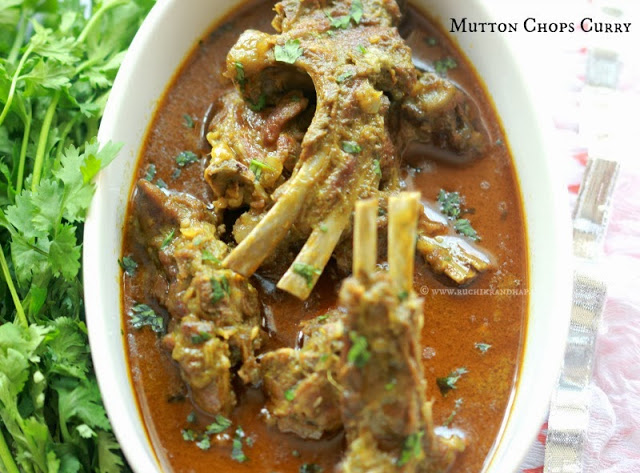 This particular curry has been tried several times over and each time it tastes better than the previous attempt. It is simply a beautiful curry that goes so well with chapathis or plain steamed rice. If you are not such a big fan of chops you may try it with regular cuts of meat, do ask the butcher to throw some bones in because I am not sure it would taste just as ravishing with boneless meat. Now that the festive season is upon us, I hope you give this a try and enjoy it too!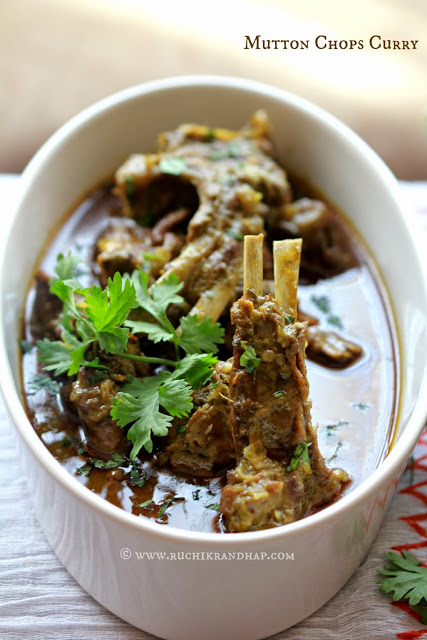 Mutton Chops
Prep time: 15mins | Cook time: 30 mins | Serves 4
Ingredients:
750 grams mutton chops (or you may use regular mutton on the bone)
2 medium sized onions finely chopped
2 tablespoons ginger garlic paste
1 tablespoon plain red chili powder (adjust to taste) (I used Kashmiri chilli powder)
1 teaspoon turmeric powder
1 medium sized tomato chopped
2 tablespoons oil
salt to taste
For the masala (to be ground):
1 cup coriander leaves/cilantro
1/2 cup mint leaves
2-3 sprigs curry leaves
3 green chilies deseeded (medium spicy variety)
1/2 teaspoon garam masala powder
2 tablespoons grated coconut
Method:
1. Boil the mutton chops with salt to taste till the meat is tender (you may pressure cook the chops)
2. In a heavy bottomed pan, heat the oil and fry the onions till they are golden brown, add ginger garlic paste and fry for half a minute and then add the boiled mutton chops and mix it well. Add red chili powder and turmeric powder and cook for about a minute
3. Add the ground masala, fry for a couple of minutes and then add water as required to make a thick or thin paste depending on what type of gravy is needed. Check salt if required and cook on a slow fire covering the lid for about 5 minutes, stir occasionally to ensure that the masala is not burnt.
4. Add the tomatoes and cook for another 5 minutes. Garnish with coriander leaves & remove from heat.
5. Serve hot with rice or chapathis