Part 3 : Sintra & Albufeira – Sightseeing & Food
The last segment of my travelogue will cover two different places in Portugal – Sintra and Albufeira (in the Algarve region). These two places were woven into our 7 day trip to Portugal. While there is a lot to see in Sintra, you can still cover it in a day trip.
Algarve on the other hand is a 3 hour train journey from Lisbon and it is recommended to stay there at least for 2 nights if you really want to explore the region. It is also recommended that you rent a car if you wish to explore the place at your leisure. However there are ho-on-hop-off buses that will take you around to show the place but you may not be able to explore all the beaches in one day.
Day Trip to Sintra, Cabo Da Roca & Cascais
We booked a full day trip on www.getyourguide.com to Sintra, a picturesque town that is situated 25 kms from Lisbon on the foothills of the Serra de Sintra mountains. The route also included stops at Cabo Da Roca, the western most point of Eastern Europe and Cascais, a coastal town west of Lisbon.
This day started early for us as we were going to be picked by the guide who was taking us on a group tour with 6 other people. This was a full day tour that took about an hour each way.
PLACES TO SEE
Palácio Nacional de Sintra (National Palace of Sintra)
This was not part of our itinerary and so we just passed it by and took a couple of pictures.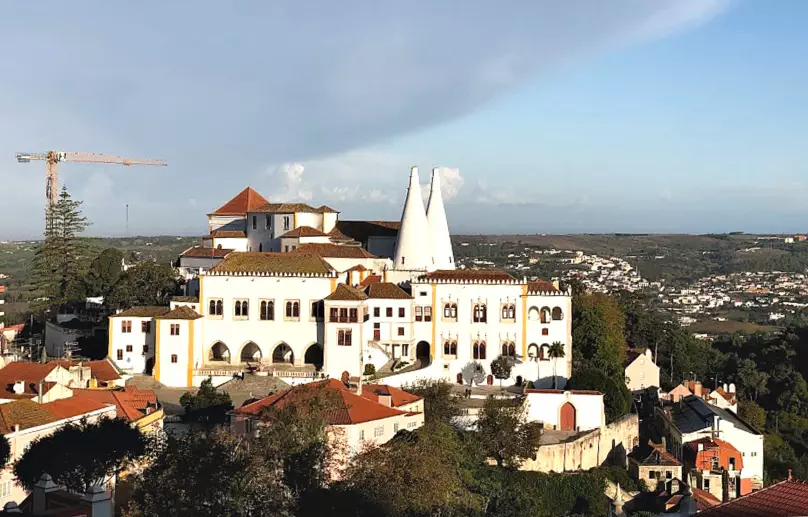 Pin
Quinta da Regaleira
A 20th century mansion which is classified as a World Heritage Site by UNESCO within the landscapes of Sintra. Situated in the town of Sintra, this exquisite mansion is spread over an expanse of land that also includes a chapel and grottos, a park with benches and fountains and is only partly open for viewing. We were enthralled by this gothic style mansion but unfortunately I don't have a better shot of the beautiful palace.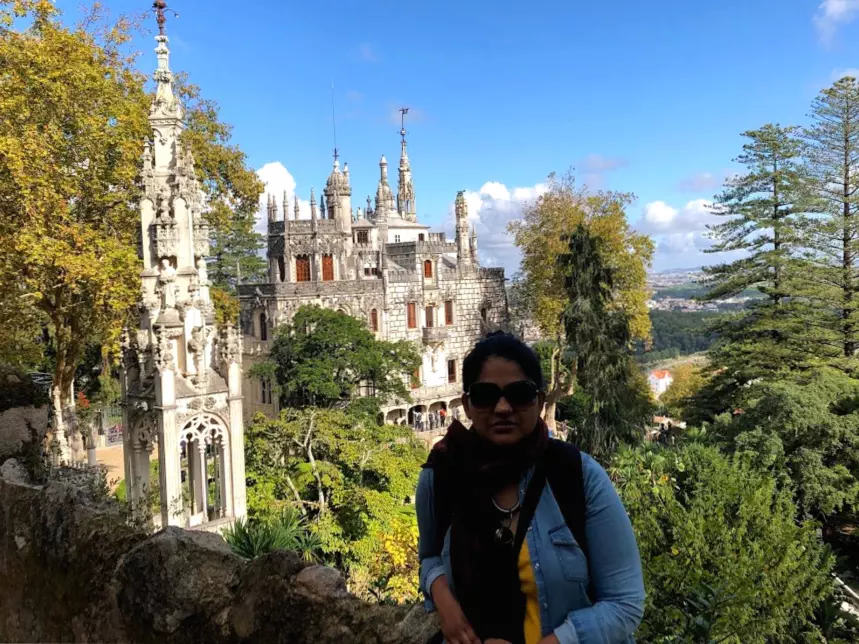 Pin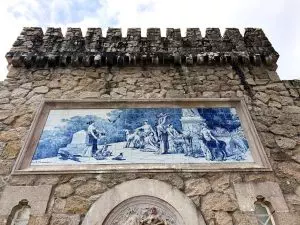 Pin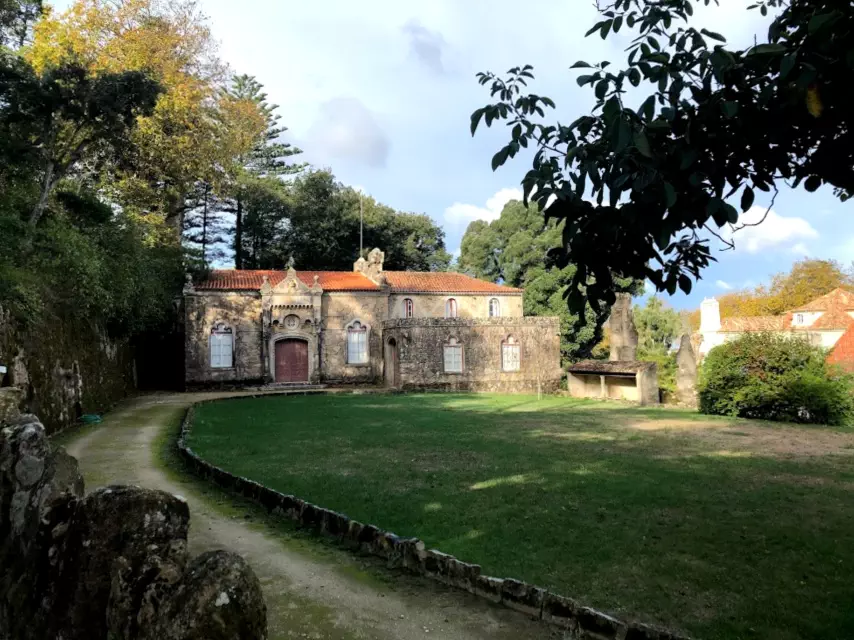 Pin
Below: The interiors of the mansion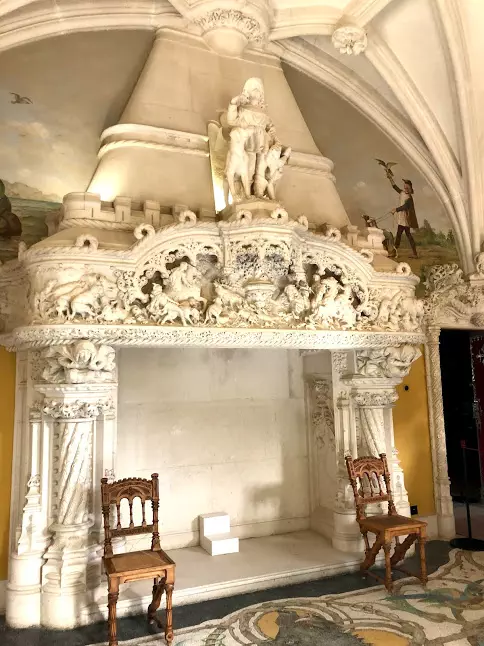 Pin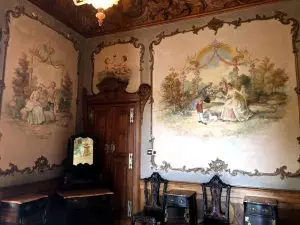 Pin
Below: View of the 4 acre estate from the mansion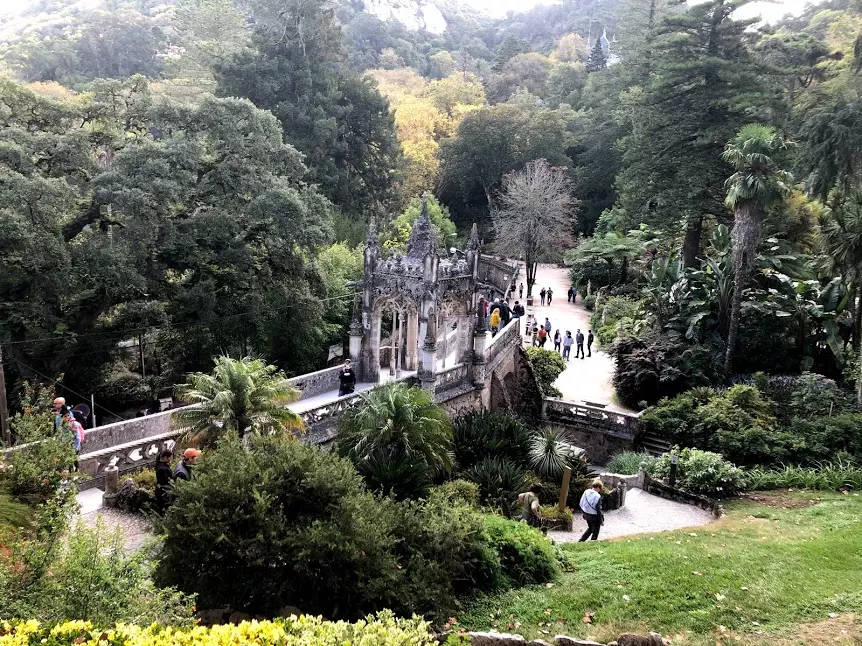 Pin
Below: Portal Dos Entrada dos Guardiães (Guardian's Entrance)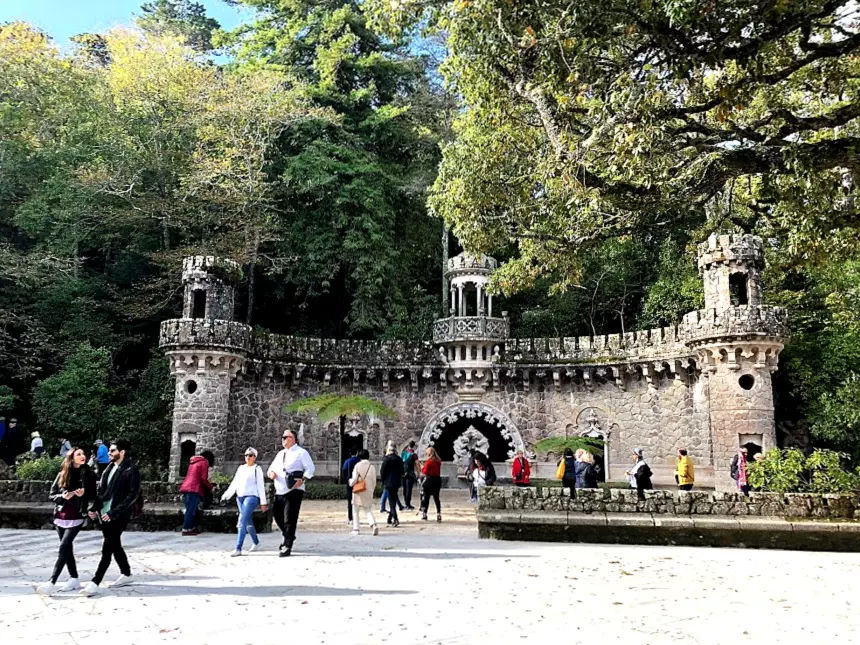 Pin
Also known as the Inverted Tower which was built by Carvalho Monteiro, the owner of the property with the assistance of Luigi Manini, an Italian architect.
Apparently, Monteiro was a freemason and held ceremonies & rituals conforming to his beliefs . It took me a bit of courage to go down the spiral steps as the feeling was creepy but the only way to get out of the palace alive was through this route I was told and so I went.
Tip for those with claustrophobia: Just take a nice deep breath and know that there is a beautiful surprise that awaits you at the ground level. I promise you that it will be worth it!
Below : Initiation Well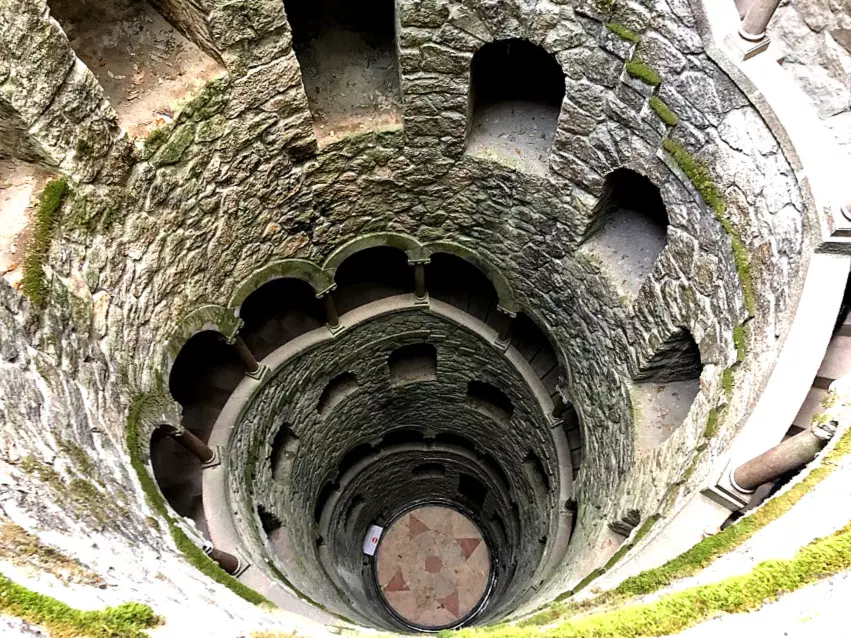 Pin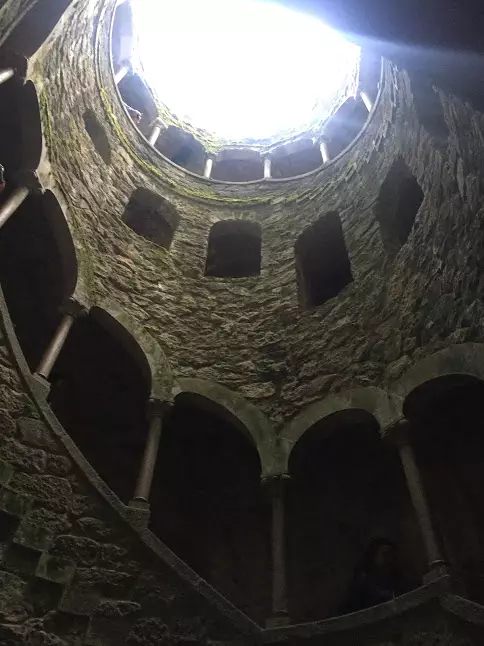 Pin
From the bottom of the well we were led out via a beautiful, well lit cave that opened into the most enigmatic view – the waterfall lake. This was worth the trip down the spiral staircase and is a must see for those who like beautiful surprises in life.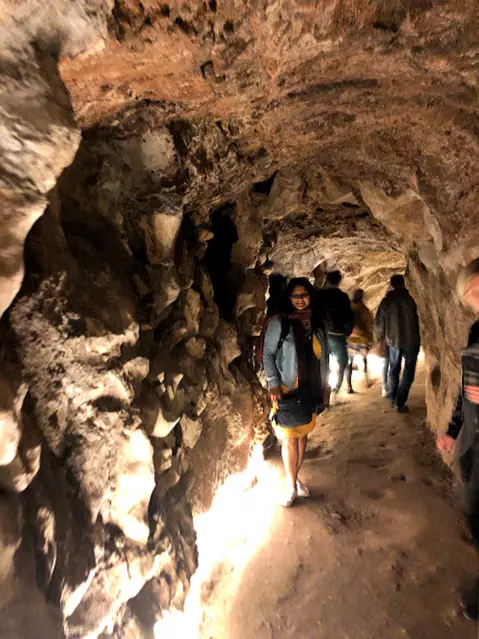 Pin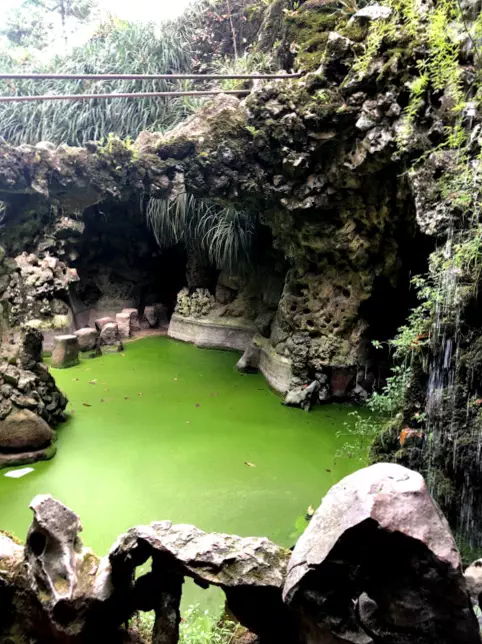 Pin
Above: The Waterfall Lake
Leda's Cave
This place is dedicated to the character from Greek Mythology who is said to have been seduced by Zeus, the Greek god of the sky, lightning and thunder who came to her disguised as a swan
Cabo da Roca – a cape that marks the westernmost point of mainland Europe
This rugged & rocky coastline overlooks the Pacific ocean and is one of the most touristy places that I've been to. We barely got a moment to take our pictures without someone being in the same frame with us (a.k.a photobombing us!!). The view is beautiful and the descent to the wood fenced coastline is extremely picturesque with a red & white lighthouse adding to the beauty of the place.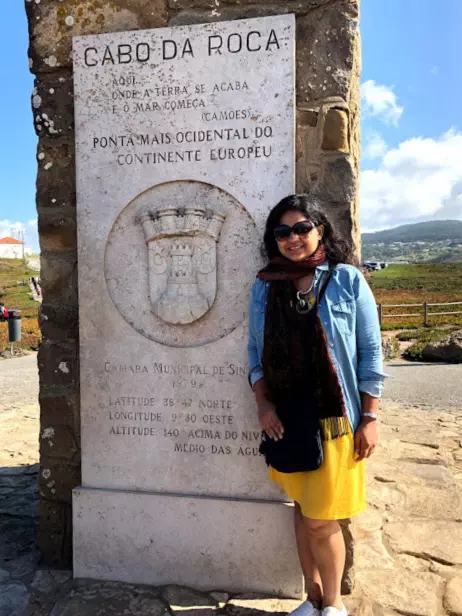 Pin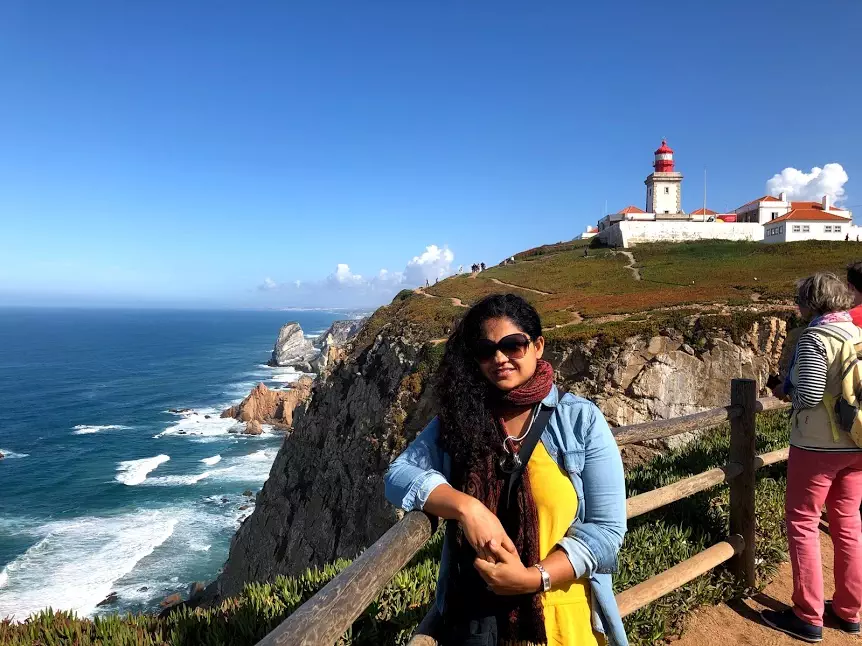 Pin
Cascais – a charming fishing town west of Lisbon
Pronounced as 'kash-kaysh', this beautiful coastal village is known for its clean, sandy beaches & a lovely marina. It was known to be a summer retreat for royalty but is now a favourite tourist spot for beach goers.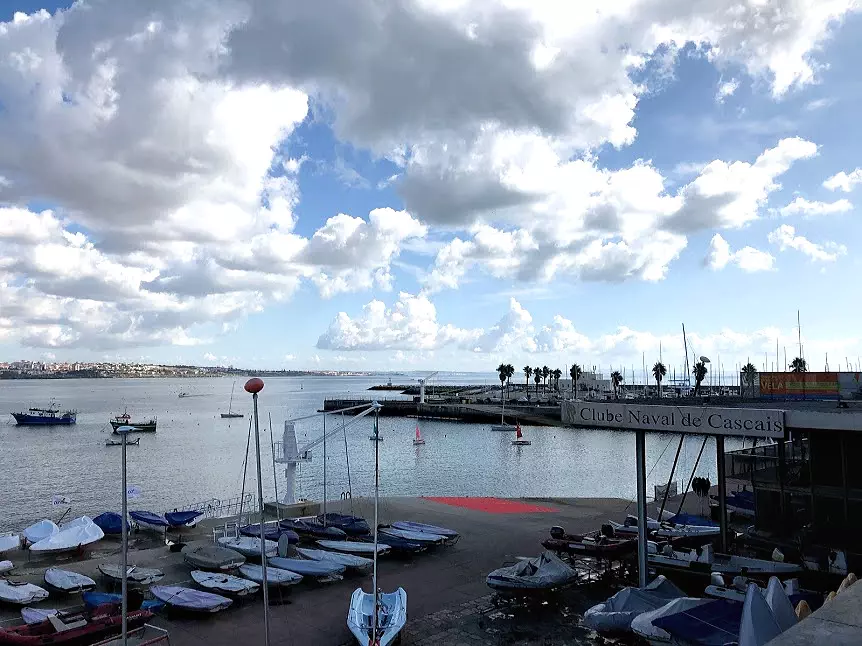 Pin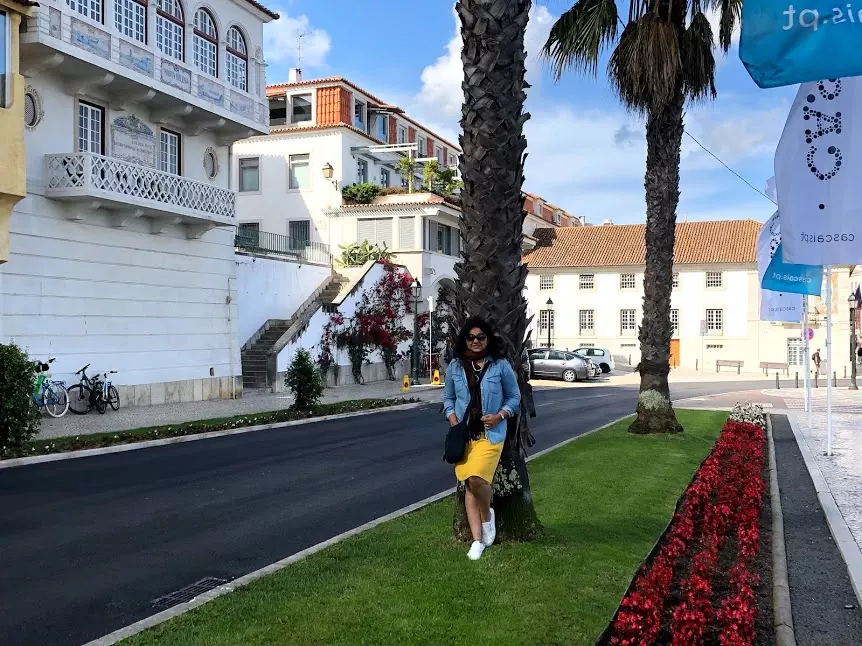 Pin
Above: The picturesque town of Cascais
Pena Palace (Palácio da Pena)
a Romanticist castle in São Pedro de Penaferrim, in the municipality of Sintra
Entrance fee to the Pena Park (mandatory) €7.50
Entrance fee to the Pena Palace (optional) €6.50
This palace is what little girls dream of I guess and is romantic architecture personified. The exteriors are a gorgeous red and yellow and make for a beautiful backdrop for a romantic photoshoot. Let me forewarn you that getting to the park and the palace is a real workout as you will need to climb uphill and may have to stop at several points to catch your breath. The disappointing bit however was the fact that there is an entrance fee for the palace again if you choose to go inside and photography is not allowed. I would have loved to show you a bit of the grandeur otherwise.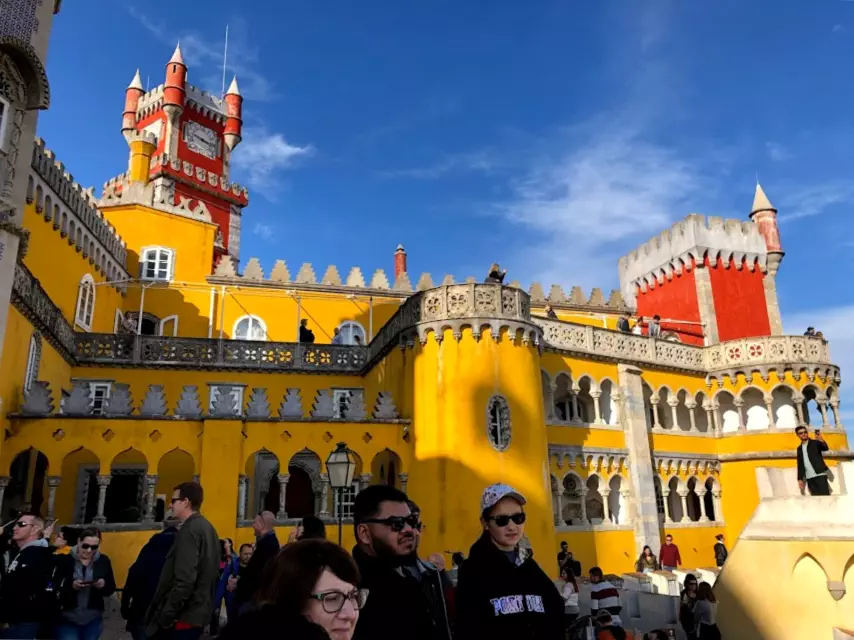 Pin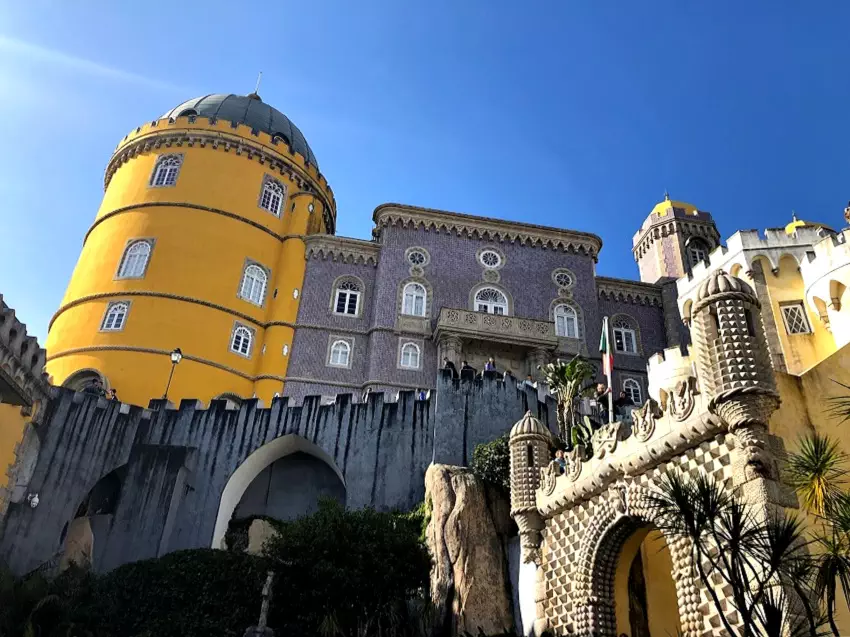 Pin
The one thing that caught my attention is the detailed carving of the sea monster at the Arch of the Triton. Such detailed work and precision! I also loved the view of the sea from the viewing deck near the beautiful chapel. After spending some time taking in the beauty of the place we met our group and got into our van for our return to Lisbon.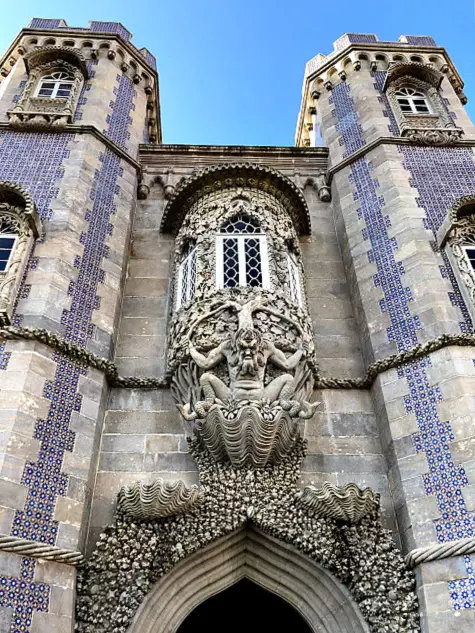 Pin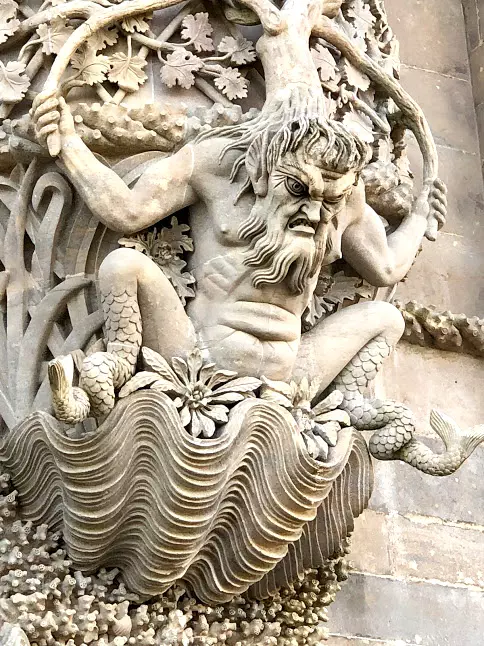 Pin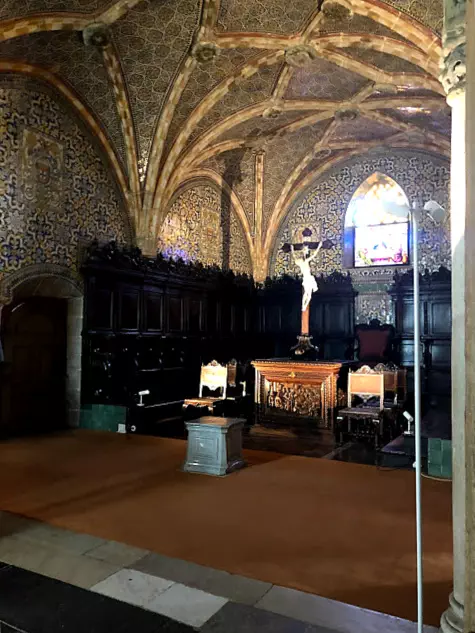 Pin
Above: The chapel of Pena Palace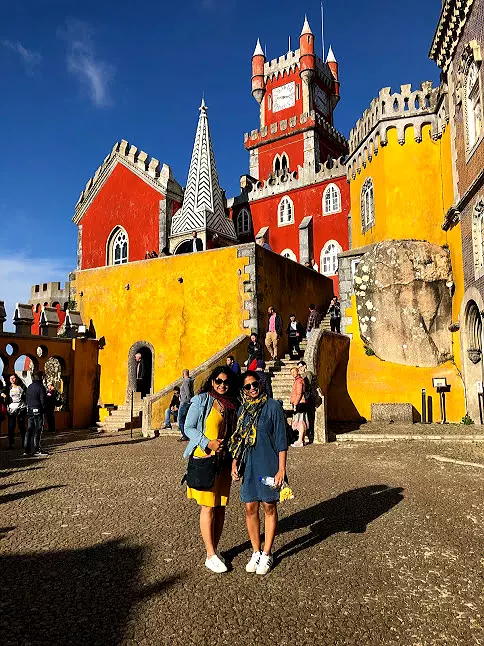 Pin
Above: With my beautiful friend Savri Shetty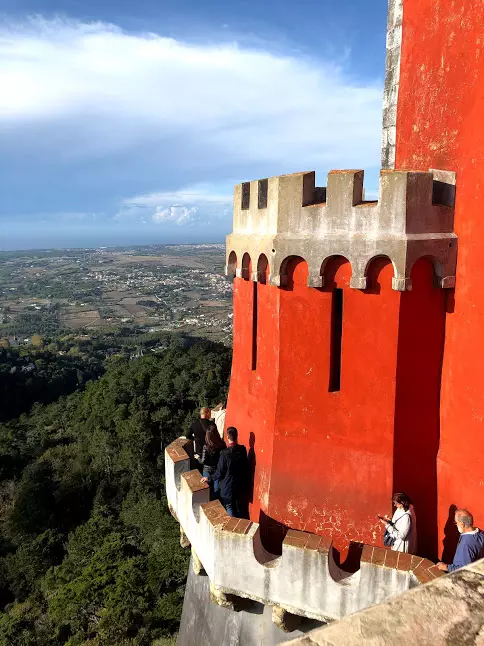 Pin
FOOD & SHOPPING IN SINTRA
The town centre in Cascais has some beautiful little restaurants where we stopped for some traditional food. We had garlic prawns for starters followed by the traditional Portuguese dish named Carne de Porco à Alentejana (pork with clams & potatoes) which I enjoyed while my friend had shrimp omelette with fries and a green salad on the side. So yum! I found my dish really unique because rarely have I eaten pork with clams let alone potatoes added to it! The base of the dish was simple and tangy and the pork was chunky.
Shopping in Sintra
Save for this shop pictured below that sold leather & cloth bags, souvenirs and some clothes we didn't find any other shops here.
Albufeira, Faro District
A small coastal town in the southern Algarve region of Portugal is a three hour train ride from Portugal
Albufeira is a former fishing village turned into a major tourist location. The beautiful sandy beaches welcome beach lovers who want to unwind during the day and jazz up their evenings at one of the many bars on the nightlife strip. The town part of Albufeira has its own marina, a diving base and boat trips that include dolphin watching and a visit to the beautiful caves that are a result of rock formations that date back to a few million years.
The hotel we stayed in was surrounded by quaint little white houses with colourful doors that belonged to the fishing community and was a stone's throw from the modern marina. Our room had a spectacular view of the sea and we had to make our way down the streets to reach the town centre which was where all the tourists hung out.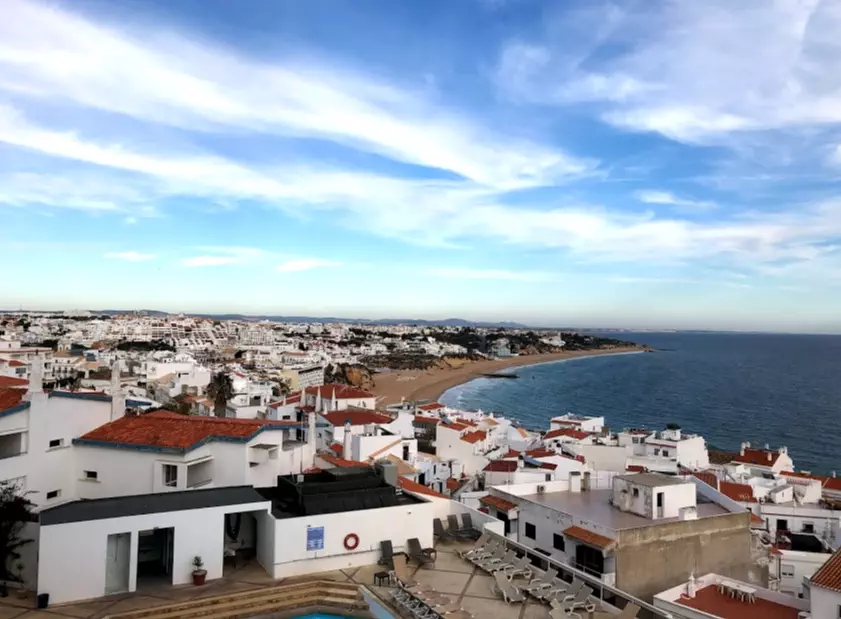 Pin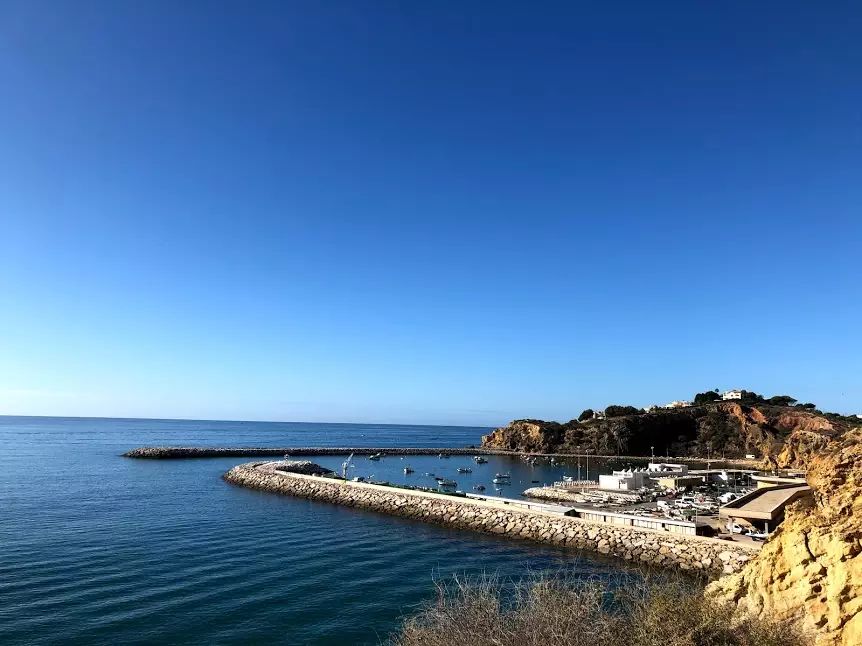 Pin
THINGS TO SEE
Dolphins in their natural habitat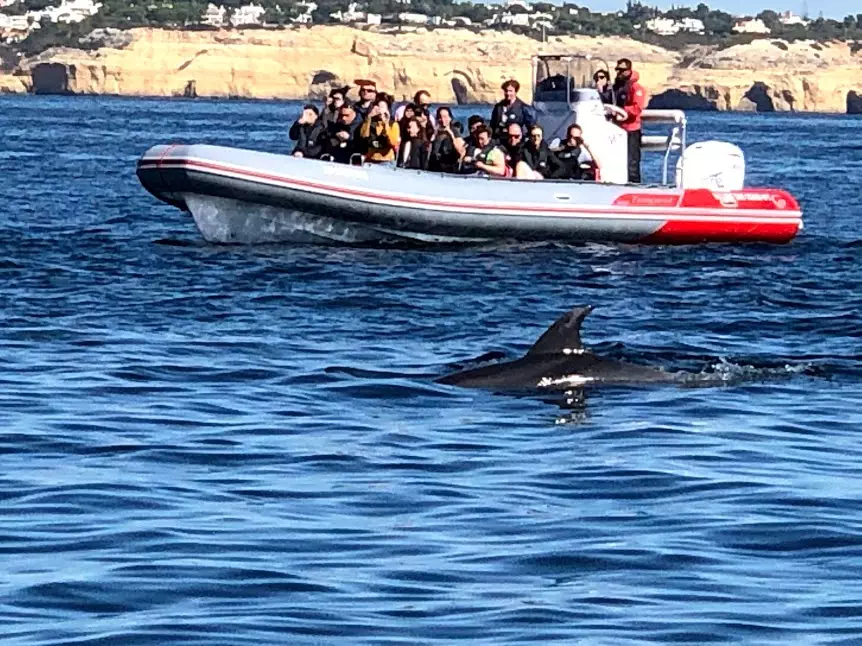 Pin
We got on a two hour boat cruise to see the various caves along the coastline of the Algarve. This included spotting wild dolphins which greatly depended on our luck we were told. After waiting for a while we did see a pod of dolphins joyfully playing around in the deep sea however I was unable to get proper pictures. I do have a couple of videos that I hope to share soon.
Cave of Benagil (Gruta de Benagil)
The most gigantic of the rock formations is the 15th most beautiful cave in the world
We then proceeded towards the different caves and entered the massive cave that opens up to the sky with a hole in the ceiling. This was by far one of the most spectacular things I had ever seen!
Dotted along the coastline are several mini beaches that are only accessible by boats, canoes or kayaks.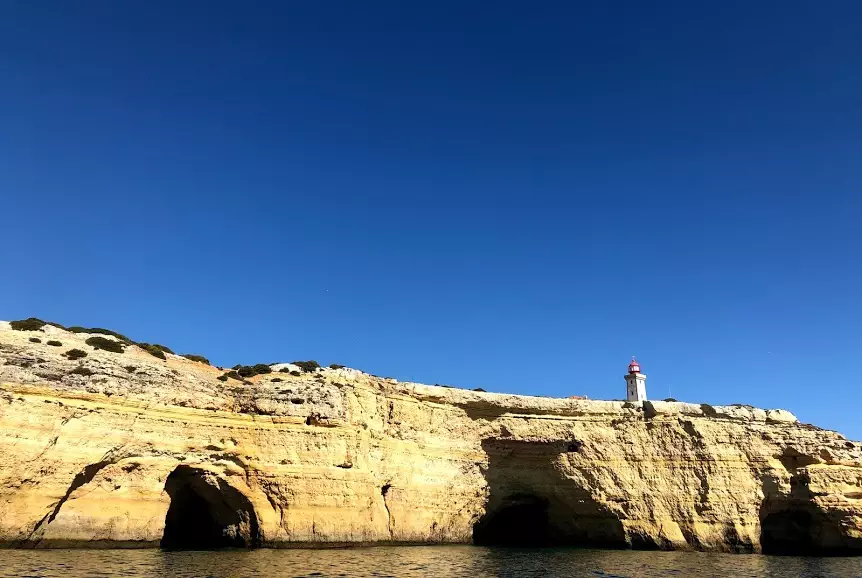 Pin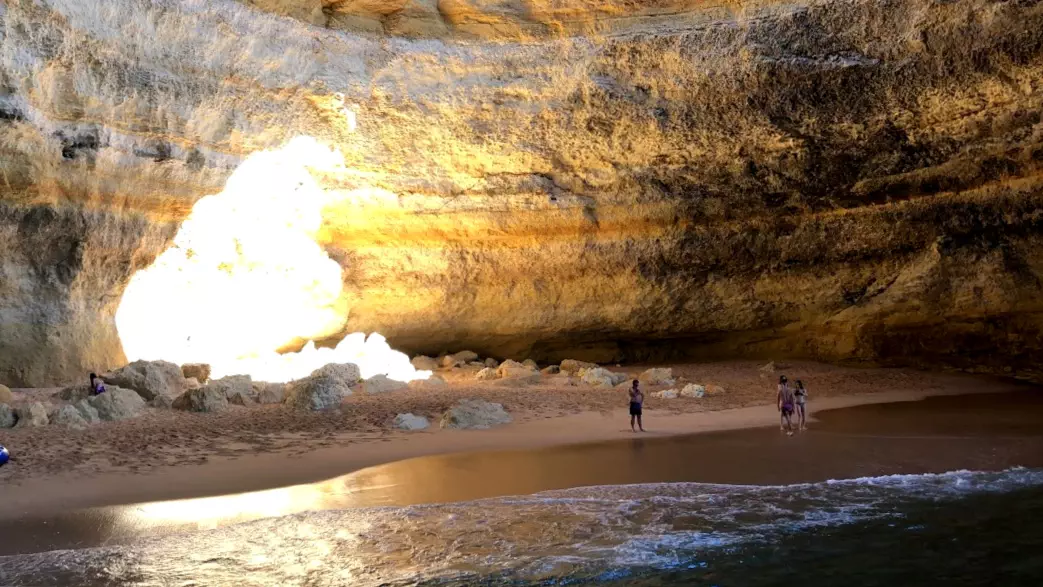 Pin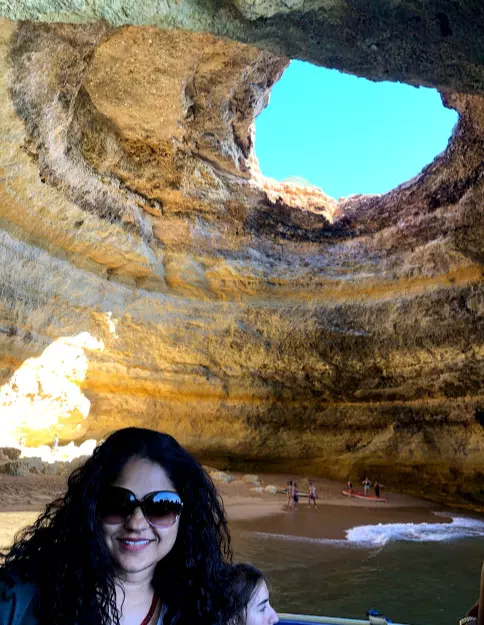 Pin
Pin
The Strip
The Monte Choro area of Albufeira is at the heart of the city centre and has a plethora of restaurants, night clubs and souvenir shops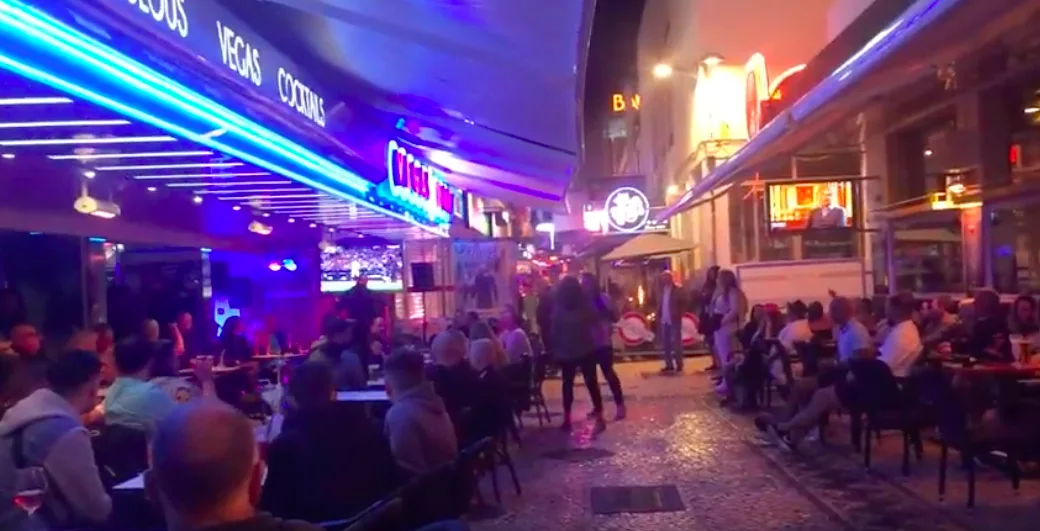 Pin
We hop skipped & jumped to this part of town which was bustling with tourists who had begun to unwind with their favourite drinks at the many bars & nightclubs. Being non-drinkers, the two of us strolled lazily looking for a perfect place to sample some authentic Portuguese food and of course shopped for some port wine to take back home.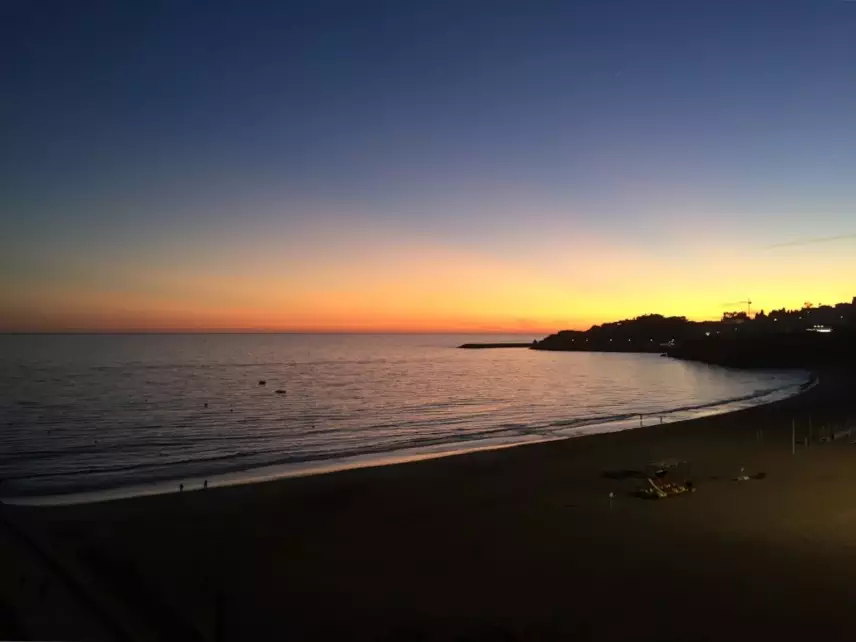 Pin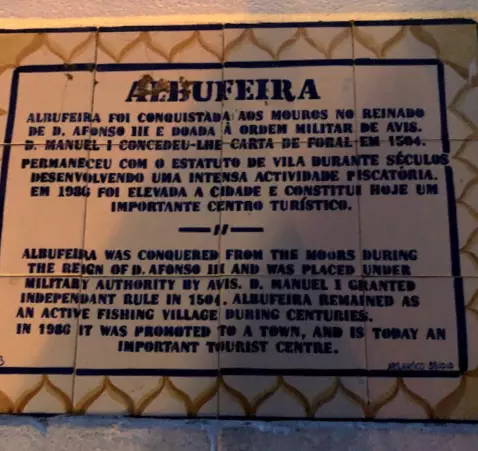 Pin
Praia São Rafael – A beautiful beach near Albufeira with spectacular rock formations
Getting around Albufeira on foot is okay as long as you just want to walk around the vicinity of the hotel but if you wish to explore a few beaches then you can either rent a car or take the hop-on-hop-off bus. We chose to walk up to the nearest beach which was a good 30 minute walk from our hotel but it was worth it in the end. We got some of the best pictures of our holiday here.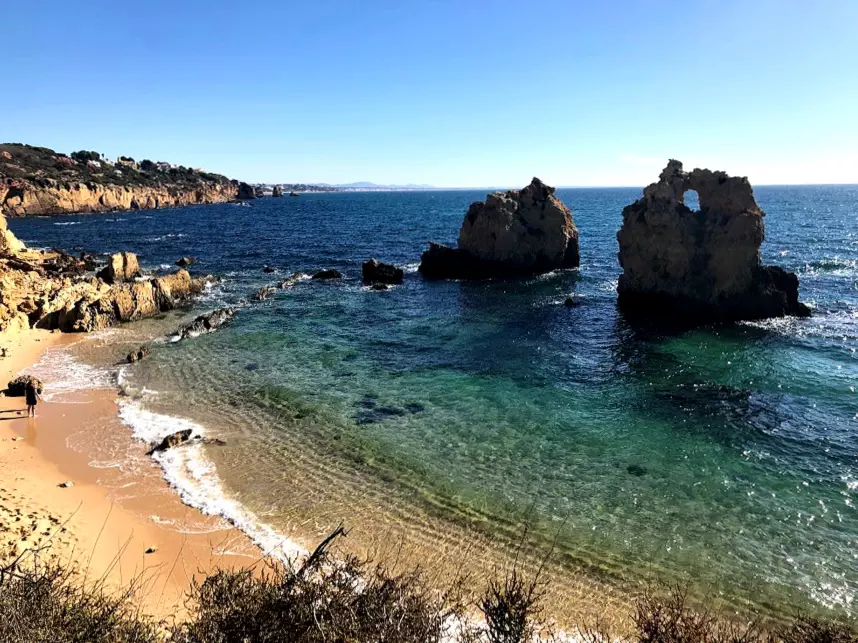 Pin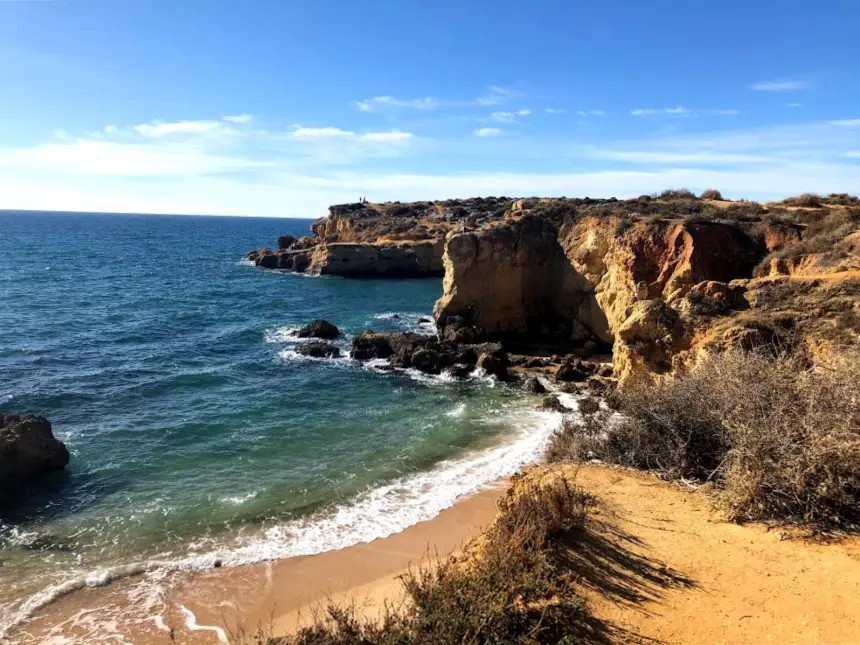 Pin
FOOD & SHOPPING IN ALBUFEIRA
Besides the enormous breakfast that we ate every morning at the hotel we were keen to try out some local delicacies. However, on the first day we ate a pizza and some more grilled fish, the pictures of which I do not have but on the second day we really wanted to try some local cuisine at one of the tourist pitstops at The Strip
Pictured below is the Mariscada – Portuguese seafood rice which was perhaps the most popular dish in this region. It was a one pot meal of delicately spiced, delicious rice and seafood cooked together in a tomato sauce. One serving is a whole potful!! We ate as if there was no tomorrow!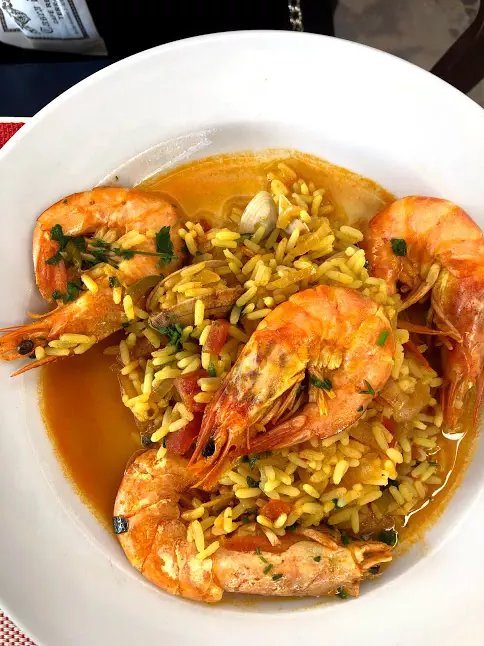 Pin
Above: Mariscada
For seafood lovers, most menus offer the baby octopus – mostly grilled or mixed along with other seafood in the mariscada as pictured above. The one below was enjoyed by my friend who is more adventurous with seafood than I am.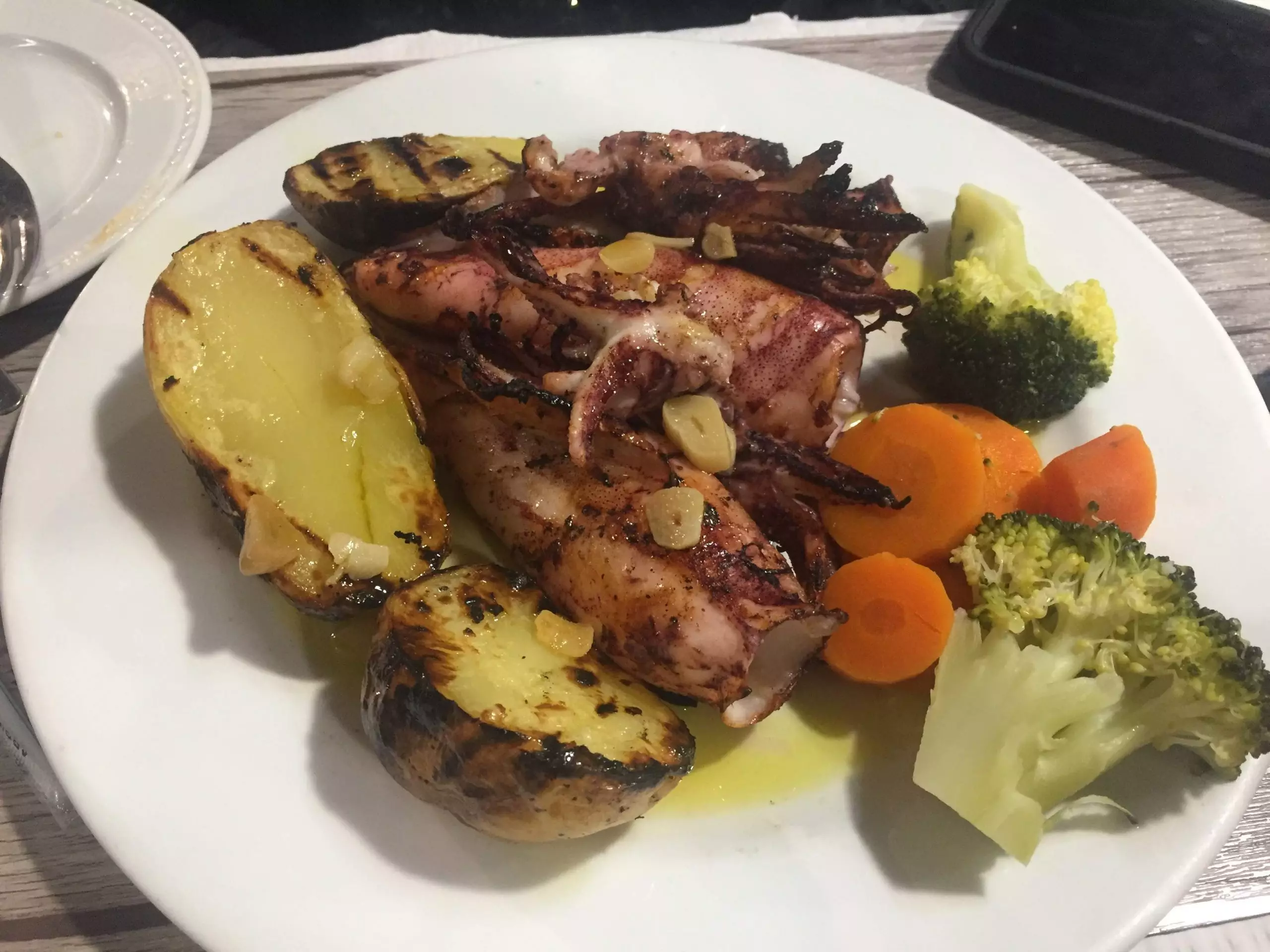 Pin
Above: Grilled Baby Octopus
Beyond the restaurants on The Strip are a ton of souvenir shops and the like. A ton! We discovered this only 2 hours before we had to check out from the hotel. I wish we had more time. Somewhere in the middle was this lovely sand art put together by an artist.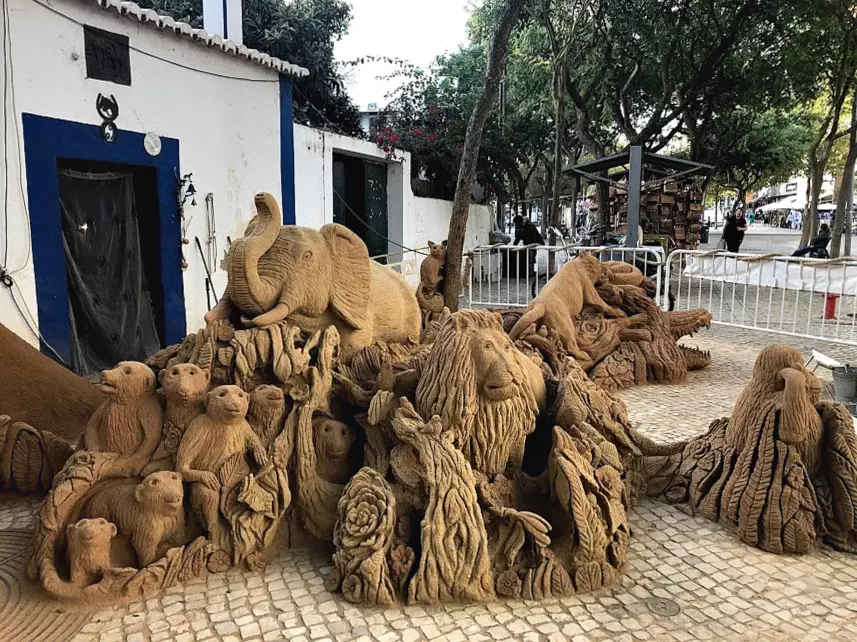 Pin
Here's one of the many many shops we strolled into. This particular shop had interesting stuff such as leather bracelets, wrist watches, reusable/foldable bags, ceramic mugs, personalised jewelry etc which can make for brilliant gifts if you want to pick some.
Pin
There is never a dearth of wine shops in Portugal! This place had an amazing collection as well and I picked up a bottle of Port wine after going back & forth between shelves, unable to finalise on what I really wanted to take back home! This is a wine lover's paradise I must say!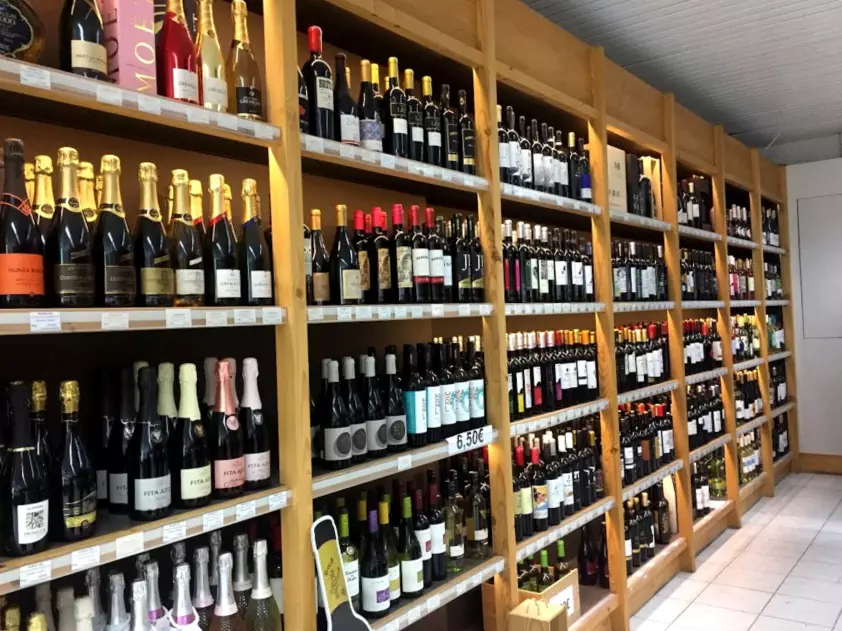 Pin
Street performances are a thing in Europe and Portugal or Albufeira for that matter is not left far behind. This troupe with their furry friends had just settled in and were tuning their guitars to serenade the passing crowd in order to fund and possibly find good homes for the dogs they had rescued. So noble! I had found my tribe but obviously could not take a doggie back home. Sigh!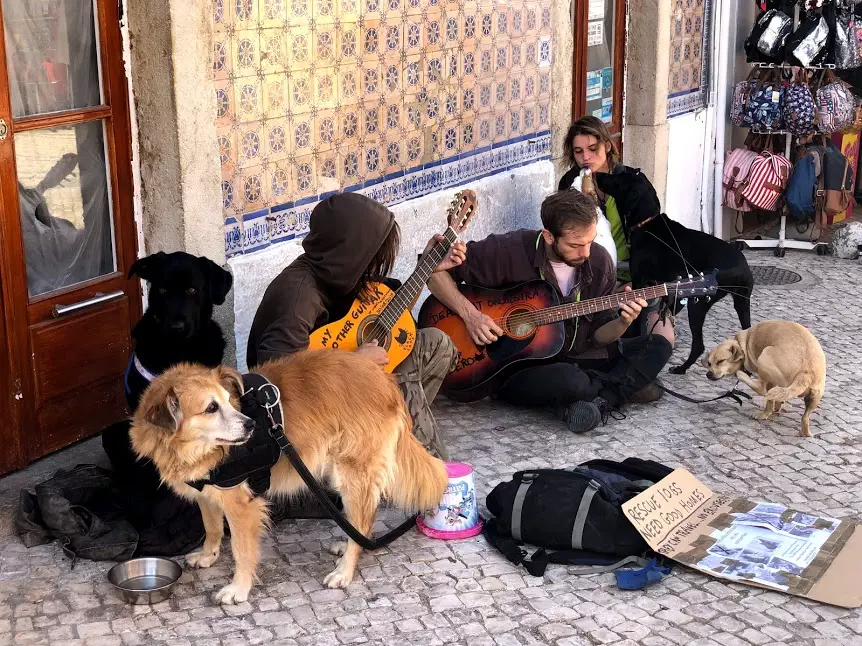 Pin
So with this I come to an end of my travelogue of Portugal! I hope you enjoyed reading this post. If you are new here, do check out my previous posts on Portugal:
Lisbon, Portugal – Part 1 – Places to See 
Lisbon, Portugal – Part 2 – Food, Entertainment & Shopping
Do drop me a line on [email protected] or comment down below in the comments section & let me know how you liked my 3 part travelogue on Portugal. Would you like me to write more posts of my travels? Let me know!