Part 2: Lisbon – Food, Shopping & Entertainment
FOOD
Since I did not plan to write a blog post about my trip I did not focus much on taking pictures of the food we ate so I am sharing just a few pictures. Being a die hard foodie, and this is just my opinion, Portugal is not really a food lover's paradise unless you have a massive sweet tooth. The cuisine is not very vast and the flavours are not complex unlike most other cuisines. Most dishes are delicately spiced, with chunky pieces of pork and fish (especially cod) being the dominant ingredients. You'll have to be lucky to find chicken on most menus and if you are a vegetarian your choices may be limited to bread, cheese, butter, vegetarian quiches and perhaps lentil/vegetable soups. If you are vegan, please carry your own food because almost everything, whether sweet or savoury, is at least milk or egg based.
However, like I mentioned above, if you are on the lookout for sweet pastries, tarts and the like, you will love this place for it has so much to offer. The number of pastry shops and the variety they have is mind boggling!
So listed below are some of the places we ate at.
A Padaria Portuguesa – A chain of cafes
Location: Praça Marquês de Pombal
During my entire stay in Portugal, it appeared to me that the ham sandwich is to the Portuguese what idli sambar is to the South Indian! It is a very common breakfast option available in almost every cafe we visited. The sandwich is prepared either with bread or croissant and the latter is the better choice of the two. Breads on the other hand are really very nice so you can sample some if you are adventurous.
Adega de Sao Roque – A quaint little place popular for seafood
Location: R. da Misericórdia
This place was neat & clean, had a bunch of friendly waiters and the food was good. I chose to eat the grilled cod fish with vegetables while my friend picked the shrimp acorda (Portuguese bread soup). Please be warned that in most restaurants in Portugal fish is served bone in and when my dish finally arrived I was busy picking bones from a very salty fish with tough meat – totally unexpected! The fish was slightly bland for my palate as it was mildly seasoned with salt, pepper & olive oil but then I was game to trying something new as one always should on a trip to a new place. My friend on the other hand loved her shrimp acorda as it was quite unique (to us) and flavourful too. We joked that it was something like a shrimp biryani but with bread instead of rice. It was quite decorative too but our waiter promptly mixed & mashed up everything together before I could even take a decent picture!
Warning! Do not touch the appetizers (cold bread, butter, olive oil & cheese served with fish pâté) if you don't intend paying for them! They charge around €1 for a tiny tub of butter and it is so not worth the money if you are planning to order a large meal. I found this to be the case with most restaurants in Portugal. The appetizers are NOT complimentary so don't dig in right away without checking the prices on the menu.
Apart from this, portion sizes are generally good as is the norm with most restaurants. Food is cheaper than Greece which is the only European country I have been to so far and from what I have heard, Portugal is budget friendly in comparison to other Schengen countries.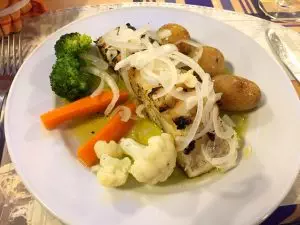 Pin
Above: Grilled codfish with vegetables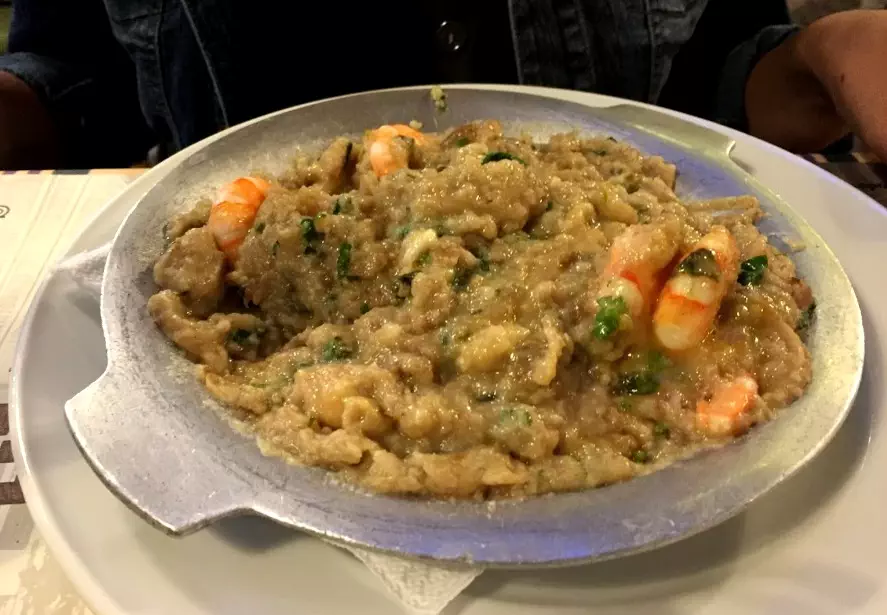 Pin
Above: Shrimp Açorda – a savoury bread porridge with shrimps
Towards the end of our meal we were served a complimentary shot of the popular Portuguese cherry liqueur called Ginjinha (pronounced as zhin-zhinya) which is made by infusing sour cherries with alcohol & sugar and is generally served in shot glasses. The moment we tasted it we knew we were in love with this drink and instantly made a mental note to buy a bottle each before we left the country.
We also had the chance of tasting this again at Rua Augusta where the shot glasses were made of chocolate! So delicious! I picked a pack of 12 chocolate shot glasses for €8 at the airport Duty Free. Totally worth the money because I like to enjoy this drink once in a way, Portuguese style!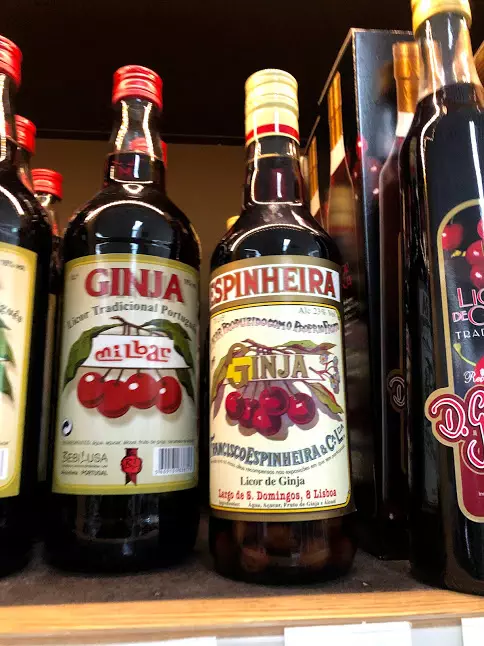 Pin
Cafe A Brasileira
A bar that offers a small yet delightful choice of pastries and the like to go with your coffee.
Location: R. Garrett 122
We visited this place right after our dinner as mentioned above. While went in to grab a couple of custard tarts to go and noticed that the place was crammed with tourists. These first among our many custard tarts that we would sample in Lisbon were nice but slightly cold (we learnt later that sinking your teeth into 'fresh out of the oven tarts' is the best feeling in the world!).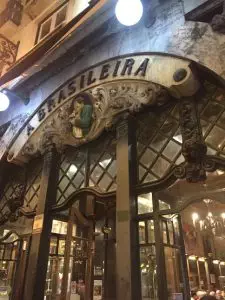 Pin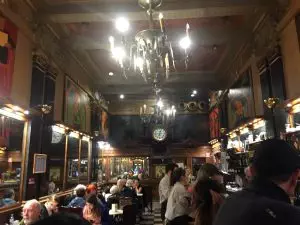 Pin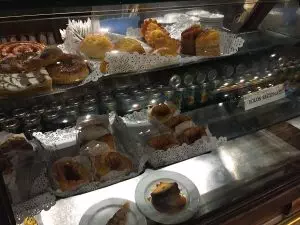 Pin
Above: Pics of the cafe, the lighting was poor so the pictures are slightly blurry
Pao Pao Queijo Queijo at Rua De Belem
A fast food joint with a huge variety of quick bites
Location: Rua De Belem
Adjacent to the monastery are a row of food joints where one can grab a bite. We were starved and just settled in for lunch at this place. The menu was long & winding with plenty of options for non-red meat eaters (in case you are looking for some simpler options) and the service was super fast. I chose a sub sandwich with bacon and ham with some fillers. Anything with bacon wins my heart and so did this sub. I don't recall how much we paid for each sub, but it was inexpensive.
Queijo essentially means 'cheese' and pao is anyone's guess, yes, it means bread. So this place technically means 'bread bread cheese cheese' 🙂 Sorry, I couldn't resist!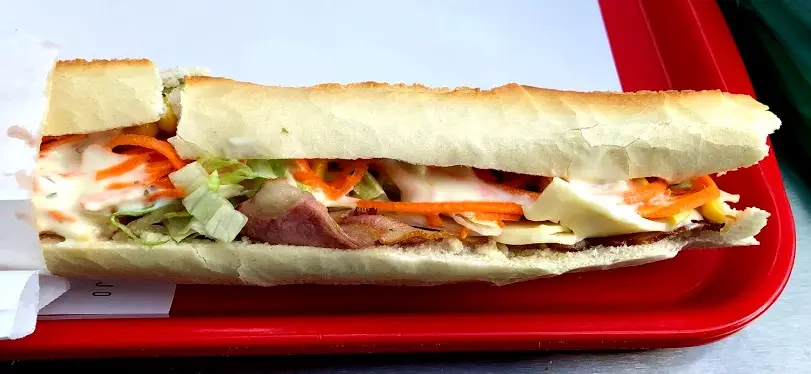 Pin
Above: My bacon & cheese sandwich
Pasteis De Belem
The most famous place for the Pasteis Da Nata (Portuguese custard tarts)
Location: Rua De Belem
Perhaps the most famous of all pastry shops, this place is a paradise for pastries especially the Pasteis Da Nata, (Portuguese custard tart). Owing to its proximity to the two main tourist attractions, Belem Tower & Jeronimo's Monastery, this is almost like another tourist pitstop. Needless to say, outside the shop was a mind boggling snake queue of tourists who were queued up to either taste the tarts for the first time or had come to pick up a few before heading back home to their country. However, from personal experience I can tell you that you will find better tasting custard tarts in Rua Augusta. I will dedicate a whole paragraph on the custard tarts so read on!

Above Picture: The snake queue outside the store!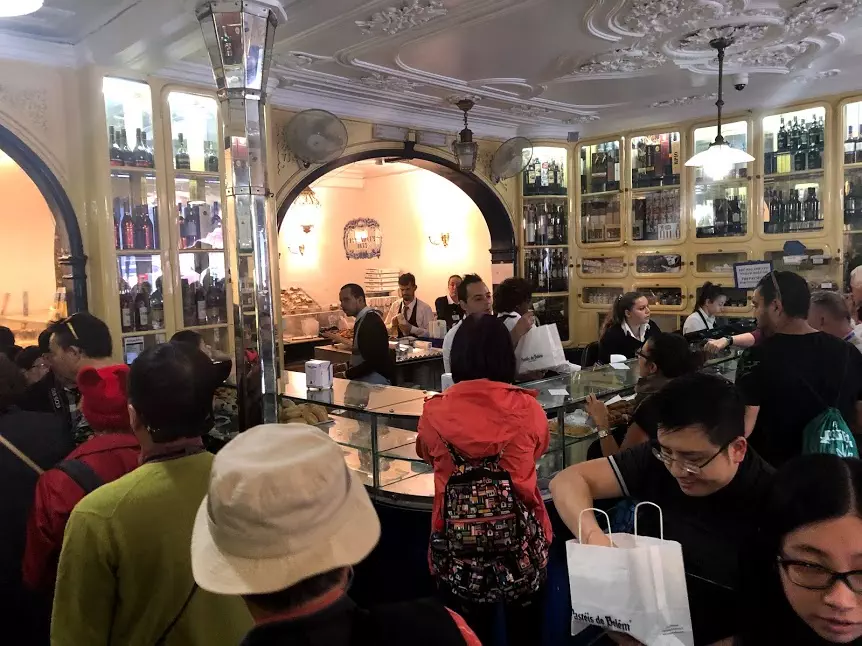 Pin
Above: People thronging to buy the custard tarts that sell for €1.15 per piece

Above: Codfish cakes on offer along with some other treats
Casa Portuguesa do Pastel de Bacalhau
 A chain of eateries that sells cheese stuffed codfish cakes
Location: Rua Augusta
Bacalhau is a common term for salted codfish in Portuguese. It seems to be a favourite amongst the locals because this shop was dedicated to the cod! This beautifully decorative eatery has barely a few dishes on offer because the fish cake is the star here. For €4 you can bite into a piping hot, breaded, oval shaped fish cake that oozes with gooey cheese when you break it open. For an extra few Euros you can enjoy it with a small glass of Vinho De Porto (Port wine) which I am told is the right way to eat this fish cake.
Pin

Pin
Fabrica Da Nata
A popular pastry shop that sells Pasteis De Nata (Portuguese Custard Tarts)
Location: Praca dos Restauradores 62-68, Lisbon
After some random window shopping down the street we landed up at this beautiful pastry shop that had the pastry chefs working on batch after batch of custard tarts right at the entrance of the store. From our experience, this place churned out the best custard tarts that we ever tasted in Portugal. Piping hot & delicious, the custard tarts had the most flaky & crispy base with an egg custard filling that was cooked just right. They had the right balance of sweetness without the 'eggy' aftertaste that we felt at other shops. We couldn't stop at one obviously and by the end of the day we had stuffed our faces with way too many custard tarts. But then, what's a holiday without some binge eating eh?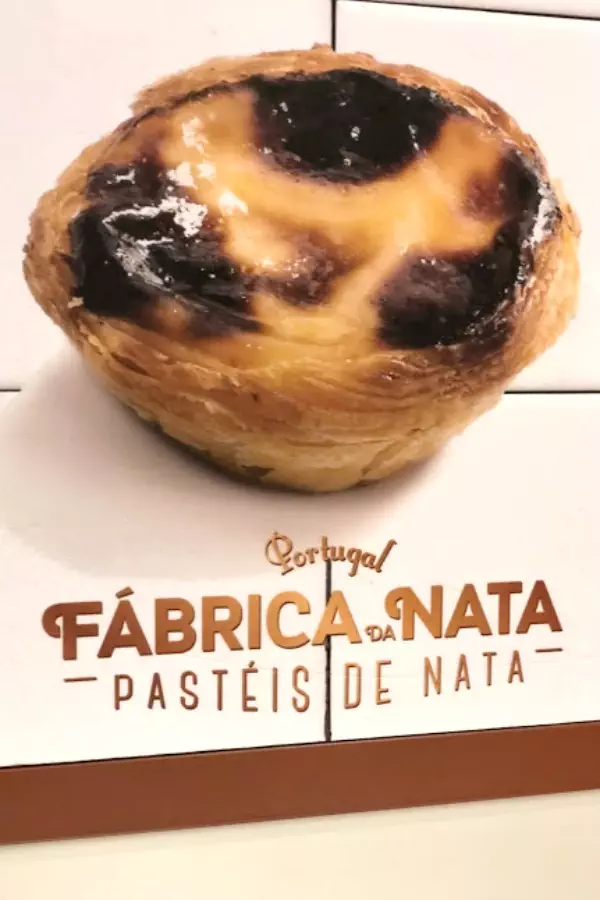 Pin
Above Picture: Fabrica Da Nata where we found the best tasting custard tarts of 'em all sold at €1 per piece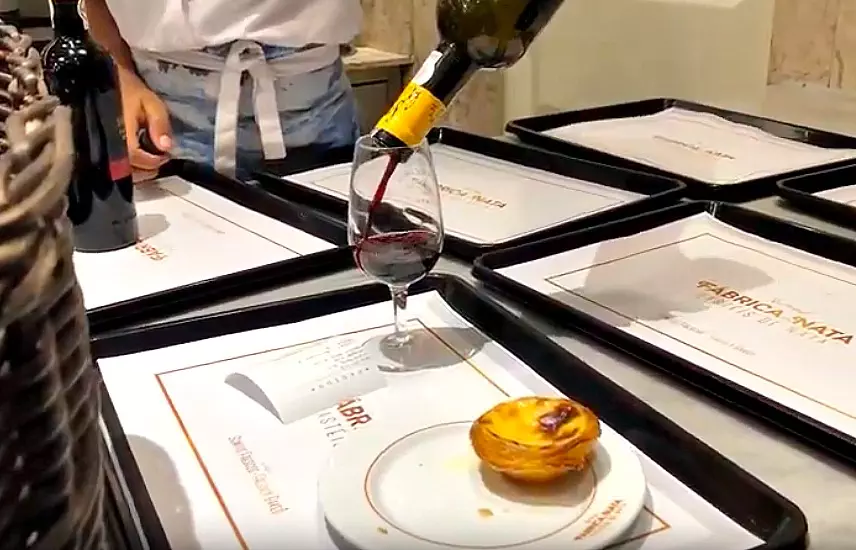 Pin
Above Picture: Custard tart served with port wine
Cozinha D'Ávo Celeste
a gorgeous little cafe serving soups & savouries
Location: Rua Augusta
Rua Augusta has beautiful eateries. Period. These places are so beautifully done up, that I spent a few minutes just to gaze at the interiors & decor. Right after we had had our fill of custard tarts we drifted across the street into this cafe and I decided to sample something simple for dinner. I picked the simple Sopa D'Ávo Celeste (vegetable soup) which to be honest tasted more like homemade thick dal with some greens cooked in it. The soup was light yet filling.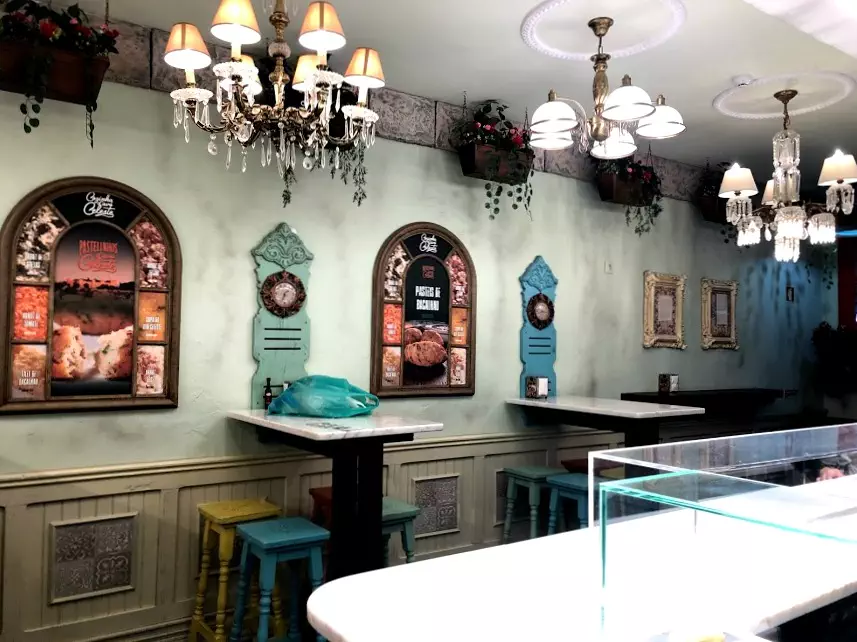 Pin
Pin
Above: Sopa D'Ávo Celeste
Pastelaria Sequeira
a small traditional coffee shop you can stop by for some quick breakfast, lunch or dinner
Location: Avenida Da República 11A

Above Picture: My (sur)namesake!
The pastel de nata or the Portuguese custard tarts as I mentioned above, deserve an applause. These simple tarts were first created by the monks in Jeronimo's Monastery, in Belem, Lisbon, a magnificent building that is so worthy of its status of being a UNESCO World Heritage Site. (Read more about in my part 1 of my Lisbon tales). From what I've read online, the birth of these custard tarts happened when there was an abundance of egg yolks as these were kept aside when egg whites were used to starch the clothes of the nuns & monks. The egg yolks were used in various desserts which could also be the reason why you can find a large variety of sweet tarts & pastries in a whole lot of bakeries & cafes. It is clear that the Portuguese have a sweet tooth.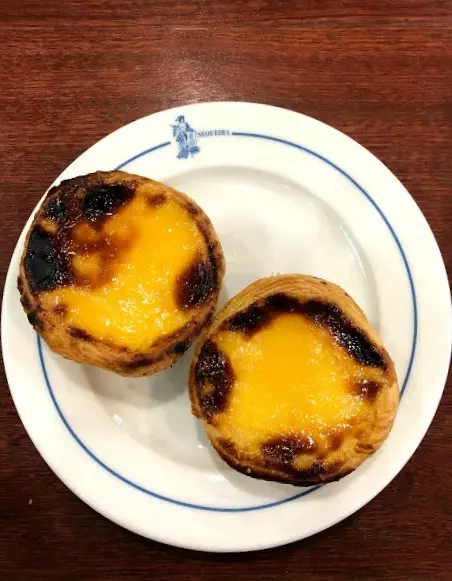 Pin
Above Picture: Beautiful custard tarts with a golden crust!
Custard tarts have a crisp, flaky base that is filled with sweet egg custard. When baked to perfection, the filling inside looks firm on the outside with a few random brown spots and ooze golden, semi thick goodness of the custard with just a hint of cinnamon. We have tried custard tarts of varying temperatures and believed that the freshly made, right out of the oven, piping hot ones were also ones that tasted the best. If you are in Portugal you must not miss eating these tarts. For all the walking you have to do, you surely deserve a treat!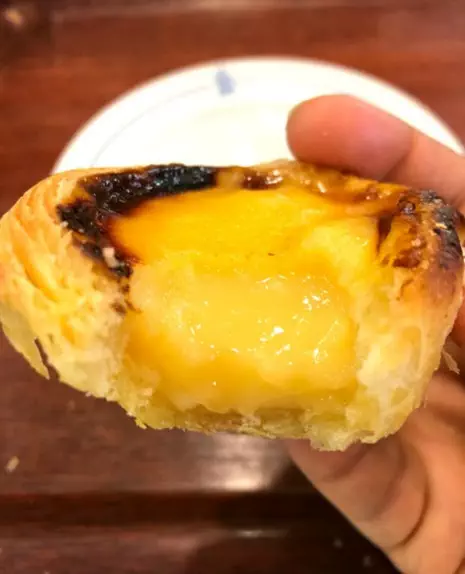 Pin
Above picture: Delicately sweet, delicious custard oozing out after a bite.
Other Random Eats
From my experience I can say that Portugal thrives on pastries and sweets for there is a bakery or a pastry shop at every nook & corner. Like I mentioned before, since blogging about this trip was not on my agenda, I did not take detailed pictures of the places we ate at or the food per se. But here are some things that I thoroughly enjoyed in Lisbon.
Clockwise:
Mixed Seafood Paella with Pork – Paella (pronounced as 'payeyya') is something like a seafood pulao cooked in a tomato base with a few chunky pieces of pork, peas & bell peppers thrown in. So delicious!! I hope to try it out at home someday.
Travesseiro De Sintra – A very flaky pastry with a custard filling, generously dusted with cinnamon sugar. I loved this!
Figelada: A very thick pancake like dessert, not too sweet, something like a thick dosa with a slightly over fried porous base. Looks like a custard tart on a glance but isn't. This was okay for a one time try but I wasn't a fan.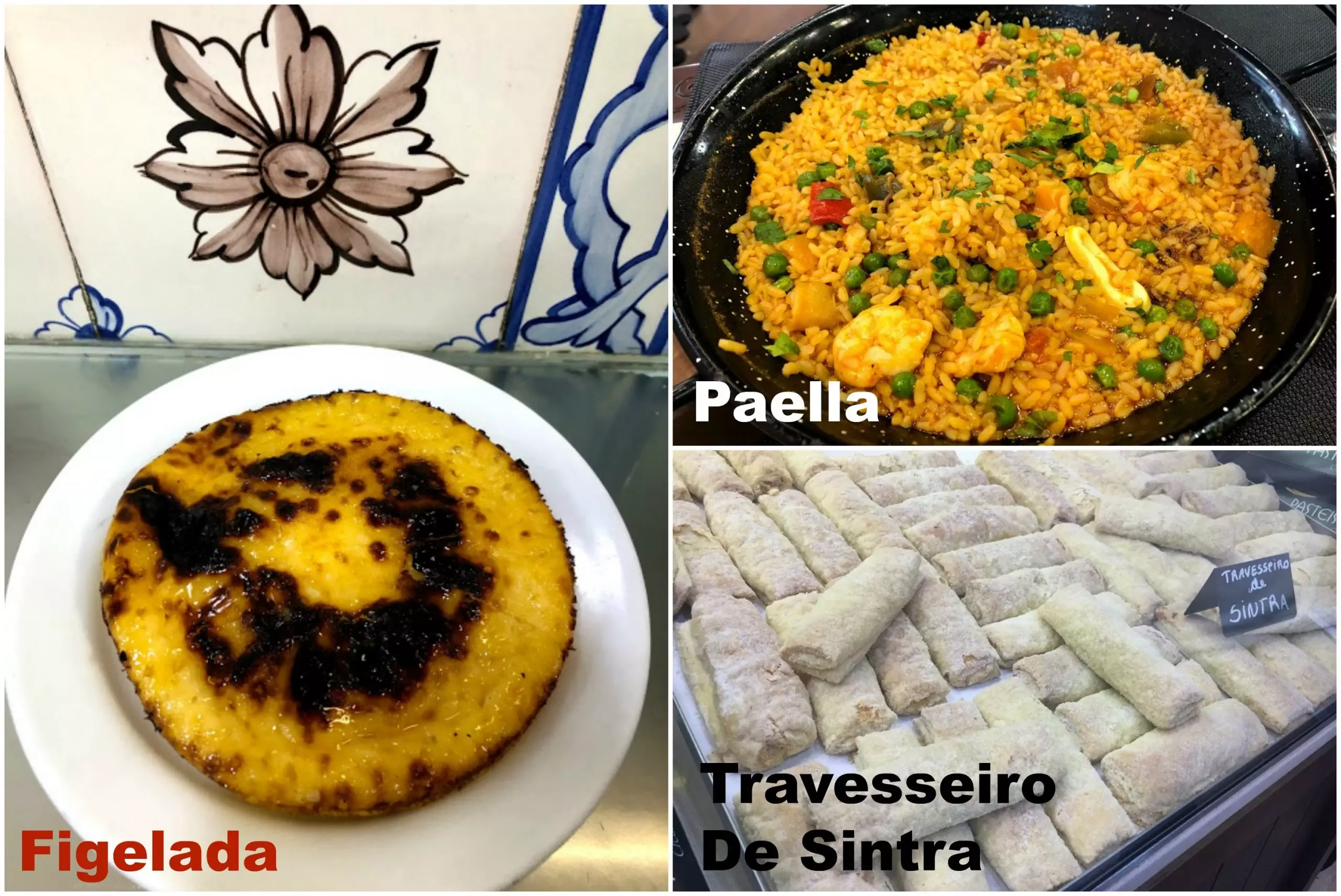 Pin
A paradise for those with a sweet tooth (none of which we sampled)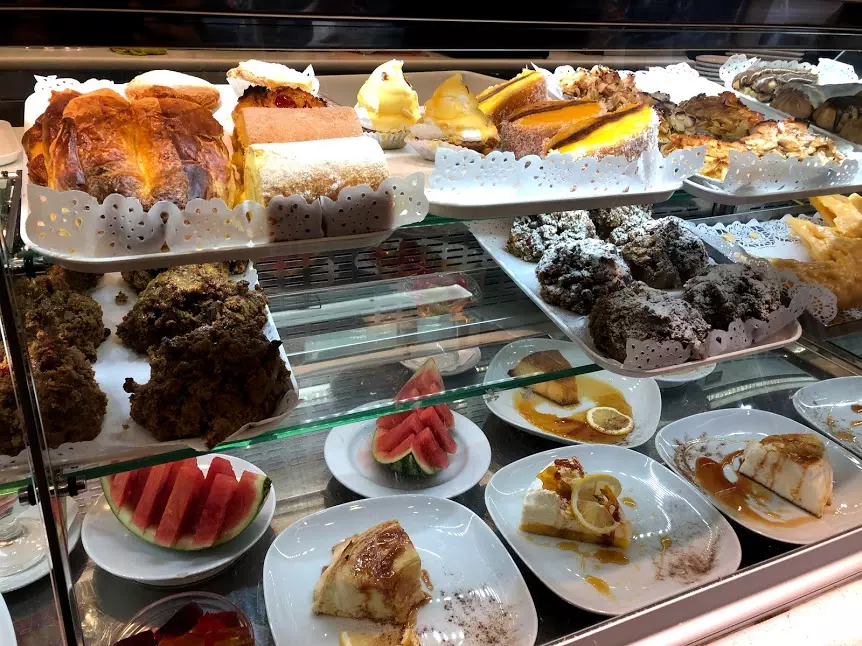 Pin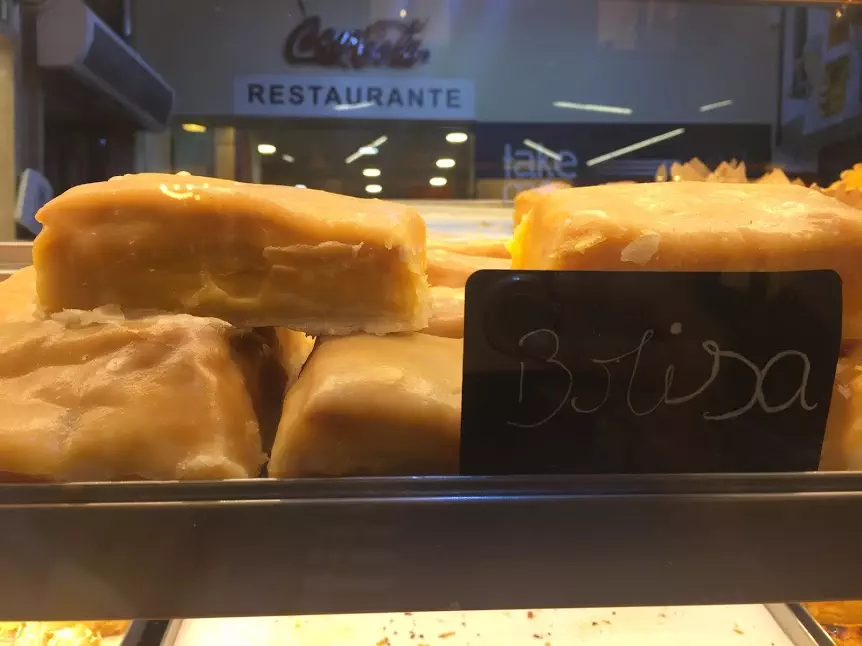 Pin

SHOPPING
Now, who doesn't love to shop on a holiday? I do, but I also know people who don't. Well to each his own!
Most tourist spots in Portugal are a shopper's paradise. From hand painted ceramic ware to bags, wallets, keychains, & jewellery you also get beautiful stoles and cloth bags with the essence of Portugal woven into them. Being a shopaholic I found myself meandering around souvenir shops everywhere we went and had to be yanked away to sanity each time by my friend who is an anti-shopper!
The one thing that will strike you as a shopper is the vast number of articles that are made with cork. Portugal is the world's largest producer of cork, producing more than 50% of the world's cork supply. Most souvenir shops are filled with a variety of useful things made from corks. Bags, purses, wallets, keychains, table mats, tea coasters, book covers, bracelets, necklaces and caps. You name it, they have it.
These shops also have the customary fridge magnets selling for anything between €0.90 to €1.25. If you want to buy them in bulk you may get a good bargain but I'd recommend you to buy them from one of the many souvenir shops in Alfama or Rua Augusta rather than buying from that single souvenir shop standing proud outside a tourist spot.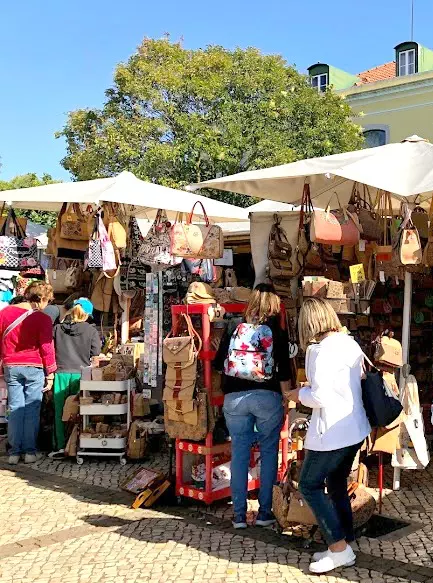 Pin
Above: One of the many souvenir shops about 200 ft away from the Belem Tower.
PinPicture Above: Hand painted ceramic tiles on display in a small shop in Alfama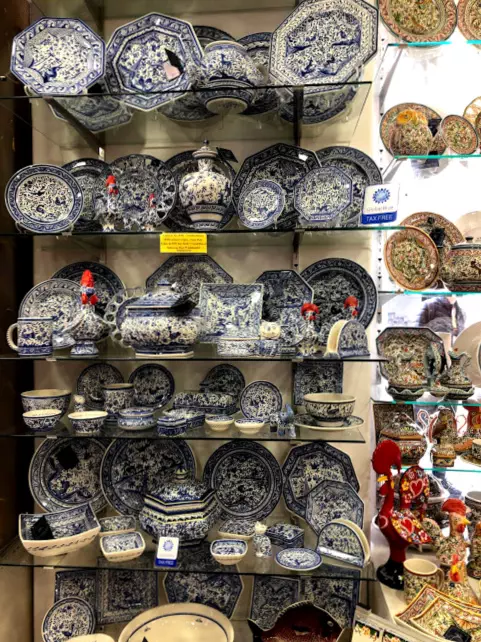 Pin
Picture Above: Hand painted ceramic-ware in classic Portuguese style prints outside the Sao Jorge Castle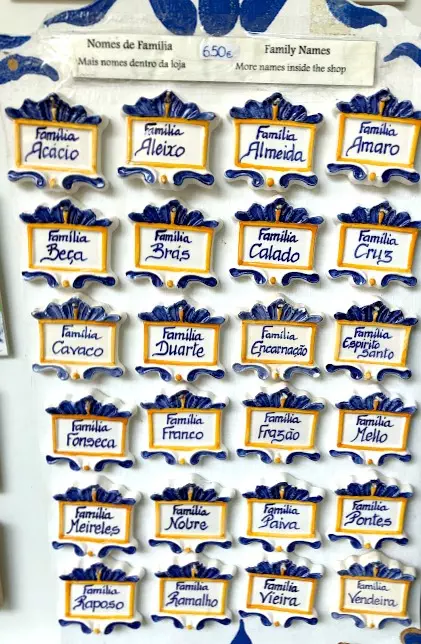 Pin
Above: Ceramic name plates with family names selling for € 6.50 each
O Mundo Fantastico da Sardinha Portuguesa (The Fantastic World of Portuguese Sardines)
Location: Praça Dom Pedro
When I came upon this store I concluded that the Portuguese truly love their fish a lot! Why else would they dedicate an entire store for sardines? Well, I wasn't complaining because I stepped into a store that is reminiscent of a circus or a fun fair with only one product neatly stacked everywhere – canned sardines! The cans have calendar years starting from 1916 (I think!) printed on them and you can pick a can with your birth year on it. They also have canned salmon, tuna, mackerel, shrimp, mussels & octopus but the highlight of the store is the Portuguese sardine.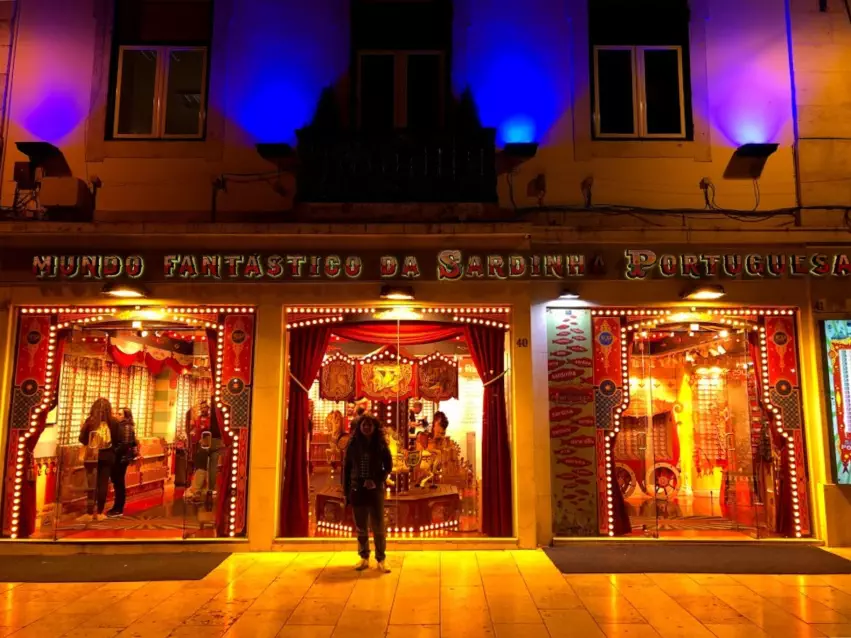 Pin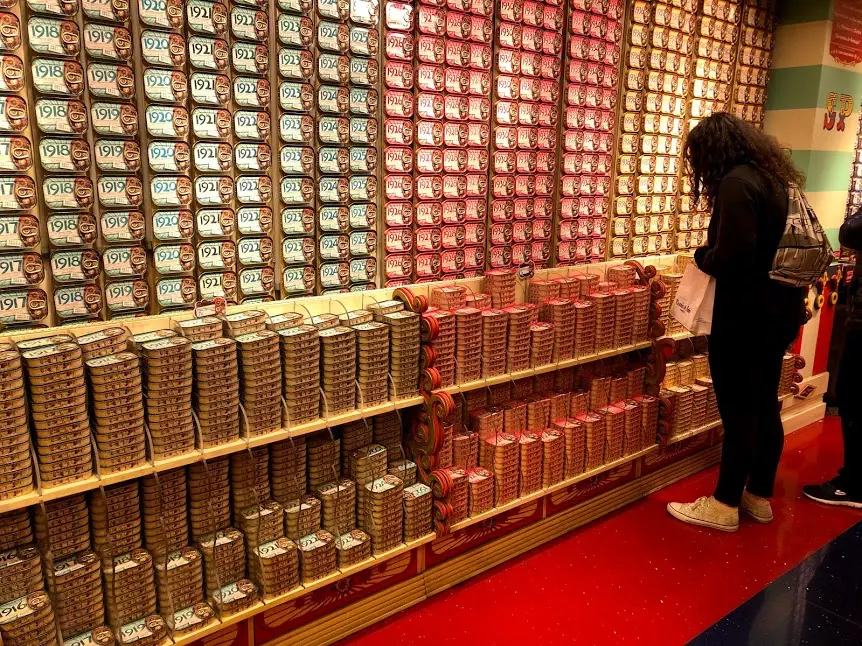 Pin

Above: A beautifully decorative can of smoked mussels in olive oil
Wine Shops, all over Portugal. 
Unlike India or the UAE, Lisbon did not have as many beauty salons or pharmacies! Instead, there are a good number of wine shoppings selling so many different varieties of wine, especially Port wine that it will make your head spin before you even sip on that wine 🙂 This must be their secret to good health! We picked up a bottle each of the Ginjinha (cherry liqueur) for €8.95 at this store.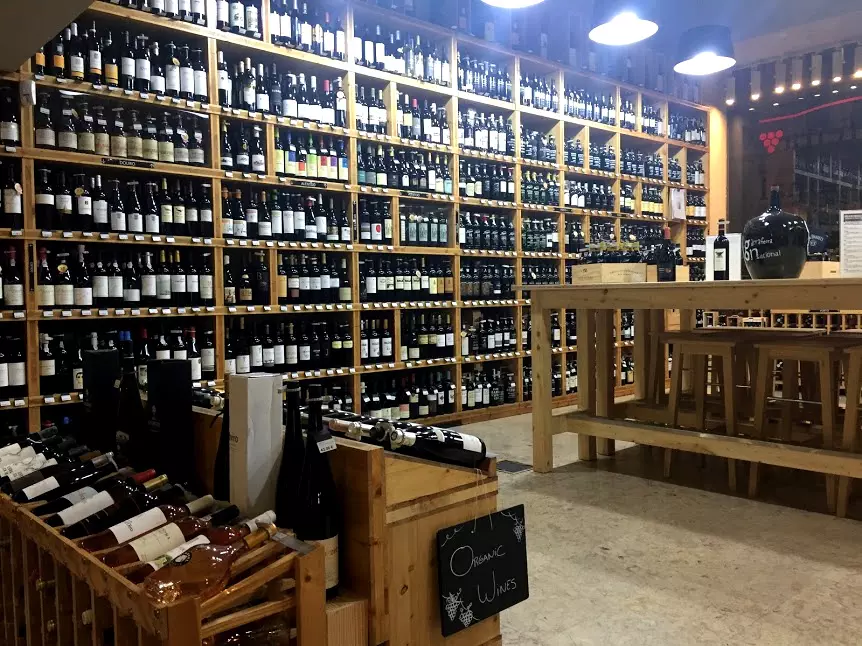 Pin
Religious Artifacts, a shop in Alfama
And then there was this beautiful shop selling a mix of things ranging from handmade soaps to aroma diffusers to canned fish to religious artifacts. We simply strolled inside to spend time appreciating all the beautiful things.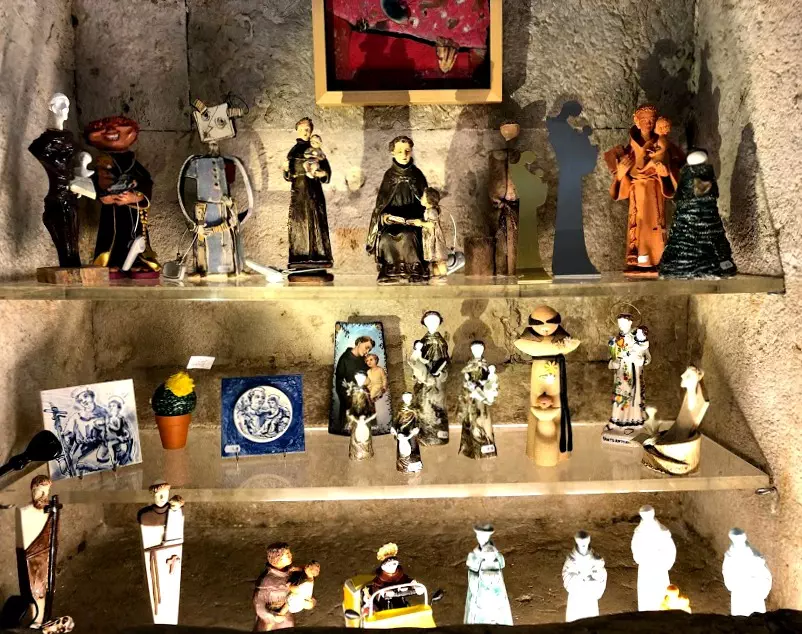 Pin
Cheese & Cured Meats, a shop in Alfama
While we didn't come across many, there are a few shops selling fancy cheeses and cured meat, especially pork. Not everyone may welcome the sight of the various parts of the pig hung in broad display. Vegetarians beware!
I badly wanted to buy some pork sausages but surprisingly did not come across many shops selling it. Eventually I found some chorizo in Pingo Doce supermarket in Rua Augusta just a day before we left.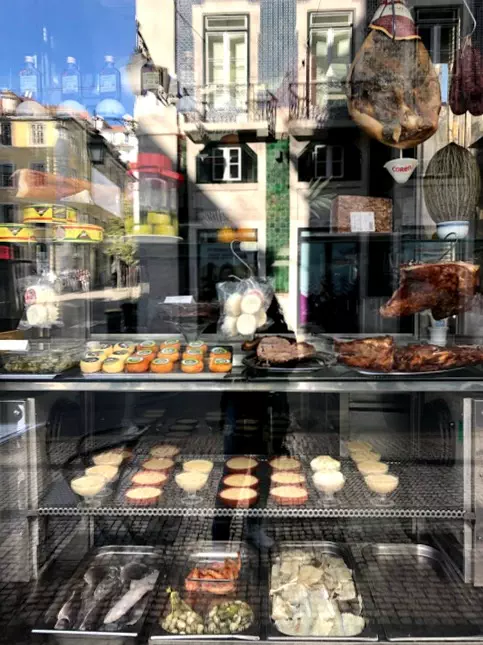 Pin
Hand Paintings
We found a gentleman seated at the Miradouro Santa Luzia (observation deck with pergola) capturing some beautiful scenes of the city on his canvas. They were priced at an average of €10 per canvas and my friend and I were more than happy to buy a couple of paintings. They were worth the money as we both love art and love to support artistes such as these who try to make ends meet with their amazing talent.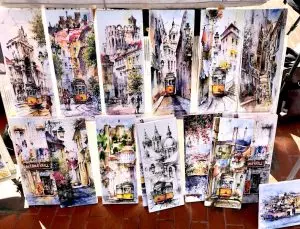 Pin
Feira Da Ladra / Thieves Market / Flea Market
Every Tuesday & Saturday there is a flea market in the Campo de Santa Clara area of Lisbon and while we had put it on our itinerary we decided to drop it in the end as we were too tired of walking and we weren't clear on how to get there. This place had no direct metro connectivity and we didn't want to take a cab all the way there. Maybe next time!
ENTERTAINMENT
Fado Music
Portugal is known for its Fado music which essentially is a genre of music that originated around the 1820s. This form of music is popular in cafes & restaurants and there are Fado shows that we intended to visit but did not due to time constraints. Since we didn't experience the Fado music or the nightlife of Lisbon, I have no pictures to share.
Street Performers
All over Lisbon you will come across plenty of street performers (dancers, stilt walkers, instrumentalists & singers) and you cannot but stand & watch them perform. Most of them, especially singers are opera singers of sorts but their singing is outstanding. If their performance strikes a chord, you can leave them a token of your appreciation in their little collection boxes. I have a couple of videos that I will edit and share soon.

So ladies & gentlemen, with this I come to an end of part 2 of my 3 part series of my Portugal travelogue. Do come back to read the last & final part of my series and if you haven't read it already, do check out part 1 of my series below:
Lisbon, Portugal – Part 1 – Places to See
If you enjoyed this post do share your thoughts in the comments section below. If you'd like to say hello, do drop in a line at [email protected] I'd love to hear from you!