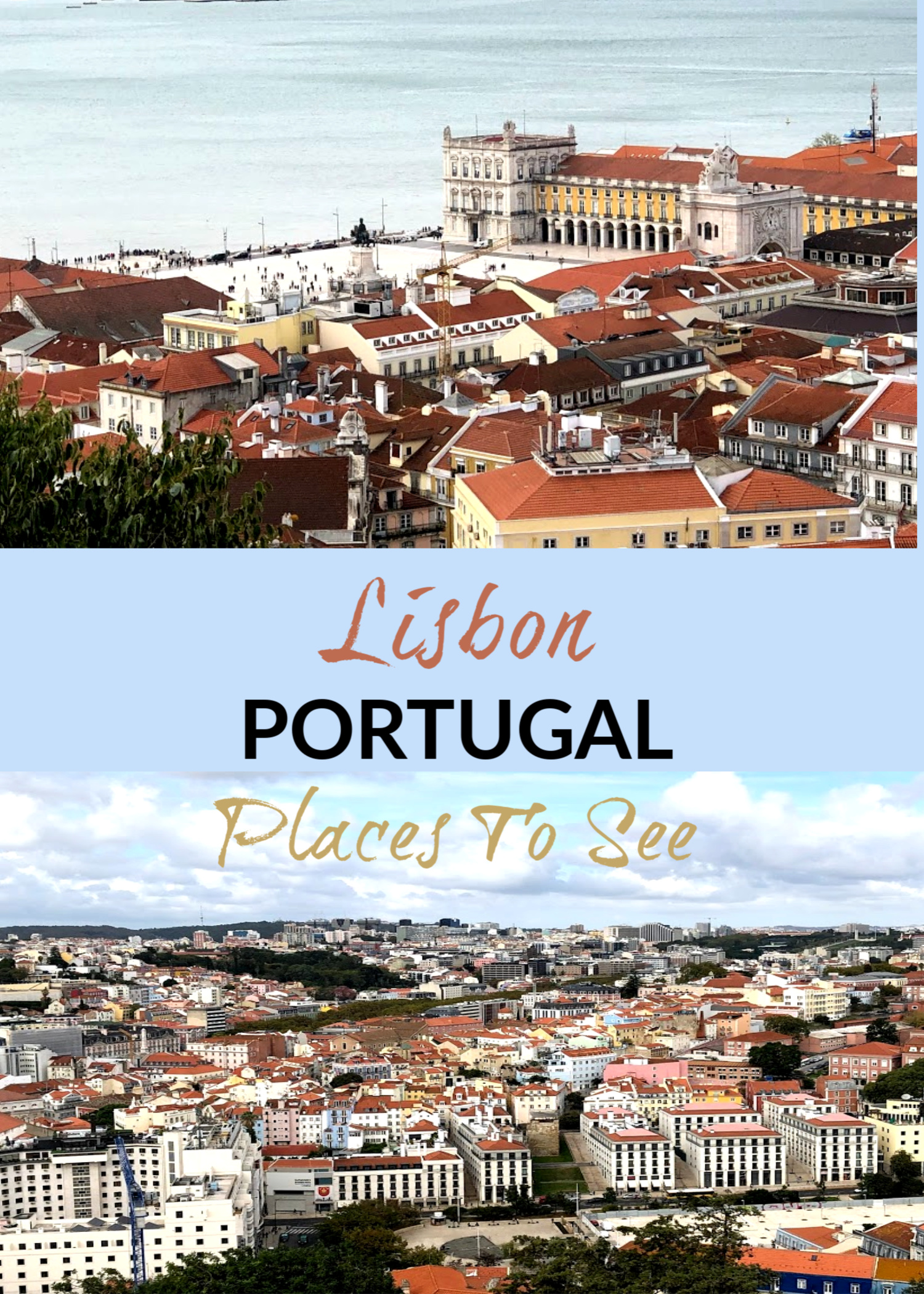 Pin
I have been toying with the idea of documenting my travel stories and after much contemplation I have decided to go ahead and document everything on this website instead of creating yet another portal. I am not into full fledged travel blogging yet and so I will bring you new stories from around the world as and when I travel.
Let me begin with sharing a few stories about my wonderful trip to Portugal last month. It so happened that my best friends and I had been talking about going on a girls' trip to celebrate our milestone birth year and these plans were being made and scrapped time and again simply because there was never an ideal time that suited everyone. Either someone was getting married or having babies or struggling with finances or moving countries or jobs, or unable to find the kind of support system one needs when kids are young. After having pushed our travel plans around for quite some time, we came to a point where we decided to take that call and just go ahead, even if it meant that just the two of us were part of the plan.
My friend & I picked Portugal because it was equidistant for both of us and was easier on the pocket than most European countries are. It was also one of the destinations on our personal my bucket lists and the gorgeous pictures on the internet had enticed us enough!
About Portugal
Located on the Iberian Peninsula, in the southwest corner of Europe, Portugal shares its borders with Spain. A country with beautiful architecture, cobbled streets, beautiful beaches should be on your list of places to see before you die, like it was on mine!
Language
Portuguese is the most widely spoken language here with English being spoken only around the most touristy places.
Best time to visit
The best time to visit depends on the kind of weather you like. It is recommended to visit between September & November when the crowds are less and the weather gets better, however, it does get a bit chilly in October (when we went) and so I'd highly recommend you to visit around end August.
Places to visit
Well, there is so much to see in Portugal, so it really depends on the number of days you have and of course, your budget. While some of the most popular destinations are Lisbon, Porto & Fatima, our itinerary included Lisbon, Sintra & Albufeira all of which I will cover in a three part series.
How to get there & other nitty gritties
Tickets:
I booked my tickets on Emirates a few months before the travel as this was one of the two airlines (the other being TAP Portugal) flying non-stop. The travel duration was 8 hours 8 minutes. If you are flying on a budget, do explore the other airlines with one or two stopovers.
Visa:
If you are an Indian passport holder you will need a visa to travel to Portugal or any other European country. If you are travelling during the peak season I would highly recommend you to check your visa requirements well in advance. Check which travel company arranges for Schengen visa from the country you reside in and apply for a visa appointment well in advance. Do note that it may take you well over a month to even get a date for your visa appointment if you are travelling from the U.A.E to most European countries during the summer months (June-Aug). Do not forget to read up properly for the required documentation for the visa and get everything in place before your appointment.
Stay
While there are a ton of great places to suit every budget in Portugal we skimmed through a ton of places on www.airbnb.com, www.booking.com and www.hotels.com. We ran a few filters and based on room rate, locality, metro connectivity and cancellation charges we picked Hotel Canada (Address: Av. Defensores de Chaves 35, 1000-111 Lisboa). This place though super tiny was very clean & well maintained. It had zero cancellation charges for upto 48 hours before check-in so it worked very well for us. Breakfast was extra at €7 and we only ate twice at the hotel and preferred to grab a bite on the go on other days. Good decision because the menu was limited and we didn't really want to eat eggs and sausages every morning.
Full Disclosure
I wish it was, but this is not a sponsored post. I paid for my own trip and all views expressed in this post are my own. Do stay tuned for parts 2 & 3 of this series which are coming up next!
My Experience
Portugal is probably the most beautiful and picturesque place that I have visited as of now. Besides the history which is rich, the buildings are what mesmerised me. The cleanliness and beauty is par excellence. The people are very friendly and although those we bumped into didn't speak much English, they were extremely helpful. The country is very safe, especially for women travellers. We did not approach any travel agent and chalked out our itinerary on our own. Google was a life saver that led us to many wonderful travel blogs that were partly responsible for pushing me to document this holiday. The only minor grouse I had was about not taking enough warm clothes – I should have but didn't. I don't enjoy being cold. Period.
Images Credit
These pictures were taken using my friend Savri Shetty's iPhone 10 as I did not take my heavy DSLR – best decision ever for this trip! Some image quality is lost due to cropping. I have only included a few out of the many pictures taken because I believe that many of these places must be seen through one's own eyes!
Trip Dates:
October 20-27, 2019
Part 1: Lisbon – The Capital of Portugal
We landed in Lisbon around noon from our respective countries and took a cab to the hotel which was a 20 minute drive from the airport. A small but clean hotel room awaited us and after resting for a while we set out to explore the city.
As luck would have it, the temperature had dipped and the evening was a little chilly. Add to the fact that I was coming from hot & sunny Dubai, the nip in the air in Lisbon caught me unawares.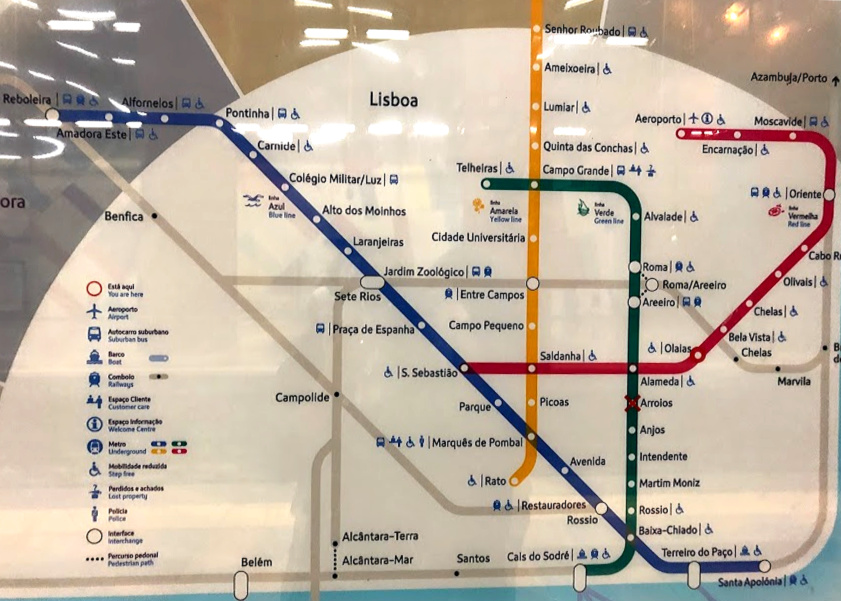 Pin
Local Travel:
We took the metro (yellow line) from Saldanha to Marquese De Pombal before switching to the blue line and headed to Baixa-Chiado (pronounced as 'Baisha-Shiyado) and decided to walk down the many beautiful cobbled streets before settling in for dinner. Post dinner we walked aimlessly around the square, took a few pictures of the place and headed to a small cafe in search of custard tarts that Portugal is so famous for! After watching some street performers do their thing and aimlessly window shopping and browsing through bookstores we headed back to the hotel. After playing lost & found on the different and confusing levels of the metro stations we found ourselves safe in our hotel room.
We planned to spend the whole day covering as many places in Lisbon and so we bought the 48 hour tickets for the Grayline, Hop On-Hop Off bus. We needed to take this bus from their hub at the Marques De Pombal square and so after taking the metro to the place we grabbed some breakfast at a cafe nearby.
Places to See
Marquise De Pombal Square
This is located at the end of Avenida da Liberdade and in the middle of the square the monument to the Marquise is erected. The Marquise was responsible for the rebuilding of Lisbon after it was destroyed by the Great earthquake of 1755. This square is in the middle of a roundabout and this is the starting point of the Hop-On-Hop-Off busses that we had to take.
Pin
Torre De Belem (Belem Tower) – Officially known as the tower of Saint Vincent
Built in 1515 this tower stands tall on the banks of the Tagus river and was first built as a fortress to defend Lisbon. It is in some way so reminiscent of the Gateway of India to me! We did not choose to go inside the tower as the queue was too long and we didn't have pre-paid tickets. I strongly recommend you to buy the Lisboa card which is a travel card which also gives you free entries to a few places of interest.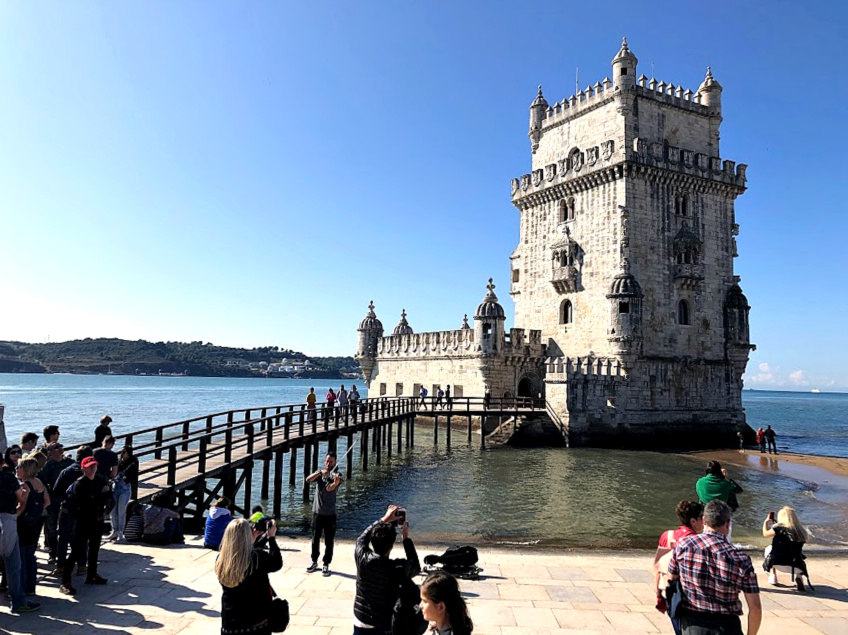 Pin
Mosteiro Dos Jeronimos (Jeronimo's Monastery) – Formerly the monastery of the Hieronymites that belonged to the Order of Saint Jerome
The monastery that was part of the daily lives of the hermit monks commonly called as the Hieronymites is now a UNESCO World Heritage Site and one of the most prominent places in Portugal. While the facade of the structure is magnificent, the  Santa Maria De Belem church is impeccable.
One can see the tomb of Vasco Da Gama, the Portuguese navigator who established the sea link and trade route between Portugal & India. The entrance to the church is free while there is a fee of €10 to enter the monastery which is bare inside but the architecture inside is simply breathtaking.



Above: Santa Maria De Belem church
Pin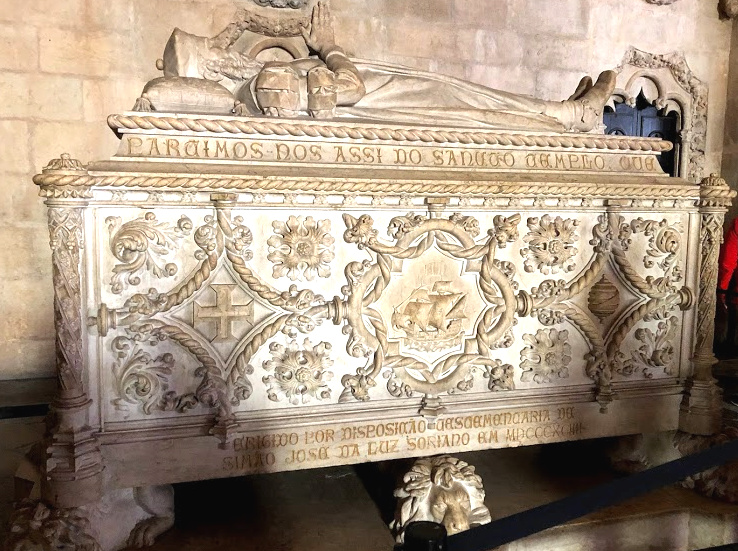 Pin
Above: The tomb of Vasco Da Gama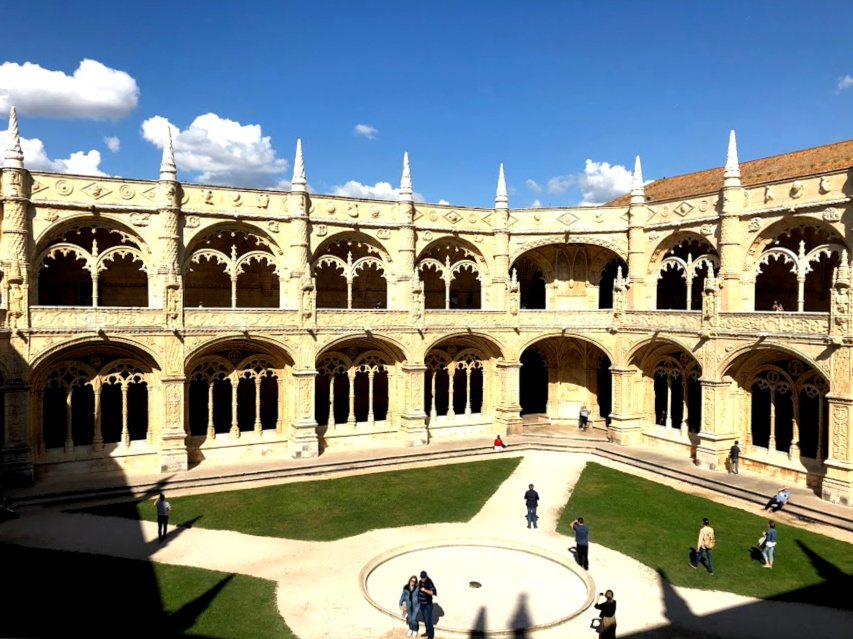 Pin
Above: Inner courtyard of Jeronimo's Monastery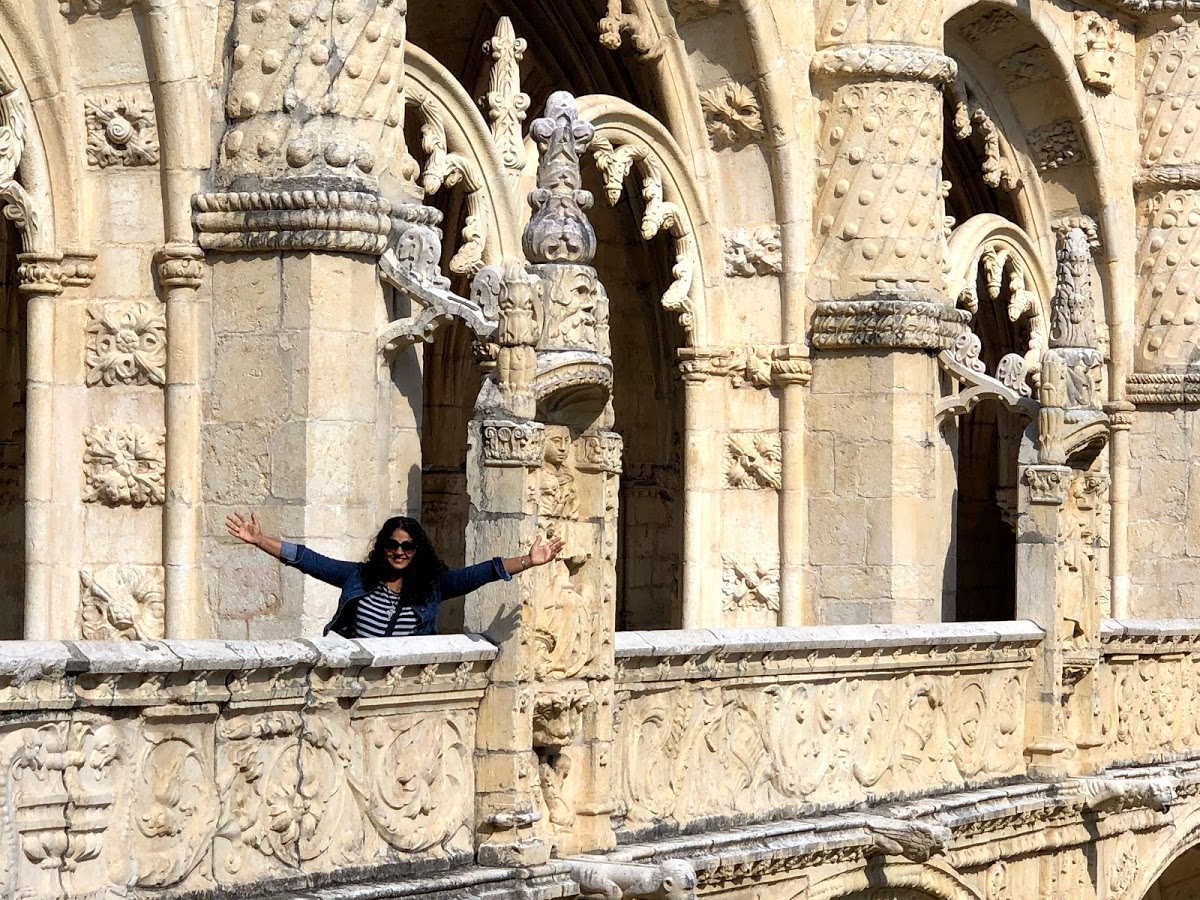 Pin
Pin
Above: Inside one of the beautiful rooms inside the monastery
Padrão dos Descobrimentos (Monument to the Discoveries)
Having built in 1939, this structure is one of the most recent of Portuguese architecture and in honour of the discoveries made by the Portuguese during the golden era (15th & 16th centuries). If you are at the Belem Tower you can walk up to the Monument but if you are near the Jeronimo's Monastery you can get to the Monument through an underpass. While it is free to get up & close to the Monument, there is an entry fee of €6 to go up to the viewing deck which gives an incredibly beautiful 360 degree view of the whole city that includes a bird's eye view of the Belem Tower, Jeronimo's Monastery, Ponte De 25 Abril (25th of April bridge) and the stadium. You can also take in the cool, fresh breeze as you marvel at the beauty of this country what with all that architecture and tile roofed buildings.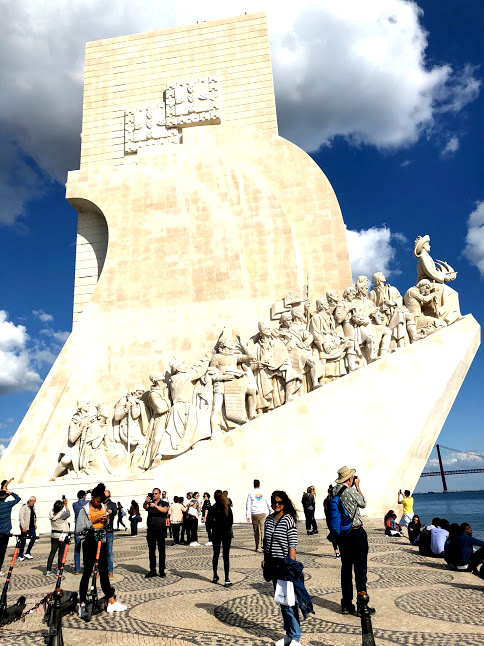 Pin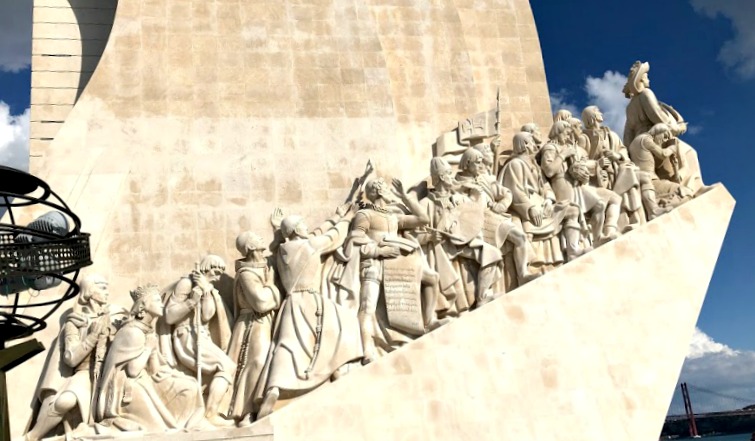 Pin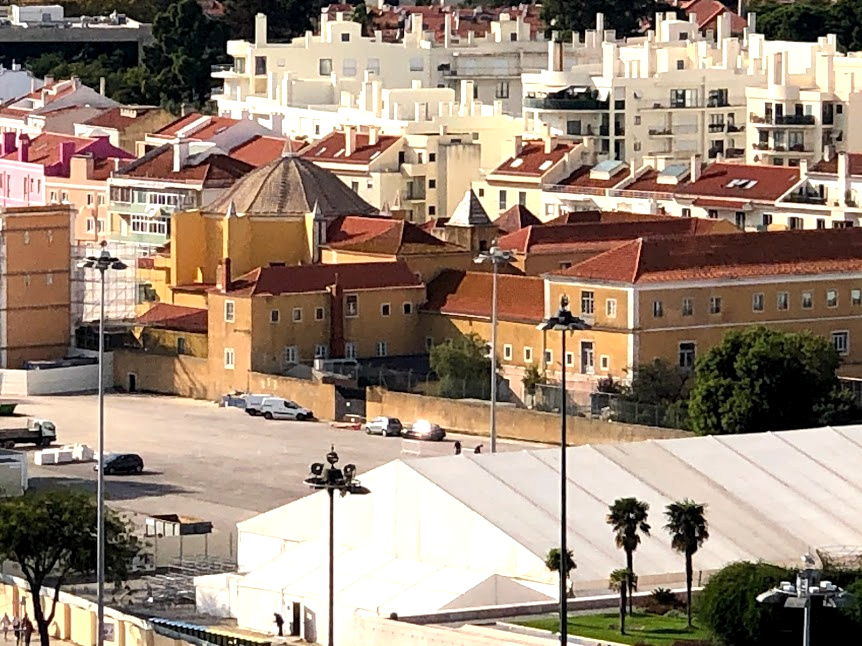 Pin
Above: Bird's eye view from the city from the viewing deck of the monument
Ponte 25 De Abril (25th April) bridge
Reminiscent of the Golden Gate Bridge in San Francisco, the Ponte 25 de Abril suspension bridge is one of Lisbon's most popular landmarks and was built in remembrance of the Portuguese Carnation Revolution of 25 April 1974.
Pin
Praça do Comércio (The Square of Commerce) & Arco da Rua Augusta (Rua Augusta Arch)
Our next stop on the hop-on-hop-off bus was at this beautiful square overlooking the Tagus. The arch faces a plaza that is painted a resplendent yellow. We didn't stay for too long at the square and moved towards the arch and strolled down the street which is flanked by shops that range from clothing brands to eateries to souvenir shops. You can also find street performers especially musicians doing their little gig to earn some extra cash. It is on this street that we went berserk with our obsession with custard tarts. We must have sampled at least 5 different tarts along the way before deciding on the one that we loved, promising ourselves to come back on the last day to buy some to take back home.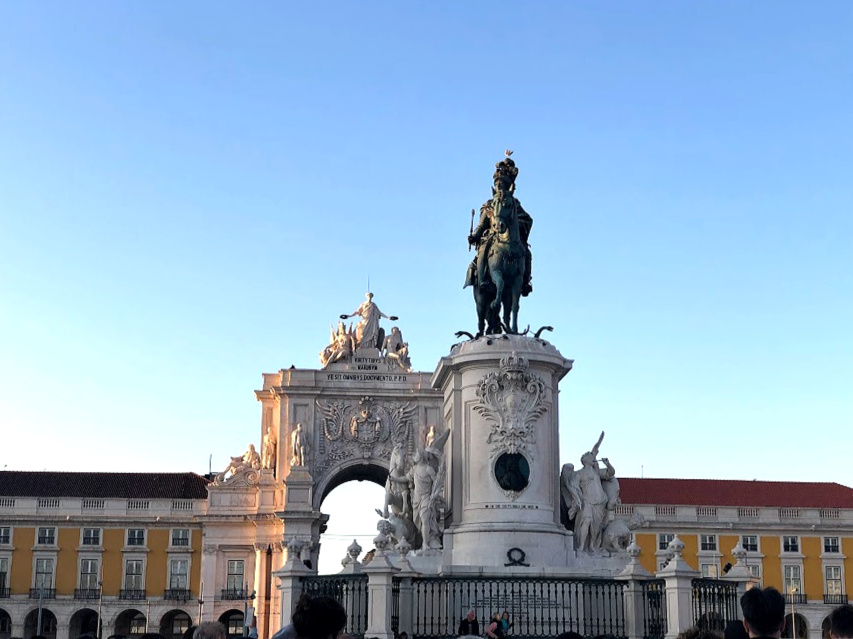 Pin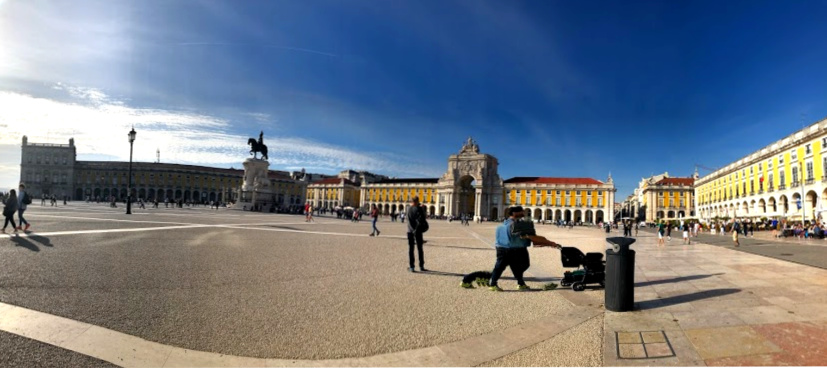 Pin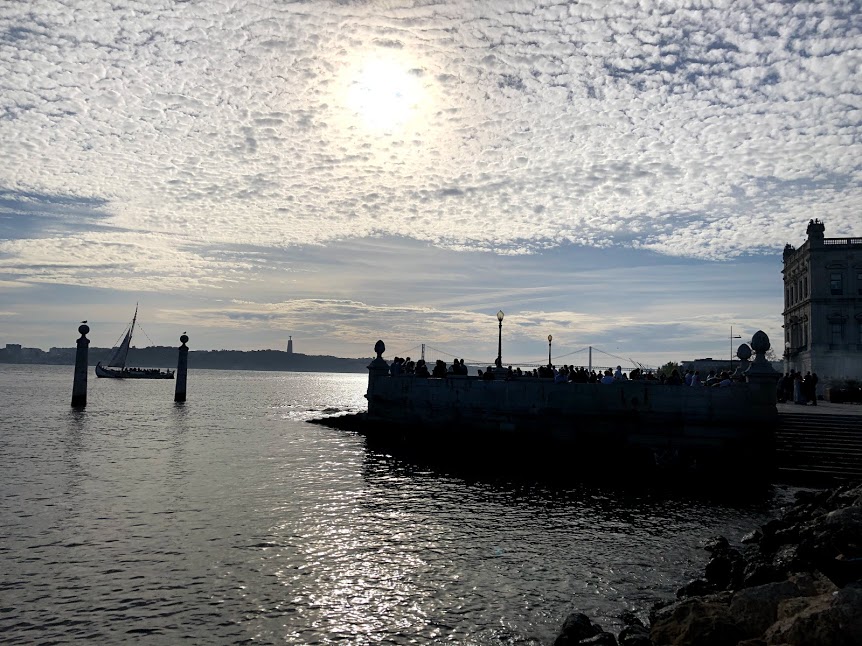 Pin
Pin
Above Picture: Beer Museum at the Rua Augusta Arch
Castelo de São Jorge (São Jorge Castle)
Built on top of a hill, this formidable structure has seen the rise and fall of the Romans and the Visgoths and has survived sieges and conflicts throughout Portugal's history. While most of it has been restored after it was destroyed during the great earthquake of 1755, one can still see parts of the structure that date back to the 6th century. We walked into the castle and up the stairs to see some of the most breathtaking views of the beautiful city. I must say that from the time I descended into the city (bird's eye view from the aircraft) to the time I left, I have been smitten with the 'Mangalore-esque' tiled roofs. The city must be having a mandate to paint their walls with only the approved colours and use tiles to give an old world charm to their roofs.
The castle also has a little park with a small fountain and a few geese and peacocks that are more than happy to socialize with tourists.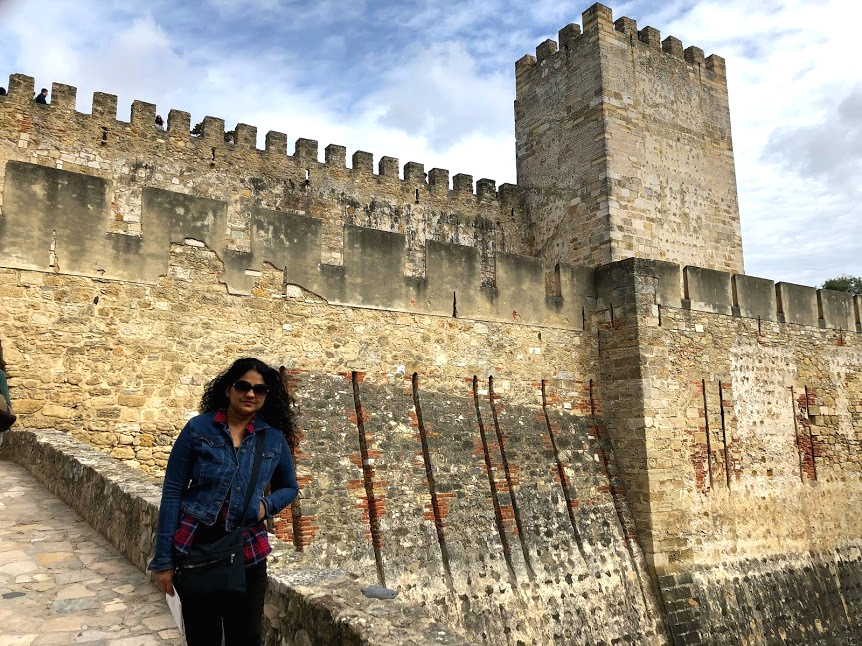 Pin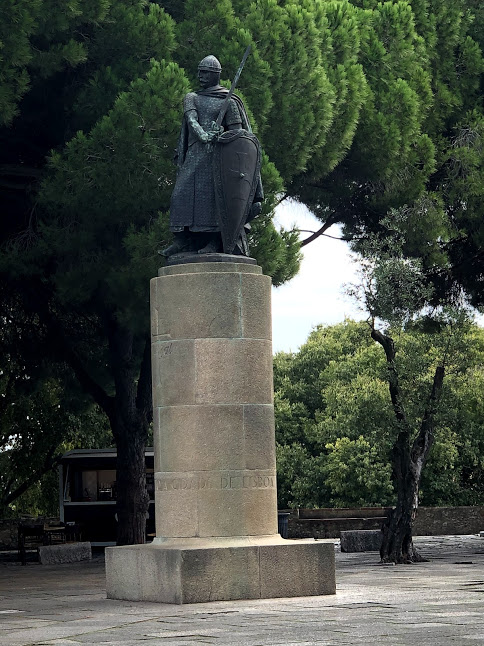 Pin
Above: The statue of D. Afonso Henrique, Portugal's first king.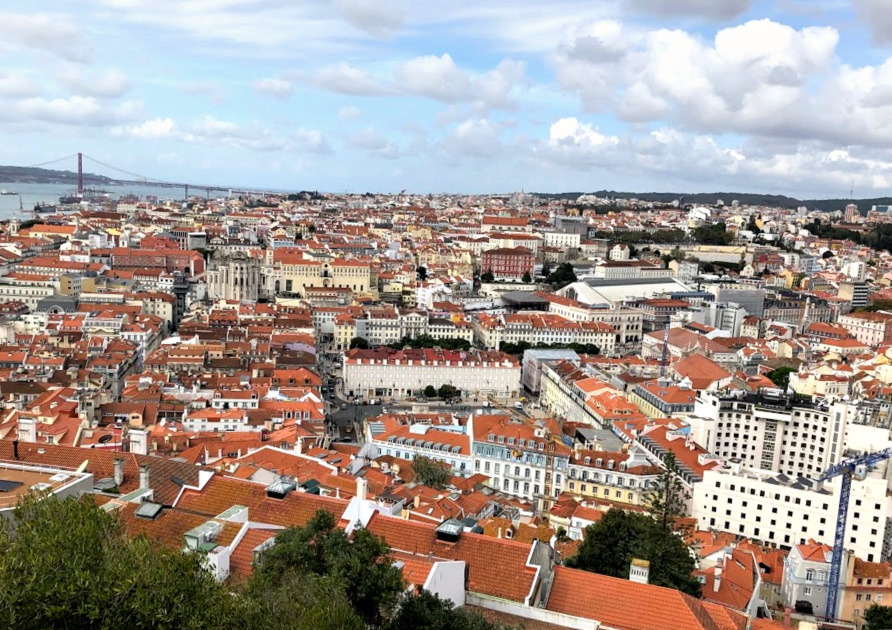 Pin
Above: The spectacular view of the tile roofed city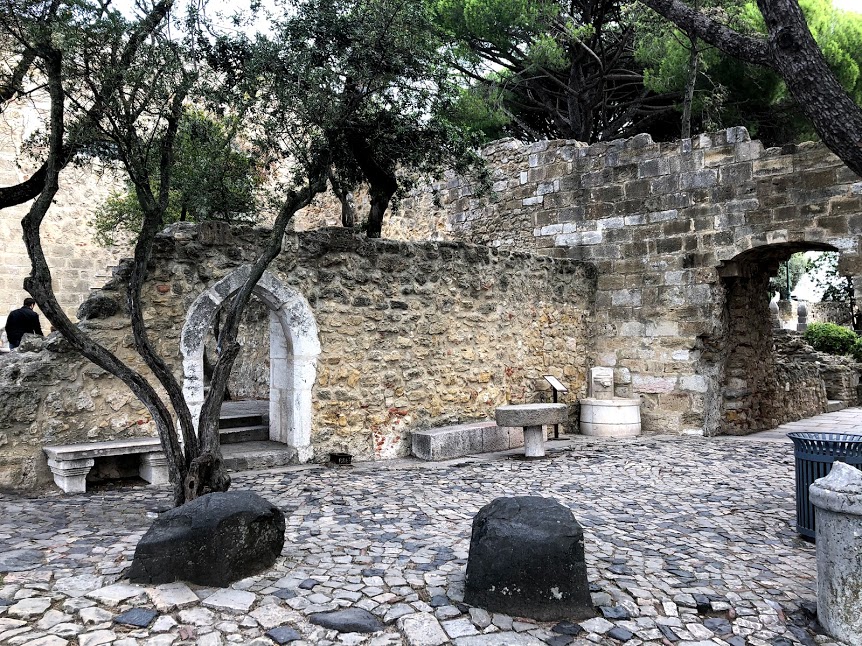 Pin
Above: Courtyard inside the castle
Carmo Archaeological Museum / Carmo Convent
Ruins of the church that was destroyed during the earthquake of 1755 is now converted into a museum.
Remnants of one of the most beautiful gothic temples in Lisbon are displayed in what is now called as the museum. The museum also displays a collection of artefacts from the pre-historic era to the present day. The highlights of the museum are two teen Peruvian (a girl & a boy) and an Egyptian mummies which are a must see! The church is incredibly beautiful but I don't have very good pictures of the interiors as I never planned to write this travel blog.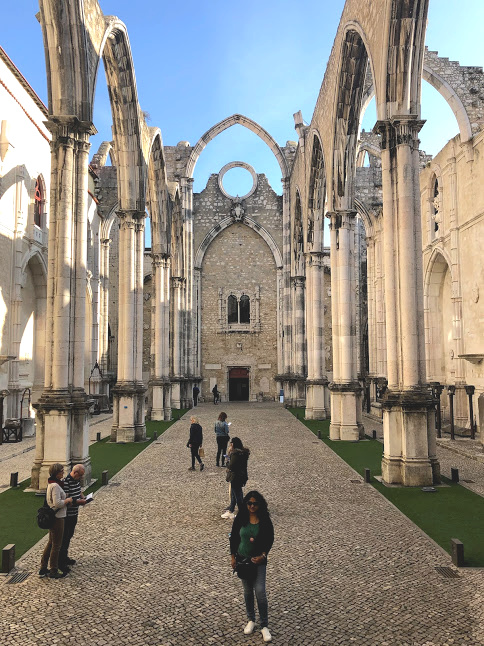 Pin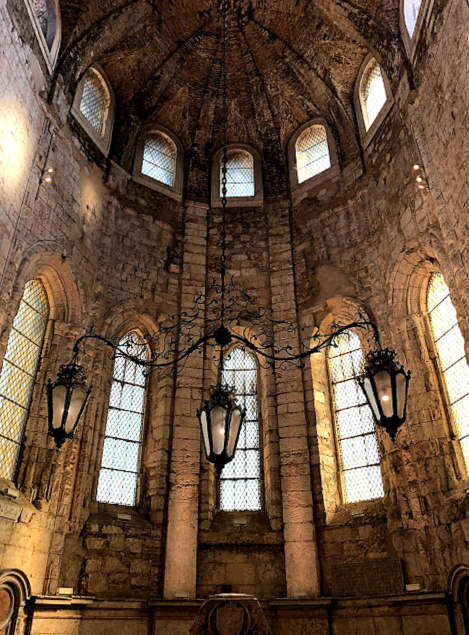 Pin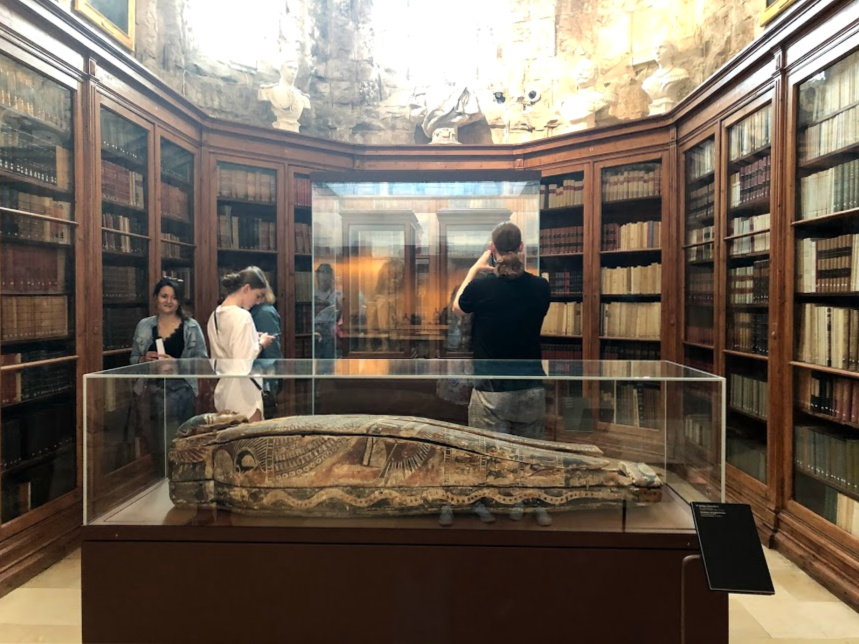 Pin
Miradouro Santa Luzia – Observation deck with pergola
Located near the tram station where one needs to get off to proceed to the Sao Jorge castle is this beautiful terrace or lookout point that overlooks the beautiful tile roofed neighbourhood of Alfama. The pergola that is covered with lovely bougainvillea flowers is a perfect spot for photographs. At any given time there is street singer strumming on his guitar and a painter who captures the essence of the Lisbon on his canvas.

Basilica dos Martires – one of Lisbon's oldest civil parishes
Located in the heart of Chiado is this beautiful church with stunning architecture. We simply strolled into this church as we walked down the streets towards Rua Augusta.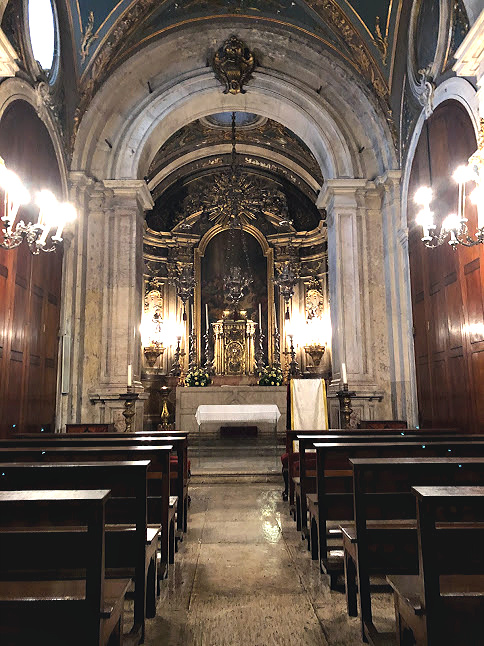 PinPicture Above: Inside the basilica
Alfama – one of Lisbon's oldest neighbourhoods
The walk downhill from the castle is essentially through the cobbled alleys of the neighbourhood of Alfama which is dotted with souvenir shops and eateries. If you are in Alfama you can never get enough of the tram No 28 which winds its way up and down the narrow alleys on a track of its own which is often blocked by cars parked irresponsibly. The yellow tram is such a delight to see and is always thronging with tourists who are generally packed like sardines inside during the busy hours.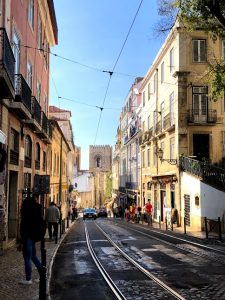 Pin

So peeps! With that we come to an end of part 1 of my Lisbon stories. Do stay tuned for parts 2 & 3 of my 3 part series to learn more about this beautiful country!
If you enjoyed reading this post, do drop in a line at [email protected] or let me know what you think in the comments section down below! I'd love to hear from you. If you have any tips and suggestions to improve my travel blog, do let me know!