I love recipes that turn out perfect the first time I try them. But that depends on whether the recipe has been shared accurately and in its entirety. Most times for reasons best known to them people don't share proper recipes – maybe out of fear that you will outdo them & turn into a skilled cook overnight! One trait I quite dislike in people who don't part with their treasured recipes (even if they don't run a restaurant or a catering business) is that they simply wriggle out of the situation when asked to share their star recipes. A few encounters with such people made me even more determined to learn to make those dishes on my own anyway – using the trial and error method or by hunting for them online or simply asking people who are more than willing to share – love such kinds!
I realise that I have started this post with a negative line – something business schools tell you not to do, but this ain't a business mail 😀 and I needed to get it off my chest. Phew! So we are back to this recipe which turned out quite like the way I wanted – thanks to the person who shared it on Tarla Dalal's website. I have tried it thrice already, dabbled with the ingredients here & there, yet the result has always been good, so I stuck to the original quantities (almost).
I have been a die hard fan of vegetarian food and a pure veg meal served on a nice big banana leaf makes me drool even at the thought of it. So I was not surprised when this innate desire translated into a strong craving when I was an expectant mother. I was in Mangalore during the fifth month of my pregnancy and I dragged one of my good friends (who had already had her lunch) to Woodlands Hotel (opposite to the Goldfinch Hotel) where they used to serve the afternoon meals on banana leaves. I stuffed myself silly with everything that was served on my leaf, even shamelessly asking for seconds & thirds and my friend who was forced to eat along with me had a good time watching me hog! I used to frequent this place when I was working and as part of the Sales team had many a lunch break that could accommodate eating at leisure so my colleagues & I had an opportunity to taste the food at many good restaurants in Mangalore. Among all the dishes that were part of the elaborate thaali (platter) meals, anything that was prepared with plantains (raw bananas) were my favourite. I loved the chunks of banana stewed in an aromatic coconut curry or stir fried in a host of tempered ingredients. For me it was as gratifying as it for those who love anything made of potatoes. So yes, I am always on the lookout for a recipe that makes good use of plantains in curries and this one has never failed me.
What I liked best about this curry is its simplicity – of method & ingredients. I say 'method' because now I am adept at grinding masalas with coconut in it, so it may not be so simple to those who detest grinding masalas. And I say simplicity of ingredients because contrary to most South Indian curries that call for a hundred ingredients, this one does not ask for the the ingredient I hate to work with – onions! I dislike the peeling & the crying that is involved while getting to work with onions. I envy the Jains – honestly I do. They come up with the most brilliant dishes without making use of onions. But this one makes use of garlic (which I absolutely love in any form!). You can have the pleasure of eating it with rice and whatever is leftover can be savoured as an accompaniment to chapathis for the next morning's breakfast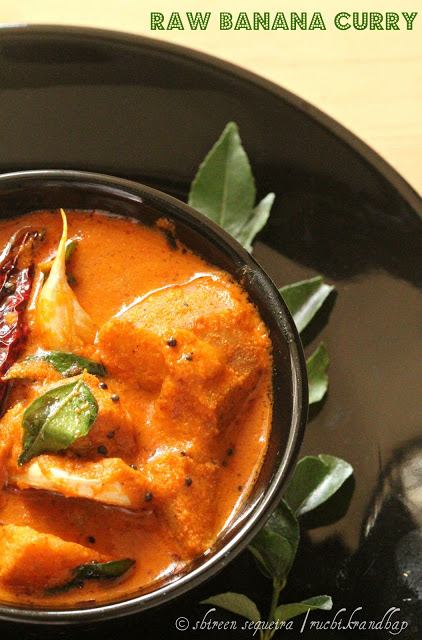 A vegetable curry figures at least once a week or ten days on my menu – simply because I don't stick to making just a
Dal
every time we eat fried fish (it is almost a custom in Mangalorean Catholic homes to make
Dal
when fish is fried). Sometimes I make a simple tomato
Saar
(clear soup) made with Maggi stock cubes, sometimes its the
Daliso Saar
(lentil clear soup) or the
Dali Tove
(Konkani style spiced lentil broth). When I am lazy to make two dishes – I put them together and come up with a vegetable curry sometimes teamed up with legumes/lentils. So joining the bandwagon of a vegetarian's (vegan's) delight –
Valchebaji Ani Gule
(Spinach & Black Eyed Peas),
Pikya Ambyachi Kadi
(Ripe Mango Curry),
Deeviso Guzo Ani Dal
(Breadfruit & Lentil Curry), 
Mogem Ani Kulta Kaat
(Field Marrow & Horsegram Curry) or the recently posted
Mogem Losun Miri
(Field Marrow in a Garlic & Pepper Curry) is today's Plantain Curry
P.S: The difference between plantains and bananas is that the former is starchy, low in sugar, has a thicker skin and needs to be cooked before consuming. Bananas are sweeter and consumed as a fruit. However, the variety that is cooked is popularly referred to as the raw banana.
Raw Banana Curry | Plantain Curry
A simple curry of plaintains cooked in a coconut & spice base tastes very good with rice or chapathis
Print
Rate
Ingredients
3

large or 4 medium sized plantains (raw bananas)

half a lime size ball (or 2 tsp paste of tamarind)

salt to taste
For the masala
1/2

coconut grated (or 1 cup of grated coconut)

5-6

red chillies (I used Bedgi * see notes)

1

tsp

coriander seeds

1/4

tsp

cumin seeds

1/4

tsp

turmeric powder

2

cloves

of garlic with skin
For the seasoning/tempering
1

tsp

mustard

1/2

tsp

coriander powder

1/2

tsp

cumin powder

1

sprig or 7-8 leaves curry leaves

7-8

cloves

of garlic crushed

1

red chilli broken into two

2

tbsp

oil, preferably coconut oil
Instructions
Wash the plantains, remove the skin carefully (so as to not damage the flesh) and cut into medium size cubes and soak in water (to avoid them from turning black). If you are using tamarind pulp, soak it in a little water to extract the juice.

On a hot tawa/skillet, roast the whole red chillies, coriander seeds and coconut one by one. Allow to cool and using a little water grind them along with the rest of the ingredients mentioned under 'For the masala' to a fine paste. Retain the water from the mixie

In a pan, bring 2 cups of water to a boil, add the tamarind water (or tamarind paste) and salt to taste and cook the plantain cubes till tender but not mushy.

Add the ground masala, mix gently and add a little of the water from the mixie. Adjust consistency of the curry as desired (if you wish to eat it with chapathis, then keep a semi dry consistency). Simmer for 2 minutes. Adjust salt to taste (remember that salt was added while precooking the plantain)

In another pan, heat the oil for seasoning. Toss in the mustard and when it stops spluttering add the curry leaves, broken red chilli, crushed garlic and finally add the coriander and cumin powders - quickly toss the ingredients in the hot oil using a spoon and remove from the flame immediately before the powders burn. Add this seasoning to the curry and cover the pan immediately so as to retain the aromas of the seasoning. Turn off the flame.

Serve hot with chapathis or rice.
Notes
I use Bedgi/Byadge variety of chillies that impart a great flavour & aroma to the dish. They are moderately spicy. If you are using the same chillies & prefer a spicy curry use 7-8 chillies. You may use Kashmiri chillies as well - increase the quantity by 2-3 chillies for a spicy curry.
Disclaimer
The nutritional values are only indicative.
Tried this recipe?
Please leave a comment & rate the recipe below or share a photo on Instagram and tag me @ruchikrandhap