Since my son was a little boy, curd/yogurt has been his favourite comfort food. So much so that sometimes he used to only snack on a bowl of curds and nothing else. It is said that curds is extremely beneficial for people of all ages especially children. It is great to develop a sharp mind and I guess my son is an example of that. In India, curds is a part of every meal. At least a majority of people like to have a small bowl of curd along with their afternoon meals. I think hot rice and some curd mixed with it is one of the most simple and comforting foods ever. It can nurture you back to health after illness especially if you've suffered a stomach flu (although there is a debate about whether curds can be allowed to a person ailing from the common flu)
During my growing up years in Mangalore I must have eaten it a few times only while I attended Hindu weddings where curd rice is a must on their very elaborate vegetarian wedding spread. But later when I started working in Bangalore I had the opportunity of eating it several times at the office canteen or at restaurants. Like how most North Indian meals end with a simple dal-khichdi, down South, it is the curd rice which people can't do without after a heavy meal. Curd rice is an absolutely wonderful way to end your meal – vegetarian or non vegetarian.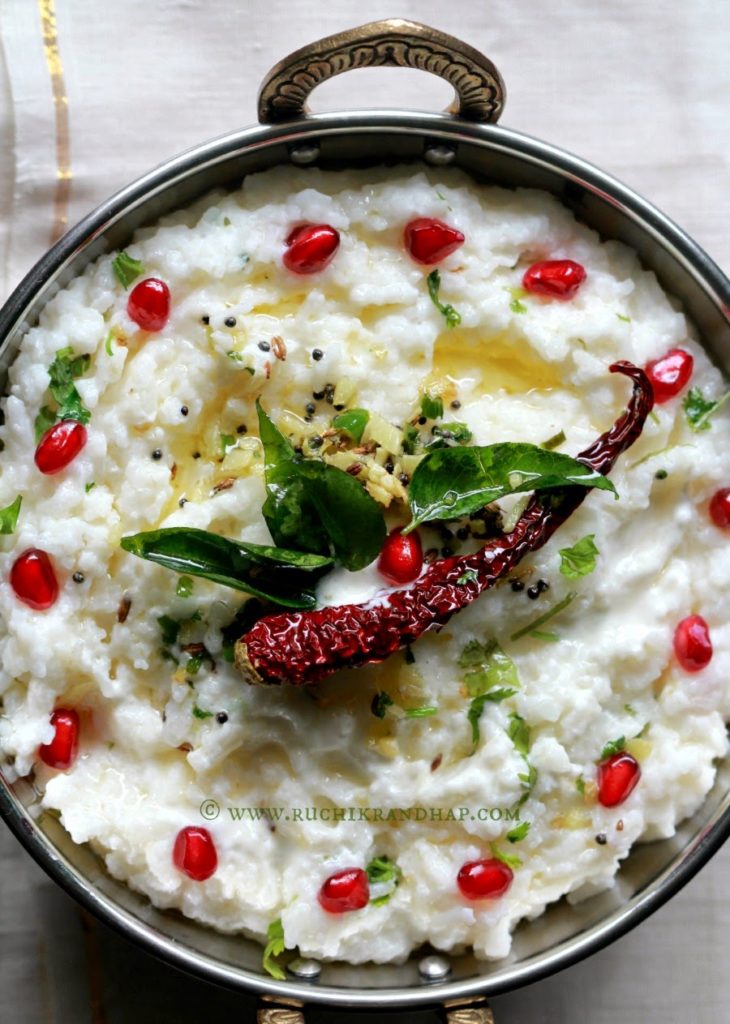 Last week when the hubby made
Squid Butter Garlic
, I was wondering what I could make to serve it with. My son is not too fond of sea food and would be utterly disappointed if I told him that the day's menu consisted of fish curry, rice and squid butter garlic so I quickly made this curd rice for him and he thoroughly enjoyed it and so did we. The combination of curd rice with a non vegetarian side dish is simply stunning!
These days I make it on demand several times. In fact, these days my little daughter loves it too. If you wish to make it for young children you may want to reduce the amount of spice in it. Curd rice when decorated with pomegranate arils makes a pretty picture!
Curd rice is called as Mosaranna (mosaru (curd) + anna (rice) in Kannada and Thayir Sadam in Tamil.
Mosaranna | Curd Rice 
Prep time: 10 mins | Cook time: 20 mins | Serves 4
Ingredients:
1 cup basmati rice (or any short grained raw rice)
3 cups water * see notes
1-1/2 cups curd/unsweetened yogurt, whisked
2 tablespoons chopped coriander
2-3 tablespoons pomegranate arils
Salt to taste
For tempering:
1/2 teaspoon mustard
1/2 teaspoon cumin
1 teaspoon black gram dal/urad dal
1 long green chilli minced (adjust to taste)
1-1/2 inch ginger finely chopped
7-8 curry leaves
2 long dry red chillies, broken (optional but recommended)
A pinch of asafoetida /hing
Method:
1. Wash the rice in a couple of changes of water and soak it for 10 minutes. Then drain and keep aside
2. In a large pan bring the 3 cups of water to a boil and add the drained rice, cover the pan with a well fitting lid and bring it to a rolling boil. When the water bubbles and spills over, remove the pan from the heat and allow to cook undisturbed for 15-17 minutes. If required place a weight over the lid so that the steam is trapped. This is how I make rice – it saves energy/fuel.
3. After 15-17 mins open the lid and give a good mix mashing the rice lightly – don't over mash, it should be slightly grainy. Once the curd is added the rice will absorb it and turn soft and mushy.
4. Add the curds and salt to taste. Some people add the green chillies at this stage but I find that method too spicy so i add the chillies to the tempering.
5. Heat oil in a smaller pan for the tempering. When the oil is moderately hot toss in the mustard, when they stop spluttering add the cumin and then the urad dal, reduce the heat if required just to ensure that the dal doesn't burn. Fry until it turns golden then add the green chillies, ginger and red chillies. Turn off the heat, add the curry leaves and asafoetida, stir once and allow the seasoning to cool a bit before pouring it over the curd rice. Mix everything gently
6. Transfer the curd rice into a serving dish, garnish with chopped coriander and  pomegranate arils. Serve warm with pickle and papad or just enjoy it plain.
Notes:
Since curds should never be re heated prepare the curd rice just in time to serve. It tastes best at room temperature or slightly warm. If it is too cold just place a bowl of curd rice over a bigger/wider bowl of warm water for 20-25mins.