The mince meat cutlet has been a staple of every Mangalorean household and is a much loved meal accompaniment/anytime snack. I have grown up tasting cutlets that were usually prepared for small gatherings/parties at home & every grandma/mom would know to whip up one in no time with the help of an apparatus which is the ancestor of today's food processor. All ingredients would go into the mincing machine & out came the mixture, ready to be fried into patties. The favourite of every child who steals one from the kitchen before dinner was announced & ofcourse a great accompaniment for those high on spirits! Cut to 2010, the fragrance wafting from my kitchen reminded me of a childhood that will never return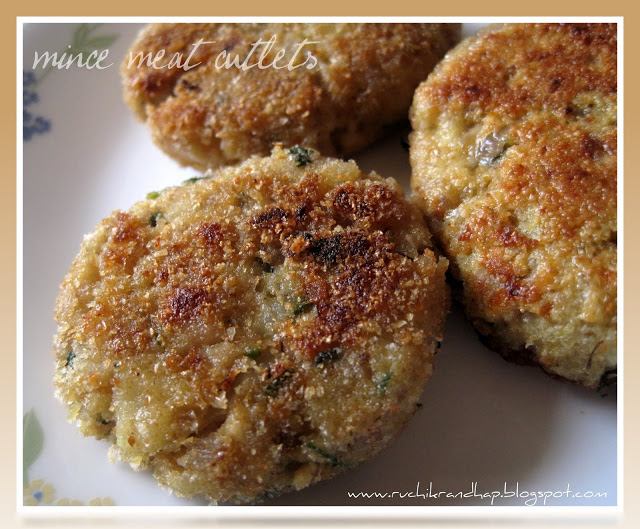 Mince Meat (Keema) Cutlets
Recipe Source: My aunt Maria


You Need:
500gms chicken or beef mince
2 medium sized onions finely minced
2 small green chillies finely minced (adjust to taste)
1 inch ginger finely minced
5 small cloves of garlic finely minced
3/4 cup coriander leaves finely chopped
1/2 cup mint leaves
3/4th tsp pepper powder (adjust to taste)
1/4 tsp cinnamon powder
1/4 tsp cumin powder
1 tsp garam masala powder
1/4 tsp turmeric
juice of a small lime (or 1 tsp vinegar)
1 medium sized potato boiled
Salt to taste
Oil for frying
Bread – 1 slice (optional)
Bread crumbs or fine rawa
2 egg whites
Method:
Wash the minced meat and cook it with salt to taste and lime juice (or vinegar) till all the excess water dries up. Let some amount of moisture remain. Remove from the fire and allow it to cool
Heat oil in a another pan and fry the minced onions till they turn pale. Toss in the minced green chillies, ginger, garlic, coriander and mint leaves one by one. Just before you turn off the flame add the powders – pepper, turmeric, garam masala, cumin and cinnamon
Turn off the fire & set aside. Allow the mixture to cool a bit. Add the mashed potato, cooked mince and mix well. If the mixture is soggy add the bread slice – roughly torn into pieces and mix well.
Beat the egg whites & set aside in a bowl. Place the breadcrumbs on a plate.
Shape the mince mixture into balls & flatten them in the center of your palm. Dip each patty in the egg whites mixture & then roll it over the breadcrumbs & fry on medium fire till both sides are golden brown
Serve hot with mint chutney or tomato ketchup or with steaming rice & curry
Notes:
If you are using minced/ground beef then you will need to cook it separately in a pressure cooker. Tender meat will take approx 12-15 minutes to cook.
If you intend to freeze the mixture for later use, do not add the potato to it as the mixture can turn soggy. Instead freeze in batches and once thawed out add the required amount of boiled potato to it