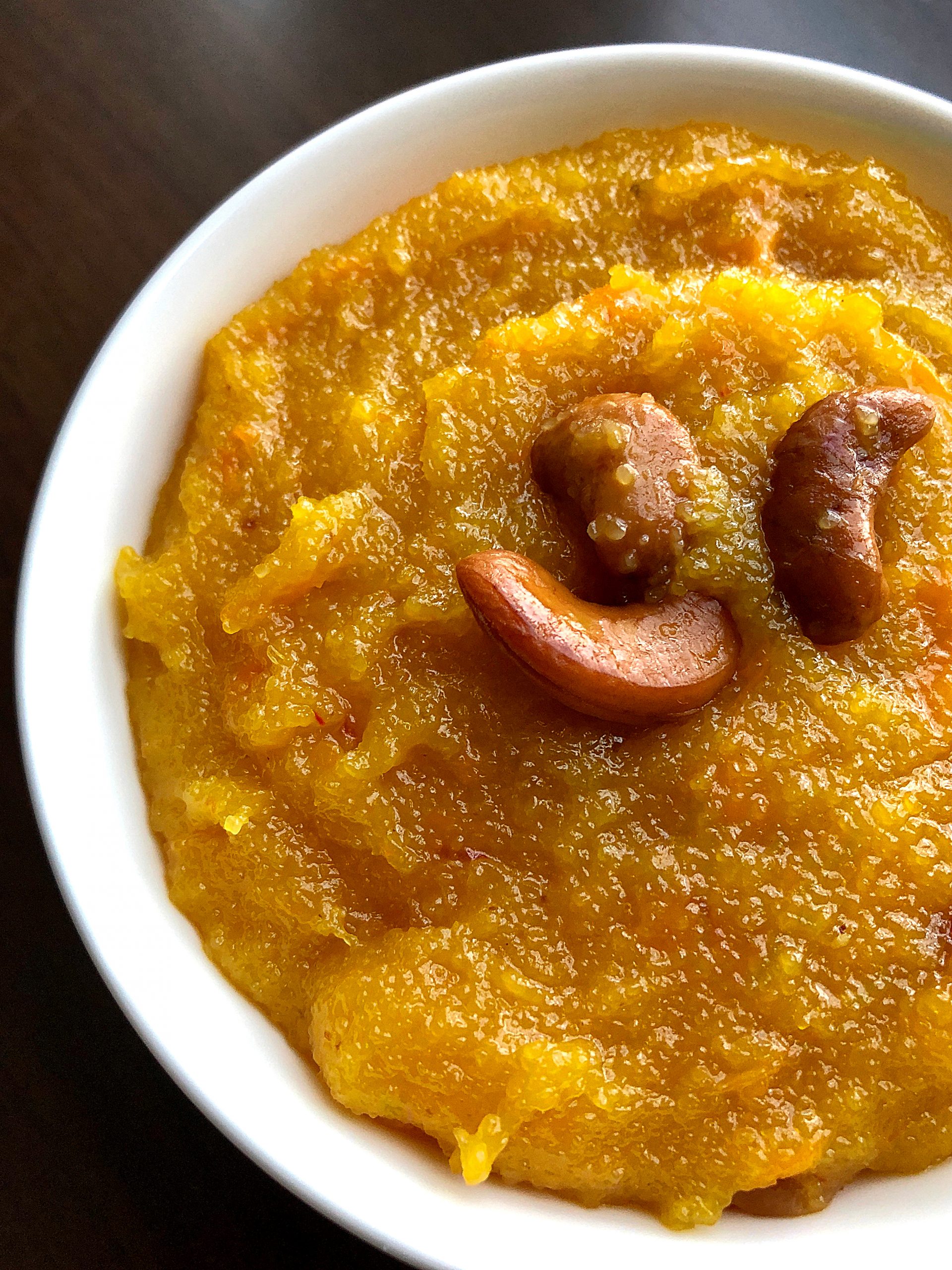 Pin
The mango season is in full gusto in most parts of the world even if it has tapered off in India. We are still continuing to enjoy the lovely flavours and varieties of mangoes here in the UAE. My most favourite after the alphonso mango is the chausa/choosa variety and although it does look a little shrivelled up and 'aged' we thoroughly enjoy it. The sweetness of this mango is par excellence! Since this king of fruits is reigning supreme in my house I decided to make the mango sheera last month as I do every season. This time I made it 2-3 times with different varieties of mango and each time the sugar had to be adjusted according to the sweetness of the mangoes. Weekend breakfasts are usually an indulgence for us – actually just for the adults. The kids like to have their cereal once a week. On other days they eat what I prepare, which is usually South Indian breakfasts. Since they want one day to let their hair down and eat something that they want I let them be. On that day I usually make something that hubs and I like and sheera it is. 
Pin
Plain sheera made with semolina, sugar and a mixture of water & milk, thickened to perfection, poured into greased plates, cooled and cut into slices is something most, if not all Mangaloreans have grown up eating. During my growing up years it used to be a tea time treat when we got home with growling tummies and this humble snack used to satisfy our post school hunger and set us in a mood to tackle the pile of homework we brought home. I will never forget the memory of how wonderful my home smelled with the aroma of cardamom scented sheera!
What is the difference between sheera & kesari you may ask!
Well! The difference is very minor. Along the Konkan coast of India, including coastal Karnataka, Goa & Maharashtra we call semolina pudding made with a mixture of milk and water as sheera while in mainland Karnataka, especially the Northern parts, it is called as kesari because no milk is added while cooking the semolina. It is made with only sugar, water and saffron (or food colour). This makes the kesari a perfect choice for vegans provided the ghee is skipped. However, in my opinion, kesari or sheera, whatever you prefer to call it, tastes wonderfully delicious & heartwarming when you make it with oodles of pure ghee. Don't skimp on the ghee they say and I guess it's true because pure ghee laden Indian sweets are always a class apart from their cheaper substitutes. Nothing tastes as good. And plus, ghee has been simply made to look like a villain for so many years! It is not so bad if you eat it in moderation.
Anyway, coming back to the topic of the day, over the years I have tried so many varieties of sheera using seasonal fruits, from pineapple sheera (which is our favourite) to orange, banana and chickoo and even chocolate sheera,  this one tops the chart during the mango season. A couple of years ago I made mango sheera with condensed milk for that rich & creamy taste. When there aren't any seasonal fruit we enjoy some pure love in the form of plain sheera.
Although I did not plan to post this recipe because it was just an adaptation of my pineapple sheera recipe, I posted these pictures which I took from my phone, on my Facebook group and a lot of people tried the recipe and liked it. Hence I decided to document it before the season came to an end this year. Do give this recipe a try if you have access to ripe and sweet mangoes. Don't forget to taste the mangoes first and then adjust the sugar according to their sweetness. Use non fibrous varieties of mangoes – there is nothing worse than having the fibre get stuck in your teeth! And yeah, I like mushy mango sheera, but you can reduce the amount of water used while cooking the semolina if the mango pulp you are using is mushy and more 'liquid-y'. Do note that the sheera will thicken up as it cools so even if it looks very mushy while cooking it will sort itself out when it cools down and you are ready to serve it! Enjoy!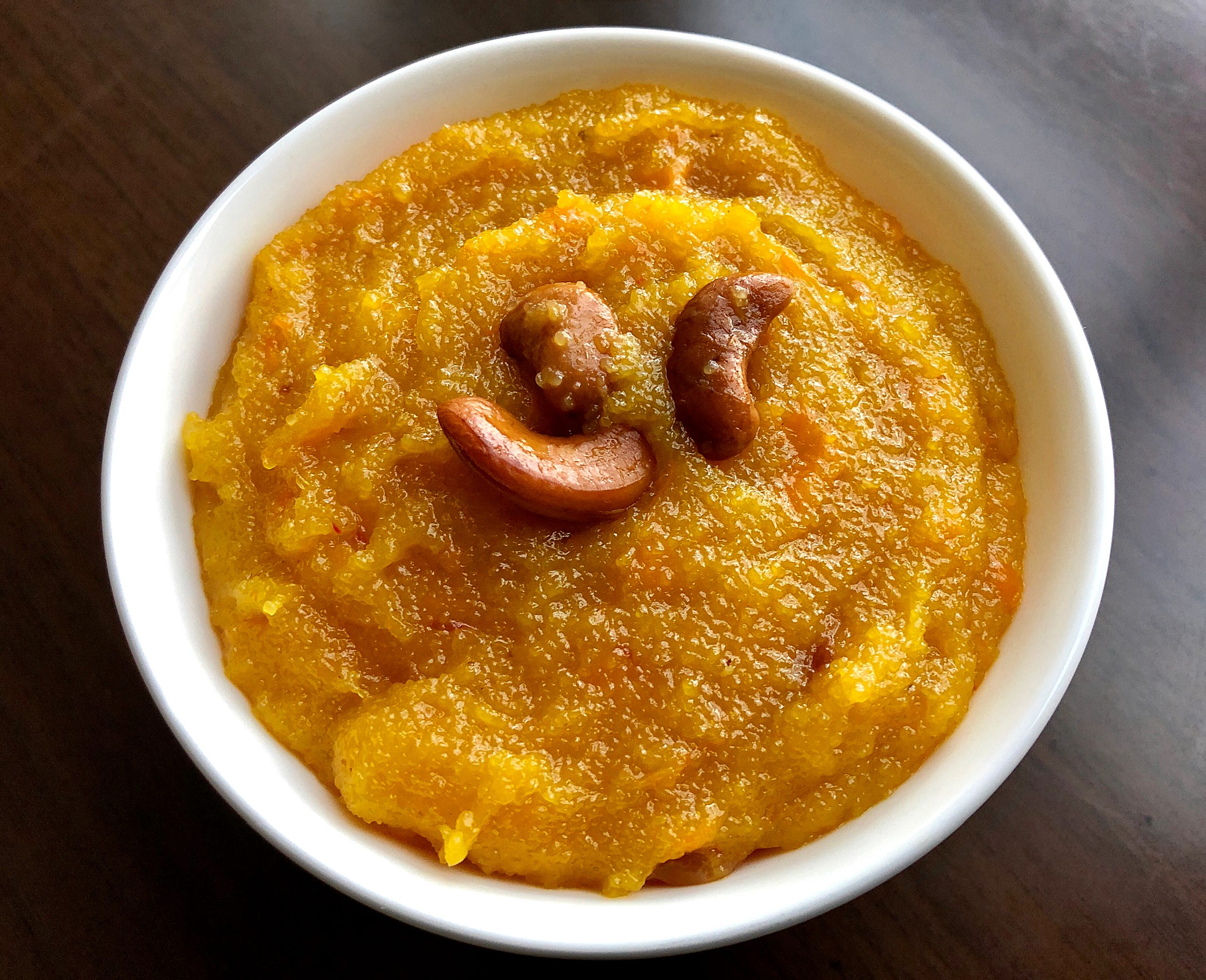 Pin
New here? Subscribe to my free newsletters with my latest recipes!
Tried my recipe? Do leave a comment on this post down below and don't forget to give it a star rating! It will really help more readers discover my recipes! Do share a picture on Instagram and tag me @ruchikrandhap and I will feature your post in my stories!
Don't forget to check out my latest videos on my YouTube channel. If you like what you see, do give me a thumbs-up (like), share & comment and subscribe to my channel so that the gods of YouTube (a.k.a algorithms) recommend my channel to a wider audience with similar tastes and more & more people can discover my videos!
And while you're here, do follow me on Instagram, Pinterest,  Facebook and Twitter. If you'd like to say hello or have detailed queries do send an email at [email protected]. I'd love to hear from you!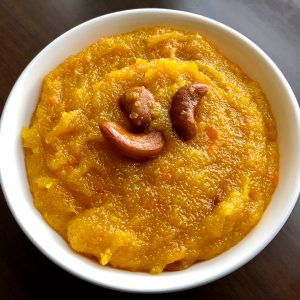 Mango Kesari | Mango Sheera
Mango kesari/sheera is an Indian pudding made with semolina, sugar, dry fruits & mango chunks or puree that is added for flavour and texture. This is an anytime treat!
Print
Pin
Rate
Ingredients
1/2

cup

semolina

fine rava

1/2

cup

pulp or finely chopped ripe mango

1

tbsp

raisins

cleaned

2

tbsp

roughly chopped cashew nuts

cleaned

1/2

cup

sugar

adjust according to the sweetness of the mango

1

cup

water * see notes

1/2

cup

water

for sheera or water (for kesari)

a pinch saffron strands dissolved in 1 tablespoon hot water

2

cardamom pods

husked & powdered (optional)

1/4

teaspoon

mango essence

optional

1-2

teaspoons

ghee plus extra to fry the nuts & raisins* see notes

pinch

of salt
Instructions
Soak the saffron strands in the hot water (or milk) for at least 10 minutes or till the liquid has changed to a bright yellow.

Heat ghee in a wide based pan/kadhai and toss in the cashew nuts and fry them on a low heat till they then turn light golden. Remove. Next, fry the raisins till they just puff up, remove immediately before they burn.

In the same ghee add the semolina and roast on a low heat for 2- 3 minutes taking care to see that it doesn't burn. If you fry the semolina on a low heat it will get partially cooked and help fluff up quickly. While the semolina is frying, bring the water & milk to a boil.

When the semolina has roasted and gives out a nice aroma add the water (or water & milk mixture) to it. Be careful as the mixture can splutter! Mix quickly till it is smooth & lump free.

Add the sugar and pinch of salt and stir till the sugar gets absorbed. Next, add the saffron mixture.

On a low heat keep stirring the mixture so that it doesn't stick to the bottom of the pan and slowly the mixture comes together in a lump

Add the ghee and stir till it gets absorbed

The sheera/kesari is almost done. Add the roasted nuts and raisins, mango pulp or pieces and give it a good mix till the whole mixture comes together in a mushy lump. Add the cardamom powder or mango essence if using. Cover the pan and turn down the heat to very low. Allow to cook for 1-2 minutes. Remove from heat.

If you wish, serve the sheera in a bowl. Lightly grease it with ghee and then put the sheera in it, invert the contents onto a plate. Serve hot.
Notes
To make soft and mushy sheera the semolina : water ratio to be used is 1:3, you may use only water (1-1/2 cups) or 1 cup water and 1/2 cup milk if you like it a little rich. I prefer it light, so I used 2 cups water and 1 cup milk.
The best tasting sheera is usually made of a lot of ghee. Some recipes call for as much as 1/2 cup of ghee per cup of semolina! In my opinion it is too much and too rich. Since we count calories in our home we reduced it to a quarter of a cup. Use as much as you desire. 
Disclaimer
The nutritional values are only indicative.
Tried this recipe?
Please leave a comment & rate the recipe below or share a photo on Instagram and tag me @ruchikrandhap