It's been a blessed Lent so far. Although we haven't given up meat or fish this Lenten season, I have completely given up two things that I most passionately love – biryanis and baking. And I must add another B – blogging – which has also taken a back seat because of another B – backpain! But its nice to come crawling back to the blog every week or so. I enjoy the comments that you have been leaving and thank you for the calls, emails and messages on FB just to check on me – truly appreciate the concern & love. {{hugs}}
So how has your weekend been? And the one before? Exactly a week from today we will celebrate Easter – the resurrection of Lord Jesus. Lent has flow by so quickly and more importantly, the first quarter of this year has also flown by in the blink of an eye. I am glad that I have achieved a lot of things that I had chalked out for myself – creating 'me-time' on a daily basis was on my agenda. The 'me-time' that would help me do the two things I love – watching movies that I have collected over the past few years & have never found the peace and quiet to actually watch them from start to finish in one go (been watching movies in installments ever since the son was born) and reading books that has taken a backseat too as all I have managed to read  in the past 2-3 years are short stories, newspapers or magazines. I have also been spending a lot of time with my family and getting things done at home so yeah, a happy mother is now more than happy to return to some blogging.Today's dish was quite an unusual combination for us too when I first came across this recipe in a book. I wasn't quite sure of the outcome, but thought of giving it a try nevertheless. I am sure when you read the title of this post you may have gone "eh??" – just like I did. I totally love Mangalorean combo curries which make up for a complete meal and you don't have to slave over another couple of side dishes. I have eaten combo curries made of clams & Malabar Spinach or or clams and rice dumplings, but this was new to me. I am not such a big fan of the bottle gourd but this humble vegetable never fails to surprise me as it shines through the most unusual dishes. Not too long ago I sneaked the bottle gourd into a nice chocolate cake and the result was simple awesome! Do check the recipe here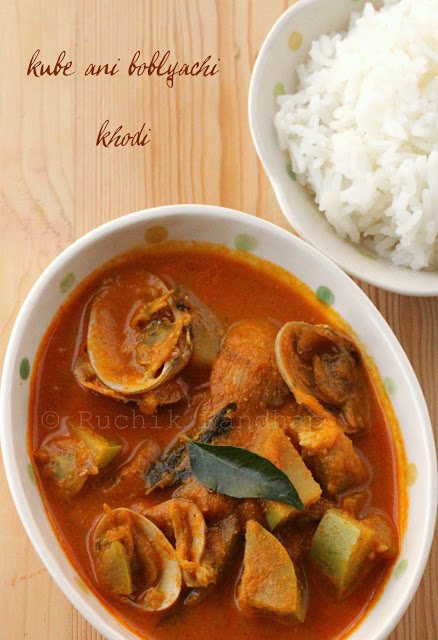 I have grown up eating the bottle gourd only in two forms – sweet (bottle gourd halva) & savoury (as a side dish in the famous Thel Piao – oil & onion style) so it was definitely a delightful experience to be able to enjoy it with clams too. Enjoy this curry with some piping hot rice and some mango pickle on the side if you wish. This recipe is a keeper for all clam lovers like me!
Kube Ani Boblyachi Khodi (Clams & Bottle Gourd Curry)
Preparation time: 15mins | Cooking time: 20mins | Serves: 3-4
You Need:
80-100 clams / cockles / shell fish
500gm bottle gourd / boblem / sorekai / dhoodhi / lauki
salt to taste
For the masala
6 long dry red chillies
4 peppercorns
2 tbsp coriander
1/2 tsp cumin
1 medium sized onion
3-4 cloves of garlic
1 level tsp tamarind paste or 1 marble size ball of tamarind
1/2 a coconut (or 1 cup grated coconut)
salt to taste
For the seasoning
1 medium size onion finely sliced for frying
1 sprig (6-7 leaves) curry leaves/kadipatta
1 tbsp ghee or oil
Method:
1. Wash the clams in plenty of water and in order to reduce the quantity and clutter in the pan, cut each clam open and retain the shell which has the flesh. Discard the other. *See notes
2. Wash the bottle gourd well and cut into small cubes. Do not peel the skin.
3. Using a little water grind all the ingredients mentioned in 'For the masala'  to a fine paste. Retain the masala water from the mixer grinder.
4. Heat some ghee in a pan and toss in the curry leaves and sliced onions and fry until the onions turn golden. Add the ground masala and fry on a slow flame for 4-5 minutes. Stir to avoid burning. Add the masala water that was retained and a little extra to achieve the desired consistency of the gravy and bring it to a boil.
5. Add the bottle gourd pieces, mix and cook covered on a medium flame till the bottle gourd is almost tender.
6. Add the clams and bring the curry to a boil, check salt, reduce the flame and cook on a medium high flame till the bottle gourd and the clams are cooked. *See notes
7. Serve hot with rice
Notes:
1. If you are in Mumbai, then it is important to open the clams, clean them and pre boil them. This is because most clams are filled with sand or dirt. You can place the clams in a steel bowl and place the bowl in the deep freezer for 30-45mins. Remove and pour room temperature water on them and keep aside. They will open up on their own after which you can rinse thoroughly and discard the empty shell from each clam.
2. If you pre cook the clams then you can add them at the very end of the process – after the bottle gourd pieces have cooked.