Globalisation & commercialisation has also brought with them the banes of instant gratification. Soups, noodles, take away fast food & what have you – everything to accomodate your life on a fast track. One of the soon to be extinct Mangalorean specialities is the range of recipes where the primary ingredient is the Dry Fish. Swirled into a chutney, fried with marinated masala or cooked in a gravy along with raw Mangoes (Thor), the Dry Fish was the ideal sea food option during the monsoons when obtaining fresh catch was almost next to impossible – fishing boats would not venture out into the sea due to safety reasons and people on the shores would have to stick to vegetarian food (which was also stocked up in every home – often found packed in ropes made out of coconut fibre and left hanging from the ceiling – what a lovely sight that was). The Dry Fish hence came very handy as a little of it would satiate the entire family (owing to its salitiness it was made & eaten in small portions). 40-50years ago (and earlier) it was very common for people to have as many as 12-14 children, so feeding them was obviously an expensive affair especially since the man was the only bread winner – the woman of the house had the task to ensure that finances were stretched enough to last the whole month and hence the most feasible & economical of all meals was the Pez (Rice Konji/Gruel) – a huge 'Modki' (or Matka) (Steel vessel with a wide base & long narrow neck) would sit for hours on the fire cooking away the brown rice along with plenty of water to produce the most delicious & satisfying cooked rice with its thickened starch water (which was also drunk in plenty by young & old for strength – also by those who worked in the fields)
A common scene in every poor/middle class family was that Pez was served to all & sundry who even bothered to pop their heads into the household. Pez for breakfast & Pez for an early supper. Often served with Chutneys (especially the Dry Fish chutney) or Pickes made out of shredded raw mango, tender lime or seasonal berries (usually gooseberries). If you are a Mangalorean reading this, you will be able to come up with many more suggestions which I am sure you or your elders would have eaten & relished (and still continue to do). So, I'll leave your mind to conjour up the most lovely & mouth watering memories of yesteryears which will probably never return….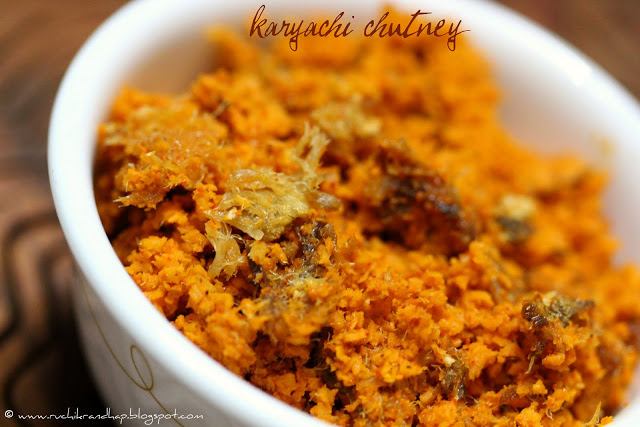 You Need:
1 1/2 cups grated coconut
1/2 cup dry fish (shredded)
1 tbsp tamarind juice
1 tsp oil
4 dry red chillies
1/2 tsp cumin (jeera)
1/4 tsp turmeric (haldi)
Note: Instead of the above 3 ingredients (red chillies, jeera and haldi) you can use 2tbsp Bafat powder to which garam masala (cinnamon, cloves etc) has not been added.
Method:
1. Dry fish can be terribly salty – so soak it in lots of water for at least 6-8 hours (or more if you want your chutney less salty). Throw away the soaked water. Carefully slice off the skin (if present) and make thin slices  (assuming you are using a chunky piece of fish)
2. Heat 1 tsp oil a tawa and gently fry the fish till it is lightly roasted. Remove & shred the roasted pieces.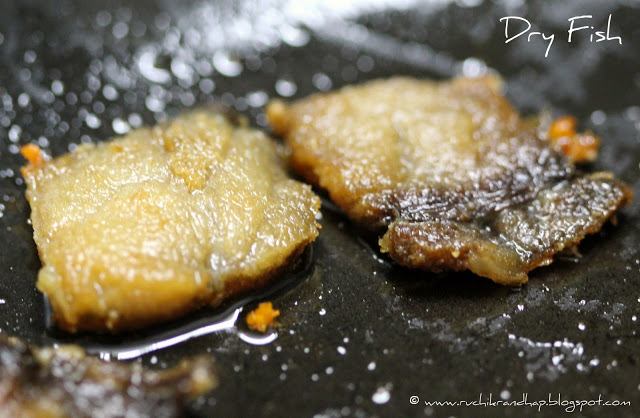 3. Use a dry grinding jar of a mixer grinder to grind all the ingredients to a coarse paste – it must be coarse enough to feel the grated coconut – yet well blended so that all the ingredients get incorporated and release the flavours.
4. Serve with rice or 'pez' (konji made out of brown rice) – its the best meal ever!