The Monsoons are a perfect season to try out some piping hot snacks and enjoy them while it is pouring outside, isn't it? The simple pleasures of life are obviously those where you get to prepare & eat snacks which your mother used to prepare (this is for all of us who no longer live close enough to bug our moms to make something for us). I don't know if I lived all my years in Mumbai turning a blind eye to all the seasonal goodies that flood our markets because I was simply thrilled to find Turmeric leaves this time and I immediately decided to buy some to make my most favourite tea time snack which my mom & grandma used to make in abundance. Delicately sweet rice dumplings – not round and fat looking as the word 'dumpling' immediately translates, but a thin, flat & long rice cake packed in a fragrant Turmeric leaf.
In Mangalore, since people live (or used to live) in independent houses with tiled roofs and large compounds that accomodate at least 3-4 fruit trees and a zillion coconut trees, the Turmeric plant also thrives in a corner – growing on its own whether people bother about watering it or not. It does not receive any special attention the year round  but come August-September, everybody throngs the market to buy some leaves if they don't have the plant at home. A lot is said about the Turmeric (Haldi)- a rhizome that belongs to the ginger family and has been handed down across the centuries as a medicinal wonder. In medieval Europe it was known as the Indian Saffron as it was a cheaper alternative to the actual Saffron strands (Kesar/Zaffran), this made perfect sense when I realised that probably our earlier generation used to call the Turmeric as Saffron. Before I fully stepped into the world of cooking my mum and grandma's handwritten recipes which used to mention things like 1/2 tsp Saffron used to give me a shock as something as little as 1/2 a gram of Saffron today costs around Rs. 50)
Turmeric is widely used in South Asia for cooking and medicinal purposes and I think we've all grown up watching the quintessential Maa in Hindi movies bringing her son a glass of Haldi wala Dhoodh (Milk with Turmeric) for good health and as a cure for minor ailments. Turmeric is known to rid one's body of any allergies too. It is one of nature's most powerful healers. Besides being a natural antiseptic and antibacterial it is also used in beauty treatments. How can we forget the Indian brides who look resplendent with a glowing complexion on their wedding day especially after an auspicious Haldi ceremony that is conducted 1-2 days before the wedding?

Coming back to our discussion on today's recipe, the
Patholi
 is a term in Konkani which roughly means a steamed 'pudding' or 'dumpling'. Haldi+Kolay (Turmeric+Leaves) is simply one of the varieties, the other is the
Jackfruit Patholi
made during the Summer. Today's variety is also known as
Arasina Yele Kadabu
in Kannada & a slightly different version of it steamed in Banana leaves is called
Ela Ada
in Malayalam
So here it is – the Turmeric leaf Patholi – delicately fragrant & deliciously simple ~ rice, coconut, jaggery & cardamom mixture filling ~ a sweet dish that delights everyone!
Haldikolyanche Patholi
Soaking time: 3-4 hrs | Prep time: 30mins | Steaming time: 20mins


You Need:
1-1/2 cups boiled rice (ukdo tandul/ukda chawal/parboiled rice/katsambar akki)
2 packed cups of freshly grated coconut or 1 medium size coconut grated
125gm jaggery for very mild sweetness (or upto 200gms for more sweetness)
pinch of salt (or to taste)
7-8 cardamoms powdered
For wrapping & steaming the batter
10-12 medium size Turmeric leaves (*see note)
Method:
1. Wash & soak the rice for at least 3-4 hours. Add the salt to taste and using very little water grind it to a thick paste (*see note)
2. Wash the Turmeric leaves carefully, drain and wipe them dry using a soft cloth or tissue paper – take care not to tear them. Keep aside
3. In a bowl mix together the freshly grated coconut, grated jaggery and cardamom powder and blend well so all the juices incorporate. Ensure that there are no lumps of jaggery in the mixture.
4. On a clean working surface place a leaf and starting from the end of the stem, place a small portion of thick rice paste and spread it across the length of the leaf using your fingers (all except the thumb). Leave out the edges to avoid spilling of the batter when you press them closed. The rice paste should be applied as as thin a layer as possible.
5. Place the coconut & jaggery mixture along the spine of the leaf (right in the centre). Fold the leaf along the spine (vertically) – this is how we make it but you can fold it horizontally as well. Continue this process until all the leaves/rice paste is used up.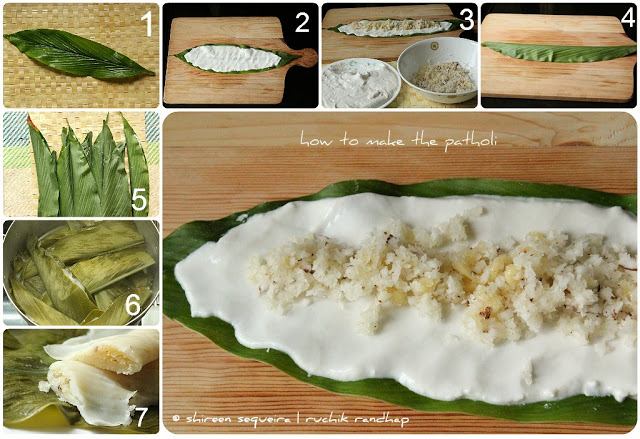 Pin
6. Place a Tondor or steaming vessel with sufficient water on a high flame. When it comes to a rolling boil, place the Patholis on the plate inside the steamer. You can stack them up or place them strategically so that all of them get steamed evenly. Cover and steam for 18-20minutes on a full flame.
7. Remove and peel off the leaf and enjoy a steaming hot Patholi


Note:
If you get the Mangalorean variety of Turmeric leaves (which are slender, delicate and more fragrant) you will need more as they are smaller in size. I found large ones in Mumbai and had to cut most of them into half, these are broader at the centre so you can put more filling inside.
The rice should be ground with very little water and should be fine and dry (and not runny) – similar to the texture of toothpaste

Post updated on 25th July 2012 with new pictures and jaggery quantities increased upto 200 gms for more sweetness