Although I never make New Year resolutions, I did make one to myself this year – I won't tell you what it is as yet. Maybe somewhere down the line, in about 6 months from now I may reveal it to you. Again, that depends on how successful I have been in executing that resolution and keeping the promise.
By the way, today's recipe belongs to one of the categories I simply love – dips! I think a good dip makes all the difference to what it is served along with it – a starter or a snack that can shine above all the other items or just fail to make that first impression. A dip is one of the most humble and least appreciated items on a party menu – well, this is just my opinion but I do feel that its time we gave dips a good look and give them the importance they are so deserving of.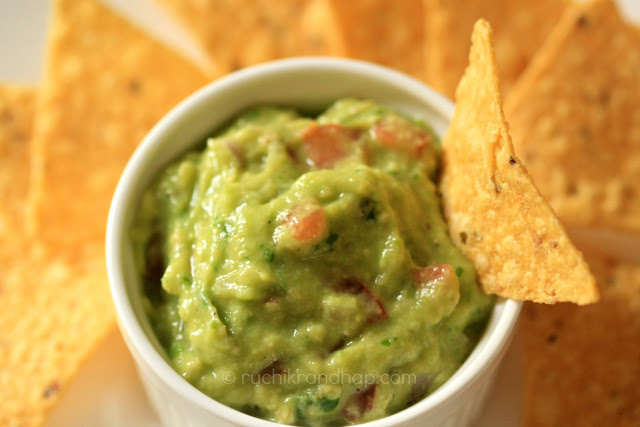 Dips are totally age proof – people of all ages like them. They can be made really healthy too so that weight watchers and diet conscious people can have something delicious, light and healthy to accompany their snacks.
About the dish:
Pronounced as 'gwa-ka-mo-lee' – this dip dates back to the Aztec Indians of Southern Mexico. It was believed to be an aphrodisiac because of its popularity with the invading Spanish. Today its popularity has grown by leaps and bounds thanks to the internet and restaurants offering global cuisine in the comfort of your own city.Guacamole tastes great by itself or if served along with tortilla (pronounced as tor-tee-ya) chips.
Guacamole 
Prep time: 5 mins | Cook time: Nil | Serves 2-3
You Need
2 ripe avocados (butter fruits)
1/2 medium sized onion finely chopped
1/2 ripe tomato chopped (remove seeds and pulp)
1 green chilli finely chopped (or you may use finely chopped jalapeno peppers according to taste)
2 tbsp coriander leaves finely chopped
1 tbsp lime juice (or juice of 1/2 medium sized lime)
a sprinkling of freshly ground pepper
1/2 tsp salt (or to taste)
1 small clove of garlic grated (optional)
a pinch of sugar (optional)
Method:
In a wide bowl scoop out the avocado pulp (run a knife across the breadth of the avocado and scoop out the seed first, then the pulp). Leave the pulp a little chunky. Add all the ingredients to the pulp and mix gently, check taste and adjust as required.
Serve with tortilla chips, as a spread for sandwiches or as a dip with raw veggies for kids
Note: