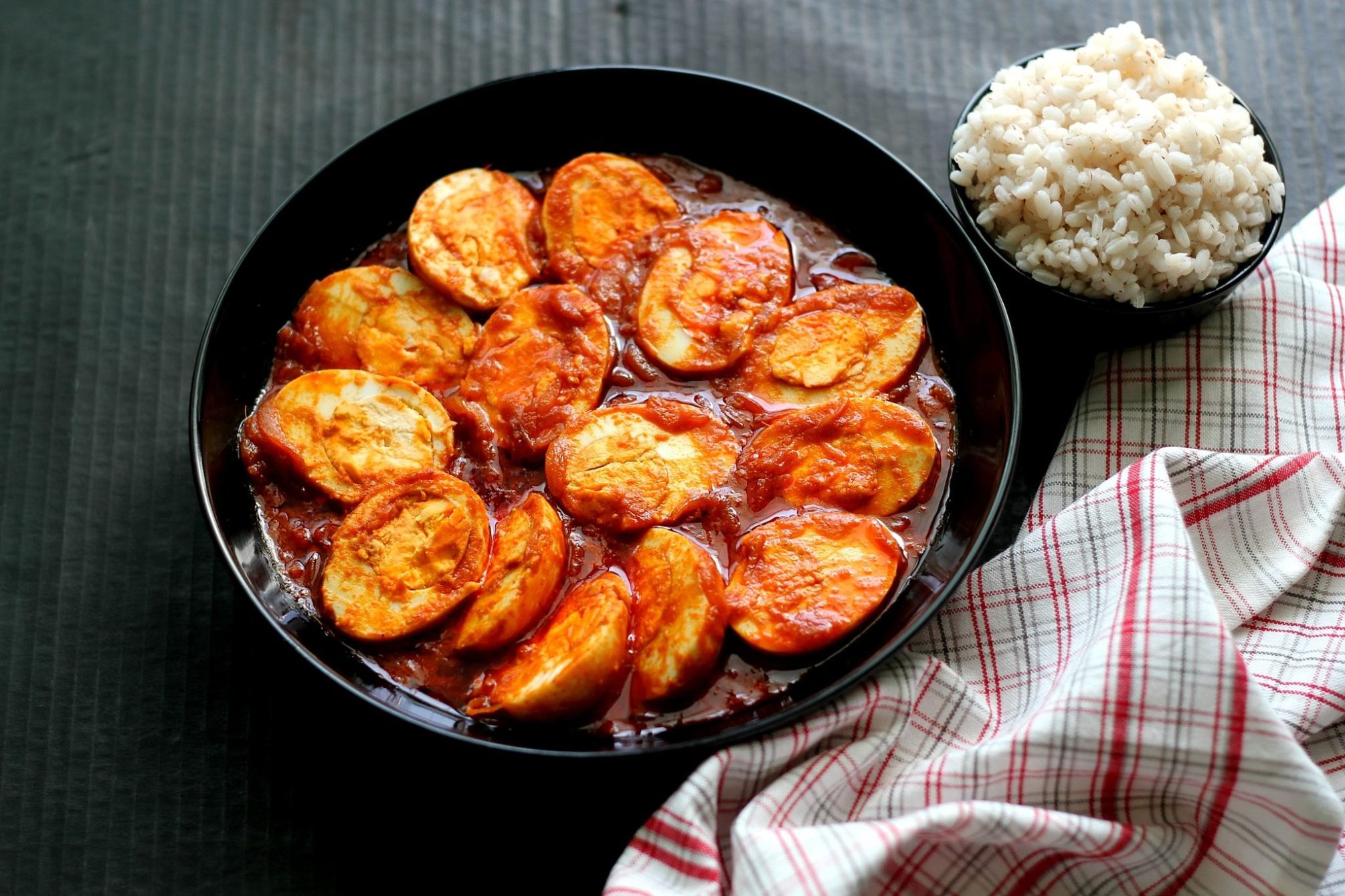 Pin
Eggs have been an important part of my diet during my growing up years. They featured in different forms on my breakfast table and egg curries were something that my mom cooked occasionally. We mostly ate fish as that's what you do if you are a non vegetarian Mangalorean living in Mangalore, having easy access to the fish market. Anyway, since eggs are super versatile you can just about create something spectacular with just a few ingredients and within a few minutes. I have been trying to recreate the memories of my childhood that revolved around eggs and so I have decided to start cooking eggs as an accompaniment to our meals at least once in 10 days (it used to be less frequent in the past but that is about to change my friends!). So I made this super delicious egg curry that we polished off with some hot rice. The tangy, spicy and slightly sweet flavours of the curry are truly lipsmacking delicious!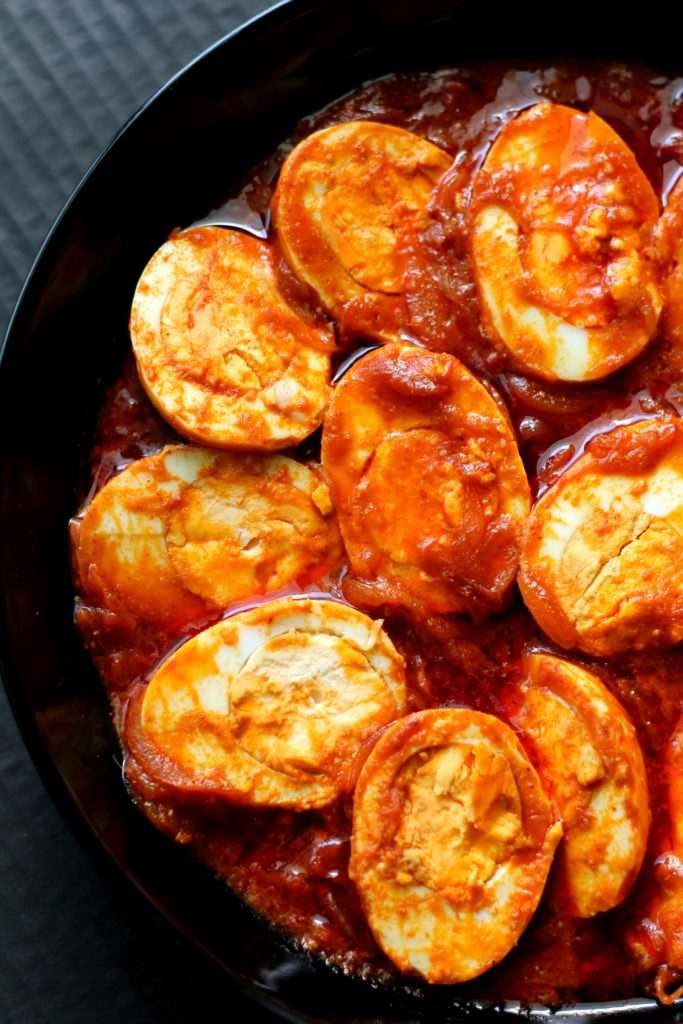 Pin
I had made this dish a really long time ago so I really don't recall which of my cookbooks I had referred to. I will update the source shortly. My guess is J.B Lobo's Home Encyclopedia (the English version of the book) and as always I love his recipes although some modification is essential.
You can make this dish during the upcoming festive season. Believe me, it can totally blend with the rest of the dishes on your festive menu, especially if you have guests who don't like coconut based curries. Serve them this dish, watch them smile and just bow down when they shower you with appreciation. No, seriously!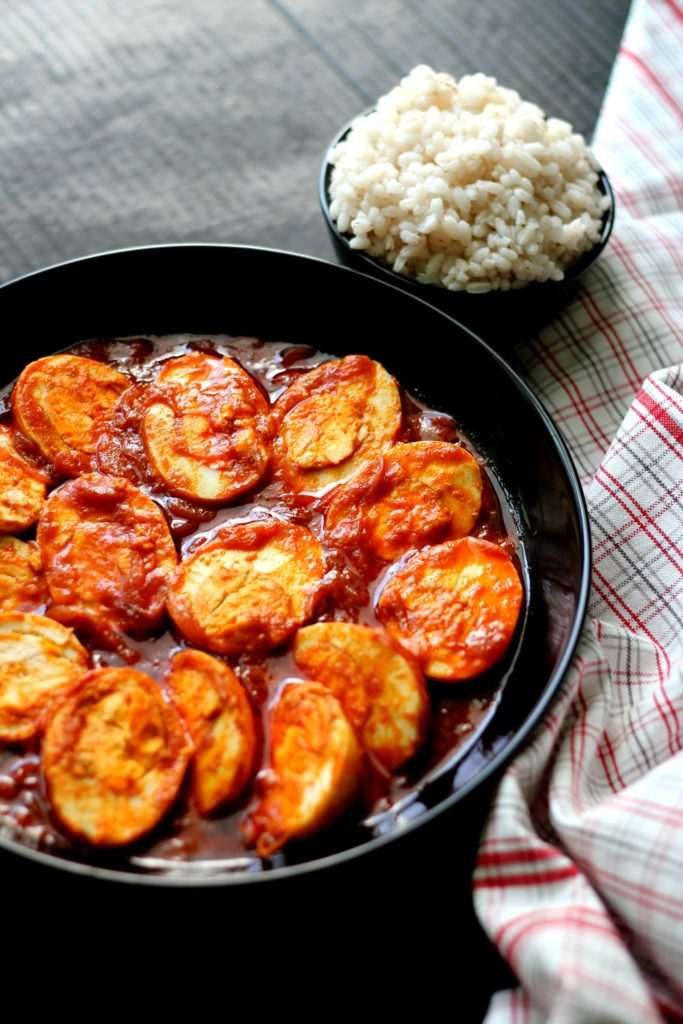 Pin
Love eggs? Try these!
Egg Vindaloo
Egg Vindaloo is a perfect egg curry that goes very well with rice or chapathis. The fine balance of flavours - spicy, slightly sweet & tangy will tantalize your tastebuds
Ingredients
6

eggs

2

medium-big onions

finely sliced

2

teaspoons

vinegar

1-1/2

teaspoons

sugar

1-2

tablespoons

oil for frying

salt to taste
For the masala
4

long dry red chillies

I used 2 byadge and 2 kashmiri chillies

1/2

inch

stick of cinnamon

1

teaspoon

vinegar

1

teaspoon

cumin seeds

1

" ginger

4

fat cloves of garlic
Instructions
Place the eggs in a sufficiently large saucepan and cover them with water. Bring to a boil and cook them for 10-12 minutes. Then remove the pan from the heat, discard the water and refresh with cold water. When they are cool enough, shell them and keep aside

In a small bowl, dissolve the sugar in 2 teaspoons of vinegar. Keep aside

Grind all the ingredients mentioned under 'For the masala' using 1-2 tablespoons of water, to a fine, smooth paste.

Heat oil in a kadai/wok and fry the hard boiled eggs for 1 minute on a low heat until slightly golden on the outside. Then remove on a plate. This is an optional step.

To the same kadai add the onions and fry until they turn golden brown. Reduce the heat and add the ground masala paste and fry until the oil separates. Rinse the mixer jar with 1/2 cup of water and add this to the gravy.

Add salt to taste, the sugar & vinegar solution and simmer the curry for 3-5 minutes. Do a taste check and add more sugar, salt or vinegar only if required. You need to get a fine balance of spicy-salty-sweet & sour

When the gravy has thickened slightly slit the eggs and add them to the curry. Alternatively, you can halve the eggs and place them in a serving bowl. Pour the curry over them and serve hot with boiled or white rice. This dish goes very well with chapathis or plain parathas too