On a boring weekday when I can't think of anything interesting to cook & my meal plan has gone for a toss, this is egg-jactly what I love to prepare! Eggs! Love them or hate them, they are probably the most versatile among all edible things. Cook them in savouries or use them in baking – there's an unending list of things you can do with eggs to make sure you get your dose of protein. 
When I was working, my colleague who is a pure vegetarian Tam Brahm once told me that when she was travelling to the Far East she asked for a vegetarian breakfast on board the flight. Well, what appeared on her plate wasn't exactly vegetarian – she was served eggs sunny side up! This was because in certain flight zones eggs & seafood are actually considered vegetarian. Strange but true. In India, while strict vegetarianism is still practised by many, there are a lot of ovo-vegetarians who take eggs as part of their otherwise vegetarian diet.
While we can still debate endlessly about what came first, the Chicken or the Egg, there's no denying that Eggs taste delicious in whatever form they are eaten – hard boiled, soft boiled, fried, poached, baked or scrambled! (they say there are 101 ways to cook eggs! They are a simple and no-fuss form of eating your food. 
I think my blog would be incomplete if I didn't have an Egg Biryani recipe added to my collection. R simply loves Egg Biryanis and since I love to try out new Biryani & Pulao recipes, I ventured out to hunt for a good recipe online. We were quite pleased with the outcome as it was a very satisfying meal. It was the goodness of Eggs combined with the goodness of Rice and both R & I reminisced about the our favourite restaurants in Mangalore where Egg Biryanis used to be served. 
While Eggs figure out on our weekly menu usually in the form of hard boiled eggs cooked in a curry or as scrambled/fried eggs for breakfast, I have decided to make the biryani at least once a month from now onwards – Biryanis as you know are a complete meal by themselves, it's just that you need to spend a little extra time and effort preparing them, but the outcome is always worth it!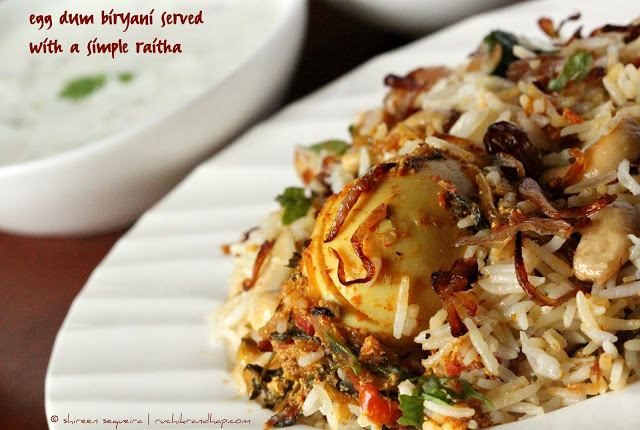 Pin


Egg Dum Biryani
Serves 4
You Need:
6 eggs
1-1/2 cups basmati rice
olive oil as required (or ghee)
For the masala
2 medium onions sliced
1 large tomato chopped fine
1/4 cup mint leaves
1/4 cup coriander leaves
1 level tsp chilli pwd (adjust as per taste)
2 green chillies slit
1/4 tsp turmeric pwd
1 level tsp biryani masala (I used Shaan Biryani masala)
1/2 tsp garam masala powder
1/2 cup curds (yogurt) beaten to creamy consistency
2 teaspoons ginger garlic paste
2 tsp lime juice
For the rice
2 cardamoms
2 cloves
1 inch cinnamon
1 star anise
1 bay leaf
1 chicken or vegetable stock cube
1 tsp lime juice
salt to taste
oil or ghee
2-3 coriander stalks
For garnishing during the layering
1/4 cup raisins & cashew nuts
2-3 sprigs mint leaves roughly chopped
1 large onion sliced fine
a few strands of saffron
2 tbsp milk
oil or ghee
Method:
Boiling the eggs:
Place the eggs in a wide, deep pan filled with enough water to cover them and bring the water to a rolling boil. Continue to boil  for 12 minutes. Turn off the flame, transfer to cold water & peel off the shells. Slit each egg vertically halfway. Keep aside. 
Preparing the garnishing for the layering
In a thick bottomed pan heat the oil or ghee & fry the sliced onion till golden brown. Take care not to burn it as it will taste bitter. Remove & keep aside. In the same oil/ghee fry the raisins & cashewnuts. Remove & keep aside.
Prepare the saffron milk by dissolving the saffron strands in 2 tbsp warm milk. Keep aside for at least 10minutes before layering
Preparing the masala:
In a large pan heat the oil and fry the sliced onions till they turn pale pink. Toss in the roughly chopped mint & coriander leaves, slit green chillies, chopped tomatoes one by one and fry for about 30 seconds each. Add in the ginger garlic paste, garam masala, biryani masala and fry for another 2 minutes till it is well blended. 
Add the boiled eggs and continue to saute till the eggs are well coated with the masala. Add the beaten curds and mix well and continue to saute till the oil separates. Do this on a medium low flame. Add the lime juice and turn off the heat.
Preparing the rice:
Wash & soak the rice for about 10-12 minutes, drain & keep aside. In a deep pan, heat some oil/ghee and toss in the slightly crushed cardamoms, cloves, cinnamon, star anise & bay leaf. Fry for a few seconds and add the drained rice. Fry for a couple of minutes and add freshly boiled water in the ratio of 1:1-1/2 (for every one cup of rice use one & half cups of water). So for 1-1/2 cups of rice as per this recipe, you need to use 2-1/2 cups of water, this results in rice that is 90% cooked and that is ideal for 'dum' style of cooking where the rice will get completely cooked in its own steam while it is placed on 'dum'. Add the crumbled stock cube and stir to dissolve it. add the lime juice and check salt to taste. Toss in the chopped coriander stalks.
When the water comes to a full boil, reduce to sim, cover the pan with a tightly fitting lid, place a weight on it so no steam escapes and cook on very slow flame for 8 minutes. Do not open the lid in between. After 8 minutes, open the lid, gently fluff up the rice with a fork and cover for another minute or two.
Layering the rice & eggs – The grand finale:
Preferably grease a large deep pan with a little ghee and place half the number of eggs & the masala at the base. Spread half the cooked rice on top of it. Sprinkle the chopped coriander, fried onions, raisins & cashew nuts. Repeat with the remaining egg mixture, rice and garnishing.
Sprinkle the surface with the saffron milk. Cover the pan with a well fitting lid. You can also cover the pan first with aluminium foil so that no steam escapes. 
Place the biryani vessel on a tawa and cook on dum for 15-20 minutes. Let the flame be very low.
Serving:
While serving dig in all the way down and remove the layers of rice & egg mixture onto a serving dish. Garnish if desired with any leftover mint leaves, nuts, raisins or fried onions. Serve hot with a simple raitha