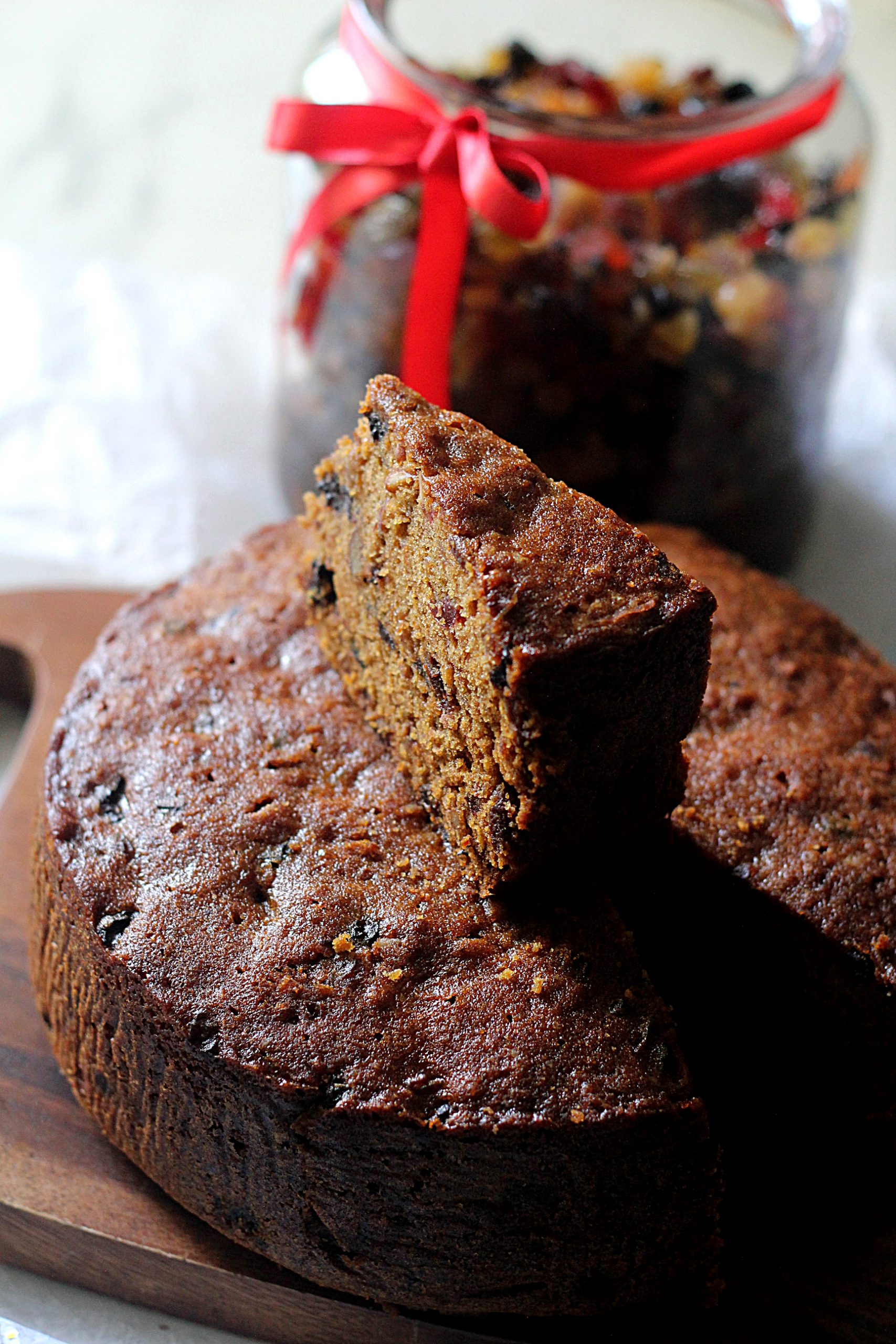 Pin
Looking for an easy Christmas fruitcake without alcohol! Your search ends right here! Yes my friends, here's the perfect recipe for a simple cake that is non-alcoholic and perfect for those who wish to eat one for whatever reasons! I came across this recipe in my favourite cookbook called 'The Perfect Christmas'. The book is filled with Christmas treat recipes – not all of which are a hit, lol! However, there are some gems which I've tried/adapted and shared on my blog long ago such as the Date & Lemon Spirals, Coconut, Oats & Dry Fruit Cookies and Gingernuts  This cake recipe was calling out to me. Although the recipe by itself called for alcohol, I adapted it to my liking. This is especially because I get a lot of requests to share a non-alcoholic cake recipe and this was the perfect time I could try something new. I was really happy with the result and my family loved it so much too. It tasted a lot like my aunt's homemade Christmas cake – in terms of its colour & aroma.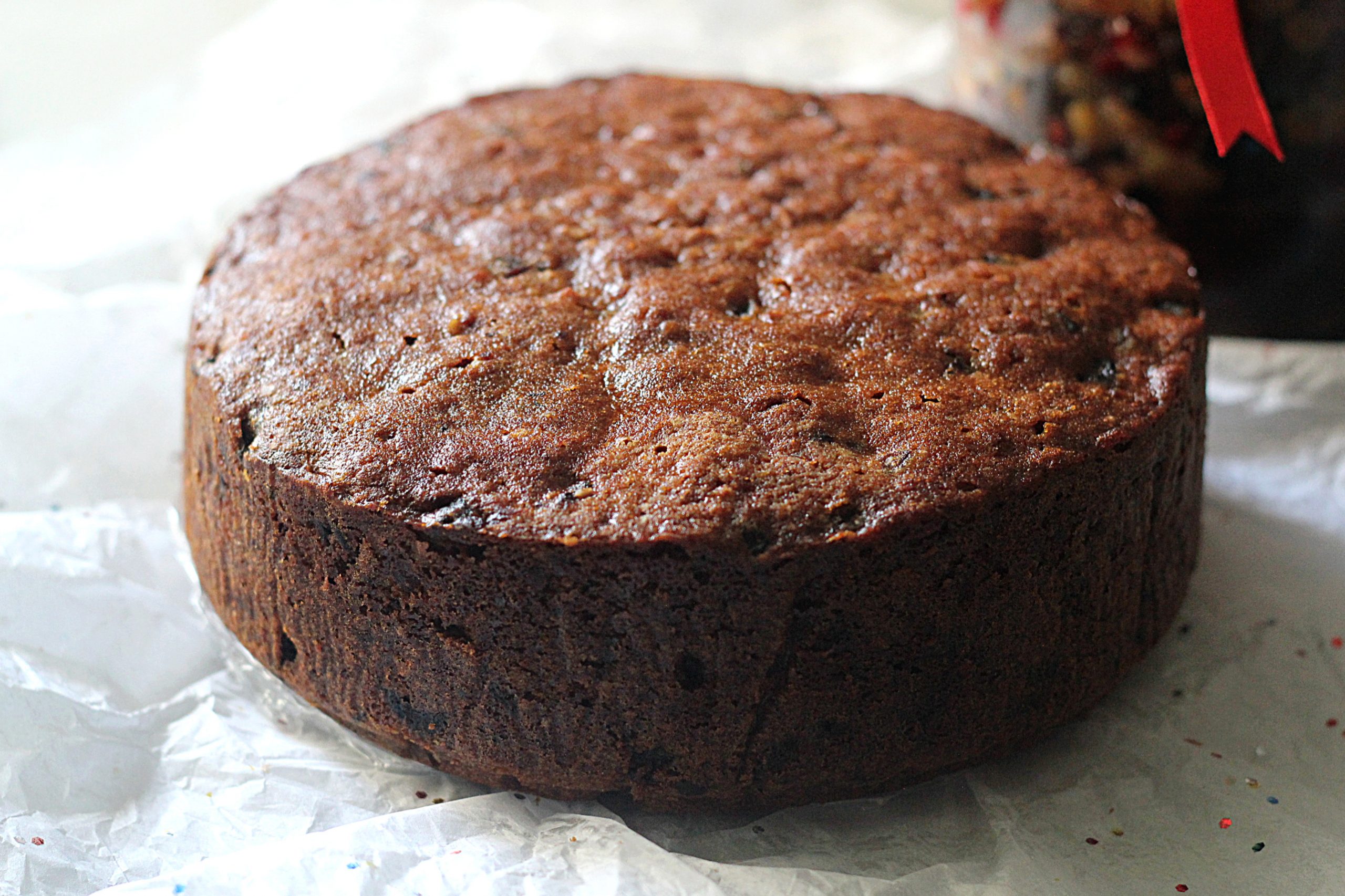 Pin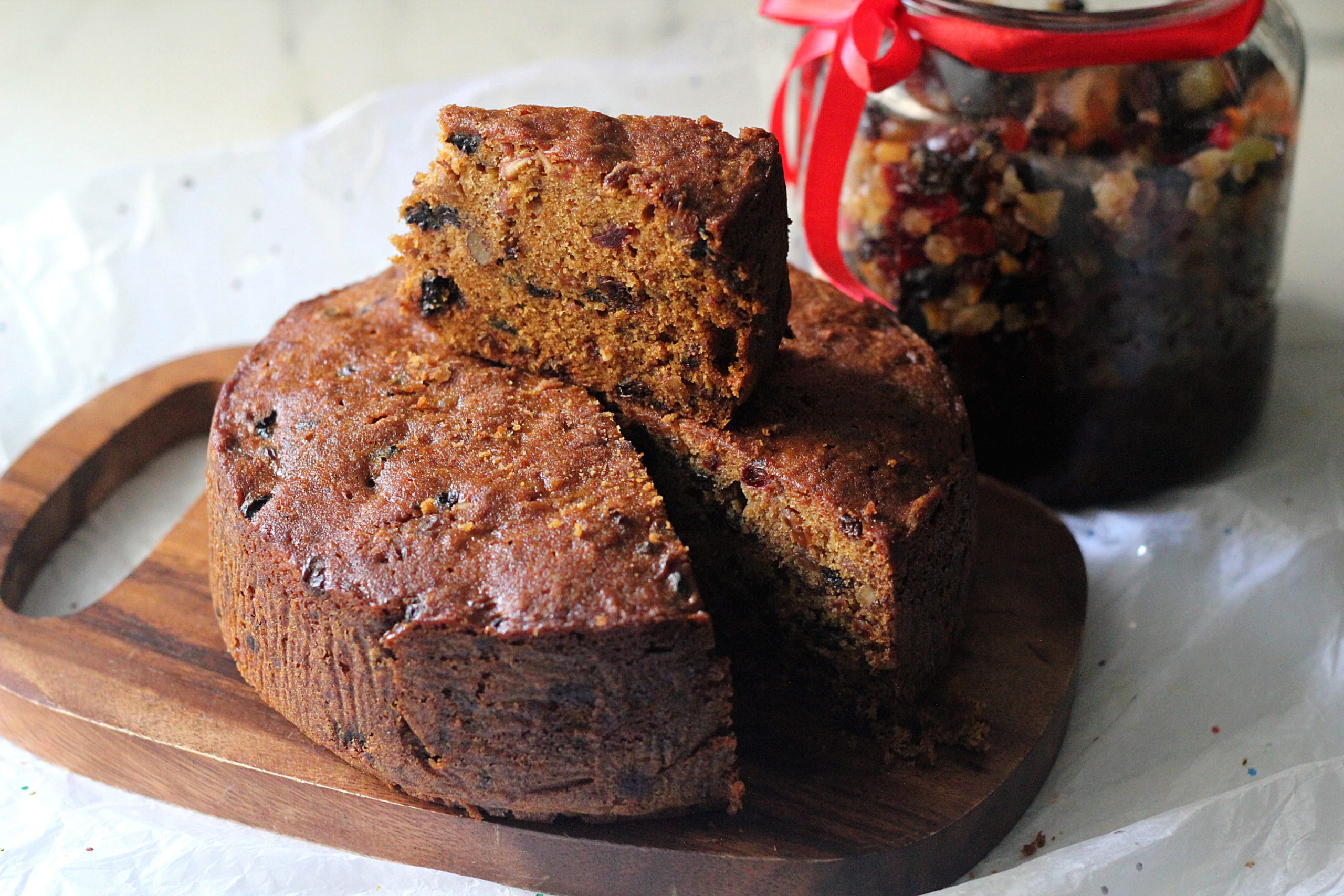 Pin
What is important to note is that you need to use orange juice instead of rum or brandy which is the alcohol of choice when it comes to soaking fruit. If you wish to make an alcoholic version of this cake, feel free to use rum/brandy/bourbon or whiskey instead of the orange juice. However, if you are using orange juice, please ensure that you extract fresh juice from sweet oranges. The raisins do contribute to the tart taste and it is fine until you add sour orange juice. You can use store bought fresh juice too I guess (I haven't, but it should be ok)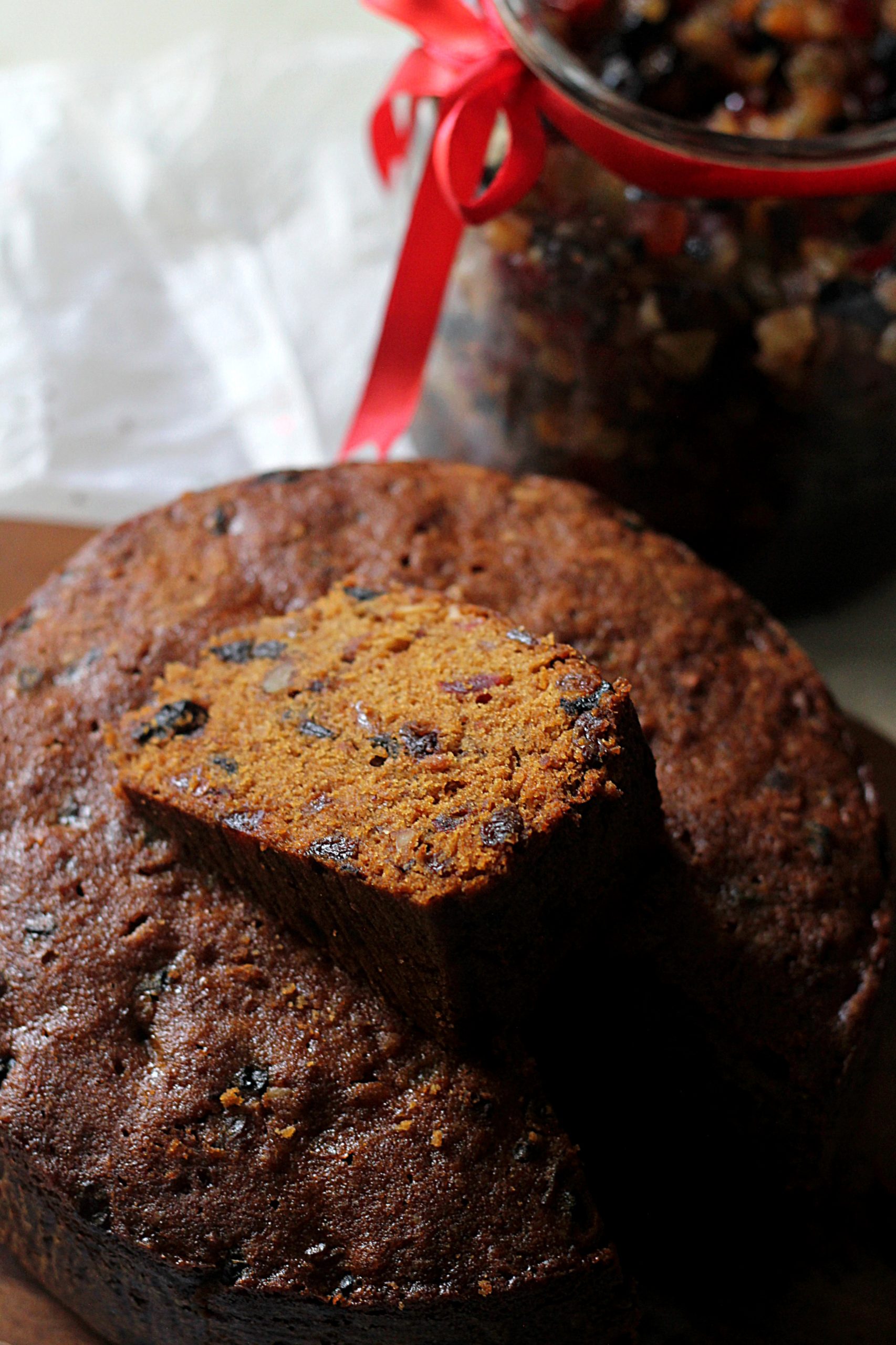 Pin
Since the cake contains no alcohol, it doesn't have a long shelf life. You will need to finish it within 3-4 days max if stored at room temperature. If you want to store it for longer, I recommend you allow the cake to cool completely and then wrap it well with cling film and freeze it. If you wish to gift it, it is best made fresh. However, if you are making an alcoholic version you can make it days in advance and feed the cake with the aforementioned alcohols (like a tablespoon at a time) once a week and store it in an airtight container till you are ready to cut it.
I really hope you like this cake. Do let me know how it turns out if you do give it a try.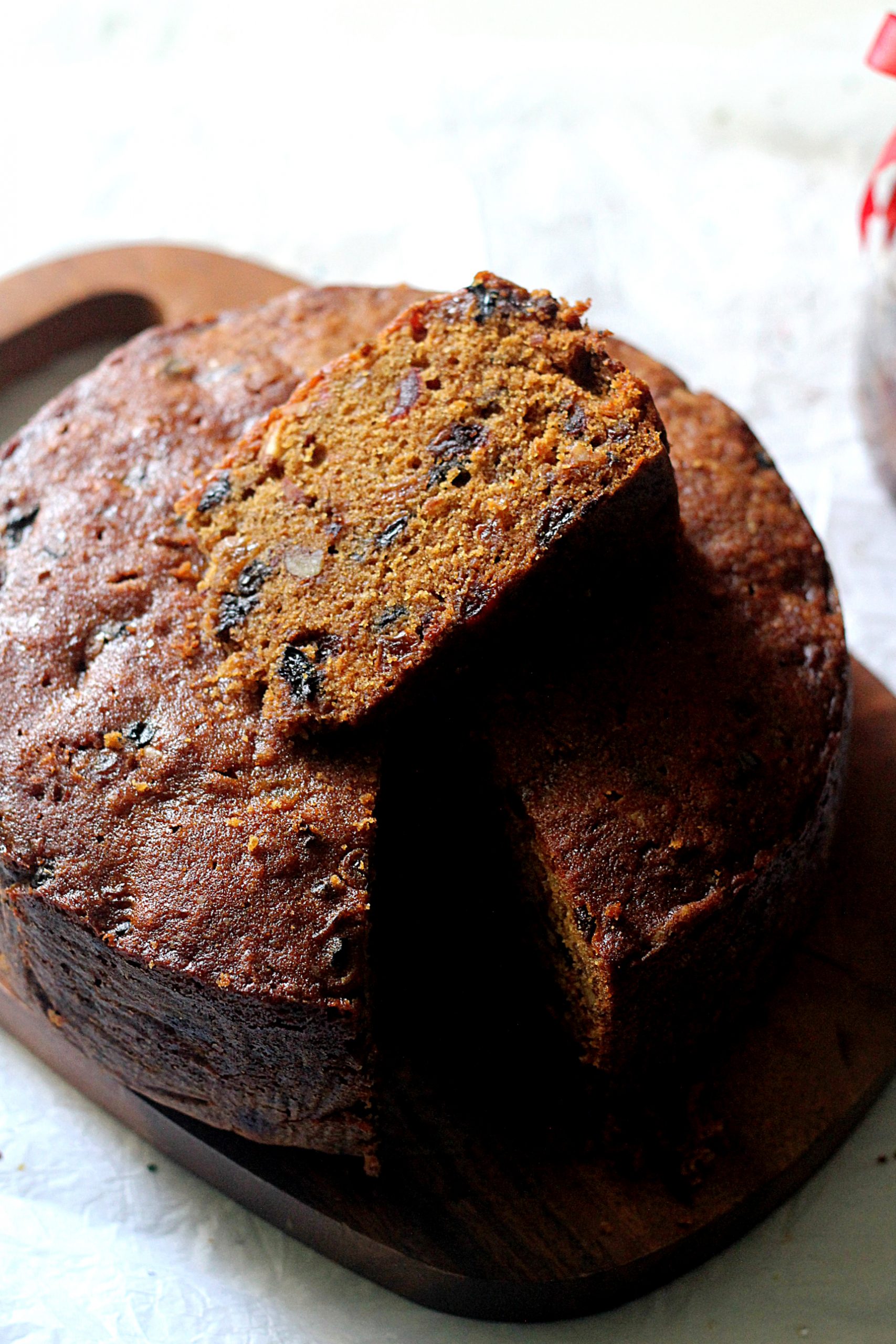 Pin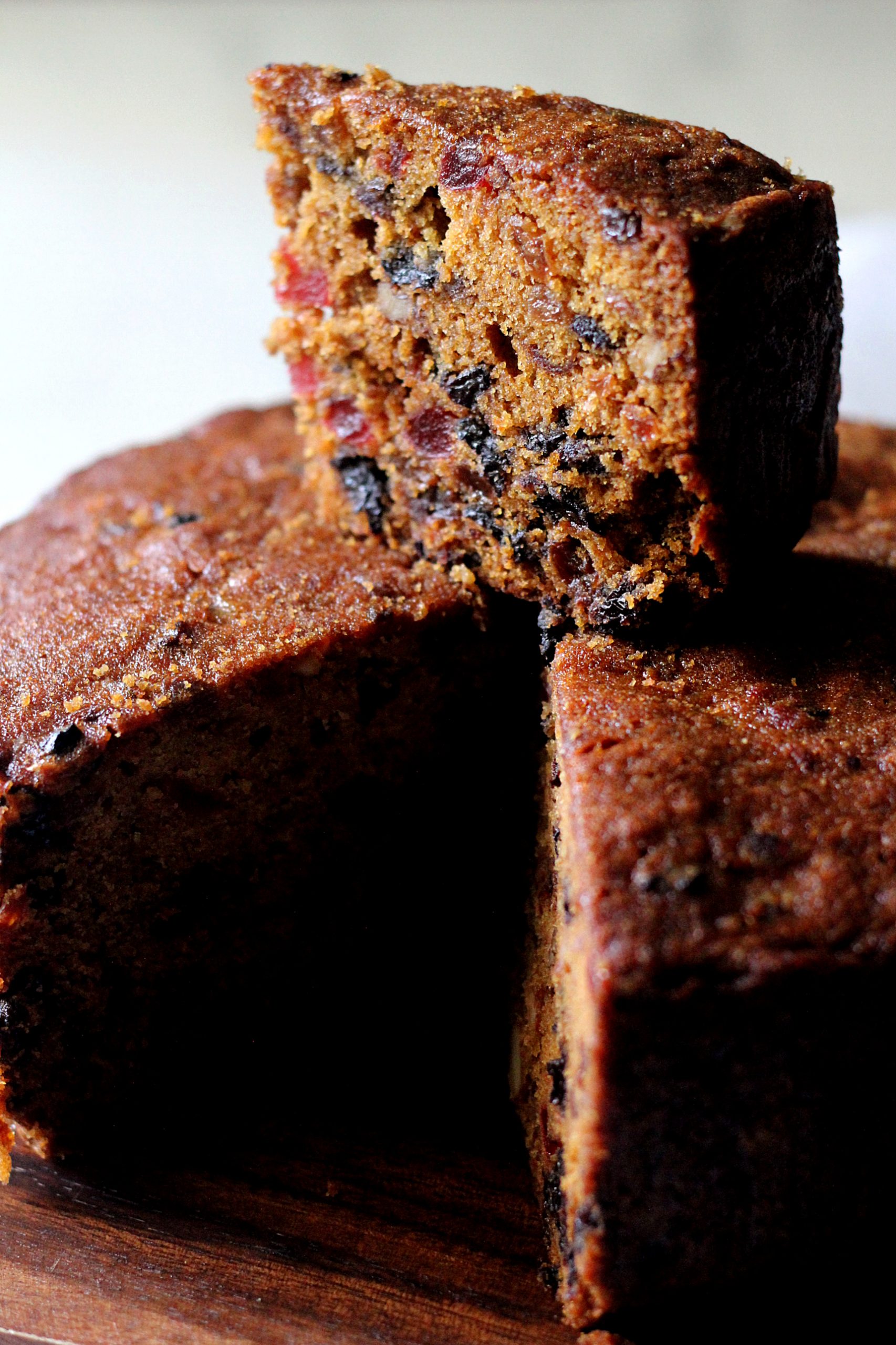 Pin
New here? Subscribe to my free newsletters with my latest recipes!
Tried my recipe? Do leave a comment on this post down below and don't forget to give it a star rating! It will really help more readers discover my recipes! Do share a picture on Instagram and tag me @ruchikrandhap and I will feature your post in my stories!
Don't forget to check out my latest videos on my YouTube channel. If you like what you see, do give me a thumbs-up (like), share & comment and subscribe to my channel so that the gods of YouTube (a.k.a algorithms) recommend my channel to a wider audience with similar tastes and more & more people can discover my videos!
And while you're here, do follow me on Instagram, Pinterest,  Facebook and Twitter. If you'd like to say hello or have detailed queries do send an email at [email protected]. I'd love to hear from you!
Recipes you can try
How to Soak Fruits for Christmas Cake
Easy Christmas Fruit Cake Without Alcohol
Who said fruit cakes have to be boozy to be delicious? Try this super moist and delicious fruit cake recipe that is packed with flavour and contains no alcohol. Perfect for those looking for a non alcoholic and simple recipe
Print
Pin
Rate
Ingredients
To soak the dry fruits:
125

grams

seedless black raisins

125

grams

golden raisins

125

grams

seedless dates

125

grams

candied/glace cherries (rinsed) * see notes

1/2

teaspoon

mixed spice

3/4

cup

(175ml) fresh orange juice
For the batter:
225

grams

unsalted butter, at room temperature

200

grams

caster sugar, you may use soft brown/muscovado too

4

eggs, at room temperature

zest of 1 orange

zest of 1 lemon

2

tablespoons

treacle/black caramel syrup

225

grams

all purpose flour

1/2

teaspoon

salt

1

teaspoon

baking powder

1/2

teaspoon

mixed spice

25

grams

almonds, chopped

25

grams

walnuts, chopped
Instructions
Clean the raisins and chop up all the dry fruits into small bits. Transfer them into a bowl and add the orange juice and mixed spice. Give everything a good mix. Either cover the bowl with cling film or transfer the fruits into a glass or ceramic jar and fasten the lid. Keep aside for 6-8 hours or overnight.

When you are ready to bake, start by greasing an 8" round baking tin with butter and line it with baking parchment. Keep aside.

Preheat oven to 120 C for 15 minutes.

Add about 1 teaspoon of flour into the chopped nuts to keep them from sinking to the bottom of the cake.

In a bowl, add the butter and sugar and beat until pale and fluffy. Now add one egg at a time beating well after each addition.

Add the orange and lemon zest, stir in the treacle/black caramel and mix well.

Sift in the flour, baking powder, salt & mixed spice.

Add the soaked fruits and its liquid. Stir in the nuts rolled in flour. Fold everything together

Spoon the batter into the prepared tin and bake in the preheated oven for 2-1/2 to 3 hours or till the skewer inserted comes out clean. *See notes

Once done, remove and place the tin on a cooling rack for 20 minutes before unmolding the cake. Leave it uncovered till completely cooled.

You can now decorate it as desired with marzipan or just keep it plain. Cut, serve & enjoy.
Notes
If you do not have glace cherries you can use dried cherries. If either is not available you can use tutti frutti or candied citrus peel.

Depending on your oven - the size and type (regular electric/gas/OTG/fan forced/Microwave with Convection) the baking time may vary slightly, so keep an eye out after 1-1/2 hours of baking time. If you feel that the top is browning too fast, cover the tin with a piece of baking parchment or foil provided it does not touch the top heating elements of the oven.

If you like your cake to have a deeper colour you may either use dark muscovado sugar or increase the amount of treacle/dark caramel syrup to about 5 tablespoons (total)
Disclaimer
The nutritional values are only indicative.
Tried this recipe?
Please leave a comment & rate the recipe below or share a photo on Instagram and tag me @ruchikrandhap