On my last trip to the market I picked up a large bunch of Malabar Spinach (Valche Baji) which I split into two portions – one of which was used to prepare a vegetable gravy with black eyed peas (Valchebaji ani Guley) and I wanted to try some spinach cutlets with the remaining leaves. I have the fondest memories of the spinach cutlet as when I was little my sister had taken part in a cooking contest in school and had even won the prize. My most vivid memory of that contest is that she had come out just before the judges came to dig into what each contestant had prepared and handed me one sizzling hot cutlet to taste. Since it was mid morning and I was always a hungry child, I gobbled up that cutlet in no time and it tasted nothing short of delicious. This was more than two decades ago yet my memory of that exact spot where I stood & ate that cutlet still remains fresh in my mind. This was right outside the hall that connected the primary school and high school and housed all the Kannada medium classes. If you have visited/studied at Ladyhill School in Mangalore before the old construction was struck down and made way for the new building, then you will know what I mean.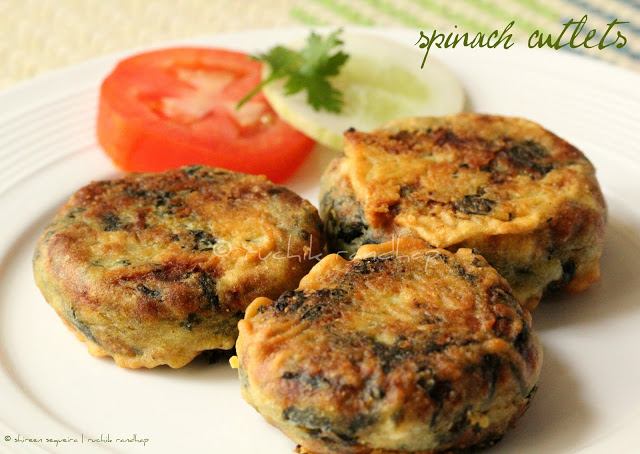 Above pic: Cutlets dipped in gram flour batter before frying
You might wonder why I am correlating the cutlets to my school and the old vs new building. Well, apart from that memory of the cooking contest and the cutlet I ate, maybe it was also by coincidence that whenever we had fancy fetes held by our school in view of raising funds for the construction of the new building a few students were hand picked to bring home cooked snacks and other food stuff to be sold in the snack stalls and invariably someone or the brought spinach cutlet mixture and it was one of the items that always got sold off like hot cakes (hot cutlets, if you please!)
Anyways, cutlets have always remained to be my favourite. In Mangalore, they are often made as an accompaniment to booze (liquor) when men guzzle down a few pegs and munch on the cutlets (usually made of
minced beef or chicken
), however, the spinach cutlets are not too famous, but I think they need a special mention for catering to the pure vegetarians among the guests. Since almost every backyard in Mangalore has its own Spinach growing, Cutlets are a pretty interesting variation of eating it. A cutlet is called as 'Katlis' in Konkani and Katlisaan is it's plural form. Baji is a universal name for Spinach and Malabar Spinach is commonly used to make these cutlets, however you can use any type of spinach. Palak would be the most easily available one, so go ahead & make it!
Above pic: Cutlets dipped in egg wash before frying
Spinach Cutlets
Yield 6 medium size cutlets
Serves 2


You Need:
175gm spinach or beetroot leaves (2 cups approx)
1 tbsp coriander leaves chopped
1 big onion finely chopped
150gm potatoes
1/2 inch ginger finely chopped
1 green chilli finely chopped
5 flakes of garlic finely chopped
1/4 tsp pepper powder
1 pinch garam masala powder
a sprinkling of sugar * see note
1/2 tsp meet mirsang (salt chilli paste) or substitute with red chilli powder
3 tbsp breadcrumbs
1/2 tsp vinegar
2 egg whites or 1 tbsp gram flour (besan)
toast powder (optional)
salt to taste
oil for frying
Method:
1. Wash the spinach leaves and allow to dry. Mince them fine and keep aside (see note). Pressure cook the potatoes with a little salt, peel and mash them well. Keep aside
2. Heat about 1 tbsp oil in a wok or pan and fry the chopped ingredients (onions, 3Gs (ginger, green chilli, garlic) & coriander leaves) and when they turn pale add the minced spinach leaves and fry till the leaves are cooked.
3. Add pepper powder, garam masala powder and salt chilli paste and mix well. Add sugar, bread crumbs, salt & vinegar, mix some more & then add the mashed potato. Mix well and remove off the flame.
4. Once the mixture has cooled off a bit, form into balls using a little toast powder and flatten into round shapes, dip in gram flour batter and fry on both sides till golden brown

Note:
1. Make sure that the spinach leaves are completely dry before using. They leave a lot of water by nature and you don't want your mixture to turn soggy/watery because of freshly washed & undrained leaves.
2. Don't let the mention of sugar in cutlets scare you away. It actually makes the cutlets more flavourful and helps tone down the spice (especially of green chillies) which can otherwise give out a very raw spicy taste to the cutlets. However, you may skip the sugar altogether if you do not wish to put it.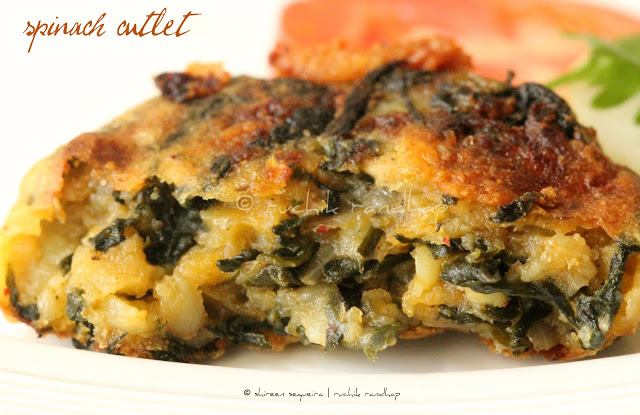 Pin
Updated Post – May 5th, 2014 : Beetroot Greens Cutlets