How many of you have the Christmas hangover like I do? Well, it's not the usual hangover that one tends to have after a night of partying hard. I am talking about the post festive season blues. Come January, the days seem long and dreary with nothing much to do except put away the Christmas tree, decoration and cards and just get back to the grind.The other part about post Christmas blues is to actually assess the food stuff/ingredients on hand and put them to good use. If you are the kind who has plenty of visitors who come with goody bags, then you have to find a way not to trash it when you can't finish it alone. Secondly, you also need to put away the extra nuts and dry fruits that you may have received as gifts or have bought to make that cake or dessert – a plan which eventually got chucked as the days got busier. Well, this is something that happens in my house all the time. Not just during the festive season but almost the whole year round. So most times I end up looking for recipes that make use of ingredients that were intended for some other purpose altogether.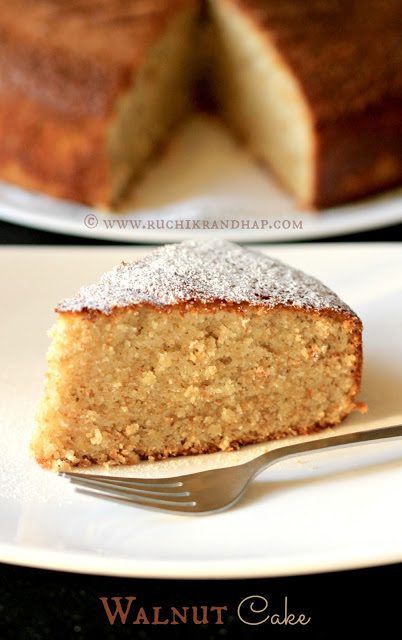 Pin
A couple of weeks ago when I went through my pantry and gave myself a hi-five that a bagful of pistachios were almost finished, I saw a small pile of walnuts that were threatening to go rancid if I didn't use them up soon. I flipped through all my cook books in search for a recipe that would need a good amount of walnuts to be added and not just a tablespoon or two.
Unsuccessful at my attempt to find anything decent in the books I turned to my best friend Google, to cough up a good recipe. To my dismay even a thorough Google search didn't result in anything satisfactory – no plain walnut cake recipes popped up that day. Zilch. It was either coffee-walnut or chocolate-walnut or such. Eventually I came across this gorgeous looking recipe which also calls for orange juice which I abandoned. Feel free to use the original recipe, it's a winner anyways.
I thoroughly enjoyed the experience of baking this cake and totally loved the taste. More than anything I enjoyed the photo session where I raced against time to capture a few good shots before sun down (cuz I normally do my photo shoot in the mornings) – I just figured out different places in my house that give a different look to the pictures. I hope you enjoy viewing the photos just as much as I loved clicking them.
The cake didn't last even half a day and is going to be one the cakes on my list of cakes to be baked during Christmas. I am definitely trying this one again. However the cake doesn't keep well too long at room temperature, so if you intend to keep it for longer (well, if it lasts that long!) make sure you store it in an airtight box and pop it in the fridge.
About the dish
This cake tastes nuttylicious! I have replaced orange juice with plain milk. Serve it plain or with whipped cream or a sprinkling of icing sugar. Tastes wonderful when eaten warm and is a great tea time accompaniment.
Walnut Cake
Prep time: 20mins | Bake time: 50mins | Serves 8 (makes one 9″ cake)
You Need
1-1/2 cups / 150gms chopped walnuts
1 cup / 115gms all purpose flour / maida
1 tbsp baking powder
4 large eggs
1 cup/200gms granulated sugar powdered * see notes
1/2 cup milk
1/2 tsp zest (grated skin) of a lime * optional
1/2 cup olive oil
1 tsp vanilla extract
a pinch of salt
Method:
1. Preheat oven to 175°C/350°F. Grease and line a 9-inch pan with parchment. Transfer the chopped walnuts into a food processor/dry grinder and pulse 2-3 times till the nuts resemble bread crumbs. Take care not to grind them for too long as they will turn into a paste.
2. Sift the flour, salt and baking powder and add it to the ground walnuts and mix well. Keep aside.
3. In a large mixing bowl beat the eggs until frothy (whisk for about 2 minutes preferably with an electric whisk)
4. Gradually add the sugar, beating until the mixture looks pale and thick – for about 4 minutes. Add in the walnut-flour mixture a little at a time and mix. Add the milk, lime zest and olive oil and fold. The batter will seem a little runny which is okay.
5. Pour the batter into the prepared pan and bake for about 50-60 minutes or until the skewer inserted comes out clean. Remove and place the tin on a wire rack for 10 minutes, unmould and cool completely.
6. Dust the cake with icing sugar before serving. Enjoy it warm or cold with whipped cream or just as it is.
Notes:
The original recipe asked for 1-1/3rd cups of sugar which works out to approx 250gms. This results in a cake that is a tad too sweet for my liking. I would suggest you use just 1 cup granulated sugar and then powder it. The cake will taste just perfectly sweet – not too sweet.
If you are using readily available caster sugar please use your judgement according to the level of sweetness you desire.