Let me begin my post with a statutory warning! Vegetarians beware! And those of you who think eating anything apart from the flesh from the visible parts of a bird or animal is unthinkable or next to offensive, stop right here!
For those of you who think this is an exotic unheard of dish or the tasted-a-million-times and love it dish, let me tell you that I belong to both the categories. Bokryachi Boti (let us call it simply 'boti) was an unheard of exotic dish (only for me although my family had eaten it) till I got married and after that I've had it a lot of times at my in-laws. The only reason why my mum-in-law still continues to slave over this Mangalorean delicacy is because R simply loves it. So each time we visit Mangalore, among the other specialities, the Boti curry finds its way on the 'to-make while they're here' list. It must be noted that in Hindi, Boti simply means tiny pieces (usually of meat), however, in Mangalore, it is actually a collective term for Tripe.
Not too many people make it at home any more as simply put 'Tripe' is nothing but the intestines of the Sheep and includes the stomach and cleaning it is a big task that involves a huge chunk of time and loads of effort. So what may sound offensive to some is actually a delicacy amongst Mangalorean Catholics with a lot of die hard fans of the Boti. Traditionally the cleaning of the Tripe was done at the washing stone which usually has access to plenty of water. Plenty of 'cleaning' ingredients ranging from Chuna/Suno (Edible Lime powder), bay leaves, cinnamon, cloves and salt were used along with boiling hot water to wash the intestines sparkling clean and devoid of odour. Today, due to space constraints and lack of gardens/yards or washing stones, people find it difficult to clean it at home and in India, the cleaning done by the butcher is not up to the mark unless you are able to find it at  supermarkets with some standards. I am assuming it is available in a 'pristinely' clean condition abroad.
Last week R & I were making a list of our favourite Mangalorean foods which are dying a slow death, we thought we must include the Boti and try it at home if we chance upon it at the Butchers. Just like in Mangalore where you need to book the Boti in advance, we managed to do the same here at the Andheri market which is to us what the Vodli market at State Bank (a place named after the head office of the Bank) is to Mangaloreans living in Mangalore. Since I had never tried my hand at cleaning the Boti, my man did the honours (did I tell you he's a great cook himself?) and spent a good 1-1/2 hours cleaning the spare parts to a bright Ujjala white! His madame then spent the next 45-50 minutes grinding the masala, boiling the lentils and putting this amazing dish together! I must tell you that we both enjoyed our experience doing the work we had split between us and proclaimed to each other that – boti ki kasam, we would do this once again! Next time we'd bring more Botis and clean and freeze it for later (who wants to do the hard work over & over again?) 
If you have never tasted it, let me describe it for you – it's a little chewy but tastes awesome along with the chana dal and a spicy coconut-y creamy gravy. Perfect for a special Sunday afternoon!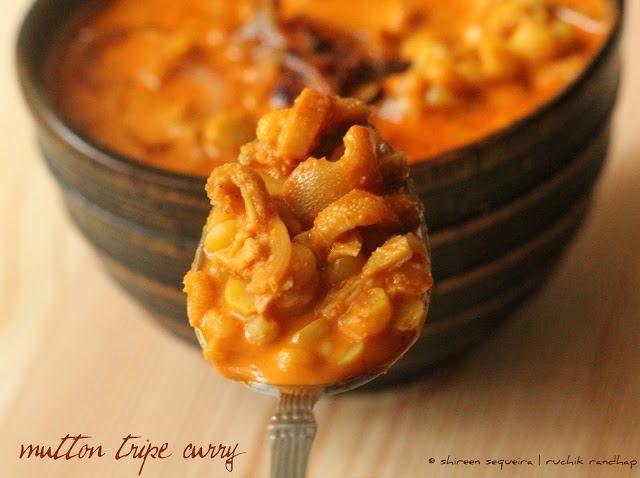 Pin
Mutton Tripe Curry (Botyechi Kadi)
Serves: 4-6


You Need:
1 Tripe
125gm chana dal
salt to tase
ghee 2-3 tbsp
1 cup thin coconut milk
2 cups thick coconut milk
For the masala
3/4th cup grated coconut
8 long red chillies (Kumti/Bedgi) *see note
7-8 peppercorns
1 tbsp coriander seeds/dhania
1 tsp cumin/jeera
1/4 tsp turmeric/haldi
1/2 inch ginger
1 small ball of tamarind
For the shindaap (cuttings)
1 medium size onion
2 green chillies
1 small pod of garlic (around 8-10flakes)
For the tempering/seasoning
1/2 onion sliced fine
ghee or oil
Method:
1. Clean the tripe with lots of freshly boiled water and remove (scrape) the outer skin with the help of a knife. Clean the insides thoroughly with plenty of salt, bay leaves, cinnamon & cloves. Wash multiple times in fresh cool water till all the odour vanishes. Pressure cook with bay leaves, cloves and cinnamon and the ingredients mentioned in 'For the shindaap' . Remove and allow to cool and cut into small pieces. Keep aside (discard the bay leaves, cloves & cinnamon)
2. Cook the chana dal in plenty of water till well cooked but not mushy (soft enough to bite)
3. Heat some ghee in a heavy bottomed pan and fry all the ingredients mentioned under 'For the masala' one by one (separately). When they have sufficiently cooled, grind to a fine paste using a little water.
4. Add this masala back to the pan and the masala water from the mixer jar to form a thick gravy. Add the tripe pieces, mix well. Add the thin coconut milk and the precooked chana dal and boil for 2 minutes (or lesser, depending on how much the dal has cooked -don't allow it to turn mushy). Finally add the thick coconut milk and bring the gravy to a rolling boil, leaving the pan uncovered. Season it with 1/2 onion sliced fine and turn off the flame
5. Serve hot with steaming white or brown rice