It's Blog Hop Wednesday once more and I am amazed at how time flies these days – yeah, I say 'these days' because I was absolutely certain that once my son started school I would have the whole morning to myself to spend it as and how I wished. But I was so wrong! I have crammed up my mornings with a whole bunch of things to do which require an active brain to do all the thinking, analysing & planning that it leaves me no time for anything else. I have to literally follow a strict time table each day in order to accomplish & strike off the tasks on my To-Do list. Which is why I guess the days roll by so quickly and before I know it, it's the weekend and that passes by ever so quickly and what do you have? Another Wednesday! But then, I am not complaining as every alternate Wednesday I participate in the Blog Hop Wednesdays – an event hosted by Radhika of Tickling Palates. Participating bloggers are paired with each other and have to try a recipe from each other's blogs. This is my fourth blog hop out of five and I am enjoying them thoroughly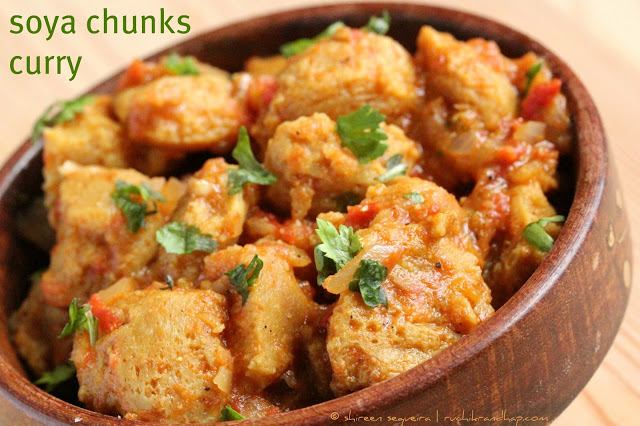 Like I mentioned in the previous Blog Hops where I tried
Aate Ka Halwa
,
Methi Pulao
and
Crispy Rice Stuffed Croquettes
 from different blogs, Blog Hopping has given me the opportunity to break myself from hum drum cooking and try out new things which I may never have tried before. I see myself incorporating a lot of vegetarian recipes in my meal plans as I have collected a treasure trove of vegetarian recipes from these Blog Hop events.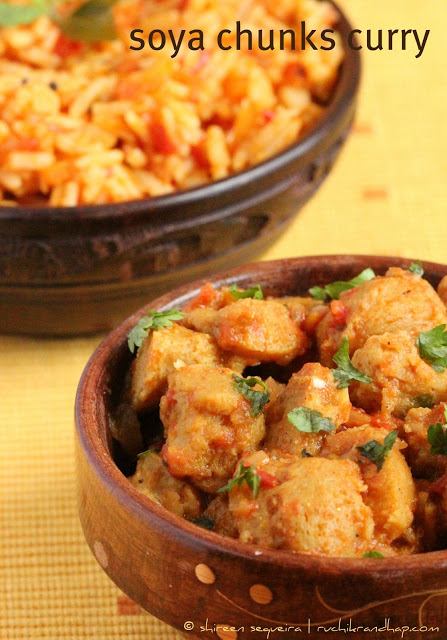 Pic Above: Soya Chunks Curry served with Tomato Rice (Recipe to follow)


When I Blog Hop I usually bookmark recipes that I have either never eaten before or those that make use of ingredients that I have never had the opportunity or the inclination to use in my cooking. This brings me to the main ingredient in today's post – Soya. A few years ago, I fled at the mention of Soya in my food. Honestly, I don't even recall where I ate it, I do remember that I ate it a long long time ago and never took to liking it much. A couple of years ago, I decided to introduce all such foods shunned earlier by R & me into our diets. Maybe marriage & motherhood does that to us women, we suddenly want to eat & feed healthier things to our families knowing that their health is in our hands. I tried
Soya Granules Sabzi
from Sanjeev Kapoor's
Khazaana of Indian Recipes
and R & I loved it so much that I make it every so often for breakfast as an accompaniment to chapathis.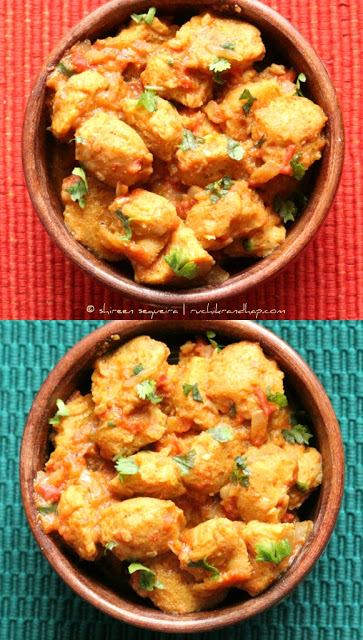 Since I had never tried my hand at cooking Soya chunks, I was delighted to find the recipe in my blog hop partner for this week – Nisha's blog
Nisha's Kitchen
. They say Soya in it's chunky form is to a vegetarian what chicken or mutton is to a non vegetarian. I could never believe that the chunks actually tasted like meat until I tried it myself. I guess the secret in making Soya chunks taste like a non vegetarian dish is adequate soaking of the chunks in warm salted water and of course the blend of spices in the masala.
Soya chunks can be cooked in a variety of things, whether it's a pulao, a gravy or a dry dish. I made this dish in a semi gravy form, but didn't add all the gravy into the bowls while clicking the pictures as I didn't want to drown the chunks in it! So yeah, it looks like a dryish dish.
Soya Chunks Curry
Serves: 2-3
You Need:
1 cup soya chunks
1/4 cup finely chopped onions
1-1/2 tsp ginger garlic paste
1/2 cup finely chopped tomatoes
1/2 tsp lime juice (optional)
1-1/2 tsp coriander powder
1/2 tsp red chilli powder
1/4 tsp cumin powder
1/4 tsp garam masala powder
1/4 tsp turmeric powder
1 tbsp oil
salt to taste
For garnishing
1 tbsp finely chopped coriander leaves
Method:
1. Wash the soya chunks and soak them for 15 minutes in a bowl of hot water mixed with 1/4 tsp turmeric powder & salt to taste. Pressure cook the chunks in the soaked water for about 2-3 whistles. Keep aside.
2. Heat the oil in a wok or pan and fry the onions till translucent. Toss in the ginger garlic paste & fry for a minute. Add the chilli & coriander powders and mix well. Add the chopped tomatoes, mix, cover & cook on a very slow flame till the oil starts to separate and tomato is well cooked.
3. Add the precooked soya chunks and 1/2 cup of water (you can use the water from the pressure cooker), garam masala and a few chopped coriander leaves. Check salt to taste. Simmer & cook for another 5-7 minutes, ensuring that all the water doesnt dry up.
4. Garnish with finely chopped coriander leaves and serve hot with rice or chapathis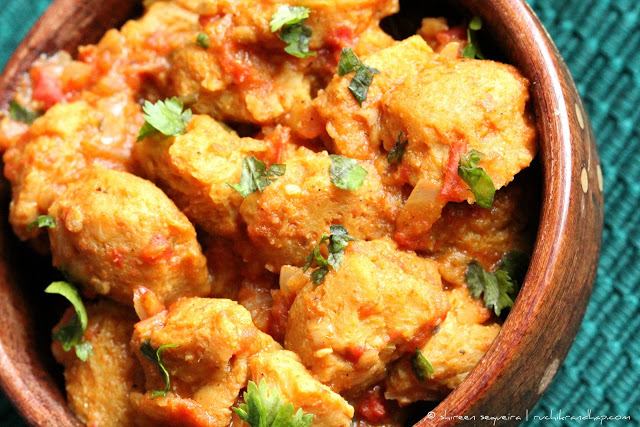 Pin