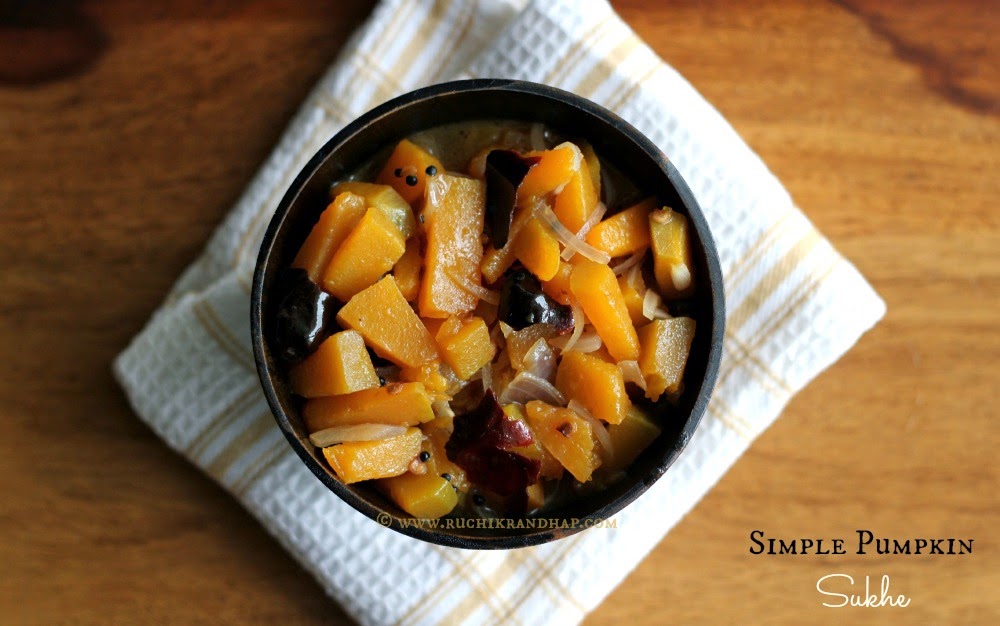 Last month when I was at my in-laws' in the midst of her mid morning cooking session she asked me if I knew how to cook this simple pumpkin dish. I quickly dropped whatever I was doing and bolted to the kitchen and said that I wanted to learn. It was raining cats and dogs outside and I had this warm fuzzy feeling inside me telling me that lunch that day was going to be a delicious one. There was red boiled rice kept in the hot box waiting to be strained, there was an awesome
prawn & potato curry
still bubbling on the stove and some breadfruit marinated with
meet mirsaang
(salt & chilli paste) waiting to be shallow fried. Lunch was going to be awesome. I was already salivating. I was starved and couldn't wait to eat.
As always I welcomed the idea of having a simply prepared vegetable along with this gorgeous spread. I am quite a vegetarian at heart if you ask me as I prefer having my veggies any day so that way I am low maintenance. I don't need fancy non veg food for sustenance. The recipe seemed so simple that I was really eager to taste the final outcome. In the snap of a finger I was done making this dish and in no time the pictures were shot and food was served. I had a good meal that day followed by an afternoon siesta. Sigh! I miss my vacation already.
I hope you enjoy this very simple, no nonsense, easy pumpkin saute/stir fry or sukhe (but without coconut) as we call it.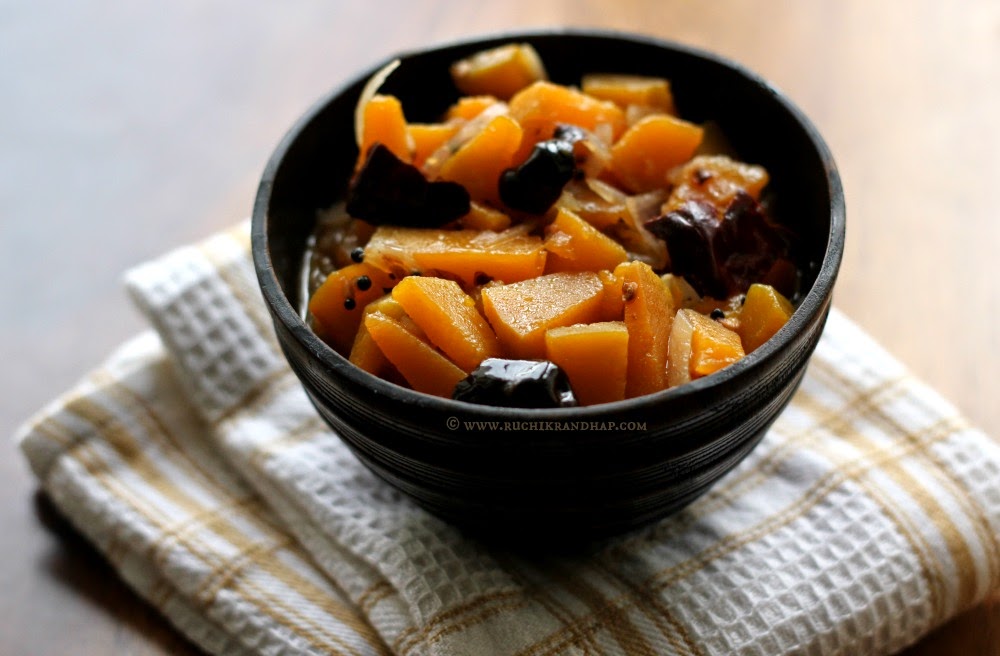 Simple Pumpkin Sukhe
Prep time: 15 mins | Cook time: 10 mins | Serves 2-3
Ingredients:
1-1/2 cups thinly chopped pumpkin
1/2 medium sized onion finely sliced
water as required
salt to taste
For the tempering:
1/2 teaspoon mustard
2 dried red chillies (I used the round ones also called as Madras chillies)
2 tablespoons oil
Method:
1. In a heavy based pan/kadhai heat the oil. When the oil is hot add the mustard and wait for them to splutter. When they stop spluttering toss in the broken red chillies. Reduce the heat and let the chillies sizzle for a few seconds. Take care not to burn them (they will impart a bitter taste to the dish)
2. Next, add the sliced onion and fry until they turn pale/translucent. Now add the chopped pumpkin and add enough water to cover the pieces.
3. Add salt to taste and cook covered on a medium low heat till all the pieces are cooked and tender.
4. Remove from heat & serve hot with rice or chapathis.