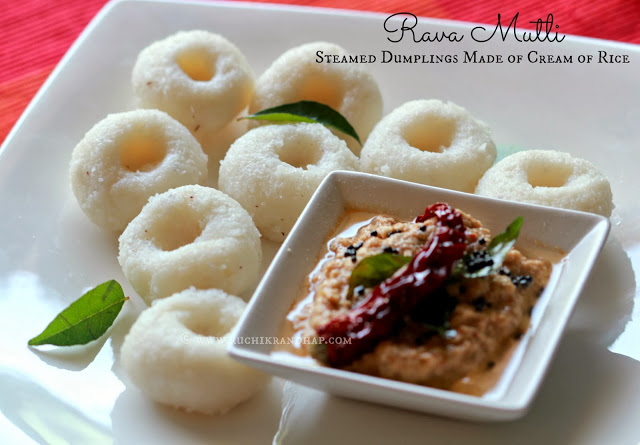 Breakfast – the most important meal of the day is also my favourite part of day. I fancy good breakfasts and I guess if my day has started off early I don't mind slaving over dishing out a good hearty breakfast. South Indian breakfasts always score above the rest in my house, but then they are also tedious to make from scratch. Long hours of soaking, grinding, fermenting, frying/steaming are part of almost every kind of breakfast item that gets devoured in minutes. So yes, sometimes it is pretty discouraging to even dive into this process.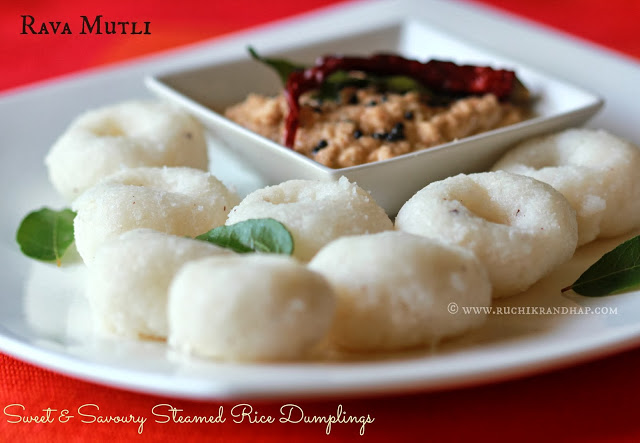 During such times the rava dumplings come to my rescue. Ready made rice rava (not wheat rava/sooji) is available in most stores and you can make these dumplings in a jiffy. Trust me, this is one of the easiest and healthiest breakfasts I can think of. Steamed foods are any day better than their fried/deep fried counterparts and this mildly sweet & savoury version goes well with a savoury accompaniments like chutneys or sambhar but also with honey or ghee & sugar (a combo that is pretty famous in Mangalore).

The best part about these dumplings are that they can be refrigerated for a couple of days and just steamed once again before serving – this instantly freshens and softens them up making them look & taste brand new! So yes, you can make a batch and serve them for a couple of days if you are lazy like me 🙂 But don't be too lazy and microwave them as they will harden and you will ruin the texture (hard to swallow types)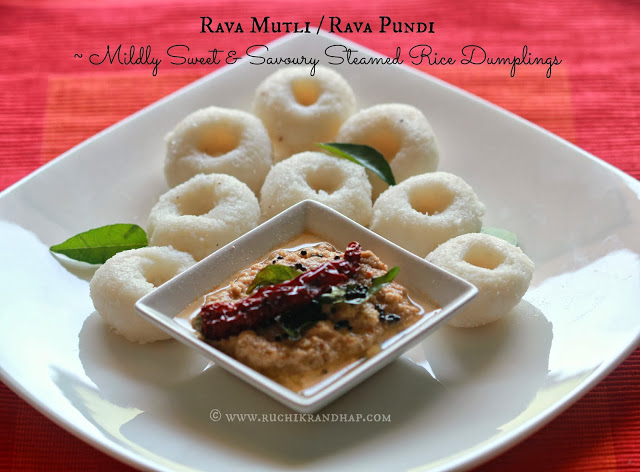 Rava Mutli
Prep time: 10 mins | Steaming time: 15-18 mins | Yield: 12-14 lime sized mutli
Ingredients:
1 cup fine rice rava (cream of rice)
1/2 cup grated coconut
2-1/8 cups water (or a little over 2 cups)
1 tbsp sugar (adjust to taste)
1-1/2 level tsp salt (adjust to taste)
Method:
1. Prepare the steamer: place sufficient water in a idli/dhokla steamer and bring the water to a boil. Keep it ready
2. In a heavy based (or non stick) saucepan bring 2-1/4 cups of water to a boil. Add the salt & sugar to taste, stir to mix and then gently add the rice rava and stir the mixture continuously with a long ladle (or wooden spoon *see notes) to avoid lumps from forming. Reduce the heat to a medium. Add in the grated coconut and continue to mix well.
3. The mixture will appear to be too smooth and paste like but don't worry, it will thicken as the rava & coconut cook and also after steaming. When the mixture begins to leave the sides of the pan, remove it from the heat and transfer onto a plate. Allow to cool for half a minute.
4. Dabbing your fingers in a bowl of water at room temperature quickly pinch out lime sized portions of the rava coconut mixture and roll them into balls. With your thumb, form an impression in the centre of each dumpling making it look like a dimple.
4. Line a steel plate (that fits comfortably inside the idli steamer) with muslin cloth and place the dumplings on it. Cover them with a portion of the cloth and place the plate inside the steamer. Cover & steam for 15-18 mins. To check doneness, poke a knife through a dumpling, if it comes out clean (or with crumbs) it is done. If it is sticky and paste like, continue to steam for another 5-6 mins.
5. When done, remove carefully so that the steam within the idli steamer doesn't make the dumplings soggy. Serve hot with chutney, sambhar, ghee & sugar or honey.Notes:
Use a long-ish spoon to stir the mixture as the heat from the steam may burn your hands. Wooden spoons are best as a steel one will get heated up quickly.