In the past four odd years of blogging I have attempted to cook and eat many many things that I probably never would have. Many meals have been consciously planned and many I have just chanced upon. Last year I had hired a lady to help me with my household chores during a couple of months before and after my delivery. She brought with her many recipes and cooking tips that helped me sharpen my cooking skills a bit. Having her around 24×7 (she was my live in domestic helper) meant loads of discussions of food from around the world,
flipping through cook books, planning meals for the week, trying out new dishes, especially sweets (her favourite) and food local to where she came from (stuff I had only heard about but never had the chance to eat). She introduced me to ingredients & dishes I probably may not have tried to experiment on my own. One such dish is this simple side dish made from dill leaves.
Dill leaves are something I had only heard about, used in foccacias (a kind of Italian bread). I had never eaten the desi version of these leaves and I probably would have never tried if it was not cooked by someone who did a good job at it – it tasted so good that I fell in love with it.
Dill is one of the top rating dishes served to new moms as it is known to aid lactation. Hence I ate it in abundance after my babe was born. However, since it has a very strong aroma of fennel (saunf) a lot of people including Roshan were put off by it and went as far as serving himself just one leaf – haha! However, I enjoyed every bite of it – eaten with chapathis or rice & a simple rasam. Bliss indeed!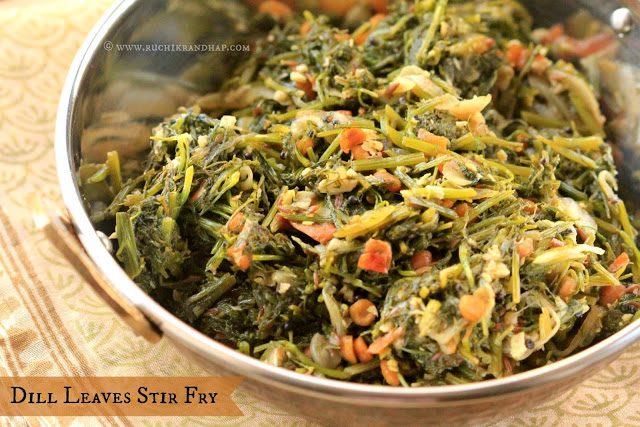 Pin
Dill is known as sabsige soppu in Kannada. In Mumbai it was found by the local names shepu, suva or even soya bhaji (although soya is different). My blogger friend Sangeeta Khanna says it is also known as 'Soa' bhaji which I presume veggie vendors misprounounce as 'soya' (which is totally different). Thanks Sangeeta 🙂
The leaves when fresh are nice, perky & very aromatic. Try to get a fresh bundle if you can . On some days I made innumerable trips to the bhajiwaala (vegetable vendor) to fetch my fresh supply. By the way, enjoying this dish is not just limited to new moms. Men and women, people of all ages can eat it & benefit from this aromatic herb!
Shepichi Baji ~ Dill Leaves Stir Fry
Prep time: 15 mins | Cook time: 10 mins | Serves 2-3
You Need:
2 small bunches or 2 firmly packed cups of dill leaves and tender stalk
1 medium sized onion sliced
1 medium-big tomato chopped
1 small green chilli slit (adjust to taste)
1 tablespoon Bengal gram (chana dal)
1/2 teaspoon cumin (jeera)
1/2 teaspoon mustard
pinch of turmeric
1 tablespoon grated coconut
2 tablespoons oil
salt to taste
Method:
1. Pick the dill leaves and tender stalk and wash in 2-3 changes of water. Allow to drain all the excess water or pat the leaves dry with a clean kitchen towel. Roughly chop the leaves and keep aside.
2. In a heavy based pan/kadhai or non stick pan heat the oil and toss in the mustard and when they splutter add the cumin and reduce the flame to a medium. Fry for a couple of seconds.
3. Add the chana dal and fry till it  turns pale golden in colour (do not allow it to burn). Toss in the slit green chilli and sliced onions and fry till the onions turn golden pink. Add the turmeric powder, chopped tomato and and continue to fry till the tomatoes turn a bit mushy.
4. Add the dill leaves and a little less than 1/2 cup of water (if you have drained the leaves well – else just sprinkle a little water if required), mix well and salt to taste – remember not to add too much salt as leafy greens wilt quickly (reduce in quantity) and taste awfully salty later. Cover and cook on a low flame for about 7-8 minutes or till the leaves are almost cooked. Toss in the grated coconut and allow it to come to a boil – for about half a minute. Turn off the flame.
5. Serve hot as a side dish with rice or chapathis