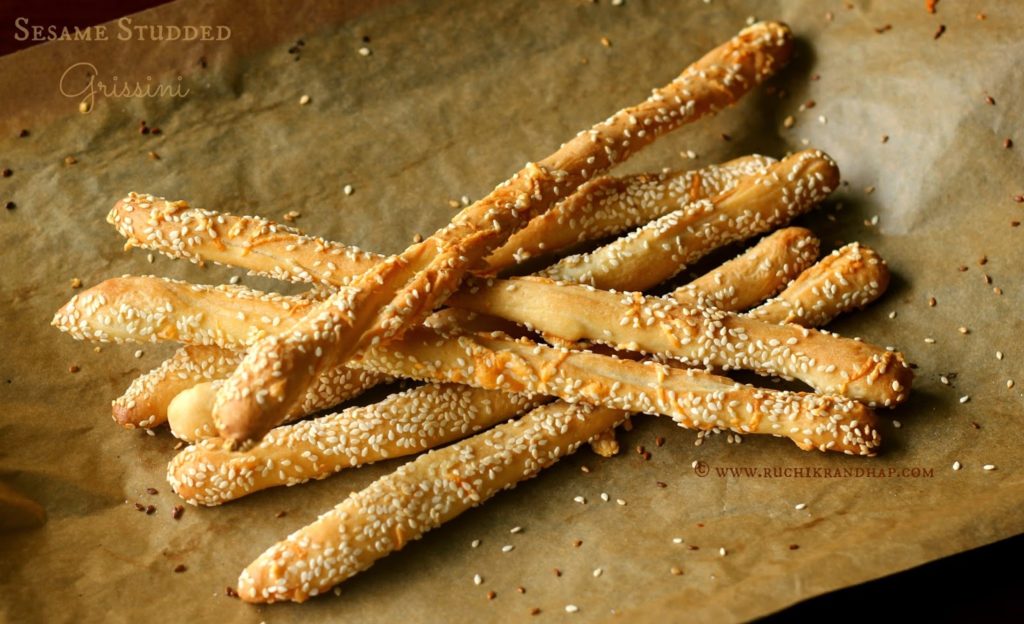 It's time for another bread but this time the bread has taken a different shape! The word 'bread' typically brings to mind a typical loaf, ready to be sliced and slathered with butter or jam. The world would be such a boring place if people didn't go beyond a loaf isn't it? Thank God for people who thought out of the box and tried their hand at making something different like these breadsticks for example. Early this month I joined a new baking group called the '
Bread Bakers
' hosted by Stacy Livingston Rushton of
Food Lust People Love
. Bread Bakers is a delightful little group of enthusiastic bakers who bake a new bread based on a theme every month. Do read more about this group at the end of this post.
This month's theme 'Seeds' is selected by Karen of 
Karen's Kitchen Stories
 and I chose to work with sesame. The flexibility that we are given to select a bread helped me go on a joyride of recipe hunting and Oh boy! did I have fun! I came across so many different types of bread that I had a tough time selecting one. I thought these breadsticks were pretty interesting as they were not only fun to make but were also thoroughly enjoyed by my kids. Not just that, the Grissini has an interesting history behind it. While it can be traced back to the Piedmont region of Italy there are two versions to its origin. As per oral tradition, in the year 1675, the young duke of the House of Savoy, Vittorio Amedeo II di Savoia who was nine years old was seriously ill. Since he was a frail child since birth and having suffered from intestinal disorders he was particularly unable to digest heavy food and so his mother asked the court physician to find a remedy to feed her son.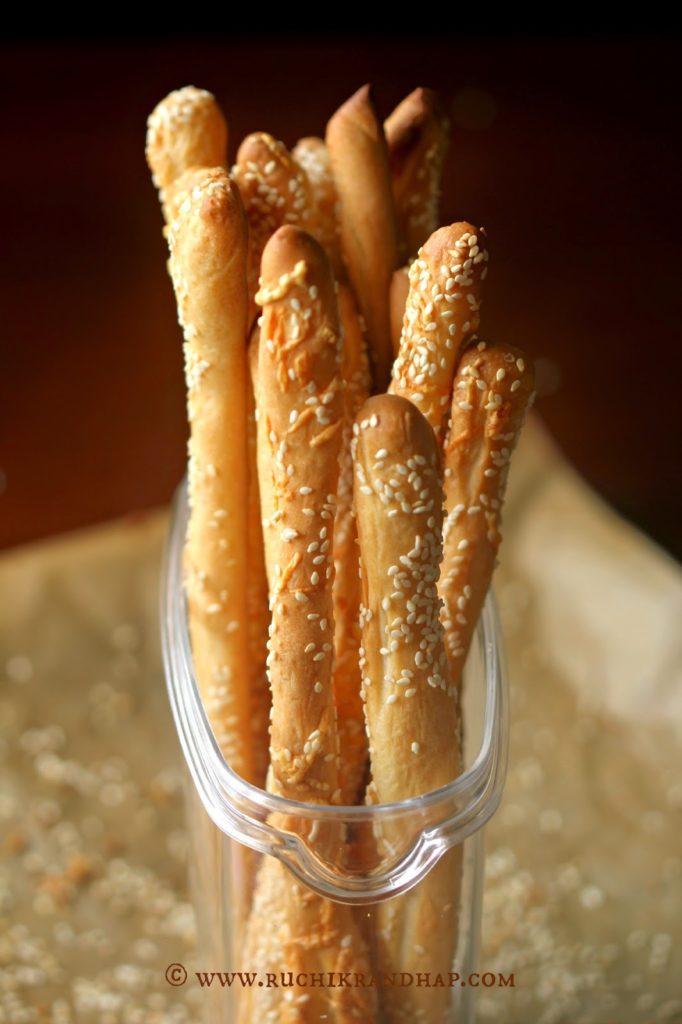 The physician fell back on his own experiences with intestinal disorders which was set right by his mother's bread which was a well leavened and crisp bread (a crisp bread with little crumb ensured that food poisoning from pathogenic intestine germs present in regular bread as ruled out). The bread was recreated by him and the little duke recovered and went on to become the first Piedmont king in 1713. The crisp grissino continued to be the bread of preference by the whole Savoia household and soon enough became popular among the commoners as well.
However, historic records also show presence of this bread much before this duke took his first bite of the grissini. It is believed to have been created by a Florentine abbot in 1643 in Turin that was supposed to be 'as long as an arm and as thin as dead bones'. The true story of its origin is something we will never know but what we do know is that today it is enjoyed across the world as a snack or an accompaniment to soup.
I made them in two batches, one with a little grated cheddar coating along with the sesame and another with just sesame – both of them tasted marvellous and were finished off mostly by my son with a few nibbles spared for me. The toasted sesame that fell off the grissini is what I still enjoy munching on – that tastes delicious as well. This is something for you to try on a boring afternoon to help perk your mood!
Click this image to save this recipe on Pinterest!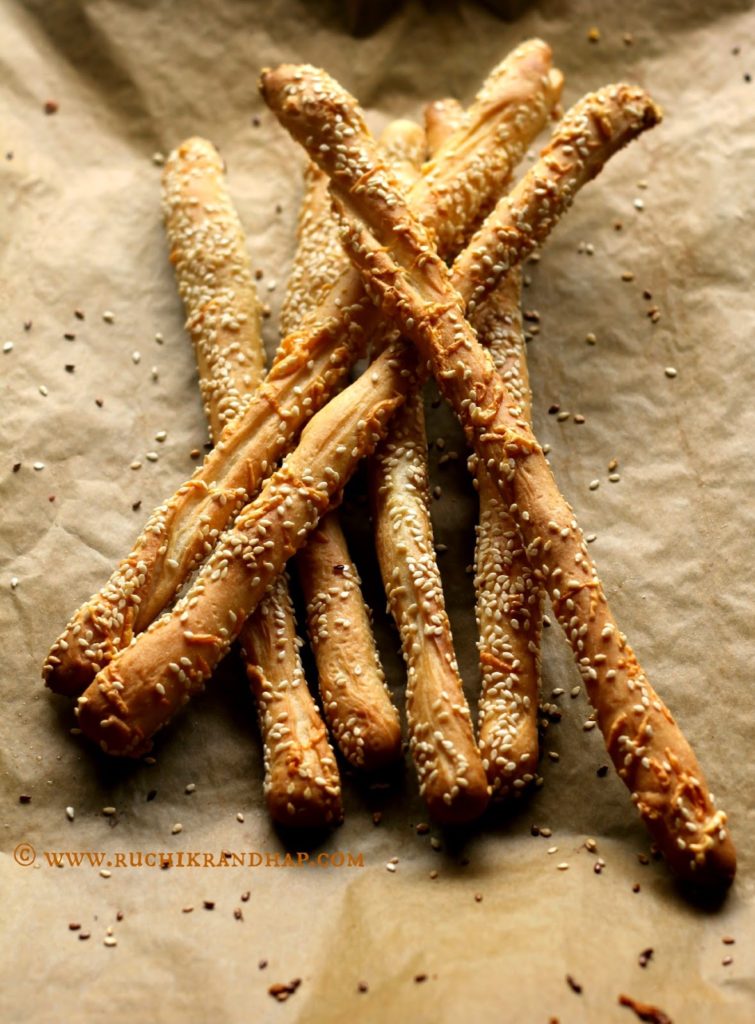 Pin
Adapted from: The Bread Bible by Christine Ingram and Jennie Shapter
History of Grissini from thenibble.com
#BreadBakers is a group of bread loving bakers who get together once a month to bake bread with a common ingredient or theme. This month's theme is Seeds, and his hosted by Karen of
Karen's Kitchen Stories
. Follow our Pinterest board 
right here
. Links are also updated each month on this 
home page
. We take turns hosting each month and choosing the theme/ingredient. If you are a food blogger and would like to join us, just send
Stacy
an email with your blog URL to 
[email protected]

.
Don't forget to check out the rest of the delicious breads with seeds:
Sesame Studded Grissini (Breadsticks)
Sesame Studded Grissini (Breadsticks) are a delightful snack option especially for little kids. Easy to make and yummy to eat!
Print
Pin
Rate
Ingredients
225

grams

white bread flour

1

scant teaspoon

salt * see notes

1-1/2

teaspoons

instant yeast

1/2

teaspoon

sugar

135

ml

(2/3rd cup) lukewarm water

divided

30

ml

(2 tablespoons) extra virgin olive oil plus extra for brushing

1/2

cup

sesame seeds

for coating

grated cheddar or parmesan cheese

optional
Instructions
In a bowl mix 4 tablespoons of lukewarm water (out of the 2/3rd cup) and the instant yeast and sugar. Keep aside for 10-12 mins until the mixture turns frothy. If it hasn't then discard and start all over again with a new package.

Meanwhile sift the flour and salt into a large bowl and make a well in the centre. Add the frothy yeast mixture and olive oil and mix. Add the rest of the lukewarm water in parts and keep kneading until you get a smooth dough. Turn it onto a lightly floured surface and continue to knead for 8-10 mins till smooth & elastic.

Now, roll the dough into a 6×8″ rectangle, brush with olive oil and cover with a plastic film/cling wrap and leave in a warm place until it doubles in volume. When the dough has doubled preheat the oven to 200 C. Line two baking sheets/trays with baking parchment (butter paper) or lightly oil the trays.

Cut the dough into two equal parts (3×4″ rectangles) and then each rectangle into 10 strips of approx 3″ each. Stretch each strip gently until it is 12″ long.

Spread out the sesame (and the cheese if using) on a large plate and roll each strip in it till well coated (press lightly while coating so that the seeds stick to it or else they will fall off once baked – however make sure to maintain the shape of the dough)

Place the grissini, spaced well apart on the prepared baking trays and bake for 15-20 mins until golden – keep an eye out as they brown quickly after 14-15 mins. Remove and cool completely on a wire rack.

Store in an airtight container and serve as a snack with a dip or along with soups
Notes
1. Reduce the amount of salt by half if you are using cheese as cheese contains salt and you don't want extra salty breadsticks 2. To make rolling (into the sesame) easier, hold the strip of dough in a  'U' shape and pat into the seeds a couple of times till well coated on both sides
Nutrition
Nutrition Facts
Sesame Studded Grissini (Breadsticks)
Amount per Serving
% Daily Value*
* Percent Daily Values are based on a 2000 calorie diet.
Disclaimer
The nutritional values are only indicative.
Tried this recipe?
Please leave a comment & rate the recipe below or share a photo on Instagram and tag me @ruchikrandhap