So I've been trying out a lot of dishes lately. Most of them are in preparation of the upcoming Christmas season – well, that's just a clue for you, I won't divulge in more details as I am waiting to post those recipes from Dec 1st onwards. For now, I will post the recipe of one of the by-products of an ingredient. No prizes for guessing that I am talking about the Raw Banana here.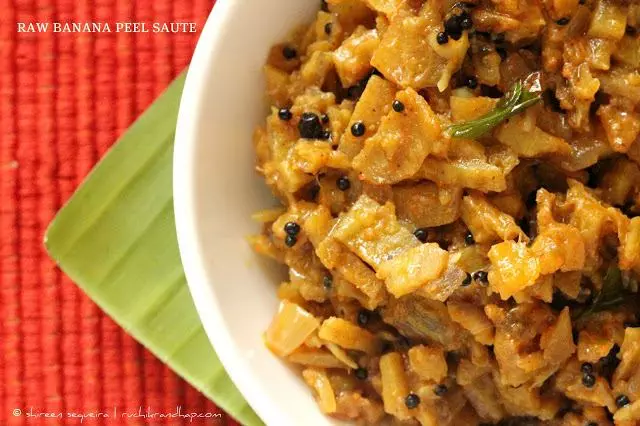 Isn't it nice when you try out something for the first time and realise that you can actually get two dishes for the price of one? Well, I set out to make something out of raw bananas and just when I was going to throw the peel my hubby made his grand entry into the kitchen as said he could make a quick dish out of the fleshy peels. "Eh?" I exclaimed, not because I was surprised that one could put the peels to good use but because I was surprised that he would be actually cooking that day (doesn't happen too often these days). Maybe I inspire him! Hehe. Ok, so he donned his virtual apron and quickly put this yummy & simple dish together.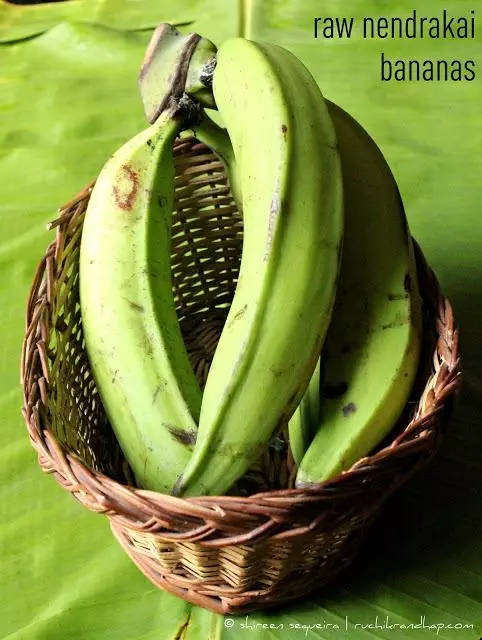 Getting the most out of every vegetable is something I need to learn. Back in Mangalore people prepare this dish although it was never done in my house. Maybe I should attempt making such dishes out of peels and skins of fruits and vegetables and make a section on this blog just for such recipes. Since eating organic and not wasting food has suddenly become fashionable, I am sure a lot of you would be interested to try this out.

You can try making this dish out of raw bananas as plantains have a thinner skin and you may not get much of the white flesh as they are used for cooking anyway. Aren't Bananas and Plantains the same you may say. Well, no, raw Bananas are edible as a fruit  once they ripen and turn yellow, red (or pale green in the case of the green Cavendish) and are generally not 'cooked' as a side dish. 'Plantain' on the other hand must be cooked before consuming. Plantains are firmer, have more starch content and less sugar content than Bananas and do not grow as long as Bananas.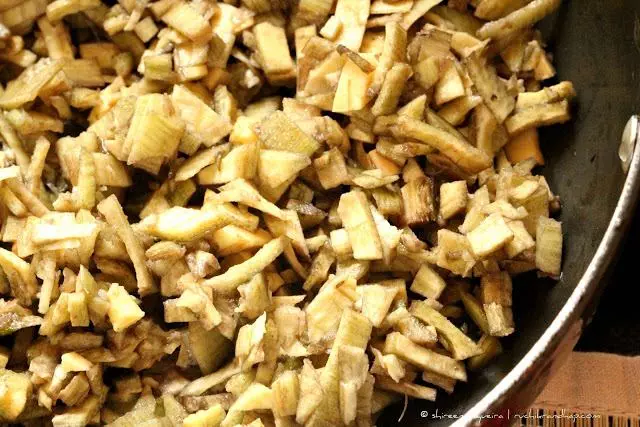 (Above Pic: Flesh of the peels scraped out and ready to be cooked)
So the next time you buy raw bananas to make a sweet or savoury dish out of it, don't discard the peels. Try making this dish. You won't be disappointed, I promise.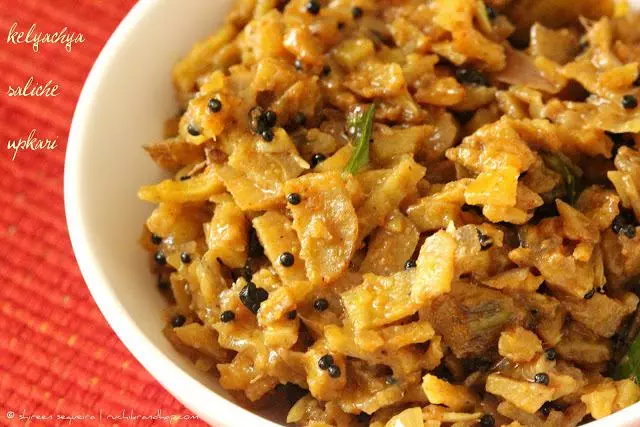 Pin


Raw Banana Peel Upkari
Serves 2


You Need:
the peels of 4 raw bananas * see notes
1/2 onion finely chopped
1/4 tsp turmeric powder
1/2 tsp tamarind paste or 1 tbsp tamarind juice
salt to taste
For the seasoning
1/2 tsp mustard
1/2 tsp urad dal
5-6 curry leaves
1 clove garlic crushed
1 tsp vegetable masala powder * see notes
1/2 onion finely chopped
1 tbsp oil for frying
Method:
1. Wash & place each peel on a cutting board – green side facing down and carefully scrape out the white fleshy portion. The green (outer surface) is fibrous (called as 'naar' in Konkani) and is not edible. So the easier way of removing it is to scrape out the white flesh off the green fibre than doing it the other way round.
2. Mince the white portion of the peel and place it in a wok or kadhai and add enough water to cover it, salt to taste, 1/2 a chopped onion, turmeric & tamarind paste/juice and cook it on a medium flame till half the water has dried up. Stir in between to avoid it from sticking to the bottom of the pan. When the peels have partially cooked. Turn off the flame & keep it aside
3. In another heavy bottomed pan heat the oil, reduce the flame and toss in the mustard. When it stops spluttering add the urad dal, curry leaves and crushed garlic. Stir it, taking care to see that the contents do not burn. Add the remaining 1/2 chopped onion and fry till translucent. Add the vegetable masala powder (you can turn off the flame to avoid burning).
4. Add the pre-cooked peel mixture and its water. Check salt to taste & allow to cook for a further 2 minutes on a slow flame.
5. Turn off the flame & serve hot with rice or chapathis.
Notes:
To peel a raw banana run a knife along the length of the banana, making a shallow slit all the way down taking care to see that the inside flesh is not bruised. Once you have made several slits, gently use the tip of the knife to remove the peel off the flesh.
If you do not have the Mangalorean vegetable masala powder, you can use any masala powder that is suitable for vegetables or a blend of spices or may even use Bafat powder.