January is almost coming to an end and as I reflect back on the days that have passed by I am pretty pleased with myself. The goals that I had set for my self for 2015 have been partially met. I am less addicted to the computer although I need to de addict myself from Facebook but I guess I have a long way to go. On the flip side I am thankful to Facebook as I have reconnected with old friends and made new friends there. When I talk about old friends it includes those people who stepped into my life pretty early when I was still a tiny tot. Perhaps the first real association I had with another tiny tot was at the first play school I went to. This little girl was one of the students there as her mum ran the school in their own house. This also meant that her toys had to be shared and on one occasion there was even a tug of war for her favourite tricycle which she was asked to share with me. These are my earliest memories of her and the school. I must have been all of four that time.
Since we belonged to the same school and church we got to know each other really well and over the years were part of the same church choir as both of us are singers and were paired many times together for duets. After I got married and as most people tend to do, I drifted away into my own world and lost touch but thanks to Facebook and my blog we got reconnected a few years ago. Just recently she expressed her desire to make this pickle at home, her favourite she said. Since Roshan is a pickle fan he always dabbles around with recipes and ends up making small batches of pickles enough to last us till our next trip to Mangalore. I told him about this request and he set to work. Unfortunately many of his attempts were ruined as one needs to be really careful with the process and makes sure that no moisture gets into the container. The drying of ingredients became harder as winter approached and we hardly got any sunlight to aid this (our apartment faces the sea and the only light we get is during the sunset). However, who can stop two determined souls? I was after him to make the pickle and he was more than cheerful to give in to this request as it is one of his favourites too. Another big motivator was my sister in law's cousin Clare Mascarenhas who simply loves this pickle and reserved a bit of the pickle she got from Bombay last year just to show us.
Anyway, when the pickle was finally made last week I was over the moon! The taste was spectacular and it brought back so many childhood memories as we used to get it from one of the ladies in my neighbourhood who sold pickles for some extra cash.
This pickle is known by different names – 'randhaiche lonche' (vegetable pickle) or 'tendli carrot popaiche lonche' (ivy gourd, carrot & raw papaya pickle) or simply called as the 'mixed veg pickle'. It is a typical Catholic way of making it as we use a little sugar to give it a good balance of sweetness to the spice. This actually enhances the taste of the carrots but you can leave out the sugar if you wish.
The pickle goes really well with fish curry, especially one that has a roce (coconut milk) base but that's the way I like it. You can pair this up with any kind of dish you like or just steal some and enjoy it just by itself (I know people who do that!)
So here's the recipe as promised to you dear Sonya Pais. I hope you make it and enjoy it too!
And hey, before I forget, I wish all my Indian readers a very Happy Republic Day! I hoped to do a post that had ingredients that in some way represented the Tri colour and I guess I have managed to do just that!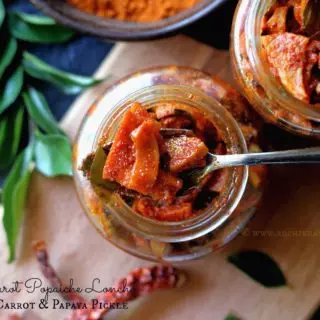 Ingredients
For the Mixed Vegetables:
500

grams

ivy gourd

tendli, quartered lengthwise

500

grams

carrots

cut into thin slices, about 1″x1/4 inch

500

grams

raw papaya

cut into thin slices, about 1″x1/4 inch

500

grams

hog plums

ambade deseeded and thinly sliced (optional) * see notes
For the Masala Powder/ Spice Blend (enough for 100 grams of dried vegetables)
20

long dried red chillies

deseeded (Use Bedgi or a mix of Bedgi and Kashmiri chillies)

1

teaspoon

mustard

1

teaspoon

cumin

1/2

teaspoon

peppercorns

1/2

teaspoon

turmeric powder

1

teaspoon

split yellow pigeon peas

tuvar/toor dal

1

teaspoon

split green gram

skinless (moong dal)

1

teaspoon

while sesame

til
For the Salt-Sugar-Vinegar Solution
1

cup

240ml water

salt

we used table salt * see notes

1/4

cup

(60ml) vinegar (reduce or skip this quantity if you are using hog plums in the veg mixture)

1-2

tablespoons

of sugar if required
For the Tempering/Seasoning:
100

ml

gingelly

sesame oil * see notes

1

teaspoon

mustard

2-3

green chillies cut into 1/4 inch pieces

8-10

cloves

garlic cut into pieces

1

inch

ginger cut into small pieces

1/2

teaspoon

asafoetida

hing

10-15

curry leaves
Instructions
Dehydrate/Sun-dry the vegetables:
In a bowl mix the cut vegetable pieces with generous amounts of salt (*see notes), cover with a well fitting lid so that no moisture gets in and keep aside in a clean, dry corner of your kitchen. Keep aside for 2 days and give it a good mix once a day.

After 2 days discard any excess water that gets released from the vegetables and spread the vegetables on a large baking sheet/plate lined with muslin cloth and sun dry them for 2-3 days or till they completely dry. *see notes
Make the salt-sugar-vinegar solution
Boil all the ingredients together for a few minutes (till the mixture comes to a full boil) and remove from heat. Cool completely.
Make the spice blend:
Dry roast all the ingredients mentioned under 'Masala Powder/Spice Blend' one by one and grind them to a fine powder. The amount of this spice blend is enough for 100 grams of dried vegetables.

In a bowl, add the spice blend to the dried vegetables (100grams) and mix well. Add the salt-sugar-vinegar mixture little by little and keep. Mix the vegetables with masala powder and add the water solution little by little and mix it well. Cover the bowl and keep it overnight.
Temper/Season the pickle:
In a small tempering pan heat the sesame oil. When it is hot, add the mustard and when they stop spluttering add these ingredients one by one in this order – garlic, ginger, green chillies, asafoetida (hing) and curry leaves stirring them for a couple of seconds after each addition. Let the curry leaves fry for a few seconds and then remove this pan from the heat and allow to cool

Once the oil has cooled, add this tempering to the vegetables, mix and transfer into a clean, dry, sterilized glass or ceramic jar. For a longer shelf life refrigerate the pickle.
Notes
1. The hog plums are optional. Instead of using them you can use vinegar
2. If thoroughly dried in the sun the dried vegetable mixture can be stored (at room temperature) in an airtight container for about 6 months in order to prepare the pickle any time you like. A reader has tried drying the vegetables in the sun. Here is her experience "Tried the pickle and came out very well. Thanks Shireen. Do not have hot sun so dried the vegetables in the oven. Turned on oven to 150F for a few minutes and then turned off and left the light on. Did this every day for four days, worked perfectly."
3. The salt to be used for the vegetables before drying them is an approximation. At least 2-3 tablespoons of fine salt is used for every 500 grams of vegetables.
4. The amount of salt to be added to the salt-sugar-vinegar solution should be adjusted according to the amount of salt added to the vegetables before drying them.
5. This pickle needs gingelly oil is which is the Indian version of sesame oil. Do not use the oriental one used for Chinese food..that is totally different. If you are living outside India you can look for gingelly/sesame oil in any Indian store. It would be stocked alongside mustard oil and coconut oil usually.
Nutrition
Nutrition Facts
Tendli Carrot Pickle
Amount per Serving
% Daily Value*
* Percent Daily Values are based on a 2000 calorie diet.
Disclaimer
The nutritional values are only indicative.
Tried this recipe?
Please leave a comment & rate the recipe below or share a photo on Instagram and tag me @ruchikrandhap