Our humble South Indian dosa has gone global, thanks to the well marketed masala dosa that has now become the world's favourite any time snack. The dosa adapts itself very well to whatever you wish to serve it with – chutney, sambhar or a masala filling that can range between a simple spiced mashed potato to a chicken schezwan. However the ever popular masala dosa has in many ways overshadowed the other varieties of dosas –
neer dosa
, set dosa & the Catholic style yeasted dosa. And these are just dosas that are made of rice batter. The variety owes itself to the difference in the proportion of the ingredients used.
The yeasted dosa or polo as we call it is prepared with the
sanna
batter – the only difference between the two is that sanna are steamed and polay (plural of polo) are pan fried. You need to take care that the polay are fried as soon as the dough has risen. If you let an hour or two pass by, the fermented dough may 'fall' leading to flat polay. Also, since the polay batter makes use of yeast as a fermenting agent, the dough can turn sour if left outside for too long.
I learnt to make them just recently as Roshan simply loves them and they taste awesome with any non vegetarian curry. A few months ago I attempted them for the first time and was pretty pleased with the results. We had them with
Pork Bafat
and yesterday I made them again to be teamed up with Pork Indad (recipe to follow). I call them the 'pughre polay' (fluffy dosai) because the term 'polay' is generic and can mean any kind (made of various ingredients).
I wish I was able to click more pictures of these lovely, fluffy and fragrant polay – alas! they disappeared before I could get my camera ready. Maybe I'll update this post with some more pictures the next time I make them.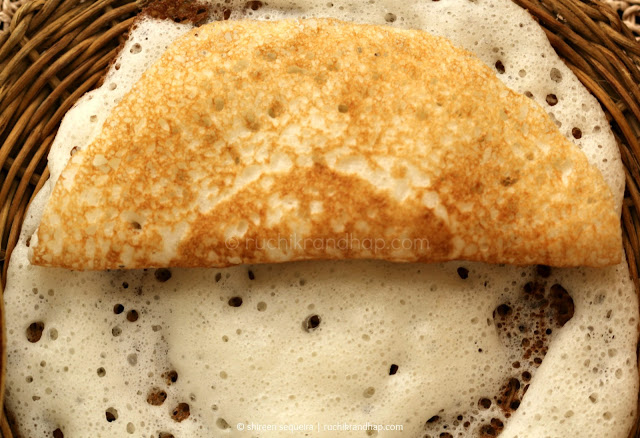 Polay (Yeasted Rice Batter Pancakes)
Soaking time: 3hrs or overnight | Prep time: 15mins | Cooking time: 15-20mins Yield: 17-18 medium sized pancakes
You Need:
1-1/2 cups boiled rice (ukda chawal)
1/2 cup raw rice * see notes
1/4 cup urad dal (split black gram)
1 tsp salt
2-3 tsp (or to taste) sugar
To prepare the yeast solution
1 tsp dried yeast
1 tsp sugar
3 tbsp warm water
Other ingredients
Method:
1. Wash & soak the boiled rice, raw rice and urad dal in plenty of water in separate bowls for at least 3 hours (or overnight). Grind the urad dal to a fine paste first and remove. Next, grind the two types of rice with very little water to yield a thick dryish batter of dosa batter consistency. Mix this batter along with the urad dal paste, salt to taste and sugar. Transfer the mixture to a pan that is large enough to contain dough that doubles.
2. In a small bowl mix the warm water with the yeast and sugar and allow to rest for 10 mins till the mixture turns frothy – this is active yeast which must then be mixed to the batter well. Check salt and sugar proportion and add more if required.
3. Cover the pan with a thin muslin cloth and keep in a warm place undisturbed. The dough will take anywhere between 1-1/2 – 2 hours to double (in a favourable warm weather). Gently stir the dough once but not too much or you will kill the fermentation.
4. Heat a flat cast iron tawa/skillet or a flat non stick pan. Grease it evenly with oil and pour approximately 2 ladles of dough in the centre. Using the base of the ladle carefully spread the dough in a circular fashion to form a dosa. Cover and allow to cook on a medium flame for a minute – or until the surface of the dosa looks fluffy and cooked and the base is golden brown.
5. Remove carefully with a flat steel spatula and serve hot with any non vegetarian or vegetarian curry of your choice or with chutney or sambhar.
Note:
1. If you don't intend to use up all the dough to make polay, you can simply pour it into ramekins (gindlaa) and steam them to make a batch of sanna. If you don't have ramekins, just pour out the dough into a lightly greased steel plate with tall edges (thaali/boshi) and steam it in one go. You can cut up this large sanna and serve it.
2. Alternately, if you do not wish to steam up the remaining batter into sanna but wish to eat some polay for dinner/refrigerate them for the next day then I suggest you fry up the entire batch and just steam them in a steaming pot/thondor for 5-7 minutes before serving them – they become absolutely fresh and soft.
3. Take a look at my sanna recipe for more tips on how to prepare the perfect batter
Pin