October has barely begun and I am already in the mood to celebrate Christmas 🙂 Indian winters are nothing to be excited about but the season brings with it a lot of cheer and warmth. Speaking about cheer – the last quarter of the year is always the best time of the year. Infact, the festive season here usually starts around mid August and ends when a brand new year is ushered in. I am so looking forward to all the festivities, colour and cheer that will soon follow.
In preparation for Christmas and all the goodies that will soon follow on my blog, I thought it was an ideal time to post this recipe of the pineapple peel wine that I tried making early this year. Although it is a quick wine that is ready in less than two weeks, I allowed it to take its own sweet time to mature and now, after several months it is ready to face the world. Err, it has gone through stringent quality tests though and has been served to a few guests who have given it the thumbs up – so technically it has already faced the world.
The best part about this wine is that it is made with an ingredient that is usually considered a waste  – the peel of the pineapple that is discarded without a second thought as soon as the fruit is cut. Sugar is the only ingredient that contributes to the 'cost' of this wine – since it makes a small batch it is ideal for consumption at a simple family gathering than a large party.
So the next time you buy a pineapple, don't discard the peel – make some wine out of it, wait for a couple of months before you serve this golden wine that exudes the warmth and colour of the shining sun! Go make some for Christmas, pour a little for yourself and enjoy some home made cheer!!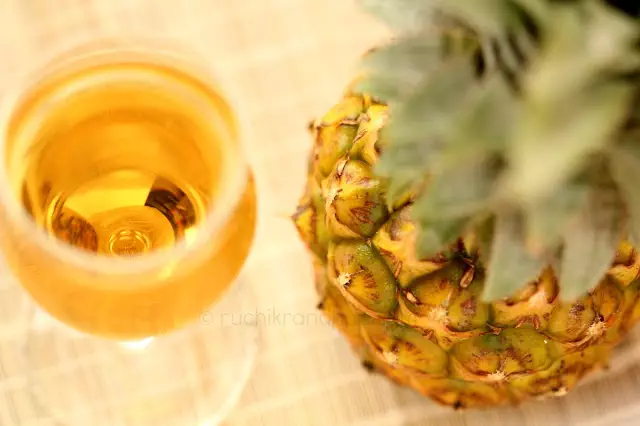 Pin
New here? Subscribe to my free newsletters with my latest recipes!
Tried my recipe? Do leave a comment on this post down below and don't forget to give it a star rating! It will really help more readers discover my recipes! Do share a picture on Instagram and tag me @ruchikrandhap and I will feature your post in my stories!
Don't forget to check out my latest videos on my YouTube channel. If you like what you see, do give me a thumbs-up (like), share & comment and subscribe to my channel so that the gods of YouTube (a.k.a algorithms) recommend my channel to a wider audience with similar tastes and more & more people can discover my videos!
And while you're here, do follow me on Instagram,Pinterest,  Facebook and Twitter. If you'd like to say hello or have detailed queries do send an email at [email protected]. I'd love to hear from you!
Pineapple Peel Wine
Delicious, golden, sunset coloured wine made out of pineapple peel. The next time you think of throwing away the peels, stop and make this!
Print
Pin
Rate
Ingredients
Peel of 1 medium sized pineapple

(discard the crown)

3

cups

sugar * see notes before proceeding

3

cups

potable/drinking water (boiled and cooled water)

1/8

teaspoon

yeast

1

egg white well beaten
Instructions
Wash the pineapple thoroughly and pat try with a cloth. Cut & discard the crown and the stem (base)

Transfer the peel into a large (approx 2 litres) glass/ceramic jar and add the water, sugar, yeast, egg white and stir well.

Cover with the lid, do not fasten it (alternatively just cover the mouth of the jar with a thick cloth). Keep undisturbed in a clean, dry place of your kitchen for 3 days.

After 3 days, strain the liquid through a clean muslin cloth into a clean, sterile vessel. Discard the peel and transfer the liquid back into the jar and cover. The wine will be ready for consumption after 10 days.

After 10 days decant (transfer) the wine into a clean, sterile bottle of 1 litre capacity with the help of a funnel. Seal the bottle. Discard the sediment settled at the bottom of the jar.

Place the bottle in a cool, dry place. The wine gets better with age
Notes
1. Do ensure that the pineapple is washed thoroughly before peeling it. It is a waste of precious juices and flavours if you wash the peel afterwards (just in case you're wondering!)
2. Egg whites is normally used in winemaking as it is one of the fining agents used for the purpose of clarifying the wine. Egg whites, clay or other compounds help precipitate dead yeast cells or other unwanted solids out of a wine.
3. A lot of people have written in saying that the wine turned out too sweet. I believe this has a lot to do with the sweetness of the pineapple used. Before you use the sugar, do taste the pineapple. If it is extremely sweet, reduce the sugar to 2 cups instead of 3. If the pineapple is sour then you can use 3 cups of sugar. If the wine still turns out too sweet for your tastebuds, the only way of adjusting the sweetness (that I can think of) is to make another fresh batch of wine minus the sugar this time. While serving, mix the two into a glass and adjust accordingly.
Disclaimer
The nutritional values are only indicative.
Tried this recipe?
Please leave a comment & rate the recipe below or share a photo on Instagram and tag me @ruchikrandhap
Post updated on 2nd Oct, 2012 with the second note
Post updated on 19th Oct, 2012 with the note on potable/drinking water
Post updated on 9th Jan, 2016 with note on adjusting sweetness