I tried another favourite Mangalorean dish – Pathrade (pronounced as Pathra-Day) which is close to getting extinct from Mangalorean kitchens. It maybe because most Mangaloreans have scattered all across the globe and finding the key ingredient to make the Pathrade – Pathradyache Kolay or Alwache Kolay (Colocasia Leaves) is harder than striking oil in Antarctica. Besides these leaves which are shredded and mixed with rice batter, one also needs Teak tree leaves (Sagoni in Konkani, Saaguvani in Kannada,Satgun in Hindi) in which this mixture is packed and then steamed in a Tondor (steamer). Alternatively we use the leaf of another tree called 'Sandhalyache paan' – I am not sure of its Kannada & English names, but will update the post with the same soon. You may use banana leaves to steam the Pathrade if the above mentioned two types of leaves are unavailable. Worst case, aluminium foil may also be used if leaves are not available.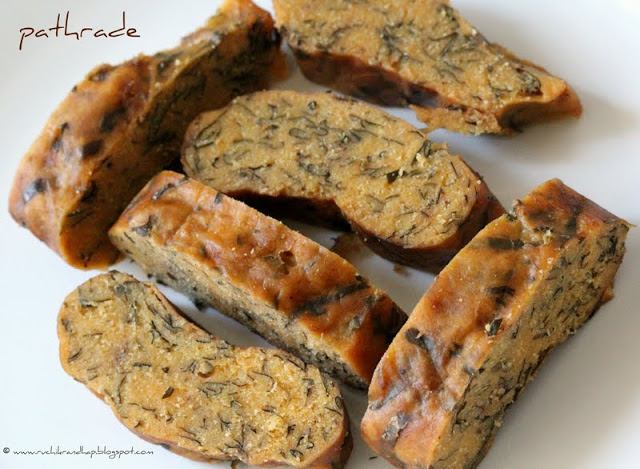 Traditionally Teak leaves are used which not only lend a lovely flavour and fragrance to the pathrades but also a very pale purplish colour if you use almost dried leaves.
I was lucky to have found the two kinds of leaves during my recent trip to Mangalore and since I already own a Tondor, making this dish was easier than I thought. It was fun too, since I had only my imagination & sense of taste to aid me during preparation. Ofcourse, good ol J.B Lobo's recipe book was my faithful teacher throughout.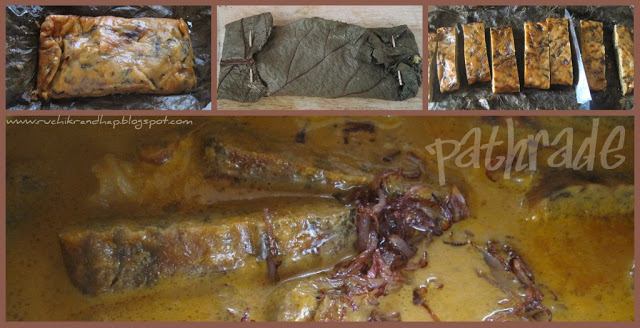 Now that I have my own kitchen garden where I grow 2 types of spinach (Ceylon baji as they call it in Mlore & Palak), Miri (Kali Mirch/Pepper), Tulsi (Holy Basil) & Karano (Brahmi/Thyme-Leaved Gratiola) – the Pathrade leaves have joined the bandwagon. Take a look…
If you are unable to get the colocasia leaves, you can make pathrade with Spinach (Valche Baji/Basale)/Palak and steam the mixture in Banana leaves as Teak leaves are hard to find even in Mangalore.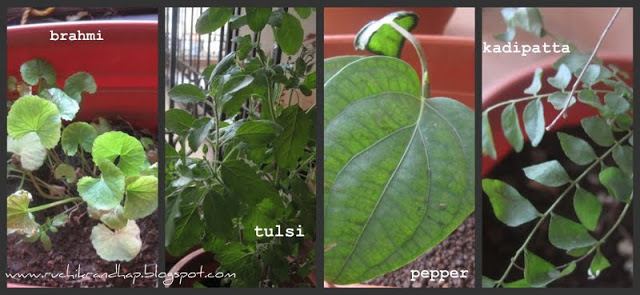 Pathrade
Yield: 6 large pathrades
You Need:
To be shredded:
6-7 very large or 17-18 small colocasia leaves/Arbi leaves
To be ground
500gms boiled rice – washed and soaked for a minimum of 2 hours
1/2 tsp turmeric powder
5 dry red chillies (kumti)
1/2 tsp jeera/cumin
1 marble size ball tamarind
1/2 cup grated coconut
Salt to taste (approx 3/4th – 1 level tsp)
For wrapping & steaming
6 large or 10-12 small teak leaves – Washed and wiped dry
Method:
1. Drain the soaked rice well and grind it along with the other ingredients mentioned under 'To be ground' using very little water (just to get the mixie blade going). The batter should be finely ground but dryish.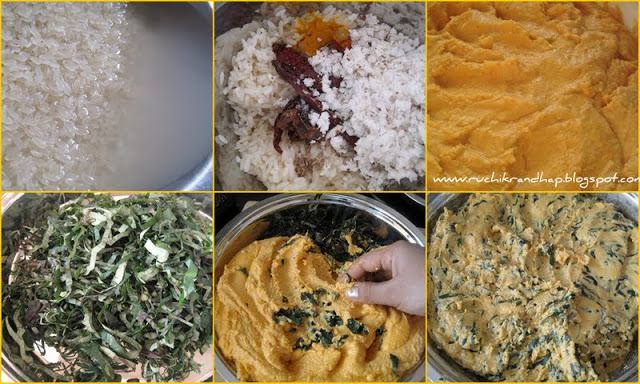 2. Shred the colocasia leaves finely and mix it to the ground batter well. The best way to shred the leaves is to place one of top of the other (stacked up) and then roll them together and shred in one go. This will save you a lot of time.
3. On a working surface place a Teak leaf (below pictures are of another locally available leaf) and place about 2 portions of batter in the centre along the spine of the leaf. Leave out the corner edges so that batter doesn't spill out. Something like this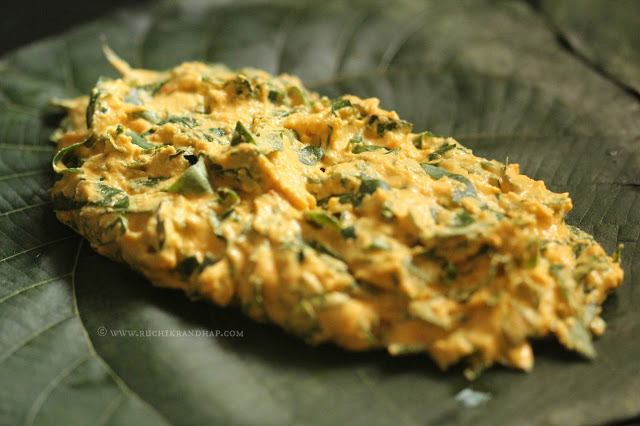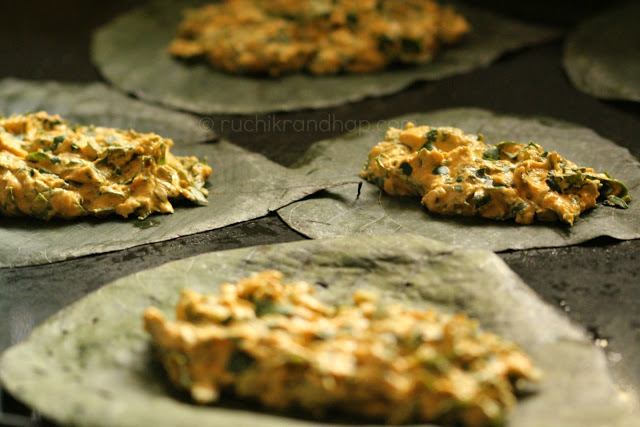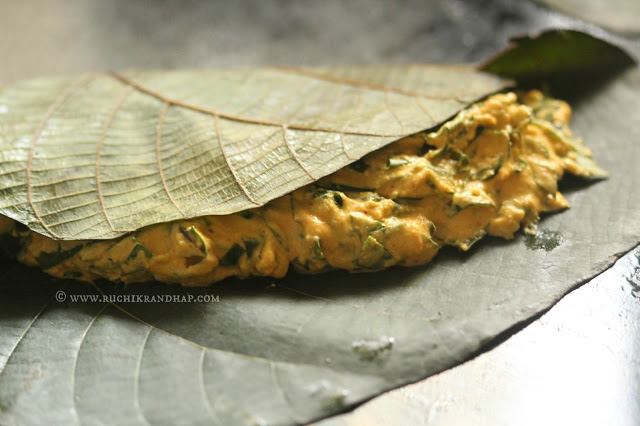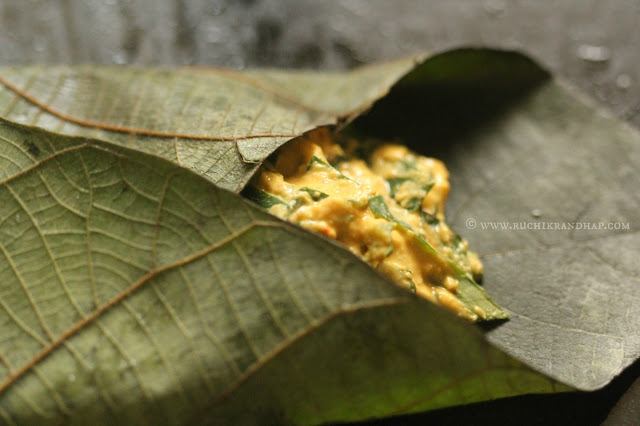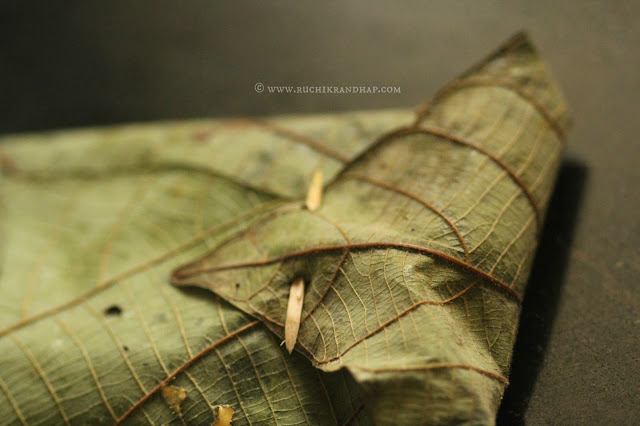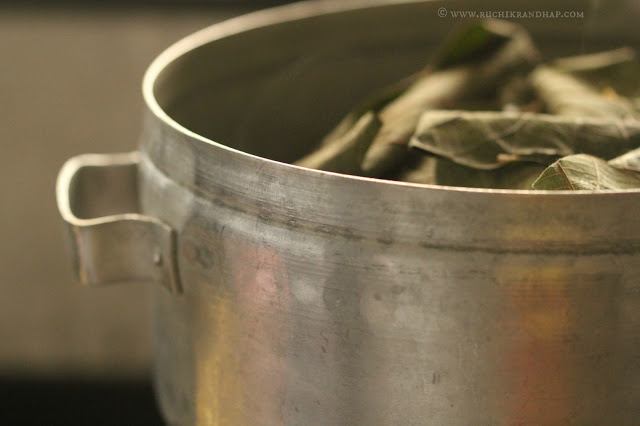 4. Fold the leaves along the sides & tips & fasten with wooden toothpicks
5. While you are busy making the remaining 'packets' of batter, place sufficient water in a Tondor (steamer) and bring it to a boil
6. Place all the pathrades on the shelf inside the Tondor, cover & steam for 20 minutes on high flame
7. Remove from the steamer & allow to cool. Now you can open up the packet & cut into pieces of about 1/2 inch width & use in the curry or just apply Meet Mirsang (Salt+Chilli paste+vinegar) and fry as you would fry fish
8. You can store these for as long as 5-6 months in a deep freezer, but just ensure that you place them in zip lock (freezer safe seal bags), otherwise when you thaw them the next time around you will have slightly soggy Pathrades which will need a little squeeze before using.