Who can resist the Panpole/Neer Dosa? The Panpole (pronounced as pun-polay) as it's called in Konkani and 'Neer Dosa' called in Tulu/Kannada is everybody's favourite. Neer Dosa derived its name from the term 'Neeru' which means 'Water' in the local languages of Mangalore namely Kannada & Tulu. The watery consistency of the batter is what's behind the name. Its the Neer Dosa's simplicity and ease of preparation that has reigned supreme in every Mangalorean house and has gained a lot of popularity outside Mangalore too.
In Mumbai, the Neer Dosa is famous in all seafood restaurants irrespective of whether the propreitor is a Mangalorean or not. However, this simple bread is sold at an exhorbitant price – so it's quite ridiculous to order these pretty dosas as they cost about Rs 25 per plate (with just 2 dosas staring back at you). Also, the restaurant's version of the dosa usually does not turn out the way it is made at home. Dosas are essentially characterised by the 'holes' that form either due to air bubbles or fermentation – so in that respect what they serve you are pretty flat ones. However, if you have never tasted these simple & frilly dosas which are thin & delicate like a lady's handkerchief – go try some at once!
The Neer Dosa/Panpole are eaten for breakfast along with chutney or gravies, some like to enjoy it with leftover curries or a side dish of vegetables. These dosas are so versatile that they can be also introduced during ,meal times as an accompaniment to meat/fish dishes. Leftover ones can be rolled up like Kati Rolls with a sweet filling made of fresh coconut & sugar/jaggery. My son loves them plain or with a generous splash of honey. One can never get tired of eating these simple dosas and the best tasting ones are made in cast iron griddles which are kept aside only for these dosas. Cook anything else in these special griddles and they are deemed useless forever as the dosas will never turn out easily and will stick horribly to the griddle.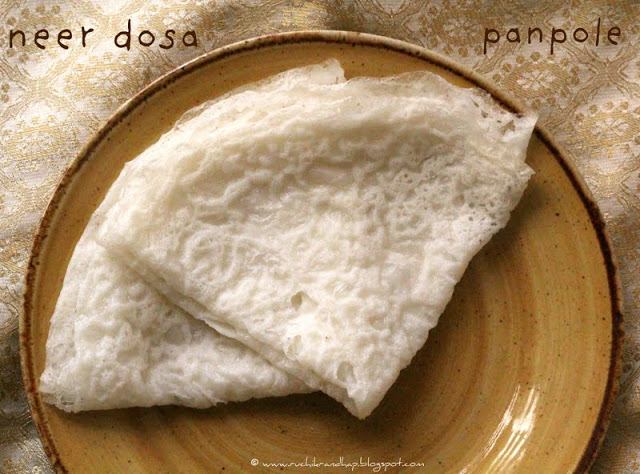 Panpole
(print this)
Yield: 8-10


You Need:
1 cup raw rice (Surai/Kollam or any small grained rice)
sufficient water to make a thin batter
salt to taste
oil for greasing the griddle
2 tbsp cooked rice (optional) – helps make the dosas ultra soft
2 tsp grated coconut (optional) – brings in a lovely flavour to the dosas – but u can totally skip this
Method:
1. Soak the rice for at least 2 hours or overnight. Grind it with 1/2 cup water & cooked rice and/or coconut to a very fine paste
2. Add 2 cups of water and some more if required to achieve a watery batter (consistency of slightly thicker than milk)
3. Add salt to taste and mix well.
4. Heat a cast iron or non stick griddle/tawa which should have edges (not the one used to make dosas which are without edges). Lightly grease the surface of the griddle with oil – you can poke 1/2 a medium size onion with a fork and use it to grease the griddle. Many people use a small piece of muslin tied to a stick to do the same, but it's more hygienic to use an onion and discard it after use.
5. Using a deep round ladle scoop out batter & pour it on one side of the griddle and lift quickly lift & tilt it to help spread the batter across the entire surface of the griddle. This needs minimum practice. Add more batter in places which are not covered with batter. Cover & cook for about one minute or till you see the dosa leaving the sides of the griddle.
6. Remove and allow to cool a bit before folding into a quarter.
7. Serve with Chutney, gravy, Chicken or Fish curries and simply enjoy this simple delicacy!