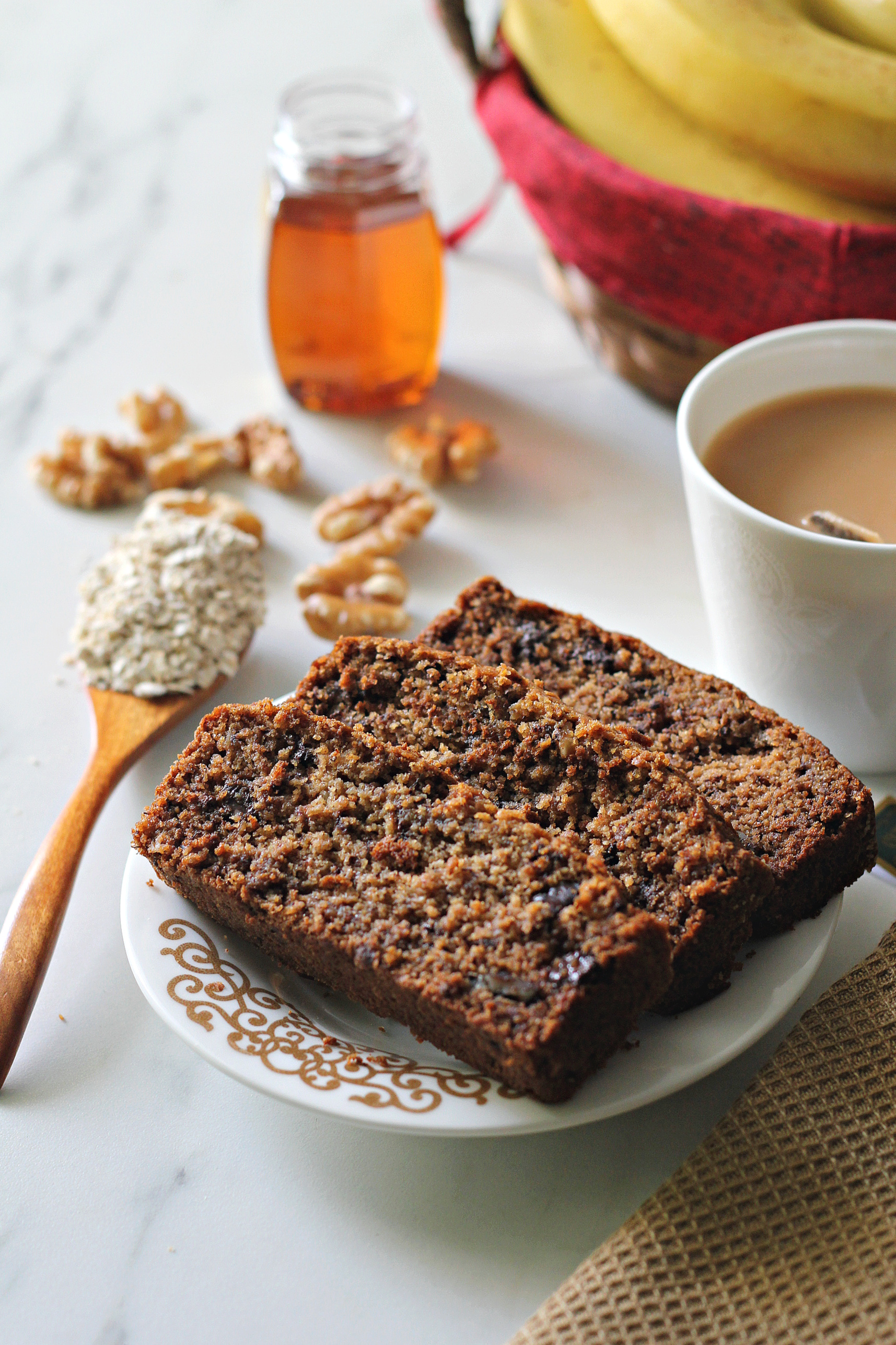 Pin
This oatmeal banana bread is possibly one of the tastiest among the gluten free bakes that I have ever eaten. Like most of my bakes do, this one has a nice story behind it. So one of my friends here in Dubai was talking about the banana bread she had made using oat flour to another friend of mine on our drive back from a fat lunch on a Friday, our occasional 'girls date'. While I was dozing half way I made a mental note of the ingredients and a rough estimate of the quantities. Since friend#1, the baker, said it was super easy and raved about the taste so much, I just couldn't wait to get back home before I could dive into a nice lazy Friday afternoon baking escapade. However, once I got back home I just got caught up in several other things and decided to bake this over the week which came & went. A few weeks later, obviously after having forgotten half the recipe, I set out to bake it with whatever help my memory offered me. It took me a while to get the batter to the right consistency and my efforts, thanks to my memory yielded in an incredibly moist & delicious banana bread. Oh boy! This was by far one of the easiest & yummiest cakes ever!
Pin
Since my kids run a mile away from anything that has a fruit or nut in it, I decided to call it the chocolate chip cake which they gladly ate till my son sensed the presence of the almost black banana that he had dodged that morning. He politely declined to eat more than the piece he was holding. My daughter who was clueless merrily ate a couple of thick pieces till she was full. Thereafter she ate it daily. The husband partook of his share which is usually minuscule when it comes to cakes that have chocolate-anything in them. My daughter & I managed to put on a few thousand kilos after we ate this amazing cake for the next couple of days. We ate it plain, with some ice cream and with some chocolate syrup too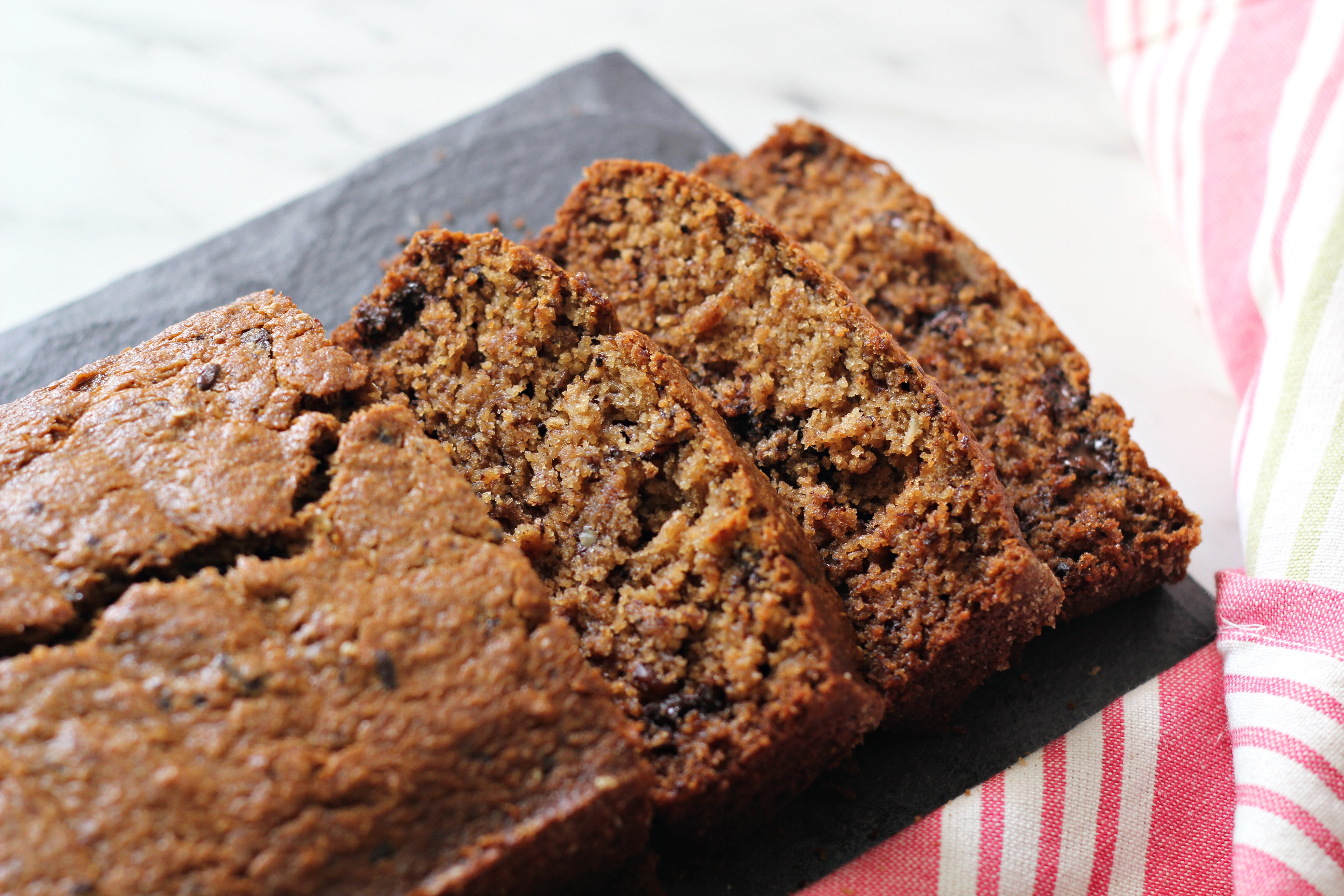 Pin
Pin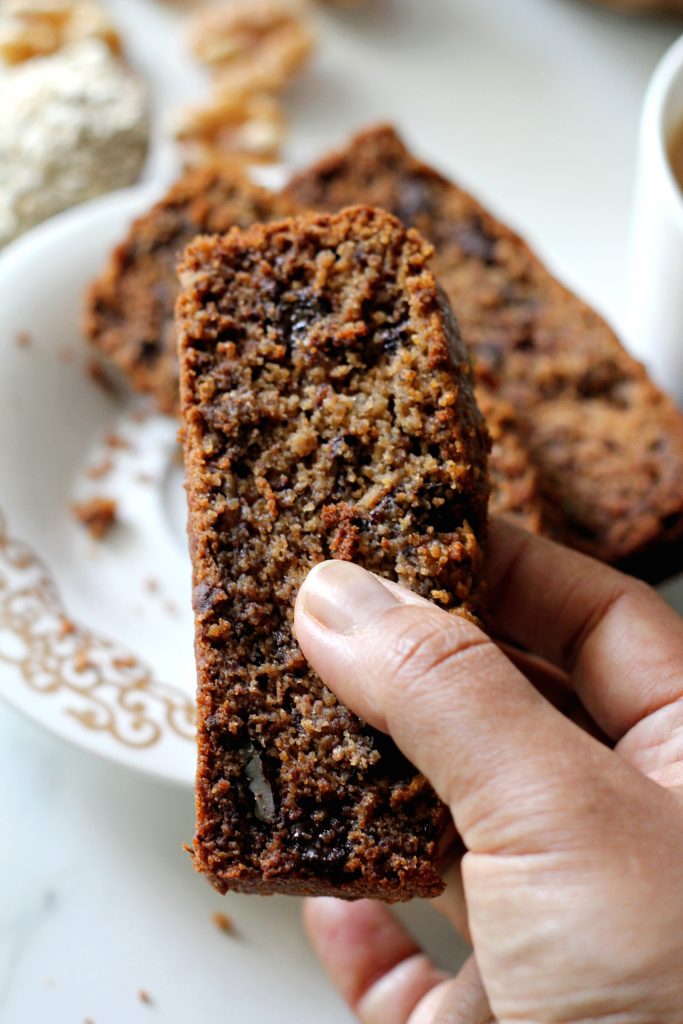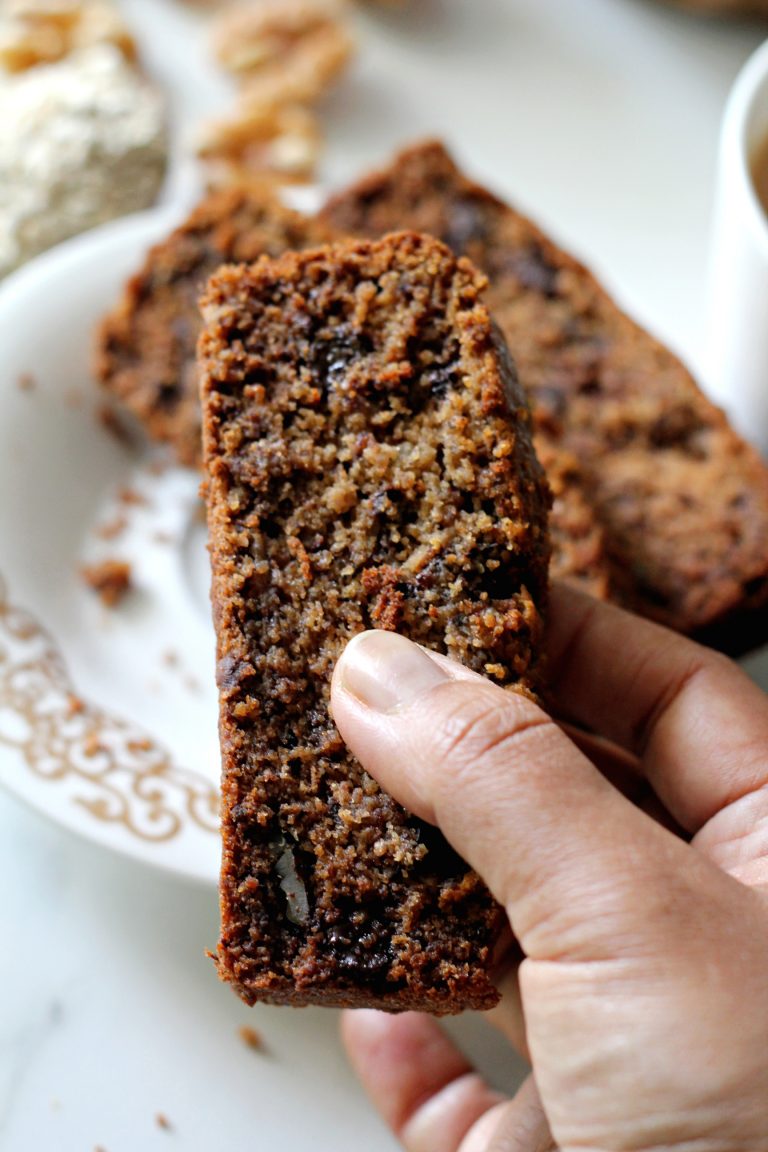 Pin
Pin
If you are a fan of banana breads then let this recipe not escape you. It is not fair to your banana bread loving heart. Try this one even if you are not a big fan of using up bananas and making cakes out of them. You will fall in love with it! Well, for a change, this time around, the motive of baking this cake was not to use up bananas, but merely to try out the recipe that my friend was raving about. Or perhaps it was to use up the oats I had bought on offer. Or perhaps both. Nobody can tell!
Pin
Love banana breads? Try these recipes!
Multigrain Nutella Swirled Banana Bread
New here? Subscribe to my free newsletters with my latest recipes!
Tried my recipe? Do leave a comment on this post down below and don't forget to give it a star rating! It will really help more readers discover my recipes! Do share a picture on Instagram with the hashtag #ruchikrandhaprecipe and tag me @ruchikrandhap and I will feature your post in my stories! 
Don't forget to check out my latest videos on my YouTube channel. If you like what you see, do give me a thumbs-up (like), share & comment and subscribe to my channel so that the gods of YouTube (a.k.a algorithms) recommend my channel to a wider audience with similar tastes and more & more people can discover my videos! I also share quick 30 second videos on Reels on Instagram so don't forget to check them out!
And while you're here, do follow me on Instagram, Pinterest,  Facebook and Twitter. If you'd like to say hello or have detailed queries do send an email at [email protected]. I'd love to hear from you!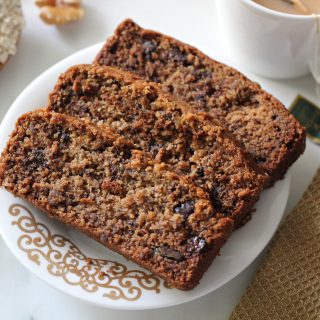 Oatmeal Banana Bread
This gluten free banana bread is just what you need when you want to use up oats & bananas! Makes for a delicious anytime snack!
Print
Pin
Rate
Ingredients
1/2

cup

(100 grams) unsalted butter

melted

1/2

cup

maple syrup or honey

2

eggs

lightly beaten

1

cup

(2 medium size) bananas, mashed

1/4

cup

yogurt

whisked

1

teaspoon

baking soda

1

teaspoon

vanilla extract

1/2

teaspoon

salt

1/2

teaspoon

cinnamon powder

1/4

teaspoon

dried ginger powder

1-3/4

cups

(175 grams) oat flour * see notes

1/4

cup

walnuts

1/4

cup

(50 gram) chocolate, chopped (or use chocolate chips)
Instructions
Grease a 9x5 loaf pan with butter and dust it lightly with some oat flour. Alternatively you can grease and line the pan with baking parchment. Preheat the oven to 160 degrees C.

Sift the oat flour, baking soda, salt, cinnamon & ginger powder together a couple of times into a bowl. Keep aside

Roll the walnuts in a little oat flour mixture. This is to ensure that they don't sink to the bottom of the cake

In another bowl mash the bananas along with the melted butter. Add the beaten eggs, maple syrup or honey and whisk together. Finally add the yogurt and the vanilla extract and mix together

Add the flour mixture into the banana yogurt mixture in parts and fold till all the flour has been incorporated. Add the walnuts and the chopped chocolate pieces or the chocolate chips and mix everything together

Pour the batter into the prepared loaf pan and bake for 50-60 minutes or until the skewer inserted comes out clean.

Remove from the oven and place it on a wire rack to cool. Then carefully invert it on a serving plate or chopping board. Be very careful as the banana bread will be very delicate and can crumble easily. Do not be in a hurry to cut it while it is still hot.

Once it has cooled down to room temperature cut it into thick slices and serve. You can refrigerate it and serve it lightly toasted too. Refrigeration will help the pieces firm up a bit.
Notes
I used Quaker oats (the regular quick cooking (not instant) oats and ground it to a fine powder using the dry grinding jar of my mixer grinder)
Disclaimer
The nutritional values are only indicative.
Tried this recipe?
Please leave a comment & rate the recipe below or share a photo on Instagram and tag me @ruchikrandhap