This weekend my baking marathon consisted of two types of cakes – a simple tutti fruitti cake and a banana bread. Well, I love baking in loaf pans these days as it is easier to slice the cake and store it. I guess I am making up for all the months during the first half of this year that saw no baking in my kitchen. I totally love baking and baking a real good banana bread was on my wish list for long. Do not be misled by the word 'bread'. This one is actually a cake but because it is baked in a loaf pan it takes on the title of 'bread'.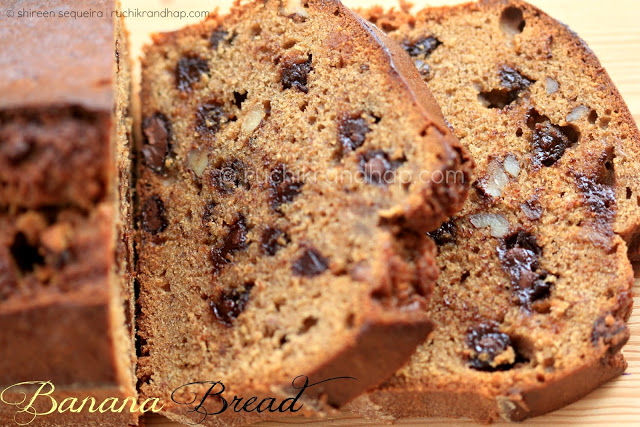 Baking with bananas usually happens when there are those blackened bananas sitting out on the counter (or in the deep freezer) that have absolutely no takers. I am not much of a milkshake person, so such bananas almost never make it to the blender. They are usually used up in cakes and muffins or maybe an Indian deep fried snack such as the banana podi – but then deep frying is taboo in my house and I allow just an occasional indulgence. Lately, to avoid wastage (leading to unnecessary baking) I have started buying just enough bananas to last for two days. But then sometimes even such a small stock remains uneaten (aaaarghhh!) So yeah, that's the story behind the lovely banana bread I ended up making. I found the recipe from 
here
 and modified it a bit – included a bit of whole wheat flour to make it more healthy.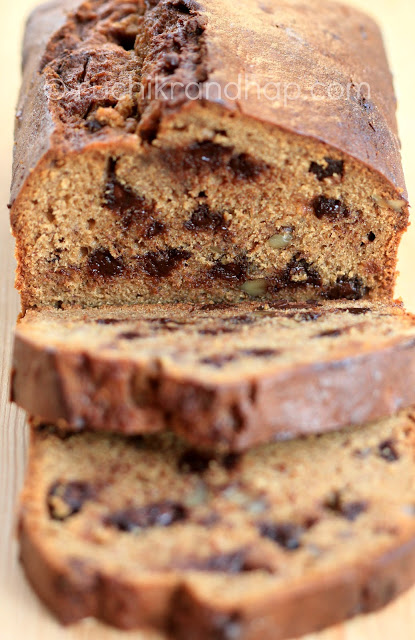 You can add the chocolate chips or just skip them (or just replace them with raisins if you fancy), although adding them gives you the little bits of yummy goodness in your mouth. Walnuts or hazelnuts add that lovely nutty taste and makes it a package deal – whole wheat, fruit, nut & chocolate – all in a single bread.
Banana Bread
Prep time: 10 mins | Bake time: 1 hour


You Need:
1 + 2/3 cups all-purpose flour (I used a mix of all purpose flour and whole wheat flour)
1 tsp baking soda
1/2 tsp cinnamon powder
1/2 tsp salt
1 cup + 2 tbsp sugar (I used dark brown sugar)
2 large eggs
1/2 cup oil (I used melted butter)
3 large very ripe bananas, mashed (or 1-1/4 cup mashed banana – about 6-7 fat elaichi bananas)
2 tbsp sour cream (I used hung curd)
1 tsp vanilla extract
1/2 cup chocolate chips (optional)
3/4 cup chopped walnuts (optional)
Method:
1. Preheat oven to 175 degrees C (350 degrees F). Grease a 8×4 inch loaf pan with butter and dust with flour (you may also line it with parchment paper.
2. Sift the dry ingredients (flour, baking soda, cinnamon and salt) twice. In a large bowl beat the eggs and sugar until fluffy. Add the oil/melted butter and continue to beat.
3. Add the mashed bananas, sour cream, and vanilla. Fold in the flour mixture and add the chocolate chips and most of the nuts, save a handful to garnish the top of the loaf.
4. Pour batter into the prepared pan, sprinkle nuts over top and bake about 55-60 mins or till the toothpick inserted comes out clean
Notes
1. This recipe calls for regular white granulated sugar, I used dark muscovado which I wanted to finish up and hence the darker shade of brown.
2. To make 2 tbsp hung curd, place about 4 tbsp of thick yogurt in a muslin cloth and hang it from a height for about 30-45mins until all the whey dribbles away. What remains is a thick cream which can be substituted for sour cream