I guess I am taking my new year 'resolution' a bit too seriously. Although I cook & click almost on a daily basis, I don't have as much enthusiasm to post the recipes soon enough. I am enjoying my time off the blog doing routine things that include enjoying my new found sense of relaxation thanks to the yoga classes that I joined a couple of weeks ago. Needless to say, my mornings are extra-hectic because of them especially since my teacher likes to call her students for some extra classes during the week. But then no one's complaining. It truly gives me my 'me-time' which is hard to come by otherwise. Throw in a few exercises and I think I am doing much better health-wise than I ever did before. I was never quite a 'gym person' although with a strict diet (read portion control) and some good ol' brisk walking in the garden I could keep weight under control.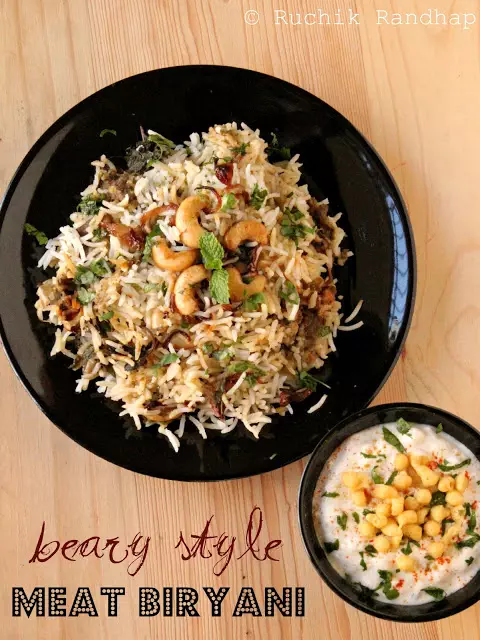 However, all my discipline goes for a toss when a good biryani comes along 🙂 I think I have written volumes about my biryani obsession and I don't want to elaborate on it once more. But I want to make a subtle point here – more than trying out just any biryani, the sole purpose of my life (as I have now defined) is to try out different kinds of biryanis made by people of different cultures. This year hopefully I want to try out at least 5-6 different styles and flavours of biryanis that include different techniques of cooking. I am sure there are no dearth of recipes and I am confident that a majority of them are already recorded in
Katy Dalal's Biryanis & Pulaos
that I proudly possess. However, I didn't have to flip through that book this time. One of my readers who belongs to the Beary (pronounced as '
barry' or 'byari'
) community in Mangalore wrote in to me and after a few mail exchanges we became friends. She was kind enough to share a tried & tested biryani recipe and that had me drooling instantly. I realised that I had not yet posted any Beary style recipe although I have tried out recipes from the much celebrated cuisines of the
 Bunt
,
Konkani
,
Catholic
&
Protestant
communities of Mangalore. So I am thankful to Mrs. Safiya Rahamathulla for her recipe.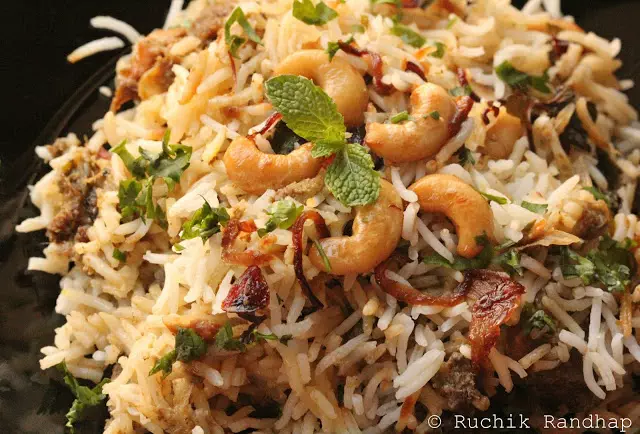 The Beary is the Muslim community concentrated mostly in coastal South Kanara (Dakshin Kannada). This ethnic society incorporates the local Tulu culture of Dakshin Kannada and diverse traditions of the Moplahs of the Malabar coast and is one of the earliest Muslim inhabitants of India. The Bearys speak their own dialect called the Beary Bashe or nakk-nikk, also known as Beary palaka. I am reminded of my various trips to the string of shoe shops (owned by Bearys) on Market Road, Hampankatta where I used to listen to this unique language and try to make sense out of it. Was it Tulu or Malayalam or a blend of both? This language kept me guessing throughout the shoe purchasing session. I also used to hear bits of this language and glimpses into the daily lives of Bearys when I used to pass by some houses while on my way to my granny's place. Elderly ladies in ethnic Beary style attire, their ears and necks adorned with intricate ornaments used to always catch my attention. We exchanged a smile to acknowledge the familiarity of a stranger – (as much as it sounds like an oxymoron) bringing about a sense of secularism that probably is struggling to survive in our country today and especially in Mangalore.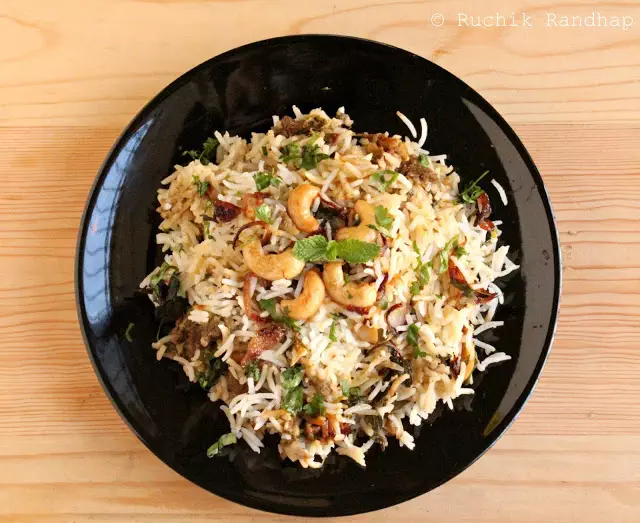 The word 'Beary' is said to have been derived from the Tulu word 'Byara' which means trade or business and since the major portion of the community was involved in business & trading activities, the local Tulu speaking majority called them as Beary or Byari. However, a couple of other theories suggest that the term Beary could also have been derived from the Arabic word Bahar which means 'ocean' and Bahri means 'sailor' or 'navigator'. It could also have been derived from the root word 'Malabar' since the great Islamic Da'ee, Malik bin Deenar had arrived on the coast of Malabar during the 6th century and a member from his group Habeen bin Malik travelled through Tulunad, preached Islam and is also credited with the building of a mosque in the Bunder area of Mangalore in 644 A.D (
Courtesy Wikipedia
)
Now here's a bit of history that I found interesting. As per Wikipedia Bearys used to refer to the area south of Mangalore (I am assuming is towards the Thokottu area) as Maikala which is their cultural and economical capital and apparently Maikala got its name through the Kadri Manjunath Temple which was earlier a Buddhist temple. The Buddhist goddess Tara Bhagavathi was also known as Mayadevi who in the course of time came to be known as Maikala. Historians are of the opinion that Maikala is one of the ancient names of Mangalore. Some say that Mangalore got its name from the temple of Mangaladevi. However, irrespective of the root of its name, its important to note that so much history is buried deep beneath this beautiful coastal city that is home to people from various faiths, beliefs and cultural ethnicities. It is a blend of these cultures that makes Mangalore what it is today – so special & so endearing.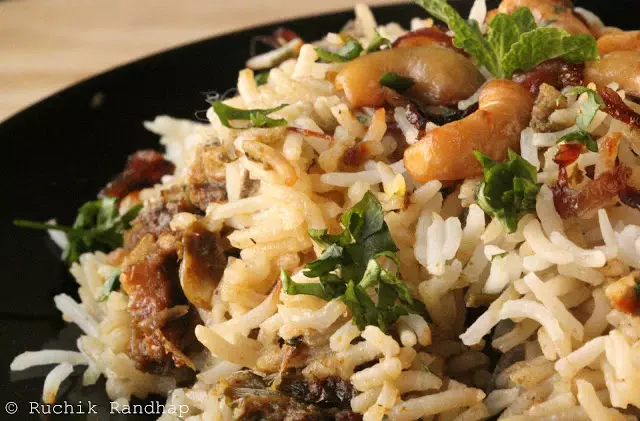 Honestly my association with the Beary community was minimal during my growing up years as there were just a couple of Beary girls in my class who were quiet and peace loving and quite contrary to the prankster in me 🙂 I wish I had made more friends and enjoyed their company and maybe, just maybe I would have had some food related memories to talk about today 😉
Now, a little about today's dish. Although I have tried many types of biryanis involving elaborate as well as simple procedures, this is one of those flavourful biryanis that are made with minimal ingredients and carry a South Indian trademark – especially because of the use of coriander leaves that are not ground but shredded during the layering thus avoiding the bitterness that the leaves impart if used in large quantities.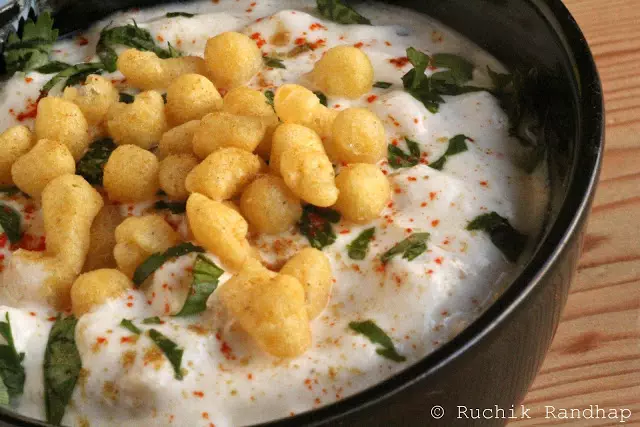 This biryani is very subtle in its flavour and aroma with just about the distinct fragrance of fennel wafting through the grains. Do adjust the quantity of fennel to suit your taste. I recommend you to make this biryani at least a couple of hours in advance before you serve it. This helps the flavours set in as the dum helps to achieve and I must say that it tastes better the next day. The flavours are not over the top and despite the use of a lot of ghee, it does not taste like a heavy duty biryani that one finds hard to digest (unless your choice of meat is beef)
The preparation & cooking time have been calculated considering a slow cook like me (especially beginners). If you are quick, this biryani does not take as much time as mentioned below. I have given elaborate instructions which experts may not really need. Feel free to dabble with the method of preparing the rice depending on the luxury of time you have and also alter the ingredients as per taste.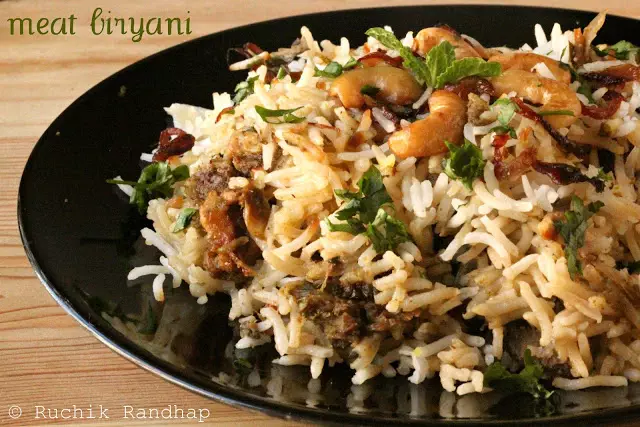 Meat Biryani – Beary (Mangalorean Muslim) Style
Preparation time: 45min | Cooking time: 1 hr  | Layering & Cooking on Dum : 30mins
Serves 4-5
You Need:
1 kg beef or mutton on the bone
juice of 1/2 lime (optional – use while cooking the meat)
1/2 tsp turmeric powder (haldi) (optional – use while cooking the meat)
fistful of chopped coriander leaves (optional – use while cooking the meat)
5 big onions sliced
6 juicy tomatoes thinly sliced
1/2 cup of coriander leaves chopped
1 inch cinnamon
3 cardamoms
3 cloves
salt to taste
ghee for frying
For the rice
600gm / 3 cups basmati rice * see notes
2 inch cinnamon
3 cloves
2 cardamoms
salt to taste
For the masala (to be ground)
8-10 green chilies *see notes
1 tbsp fennel seeds (badashep/saunf) * see notes
2 tbsp coriander seeds
2 whole pods garlic peeled (Indian variety)
2 inch piece of ginger
1 tsp mace (javithri) flakes
3-4 star anise (chakri phool)
1/2 nutmeg (zaiphal)
1 packed cup of mint leaves
To be ground separately
2 tsp poppy seeds (khus khus) (substitute with 1 tsp grated coconut if khus khus is not available)
5 almonds (badam) soaked in hot water and skinned
For the layering
3 onions finely sliced
1/2 cup of mint leaves roughly chopped
1-1/2 packed cups of coriander leaves roughly chopped
2 pinches saffron strands soaked in 3 tsp rose water or milk
2 tsp Garam masala (optional)
15-20 whole cashewnuts
20-25 raisins/kishmish
2 tsp ghee (to grease the pan)
Method:
A) Cooking the meat
1. Cut the meat into medium size pieces, wash and allow to drain on a colander for 10 minutes.
2. Transfer into a pressure cooker and sprinkle water up to the level of the meat. Add salt to taste. Add lime juice, turmeric powder & fistful of coriander leaves
3. Cover & cook on a full flame until the first whistle goes off (takes about 8-10mins).
4. Reduce the flame to sim and continue to cook for 20-25mins in the case of beef. If you are using mutton, follow the same procedure till step#3 and then cook for about 13-15 mins if the mutton is tender.
5. Allow the pressure cooker to cool down completely before removing the weight (whistle). Mix contents once and keep aside.
B) Preparing the garnish
1. Heat 4 tbsp ghee in a wide heavy bottomed pan and fry the onions till golden brown, drain & keep aside.
2. To the same ghee add cashewnuts and fry till golden brown n drain n keep aside.
3. Turn off the flame and add the raisins n take it immediatly or else it will burn.
C) Preparing the masala
1. In a large pan (or use the same pan that was used to fry the garnish) heat 2 tsp ghee.  Toss in the whole spices (garam masala) and fry for
a minute.
2. Add onions and fry till golden brown. This will take about 4-5 minutes.
3. Add the sliced tomato and fry for 2 mins on a medium high heat and reduce the flame a bit and continue to fry until the oil separates from the masala.
4. Add the ground green chilli masala, fry for about 4-5mins
5. Add the pre-cooked beef/mutton, adjust salt to taste and add the meat stock in parts. Allow to boil
till meat is tender. Don't make a watery gravy but use up stock to make a thick gravy.
6. Add the almond paste to it n boil again 4-5 mins. Add chopped
coriander leaves on top of it. Turn off the flame after a couple of minutes
D) Preparing the rice 
Using the draining technique (where rice is partially cooked, layered with meat and then placed on 'dum' till it is fully cooked)
1. Wash & soak the basmati rice in water for 15mins.
2. Boil rice in plenty of water along with the whole garam masala.
Cool al-dente (3/4th done).
3. Drain and keep aside until required
OR
You can prepare the rice using the absorption technique (where rice is fully cooked and then layered along with meat)
1. Wash & soak the basmati rice in water for 15mins
2. For 600gms (3 cups) rice use a little less than double the quantity of water. ie 3×2 = 6 cups of water minus 1/2 cup = total of 5-1/2 cups of boiling water.
3. Heat 2 tsp of ghee in a large enough pan to accommodate cooked rice, add the washed & drained rice and fry for a couple of minutes. Add the freshly boiled water. Adjust salt to taste and add juice of 1/2 a lime. You may add 2 bullion (stock) cubes for an additional flavour.
4. Bring the water to a rolling boil, stir and cover the pan with a tight lid. Reduce flame completely and continue to cook for 6 minutes. Turn off the flame and let the rice cook in the steam. Open the lid after 3-4 minutes and fluff up with a fork. Cover & keep aside till required.
E) Assembling
1. Brush the base and sides of a large wide vessel with 2tsp ghee. Place one third of the meat as the first layer.  Add a one third of the of the rice over the meat. This is the second layer
2. Sprinkle one third of the fried
onions, cashewnuts, raisins, a few coriander leaves, a few mint leaves, part of the saffron mixed in rose
water. This is the third layer.
3. Repeat the process till all the meat, rice and garnish has
been layered.
4. Make a few holes through the biryani and drizzle some ghee through them.
If you have cooked the rice as per the absorption technique proceed to step# 6, else proceed to step#4
4. Seal the vessel with dough or aluminium foil. Place a tight lid over it to ensure there is no loss of steam.
5. Place on the vessel on a cast iron tawa/skillet and let the biryani to cook on dum
for 20-25mins. Turn off the flame and allow the flavours and aromas to blend well before serving.
6. Serve hot with the raitha of your choice
Notes
Rice: The original recipe asks for a 1:1 ration between the meat & the rice. However I have scaled it down to 600gm of rice to a kilogram of meat since I have a small family.
Chillies: The original recipe calls for 20 green chillies since there is no other source of basic spice (peppercorns or such), however, I used 10 medium sized green chillies as I was using just 600gm rice. This resulted in a moderately spicy biryani. Adjust the quantity of chillies according to your taste and as per the quantity of rice used.
Fennel seeds: Reduce the quantity by half only if you don't like the intense fragrance of fennel seeds, however, the aroma does get masked by other ingredients when the gravy is done.
Although this is a dum style biryani, you may choose to hasten the process by cooking the rice fully, layering it & then serving it immediately. However, the dum technique increases the flavour quotient of this biryani.