This is one of the first fish curries that I attempted making after I got married and moved to Mumbai. Actually almost one month into marriage, I realised how home sickness can catch up with even the busiest person. Adapting to a new environment and getting a grip of life in Mumbai kept me so busy that the first couple of months after moving here, I was barely able to find the time to keep in touch with friends or family. But reality sunk in sooner than I expected and there I was – fed up of eating the only things I knew to cook and missing mum's cooking like crazy. One day while I was sitting on the parapet near my window I decided that  the only way to stop missing home and my mum too much was to attempt making my most favourite dishes the way she made it. Thankfully I had started jotting down her recipes every now and then from the time I got to know I was going to be married soon. So I flipped through my note book and made this curry and relished it a lot that day.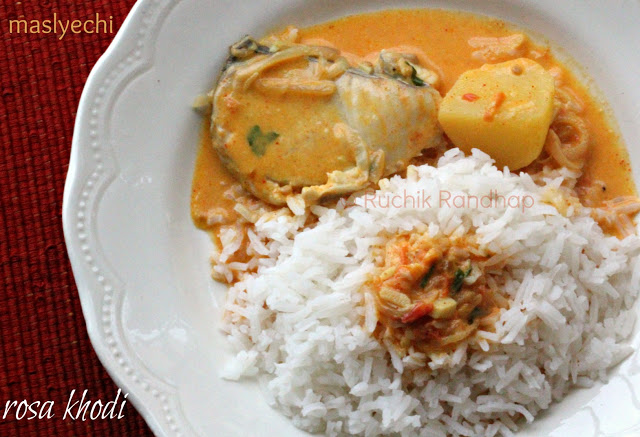 Sadly, as the years rolled by I never got around making Roce (coconut milk) based curries too often. Not sure if I had messed up that curry that day or just the husband is not too fond of them, I didn't quite get around to making them. Yesterday after scratching my head, wondering what to prepare for lunch, I suddenly decided to make this curry once again and especially since he is travelling I thought it would be a good chance to eat it all by myself. Hehe! I wasn't disappointed at all. I thoroughly enjoyed eating the fish curry with piping hot rice and some home made mango pickle by R's cousin M. It was finger lickin' good!
My cousin P and I have a lot of memories associated with this curry. She remembers eating it whenever she came over to my place to stay during school vacations and recollects the awesome tasting curries including this one which my mom used to make. My mum still makes it and so does my grandma and my maternal aunts – but their level of tolerance to spice has been drastically reduced over the years. I upped the spice quotient a bit. I recommend you go ahead and throw in some extra chillies or bafat powder if you can brave it – but rest assured that the sweetness of the coconut milk will beautifully balance the spice.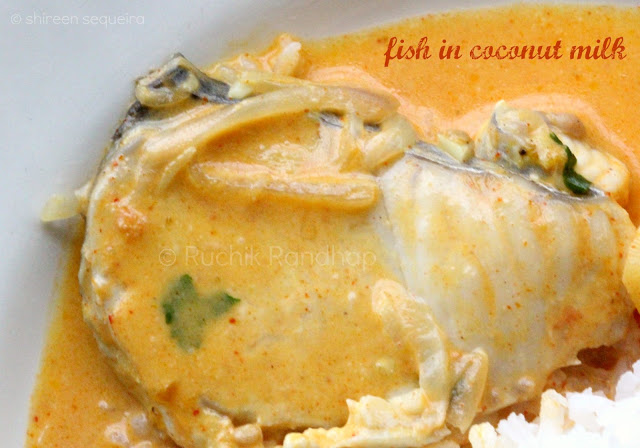 I have written down quite a few details to make this dish – it is not at all complicated, but thought that first timers may like the extra instructions.
Maslyechi Rosa Khodi (Fish in Coconut Milk)
Curry suitable for: Seer Fish (Anjal/Surmai), White Pomfret, Black Pomfret (Maanji/Sorngul, Halwa), Lady Fish (Kane)
Preparation time: 10 mins | Cooking time: 15mins | Serves 3-4


You Need:
2 large slices of Seer Fish/King Fish/Surmai cut into quarters or approx 350-400gm Pomfret or Ladyfish (Kane) or 1 big Black Pomfret
2-3 small potatoes washed, skinned and quartered (optional)
1 coconut (or 2-1/4 cups grated coconut) to extract thick and thin milk * see notes
1/2-1tsp (or to taste) bafat powder * see notes
1/2 tsp vinegar or juice of 1 small ball of tamarind
For the shindaap/seasoning:
1 inch ginger scraped & finely chopped
6-7 cloves of Indian garlic skinned & finely chopped
2 medium sized green chillies *see notes
2 medium size onions thinly sliced
1 medium size tomato finely chopped * see notes
For garnishing
1 tsp coriander leaves chopped (optional)
Method:
1. Clean the fish and allow it to drain on a colander – it is important that it is completely drained off before cooking or else the curry with turn watery. For the same reason ensure that the fish has been thawed completely if using frozen fish.
2. Extract thick and thin milk from the coconut and keep aside*see note below
3. Heat some oil in a heavy bottomed pan and toss in half of the sliced onions. Fry for a couple of minutes till they turn slightly golden in colour. Add the chillies and half the chopped ginger, garlic and onions and fry well.
4. Toss in the tomatoes and salt to taste (this helps to soften the tomatoes faster). Once the mixture turns mushy add the bafat powder and fry for a few seconds.
5. Add the thin coconut milk and stir well. Do not cover the lid as the milk will curdle and contents will overflow. Add the remaining sliced and chopped ingredients and bring the curry to a boil. Add the tamarind juice and stir. At this point you may add the potatoes if you wish and boil on a medium flame them till they are cooked.
6. Check salt to taste and add the thick coconut milk. Stir and bring it to a boil. Reduce the flame, add the fish pieces and cook for a couple of minutes. See notes
7. Turn off the flame, garnish with coriander leaves and serve hot with rice
Notes:
Extracting fresh coconut milk
Grate the flesh of one coconut and transfer it to a mixer grinder. Add about 1/2 cup of warm water and pulse the mixer grinder for a few seconds.
Line a bowl with cheese/muslin cloth and transfer the ground coconut into it. Cover the cloth into a bundle and squeeze to extract thick milk. Keep aside
Add a little water (depending on how much thin milk you desire) and repeat process. This is the thin milk.
Preparing coconut milk from coconut milk powder
To make approx 2 cups thin milk – Dissolve 6 tbsp coconut milk powder in 1-1/2 cups warm water
To make approx 1 cup thick milk – Dissolve 6 tbsp coconut milk powder in 3/4th cup warm water
*I use Maggi coconut milk powder
Using Chillies or Bafat powder
If you don't have bafat powder, you can skip it and simply increase the number of green chillies according to your taste.
Tomato or vinegar
Some traditional recipe books haven't mentioned using the tomato. You can skip it and use tamarind juice or vinegar to taste although I personally like the use of tomatoes as it gives body to the curry and adds a nice flavour.
Cooking the fish
1. Note that cooking time may vary depending on the type and size of the fish used so do not over boil as fish continues to cook in its steam. This curry is usually made with fish such as Kane/Pomfret which has delicate and tender flesh/meat, so over boiling will result in disintegrated meat.
2. Use little of the thin milk and more of the thick milk as fish tends to release some juices which can make your gravy thin – and dilute the flavours. This won't taste very good.
3. Although the above instructions to make thick and thin milk are standard, use only as much milk as required for the quantity of fish you have. If you are pre-boiling the potatoes, then use only enough milk to cover the fish. If you are cooking the potatoes in the curry then you may need a little extra.