Simple, basic cakes rule the roost at my place. This is mainly because the hubby doesn't prefer fancy schmancy cakes with frosting and all and the kids don't like anything apart from chocolate cakes or cupcakes. I end up alternating between these two flavours most times – its either a basic vanilla sponge or a chocolate sponge. A sad state of affairs for an obsessed baker like me who likes to experiment beyond these two flavours but give in to their requests I must. At least once in two weeks.
When I found this recipe in The Complete Creative Cookbook, a pretty old book given to me recently by my brother, I instantly bookmarked this recipe. Looking at the ingredients I felt it fit the bill for a basic pound cake as pound cakes are usually made with ingredients (flour, sugar, butter & eggs) that are equal in quantity. The only difference in this recipe was the lemon zest (grated rind) that would give this cake its flavour and aroma. I also Googled for a recipe and found one on food.com which called for the addition of almond flour. Almond flour not only gives this cake a wonderful texture and flavour, but it also helps keep it moist for longer (if it lasts that long!)
Ever since I made this cake it has been a hit in the family. Normally the kids show no interest in cakes that aren't chocolate flavoured but this cake was truly an exception. The little one actually came for seconds and the husband has been enjoying it with his evening cuppa which is a rare indulgence.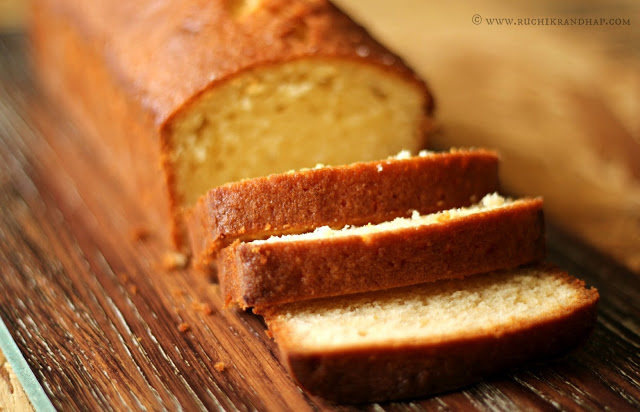 You could use this recipe to make your base for a trifle pudding as most trifles call for basic sponges and this one would be the ideal choice. However, since most trifles also call for sponges that aren't too moist I would recommend you to bake this cake for slightly longer than given in my recipe below. The first time I tried it I went as per the recipe and baked it for beyond an hour and it was pretty dryish. The second time I used the almond flour and baked it only for about 55 mins and it was perfect, so extend the baking time if you wish to make it as a base for trifles.
Now you may wonder why the cake is called so. Many people mistakenly believe that this cake originated in the Madeira Islands but in reality it is a very basic, very English cake that is similar to the pound cake or the yellow cake and is named after the Madeira wine which was popular in England and was often served with the cake. The Madeira Islands have their own popular cake known as the Bolo De Mel which is has a rich, dark colour contributed by the use of raw honey or molasses.
So folks, for now, its the Madeira Cake for you. Make it this weekend and hope you enjoy it!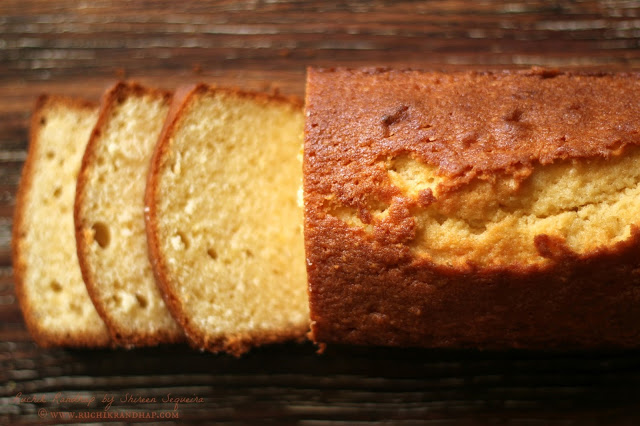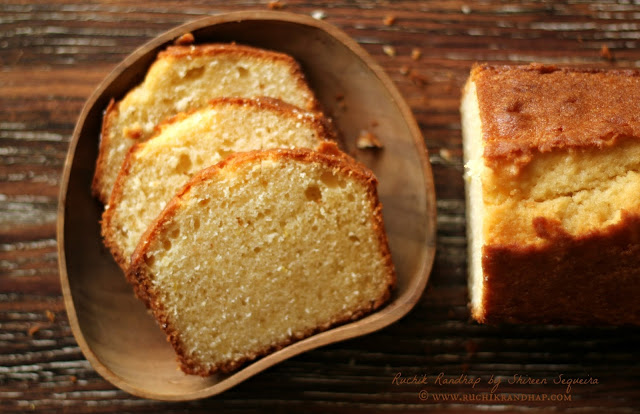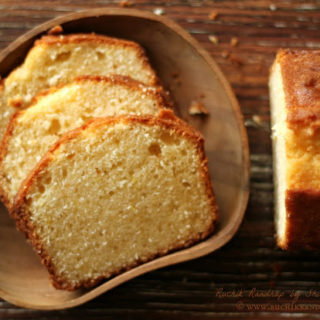 Madeira Cake
Madeira cake is a traditional British style cake that gets it's name from the Madeira wine, a wine sourced from Portugal with which this cake was served
Print
Pin
Rate
Ingredients
175

grams

plain flour

maida * see notes

50

grams

ground almonds

almond powder * see notes

1

teaspoon

baking powder

225

grams

(8 oz) unsalted butter, at room temperature

225

grams

(8 oz) caster sugar

zest

grated rind of 1 lemon

1

teaspoon

vanilla or almond extract

I used 1/2 teaspoon of each

4

eggs

2-3

tablespoons

milk

optional, as required
Instructions
Preheat oven to 170 C / 325 F and grease a 9×5 inch loaf pan.

Sift the flour and baking powder into a small bowl. Stir in the ground almonds

In another bowl, using an electric whisk, beat the butter and add the sugar 2 tablespoons at a time until light and fluffy. Stir in the lemon rind and vanilla (or almond extract)

Add the eggs one at a time beating for 1 minute after each addition.

Add in the flour mixture in 3 parts and fold gently to incorporate. If you feel that the batter is too stiff just add a tablespoon of milk at a time. The batter should be of dropping consistency.

Pour the batter into the prepared loaf pan and smoothen the surface. Bake for 50-55 minutes or until the skewer inserted comes out clean. The top of the cake would be light and springy to the touch.

Remove from the oven and leave to cool in the tin for 10 minutes before inverting the loaf onto a wire rack. Cool completely before cutting.

The cake remains moist when stored in a cool place for up to 3 days (if it lasts that long!)
Notes
1. If you want to skip the almond flour then just use 225 grams of plain flour (total). The addition of almond gives the cake a great flavour, texture and also helps keep it moist for longer so I strongly recommend you to use it.
2. To make your own ground almonds just use skinless almonds and pulse them a couple of times in the mixie till you get a fine powder. Make sure not to 'grind' them as they will release oil and turn into a paste. You need to use the 'pulse' mode of your mixer grinder and just press that butter in 1 second intervals until the almonds are powdered.
3. To blanch (peel off the skin) the almonds just place them in a bowl and pour boiling hot water over them and cover the bowl for 10 mins after which the peels will come off easily.
4. This is technically a pound cake recipe if you skip the almonds. Pound cakes are easy to identify as you need equal amounts of flour, sugar, butter & eggs for it which is true in this case. The only additions here are the almond flour and the lemon rind which give a beautiful texture, aroma and flavour to the cake.
5. You can use this cake to make the base of trifle puddings however since trifles usually call for cakes that are not very moist (because you want a cake that holds the several layers of pudding and jelly and not turn into a squishy mess when served) you can bake this cake for slightly longer (an extra 5-10 mins) to give the dry texture.
Recipe credit: The Complete Creative Cookbook
Nutrition
Nutrition Facts
Madeira Cake
Amount per Serving
% Daily Value*
* Percent Daily Values are based on a 2000 calorie diet.
Disclaimer
The nutritional values are only indicative.
Tried this recipe?
Please leave a comment & rate the recipe below or share a photo on Instagram and tag me @ruchikrandhap