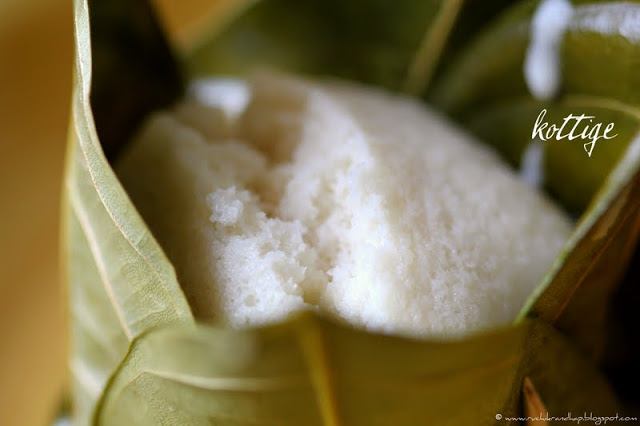 'Old habits die hard' – this is phrase which is often used to describe someone who never gives up their bad habits, but today's post is about this same phrase used in a very positive way. What would we all do if our moms or grandmoms gave up on slaving over traditional food year after year, decade after decade? Not only would our rich culture be in jeopardy but even the younger generation would miss out on the chance to enjoy authentic cuisine or maybe even partake in the process of creating those delicacies and thus carry forward the legacy.
When I recently saw a recipe of the 'Kotto (as it's called in Konkani) from my friend Vidya on Konkani Amchi Food, a group on Facebook, I was like wow! what a coincidence! Just a couple of days before I had bookmarked the Kori Ghassi recipe on
Cherie's Stolen Recipes
, a nice Mangalorean Bunt recipe blog and I was thrilled when I decided to make the Kottige (as it's called in Kannada)/Gunda (as it's called in Tulu) to go along with the Kori Ghassi. Now, the big task I had was to hunt for the Jackfruit leaves and then learn how to weave the baskets.
To the non-Mangalorean, let me describe this a bit for you. The Kottige is essentially idli batter steamed in mini leaf baskets woven out of 4 Jackfruit leaves strategically placed and pinned together with sharp pieces of broomstick. The Jackfruit leaves lend a lovely flavour and fragrance to these Idlis and the taste is unmatched with the regular Idli. It is usually a festive preparation made by Mangalorean Hindus but is available all year round in some 'hotels' in Mangalore. And by 'hotels' I don't mean the Oberoi or Taj or five star hotels of the sort (or even Hotel Californial! lol!). In Mangalore – 'hotels' (often pronounced as 'hotl') are small, no fuss-no frills kind of restaurants usually serving breakfast, lunch and tea with the day's menu written on a small black board 'Oota Thayaride' (meals are ready), so if you wish to eat some steaming hot Kottiges you can visit hotel Ayodhya or Taj Mahal restaurant if you are lucky (the renovated one, next to Ayodhya)
So, coming back to my story, I finally scavenged around in my local market for Jackfruit leaves and knew that I could find hope at the little shop run by the quintessential Mallu guy who stocked up all things Malayali that a Mangalorean found comfort in. When I asked him if he had some Jackfruit leaves and started to described why I needed some, he immediately gave me a knowing nod – haan, haan, maloom hai ji (yes, yes, I know why you need them). Honestly, I was going to ask him to speed up the consignment from Kerala so that I could make them over the weekend, but my jaw dropped when he said – ek minute (one minute!) and off he ran across the stalls, near the compound wall of the building behind him and plucked a few leaves swiftly from the Jackfruit tree leaning right above us which I had never even noticed!!! I had my moment of feeling utterly happy yet foolish right there! What made me think that the tropical and almost Mangalore like climate of Bombay would not have raised a Jackfruit tree? Anyway, I cannot describe how happy I was that day, I had just a few leaves (cuz the Mallu man was worried that he couldn't pluck an entire branch for me without being shooed away by the watchman) but they were enough to make a small batch of Kottige, one of my favourite foods of Mangalore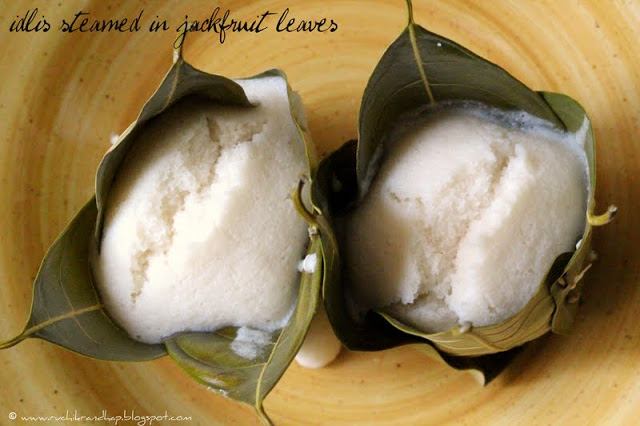 This brings me back to the phrase 'old habits die hard' and I am so glad that there are people who still make this today, especially grandmoms who unrelentlessly make authentic dishes everyday – a big thank you to all those who keep them going!
Kottige/Kotto/Gunda
Video Courtesy Charishma Shetty of 'Cherie's Stolen Recipes'
Yield: 6 large Kottiges
You Need:
For the batter:
1 cup raw rice (Idli Rice/Kolam/Surai/Belthige)
1/2 cup urad dal (black gram dal)
salt to taste
For the leaf baskets:
24 large jackfruit leaves (each basket requires 4 leaves)
broomsticks/wooden toothpicks – as many as required
Method:
1. Wash & soak the rice and urad dal for at least 3-4 hours. Grind the urad dal first to a fine paste – this will turn fluffy. Transfer to a large pan that will hold it for fermentation. Next, grind the rice with very little water to an almost rawa like texture (should be slightly more coarse than dosa batter texture). Add this to the urad paste & mix well. Add a little water if required to bring the batter to a dosa batter like consistency.
2. Cover the mouth of the vessel with a muslin cloth and keep in a warm place overnight or for 7-8 hours for fermentation.
3. Add salt to taste, mix well and pour batter into the prepared jackfruit leaf baskets till about three fourths full. Steam for 15-20minutes
4. Serve hot with ghassi (chicken or vegetable)