Oh the joy of a simple Indian meal! Rice, dal (or a simple rice congee/gruel) a pickle of your choice and perhaps a crisp papad can uplift the most unhappy soul, isn't it? This simple meal is enough to sustain you and help regain your strength if you have been ill. During my childhood my most favourite pickle used to be the lime pickle in brine (Kolache Lonche) and I enjoyed it with some piping hot congee whenever I was ill. Trust me, it was so nourishing despite the fact that there weren't too many items on my plate. Unlike me, my brother used to feast on pickles and loved to have some along with every meal. Years later I met a man who was a bigger fan of pickles than my brother and he is the chief pickle maker in my home today, my husband Roshan.
Preparing pickles at home is an art I would say. Not everyone can get them right, not everyone is patient enough to follow the lengthy,
if not difficult process that is so important to ensure that the pickle stays safe from contamination and has a longer shelf life at room temperature. Yes, the pickles that were prepared in the pre refrigeration era had to be handled ultra carefully. There was no scope for carelessness in the cleanliness department so much so that not only clean and dry spoons were required to be used to remove pickles out of their ceramic jars or bottles but women having menses were not allowed to prepare or touch the pickles – this is not superstition I am told. Contamination of pickles has a lot to do with preparing them at the right temperature and the difference in one's body temperature or moisture from one's hands during its preparation is responsible for how long the pickle lasts. Again, this has a lot to do with science I believe and hence I am not contesting this claim.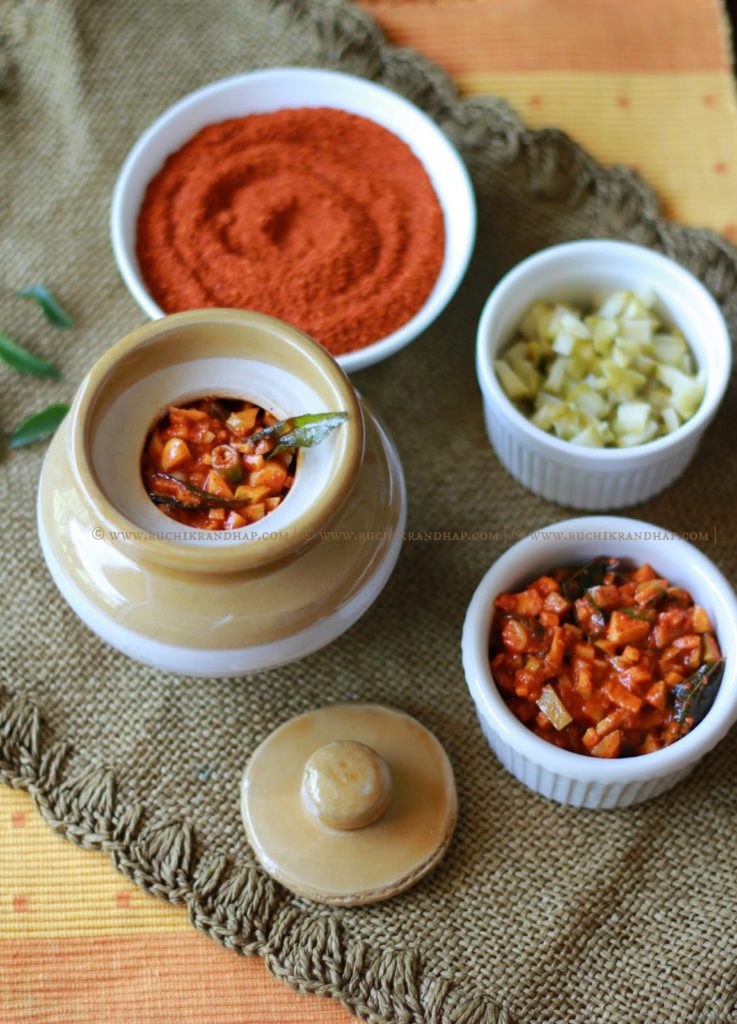 When I was little, my grandma used to make the best Kosrache Lonche and a bottle or two would adorn our fridge door all year round. Most times it didn't last that long thanks to the pickle lovers in my house. After I got married, one of our relatives Aunty Jessy used to generously give us a couple of bottles of her lovely home made pickle and recently when we asked her she was most happy to share her recipe with us. Thank you so much Aunty and thank you Raina for jotting it down for us!
In Konkani the term 'Kosor' means 'shreds' or 'shredded/finely chopped' and 'Lonche' means pickle hence Kosrache Lonche means pickle made out of shredded ingredients – the primary ingredient being the raw mango. If you see the pictures you will notice that there is a little extra gravy in them and the pickle is not as dryish as some of you may be making at home. This is because we love that little extra gravy in our pickles but feel free to reduce the gravy if you wish.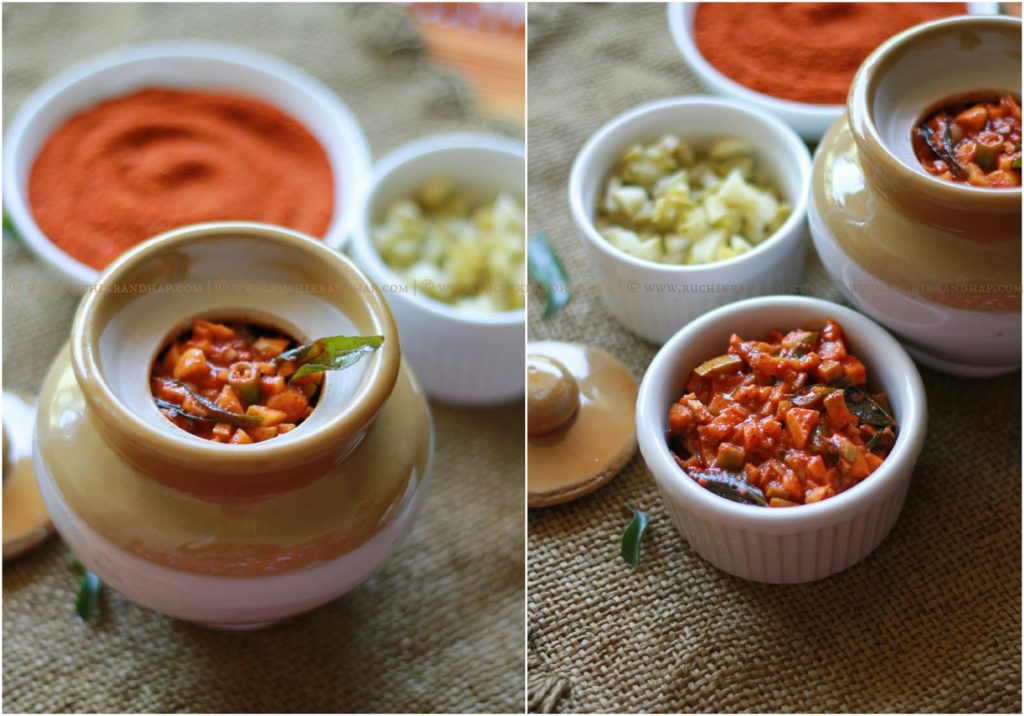 I love to eat this pickle along with any fish curry especially the roce (coconut milk) based fish curry and the combination of the pale yellow, mildly spiced, creamy, coconuty curry and the spicy-tangy, fiery red pickle thoroughly mixed with steaming hot red boiled rice simply has no comparison. Throw in an urad papad freshly deep fried with some drops of fresh and hot oil still clinging on to it and you have just attained nirvana!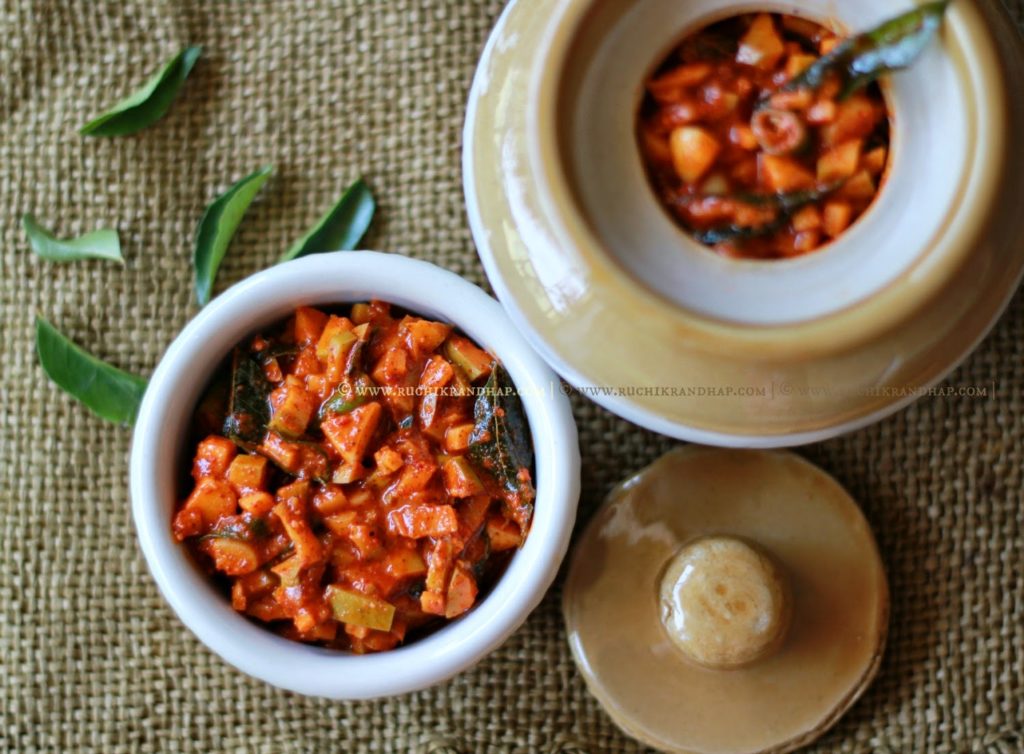 Kosrache Lonche | Shredded Raw Mango Pickle | Mangalorean Catholic Style Homemade Pickle
Prep time: 3 days + 20 mins | Yield approx 300 grams bottle
Ingredients:
For the 'shindaap' (chopped/sliced ingredients)
4 raw mangoes
15-20 grams green chillies finely chopped
15-20 grams garlic finely chopped (do not grate)
15-20 grams ginger finely chopped (do not grate)
80-85 grams salt
For the spice blend:
For the salt solution:
approx 150 ml water
approx 15 grams salt
approx 15 ml white vinegar
For the seasoning/tempering:
40 ml sesame/til oil (substitute with mustard/sarson oil) * see notes
2 flakes of garlic, crushed
2-3 sprigs of curry leaves
a generous pinch of asafoetida/hing dissolved in 1-2 teaspoons of water
Method:
Prepare the mangoes:
1. Wash the mangoes well, remove the sap if any from the stem, thoroughly wipe them with a clean kitchen cloth to ensure that no moisture remains.
2. Finely chop/shred the mangoes to small pieces. Leave the green skin on. Transfer the shredded mango into a wide porcelain or ceramic dish preferably (but not aluminium)
3. Add the 85 grams of salt and mix well and place a steel plate over the mango pieces and then place a weight (maybe a heavy mortar & pestle) over the steel plate. This is to help the mango pieces to release the excess moisture/water. Leave the pan undisturbed for 2 days.
4. On the 3rd day carefully drain off the excess water released by the mango pieces and with your hands gently but firmly squeeze out any extra water from them – you can even place these pieces on a thin muslin cloth (bairas), tie it into a bundle and place a weight over it for another 2-3 hours to help drain off all the moisture.
5. After 3 hours open up the muslin cloth and spread out the pieces evenly over it.


Prepare the salt solution:
6. In a pan add the 150 ml of water, salt and vinegar and bring this mixture to a boil for a couple of minutes. Remove from heat and let it cool completely. Add the chopped ginger, garlic and green chillies, cover the pan and keep it aside for a day.
7. The next day mix the shredded mango pieces and 80-100 grams of the prepared spice blend (pickle powder). Add according to your taste, you can increase it as you go. Add the prepared salt solution with the chopped ginger, garlic & green chillies in it, little by little until you achieve the desired thickness of the gravy. If you want more gravy in your pickle add more salt solution. Now your pickle is almost ready.
Prepare the seasoning/tempering:
1. Heat the sesame oil in a small pan meant for tempering and add the crushed garlic and curry leaves. Add the asafoetida mixture too. Let this tempering/seasoning cool down completely. Do not add it when it is hot.
2. When the tempering has completely cooled down add it to the prepared pickle and mix well.
3. Transfer the pickle into clean and sterilized glass or ceramic bottles/jars/containers with an airtight lid. Alternatively you can refrigerate and consume quickly.
4. If prepared properly and hygienically the pickle will last for over a year.
Notes:
Indian sesame oil needs to be used – there is another variety of sesame oil that is used in Chinese cuisine, do not use that.